EXMO is a non-custodial cryptocurrency exchange that offers both mobile and desktop platforms. It caters to beginner and experienced traders, providing a user-friendly interface and advanced trading features for free. With competitive deposit and withdrawal fees and a wide range of available cryptocurrencies, EXMO is an ideal choice for those looking for a reliable and accessible trading platform, regardless of their experience with cryptocurrency exchanges.
EXMO Overview
Restricted Countries
Among the restricted jurisdictions
EXMO Key Facts
Headquarters
London, United Kingdom
Type of exchange
Decentralized
Best for
beginner trader, advanced, and investors
Fiat Currencies Available
Euro, United Kingdom Pound, Kazakhstan Tenge, Poland Zloty, Russia Ruble, Turkey Lira, Ukraine Hryvnia, United States Dollar
Products & Services
Staking
Exchange
Multicurrency wallet
Simple trade
Advanced trade
Margin trade
Buy and sell crypto
Pros
It accepts multiple payment options, including bank transfers and cryptocurrencies
The platform offers 24/7 customer support for traders globally
Supports 61 cryptos and fiat currency, offering a wide range of options
Multilingual support is available on the platform
Simple navigation to buy and sell cryptocurrencies
Cons
The withdrawals and deposits process can be sluggish at times
The deposit fees for methods are significantly high
Introduction to EXMO Exchange
Managing digital assets has become more accessible than ever in the world of cryptocurrencies. For those seeking a reliable and user-friendly platform to trade and store cryptocurrencies, EXMO Exchange stands out as a trusted name in the industry.
It offers an intuitive interface and straightforward navigation, making it an ideal choice for both beginners and experienced cryptocurrency users. The platform enables users to buy, sell, and exchange a wide range of cryptocurrencies, empowering them to make informed decisions and seize investment opportunities. With a commitment to security and customer satisfaction, it safeguards your funds in secure wallets, and protects your personal information.
Throughout this EXMO Exchange Review article, we will explore the platform's key features, and delve into its various services, equipping you with the knowledge you need to navigate the crypto market confidently. From understanding the trading options available to discovering the innovative tools provided, the platform has everything you need to enhance your crypto experience.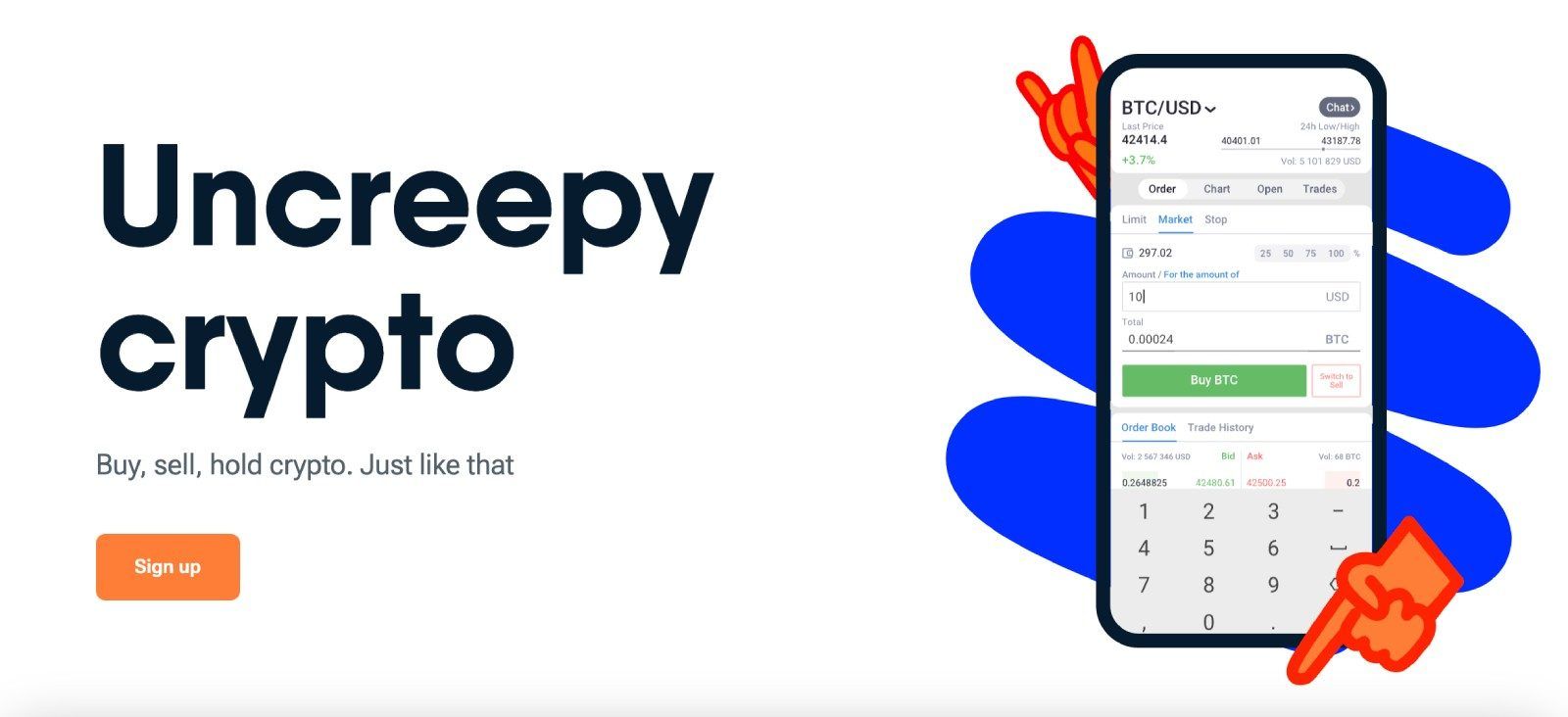 Services Offered by EXMO Exchange
The platform offers its users a comprehensive range of services, focusing on exchanging fiat money for cryptocurrency and facilitating cryptocurrency-to-cryptocurrency trades. Here is an overview of the key services offered:
Fiat-to-Crypto Exchange:
It provides a user-friendly platform for individuals to exchange traditional fiat currencies, such as USD, EUR, GBP, or PLN, for various cryptocurrencies. This service allows users to easily enter the world of cryptocurrencies by purchasing digital assets using their local currency.
Crypto-to-Crypto Exchange:
It facilitates the trading of one cryptocurrency for another. Users can exchange popular cryptocurrencies like Bitcoin (BTC), Ethereum (ETH), Ripple (XRP), Litecoin (LTC), and many others. This service enables users to diversify their cryptocurrency holdings, and take advantage of market opportunities.
Multicurrency Wallet Services:
It provides secure wallets for users to store their cryptocurrencies. These wallets are designed to ensure the safety of funds, utilizing advanced security measures such as encryption and two-factor authentication. The wallets support multiple cryptocurrencies, enabling users to manage their digital assets conveniently within the platform.
Margin Trading:
It offers margin trading, allowing users to trade with leverage. Margin trading enables users to borrow funds to increase their trading positions, potentially amplifying profits (but also increasing risks). It is important to note that margin trading involves a higher level of risk, and requires careful consideration and understanding of the associated mechanics.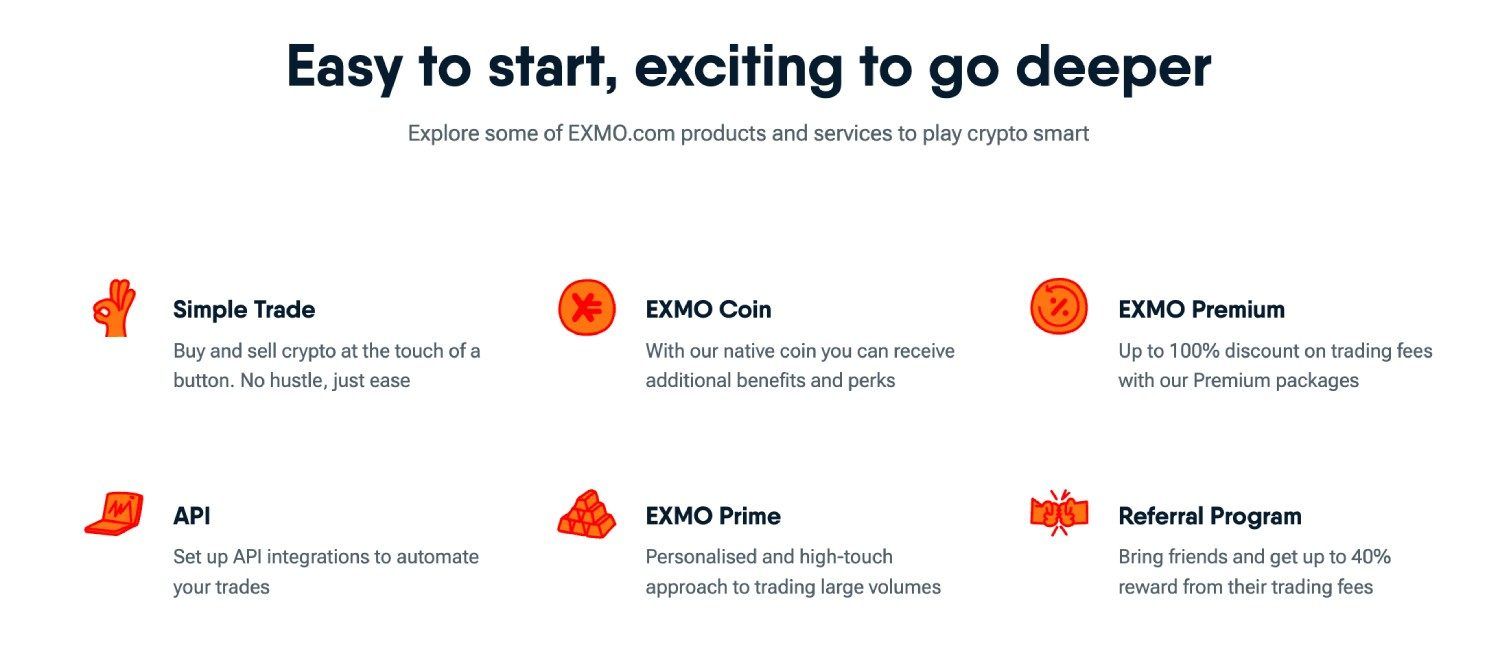 Visit the official website of the Exchange, and click on the "Sign up" button in the upper right corner.
A registration window will appear. Enter a username, email address, and a strong and secure password. Your username should be 5-12 characters, and your password must have 8+ characters, including an uppercase, a lowercase, a symbol, and a number.
Read and agree to the User Agreement, Privacy Policy, and Refund Policy. Complete the CAPTCHA verification to confirm that you are not a robot.
An activation link will be sent to your provided email address after completing the registration process.
Access your email and click the activation link to finalize the account creation process. Now, you have an EXMO account!
How to Proceed with a Transaction
How to Proceed with a Transaction
To execute a transaction on the Exchange, follow the steps below:
Log in to your account on the desktop or mobile app.
Go to the "Exchange" tab on the app's bottom menu bar.
Select the desired cryptocurrency you want to exchange for fiat. For example, Bitcoin.
Specify the amount of cryptocurrency you want to sell, or the amount of fiat currency you want to buy.
Tap on "Exchange." Review the details of your order, including the trading pair, order type, amount, and any applicable fees.
After the transaction is completed, the fiat currency will be available in your bank account.
How to Make a Deposit
Login to your account and go to the "Wallet" section in the app or website.
Select the fiat or cryptocurrency you want to deposit into your account. Click on the "Deposit" button related to the chosen currency.
On the deposit page, you will find detailed information about the fees associated with the deposit, and a list of available deposit methods for the particular currency.
Select a deposit method that suits you best. Complete the deposit process using your chosen method. It will involve providing necessary details, such as account number or wallet address, depending on the selected deposit method.
Review the deposit details, and ensure they are accurate before confirming the transaction.
After confirming the deposit, wait for the transaction to be processed and confirmed. The time required for confirmation may vary depending on the chosen deposit method and network conditions.
How to Make a Withdrawal
Open the mobile app and navigate to the Wallet section.
Look for the fiat or cryptocurrency you want to withdraw and select it. Click "Withdraw" beside your chosen currency.
On the withdrawal page, you will find details about the fees associated with the withdrawal process. Scroll down to review the options, and choose the withdrawal method that suits your preferences.
Follow the instructions provided for the selected withdrawal method to complete the process.
Check all the details, including the withdrawal amount and destination address, before confirming the transaction.
Payment Methods
The platform offers a wide range of payment methods to cater to the diverse needs of its users. It understands the importance of providing convenient and secure payment options for buying and selling cryptocurrencies. In this section of EXMO Exchange Review, we'll explore the various payment methods supported, including bank transfers, mobile wallets, and online payment options.
Bank Transfers:
It supports bank transfers, allowing users to deposit or withdraw funds directly from their accounts. This traditional payment method provides a reliable and familiar way to transfer funds. Users can initiate a bank transfer by following the instructions provided by the platform, and can expect funds (deposited and withdrawals) within seven business days.
Online Payment Options:
The Exchange also supports various online payment options, providing users with flexibility and ease of use. Users can utilize popular online payment systems like AdvCash to deposit and withdraw funds from their accounts. These online payment methods offer a secure and convenient way to transfer funds, ensuring users can easily access the cryptocurrency market.
Gift Card:
This is a convenient payment method for transferring crypto and adding funds to users' accounts. It consists of a secure 57-character combination of numbers and letters. The card's code activation instantly deposits funds to the recipient's account, providing a quick and reliable transfer outside the exchange space.
It's important to note that the availability of payment methods may vary depending on the user's location, and the specific regulations governing financial transactions in the region. It strives to accommodate a broad user base, and continually expands its range of supported payment methods to meet the needs of its global community.
EXMO Exchange Supported Tokens
It is a popular trading platform that offers a diverse range of cryptocurrencies for users to store, send, and receive. Here is a comprehensive list of the tokens supported by the platform, offering users a wide variety of options to explore within the crypto space:
| | |
| --- | --- |
| EXMO coin (EXMO): | It is the native utility token of the Exchange, designed to provide various benefits to users, such as discounts on trading fees, participation in token sales, and access to premium features. |
| Bitcoin (BTC): | Bitcoin, often called the original cryptocurrency, is a decentralized digital currency that remains the most widely recognized, and valuable cryptocurrency. |
| Dash (DASH): | Dash is a digital currency focusing on privacy and instant transactions. It aims to provide a user-friendly experience for both merchants and consumers. |
| Ether (ETH): | Ethereum is a decentralized blockchain platform that enables the creation and execution of smart contracts and decentralized applications (dApps). |
| Ripple (XRP): | Ripple is both a digital payment protocol, and a cryptocurrency. It aims to facilitate fast and low-cost international money transfers, and is often used by financial institutions. |
| Litecoin (LTC): | Litecoin is a peer-to-peer cryptocurrency created as a "lite" version of Bitcoin. It offers faster transaction confirmation times, and a different hashing algorithm. |
| Tether (USDT): | Tether is a stablecoin pegged to the US dollar's value. It is designed to provide stability, and serve as a bridge between traditional fiat currencies and cryptocurrencies. |
| Cardano (ADA): | Cardano is a blockchain platform that aims to provide a secure and scalable infrastructure for developing decentralized applications, smart contracts, and protocols. |
| Dogecoin (DOGE): | It started as a meme cryptocurrency but has gained popularity for its active community and charitable endeavors. It operates on a decentralized peer-to-peer network. |
| Stellar (XLM): | Stellar is a platform that enables fast and low-cost international money transfers. It focuses on providing financial services to the unbanked and underbanked populations. |
| Monero (XMR): | Monero is a privacy-focused cryptocurrency that offers secure, untraceable transactions. It utilizes advanced cryptographic techniques to ensure anonymity for its users. |
| EOS (EOS): | EOS is a blockchain platform that aims to provide a scalable and flexible infrastructure for developing decentralized applications. |
| NEO (NEO): | NEO is often called "Chinese Ethereum," and allows the creation and execution of smart contracts and decentralized applications. |
| Zcash (ZEC): | Zcash is a privacy-oriented cryptocurrency that offers shielded transactions, providing users with enhanced privacy options. |
| Tezos (XTZ): | Tezos is a blockchain platform that allows the creation of smart contracts and decentralized applications. It focuses on self-amendment and decentralized governance. |
| Chainlink (LINK): | Chainlink is a decentralized oracle network that aims to bridge the gap between blockchain-based smart contracts and real-world data sources. |
| Binance Coin (BNB): | Binance Coin is the native cryptocurrency of the Binance exchange. It is used for trading fee discounts, and participation in token sales on the Binance Launchpad. |
| Basic Attention Token (BAT): | Basic Attention Token is a utility token integrated with the Brave browser, aiming to improve digital advertising efficiency and user privacy. |
| VeChain (VET): | VeChain is a blockchain platform focusing on supply chain management, and enhancing transparency and traceability in various industries. |
| IOTA (MIOTA): | IOTA is a distributed ledger technology designed for the Internet of Things (IoT). It aims to enable secure communication and data transfer between IoT devices. |
| Algorand (ALGO): | Algorand is a blockchain platform that aims to provide fast and secure decentralized transactions and smart contracts. |
| Chiliz (CHZ): | Chiliz is a digital currency designed for sports and entertainment platforms, allowing fans to engage and participate in various activities. |
| Dai (DAI):  | Dai is a stablecoin pegged to the value of the US dollar, designed to maintain a stable value through an autonomous system of smart contracts. |
| Polkadot (DOT):  | Polkadot is a multi-chain platform that enables interoperability between blockchains, allowing them to share information and communicate. |
| Cryptocean (CRON): | Cryptocean is a blockchain-based platform that offers a range of financial services, including cryptocurrency exchange, digital wallets, and payment solutions. |
Note: The list provided is not exhaustive.

Is EXMO Exchange Safe and Legit?
The platform has gained popularity in the cryptocurrency market, allowing users to trade various digital assets. However, when considering the safety and legitimacy of any crypto exchange, it is crucial to evaluate some key aspects. In this section of EXMO exchange Review, we'll see how and what makes this platform safe and legit.
Regulation and Compliance: One of the primary factors in determining the legitimacy and safety of any cryptocurrency exchange is its compliance with regulatory authorities. The platform is a registered exchange that adheres to multiple jurisdictions' legal requirements. It complies with the European Union's Anti-Money Laundering (AML) and Know Your Customer (KYC) regulations, which enhance security and reduce the risk of illicit activities on the platform.
Security Measures: Ensuring the safety of users' funds and personal information is vital for any crypto exchange. EXMO takes security seriously and employs robust measures to protect its users. These include utilizing two-factor authentication (2FA) for account access, implementing encryption protocols, employing cold storage for most user funds, and conducting regular security audits to identify and address potential vulnerabilities.
Track Record and Reputation: Evaluating a platform's track record and reputation is essential for gauging its legitimacy. The platform has been operating since 2014, establishing itself as one of the early cryptocurrency exchanges. It has built a strong reputation among users, with a sizable community of traders and positive reviews. This longevity and positive user feedback contribute to the overall credibility of the platform.
Trading Volumes: It has a significant trading volume, and supports a wide range of cryptocurrencies, allowing users to access ample liquidity. This enhances the overall user experience, and reduces the risk of encountering liquidity issues during trading activities.
Customer Support and Transparency: A reliable crypto exchange should provide excellent customer support, and be transparent about its operations. The platform offers a dedicated support team to promptly assist users with their inquiries and concerns. It also maintains transparency by providing clear information about fees, trading conditions, and regulatory compliance, fostering trust and accountability.
It is important to note that no exchange is entirely risk-free, and the cryptocurrency market carries inherent risks. Users should exercise caution and conduct due diligence before engaging in trading.
When it comes to cryptocurrency exchanges, security is paramount. The Exchange understands the importance of safeguarding user funds, and has implemented robust security measures to ensure a secure trading environment. By prioritizing encryption and authentication, offering two-factor authentication, and utilizing cold storage, the platform demonstrates its commitment to protecting users' digital assets.
Encryption and Authentication:
The platform employs state-of-the-art encryption techniques to secure user data and transactions. All sensitive information, such as personal details and financial data, is encrypted using industry-standard cryptographic protocols. This encryption ensures that data remains confidential, and protected from unauthorized access or tampering.
Additionally, the authentication process is designed to provide an extra layer of security. Users are required to create a strong password during the registration process, and the platform encourages using unique and complex passwords to enhance security. By employing robust authentication measures, the platform mitigates the risk of unauthorized access to user accounts.
Two-Factor Authentication:
The platform allows users to enable two-factor authentication (2FA) as an additional security measure. With 2FA, users must provide a second form of verification, typically a time-based one-time password (TOTP) generated by a mobile app, in addition to their regular login credentials. Even if a malicious actor obtains the account password, they still require the time-sensitive 2FA code to gain entry.
Setting up 2FA is a straightforward process. Users can use Google Authenticator or SMS Authentication to enable 2 Factor authentication. To use Google Authenticator, download the app, Google Authenticator, and press the "Generate a new key" option. A 16-digit key and QR code to activate the Google Authenticator application will appear in the Secret key section. Enter the code in the app, and save the settings.
To enable 2FA using SMS authentication, enter your phone number (in international format without "+") in the "Cellphone" field. Click "Check." Enter the code from the SMS in the "Code confirmation" field. Click "Confirm." Select your security level and save the settings when done.
Cold Storage:
To protect user funds from potential online threats, the Exchange utilizes cold storage to store 95% of cryptocurrencies, which Ledger Vault protects with $150M insurance coverage. The cold storage system employed by the Exchange involves storing cryptocurrencies in secure offline wallets that are not connected to the internet. This offline storage approach provides a layer of protection against potential cyber-attacks, and reduces the risk of loss due to online vulnerabilities.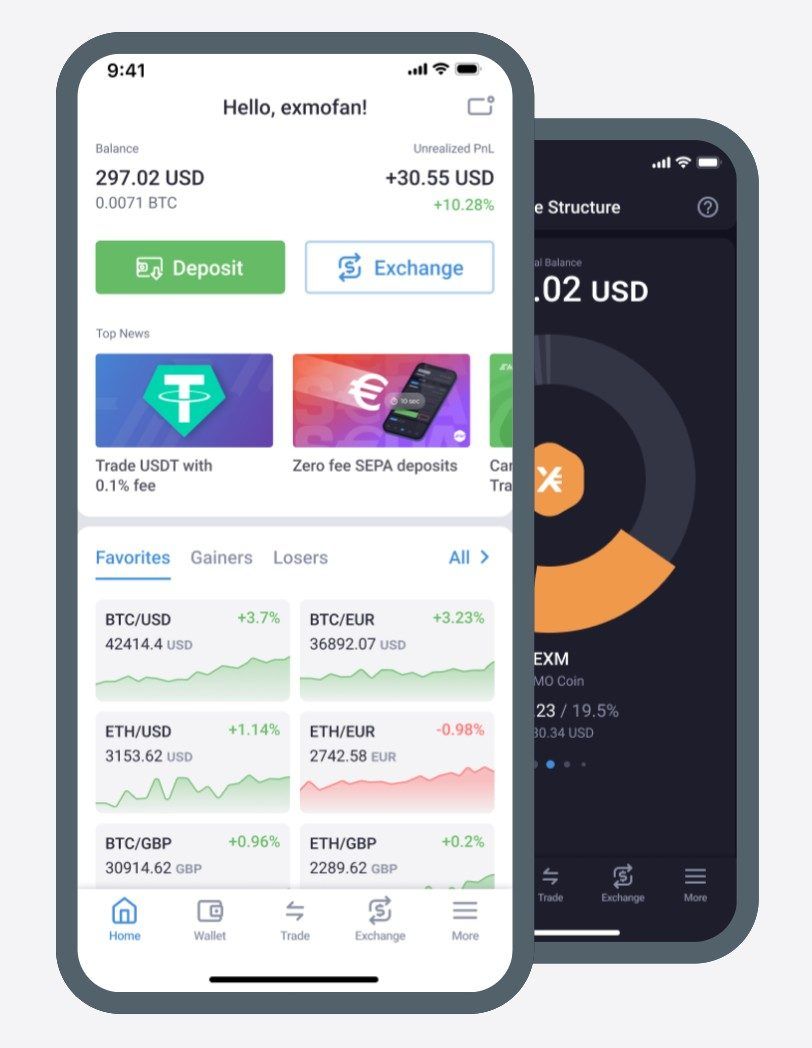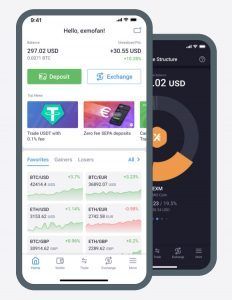 The platform boasts a user-friendly interface across both mobile and desktop platforms. With its intuitive design, streamlined layout, and comprehensive functionality, users can easily navigate the platform, access various features, and execute trades seamlessly. In this section of the EXMO Exchange Review, we will delve into the specific details of the platform's UI, highlighting its user-centric approach and emphasizing its commitment to providing a smooth trading experience in the mobile app and the desktop.
How to Use Crypto Exchange on Android and iO
Download the app from Google Play Store (Android) or the App Store (iOS) on your device.
Once installed, open the app and tap on "Create Account" to register if you're a new user. If you already have an account, tap "Login" and enter your credentials.
After logging in, you'll be greeted with the app's home screen, which displays the latest news, available trading pairs, and their growth.
To deposit funds, tap on the wallet icon on the left side of the screen, and select the cryptocurrency you want to deposit. Follow the prompts to complete the process. You can also buy crypto using the "Buy crypto" icon beside the deposit option.
Once you have funds in your wallet, you can start trading. Tap the "Trade" tab in the menu bar below to access the trading pairs. Select the desired pair and choose whether you want to buy or sell.
Specify the amount you wish to trade, and set the price if necessary. You can use market orders for instant trades, or limit orders to set your desired price.
Review the details of your trade, and tap on "Buy" or "Sell" to confirm the transaction.
You can track the status of your trades, and view your transaction history in the "Order History" section.
How to Use Crypto Exchange on a Desktop
If you haven't done so already, visit the EXMO website and sign up for an account by clicking on the "sign up" option on the top right corner of your screen.
Once registered, log in to your account using your credentials.
Ensure you have a balance in your wallet in USD, or another currency. If not, deposit funds into your account using your debit card, bank transfer, or online payment.
To buy cryptos, click the "Buy Crypto" option on the top menu, and to sell or exchange cryptocurrencies, click on the "trade" option in the left corner of the upper menu bar. You can select from 4 options: simple, advanced, professional, and margin
Select the desired cryptocurrency you want to buy or sell, or a trading pair you wish to trade.
Use the available options to specify the amount and price at which you want to do the transaction. Confirm the transaction, and wait for it to be executed.
In the fast-paced world of cryptocurrencies, securing your digital assets is paramount. While the Crypto exchange provides robust security measures, it's always prudent to take additional precautions, such as creating regular backups of your account. These backups serve as a fail-safe mechanism, safeguarding valuable data against potential loss due to hardware failures, software glitches, cyberattacks, and other unforeseen events. By backing up and restoring your EXMO Exchange account, you can also ensure that your transaction history, account settings, and critical data are preserved, allowing for a seamless recovery process when needed. Although the exchange lacks an official backup feature, you can safeguard your account information by utilizing third-party applications like MetaMask.
To backup the data with MetaMask:
1. Install the MetaMask browser extension and create a new wallet if you don't have one already.
2. Set up MetaMask by following the instructions provided, including creating a strong password and securely storing the wallet seed phrase.
3. Once your MetaMask wallet is set up, navigate to the Exchange website, and log in to your account.
4. In the account settings or security section, look for the option to enable two-factor authentication (2FA) if you haven't already done so, and set it up for an added layer of security.
5. In MetaMask, click on the account icon (typically represented by a circle or your profile picture) and select the "Export Private Key" or "Export Seed Phrase" option.
6. Follow the prompts and enter your MetaMask password to reveal the seed phrase associated with your MetaMask wallet.
7. Write down the seed phrase on a piece of paper, or use a secure password manager to store it digitally.
8. Double-check the accuracy of the seed phrase, and ensure it is kept in a safe and confidential location, as anyone with access to the seed phrase can potentially gain control over your wallet.
To restore the data with MetaMask:
1. Install the MetaMask browser extension.
2. Click on the MetaMask extension, or open the app and select the option to "Restore from Seed Phrase" or "Import Wallet."
3. Enter the seed phrase you previously backed up for your account, and follow the prompts to complete the restoration process.
4. Once the wallet is successfully restored, you should see your account data within MetaMask.
5. Thus, your access to your account would be restored using the MetaMask wallet.
Troubleshooting
Connection issues can occasionally disrupt your experience on the platform. To address this, check your internet connection and ensure its stability. If the problem persists, refresh the page or access the platform from a different browser. If you're still unable to connect, it's advisable to contact customer support for further assistance.
If you encounter wallet and deposit problems, double-check the accuracy of the wallet address you provided during the transaction. Additionally, confirm that the blockchain transaction has been completed successfully, and allow sufficient time for processing. If the funds still haven't appeared in your account, it's recommended to contact the support team with relevant transaction details for further investigation.
Trading and order execution can sometimes present challenges. If that happens, review your order parameters, and ensure they meet the exchange's requirements. Check that you have sufficient funds available in your account, or adjust your trading strategy accordingly. If problems persist, EXMO offers a comprehensive knowledge base that provides valuable information. You can also reach out to their support team for guidance.
Account verification issues can sometimes arise when using the platform. Avoid delays by providing accurate and up-to-date information during the verification process. If you encounter difficulties, check for any pending verification requests, and submit the necessary documents promptly. If you're still facing challenges, contact the customer support for further guidance and resolution.
The platform strives to provide a smooth and secure trading experience for its users. However, if you encounter any of these common issues, following the troubleshooting steps outlined above should help you navigate potential challenges, and resolve problems efficiently.
EXMO Exchange Alternatives
In the highly competitive cryptocurrency exchange landscape, EXMO currently leads, but Gemini and Kraken pose formidable competition. Let's compare them.
EXMO Exchange Vs Gemini Exchange
EXMO and Gemini are popular cryptocurrency exchanges, each offering unique features, customer bases, user interfaces, and security measures.
Both exchanges offer a variety of cryptocurrencies for trading, but EXMO boasts a broader range compared to Gemini. The former supports a diverse selection of digital assets, while the latter has a more limited offering.
Gemini has a strong presence in the United States, and is recognized for its trustworthiness and transparency, attracting customers who value strict regulatory adherence. EXMO, on the other hand, caters to a global customer base with traders from various countries.
Regarding the user interface, Gemini excels in simplicity and user-friendliness, featuring a clean and intuitive design suitable for beginners. EXMO, on the other hand, offers a more feature-rich platform that may appeal to experienced traders seeking advanced functionalities.
In terms of security, both exchanges prioritize user fund protection. Gemini implements offline cold storage, and two-factor authentication. Similarly, EXMO employs encryption and two-factor authentication, and utilizes offline cold storage for enhanced security.
EXMO Exchange Vs Kraken Exchange
Both are prominent cryptocurrency exchanges, each with its own set of features and advantages.
EXMO provides a wide range of cryptocurrencies for trading, including popular options like Bitcoin, Ethereum, and Ripple. It also offers margin trading, and a mobile app for convenient trading on the go. Kraken supports a vast selection of cryptocurrencies, including many altcoins. It offers advanced trading features such as futures trading, and margin trading with up to 5x leverage.
EXMO caters to individual retail traders, and has a sizable user base in Europe and Asia. On the other hand, Kraken targets retail and institutional investors, serving a broader customer base. The former also has a user-friendly interface that is intuitive and easy to navigate, making it suitable for beginner traders. While offering a robust trading platform, the latter has a slightly steeper learning curve due to its advanced features.
Both exchanges prioritize security, implementing two-factor authentication (2FA), and cold storage for cryptocurrency funds. EXMO also offers an optional hardware wallet integration for added security.
EXMO Crypto Exchange stands out as a reliable and user-friendly platform for cryptocurrency trading. Throughout this article, we have explored its key features and advantages, making it a preferred choice for novice and experienced traders. Its wide range of cryptocurrencies, secure storage options, and efficient trading tools ensure a seamless trading experience. The platform's dedication to user security, compliance with regulations, and robust customer support further instil trust among its users. Its competitive fee structure, various deposit and withdrawal options, and intuitive interface contribute to its overall appeal. With its solid track record and commitment to providing a safe and efficient trading environment, the Crypto Exchange is a valuable asset for anyone looking to participate in the cryptocurrency market.
What are the benefits of using EXMO Exchange?
The benefits of using EXMO Exchange include a wide range of cryptocurrencies, competitive fees, and a user-friendly interface.
How secure is EXMO Exchange?
The Exchange prioritizes security with two-factor authentication, cold storage, and encrypted data transmission.
How can I get started with EXMO Exchange?
To start, sign up, complete the verification process, deposit funds, and begin trading.
How easy is it to use EXMO Exchange?
The exchange offers a user-friendly interface, making it easy for beginners and experienced traders to navigate the platform.
How fast are EXMO Exchange transactions?
The transactions are fast, with most processed within minutes, providing efficient trading opportunities.
What happens if I lose my EXMO Exchange password?
If you lose your Exchange password, you can reset it using the account recovery process, and your registered email address.
How private is EXMO Exchange?
The Exchange prioritizes privacy by implementing advanced security measures, and adhering to data protection regulations.
Who should use EXMO Exchange?
Anyone interested in trading various cryptocurrencies can benefit from using the Exchange.
Who might not benefit from using EXMO Exchange?
Individuals who prefer a decentralized exchange, or those restricted by regional regulations may not find the Exchange suitable.
Does EXMO require KYC?
Yes, it requires Know Your Customer (KYC) verification for users to comply with anti-money laundering (AML) regulations.