Coins.ph is a secure crypto exchange offering a simple interface for transacting digital currencies, including mobile wallets, bill payments, and money transfers. While it's widely accessible, to get the most out of it, you should be a resident of the Philippines and be looking for a safe and user-friendly way to transact in cryptocurrencies on the go.
Coins.ph Overview
Restricted Countries
Among the restricted jurisdictions
Coins.ph Key Facts
Headquarters
Metro Manila, Philippines
Type of exchange
Centralized
Best for
Filipino-based beginner and advanced traders
Fiat Currencies Available
Philippines Peso
Pros
Beginner friendly
Safe and reliable
Multiple crypto support
Offers bill payments in Philippines
Mobile friendly
Cons
No staking and earning features
No margin trading offered
Not best suited for global transactions
Coins.ph Exchange is a popular digital coin exchange platform established to focus on the Philippine market. The platform aims to cater to both experienced traders and beginners, providing a user-friendly interface for seamless trading experiences. It was set up in 2014 as a crypto wallet and has since grown to include exchange and trading services. Coins has also opened doors to other markets worldwide. One of the main drivers of its growth is the platform's safe and user-friendly environment. As of writing this, the platform boasts at least 16 million active users and has recorded a 24-hour trading volume of $520,232, ranking it in the same category as exchanges like Kraken and KuCoin. The Bangko Sentral ng Pilipinas (BSP) regulates and grants it a license to provide electronic money remittance services, digital coin exchange, remittances, and money transfer services. In addition, users can also make bill payments, mobile top-ups, and online shopping. Coins offers a range of popular cryptocurrencies for trading, including Bitcoin (BTC), Ethereum (ETH), Ripple (XRP), Bitcoin Cash (BCH), and Litecoin (LTC), among others. The platform also supports fiat trading pairs, with the Philippine peso (PHP) being the base currency. This allows local users in the Philippines to easily convert their cryptocurrencies into fiat currency and vice versa
Fees
Coins.ph uses a tiered fee structure involving maker and taker charges. A maker creates a new order in the system and is charged between 0.055% for transactions above 2,500,000,000 PHP and 0.25% for transactions less than 500,000 PHP. Conversely, takers pay between 0.055% for transactions above 2,500,000,000 PHP and 0.30% for anything less than 500,000 PHP. There are no fees for sending and receiving funds internally.
Features
Crypto Exchange
Coins.ph is primarily an exchange, allowing users to swap between different currencies. You can buy, sell, and trade all major cryptocurrencies like Bitcoin, Ethereum, Bitcoin Cash, and even Litecoin. The platform also offers metaverse tokens and some of the newest and less popular coins, including Sandbox, Decentraland, Polygon, Chiliz, and more. You can also use it to swap the Philippine peso for stablecoins like USDT
Digital Wallet
Coins.ph was first created as a digital wallet provider in 2014 before rolling out the exchange function in 2019. The wallet prioritizes security and speed and offers a great user experience. You can safely store and manage your coins, perform wallet-to-wallet transfers, and pay bills from this feature
Portfolio App
Coins comes with a portfolio management feature to quickly help you make the best of your investment. You can use it to view your balances in any denomination, fund, and even cashout money from your wallet. It also offers insights into the performance of different coins and tokens and lets you track price changes over time. You can perform different functions like buying and selling with a single click
Coins Pro
Coins Pro is an advanced Coins.ph exchange platform. It allows users to place sophisticated order types like limit and stop orders. It also provides trading charts with different analysis tools like candlesticks, hollow candles, bars, heiken ashi, and lines. Users can place different spot trades with PHP or USDT as the base currency.
TradeDesk
Are you a high roller seeking to transact huge volumes off the order book? The TradeDesk feature is an over-the-counter product where you can contact customer support and get a personalized trading experience. It's easy to use, seamless, safe, and offers fast settlement with zero slippage
Number of Cryptocurrencies Supported
Here is a list of the digital currencies supported by the exchange:
The exchange supports a wide variety of digital currencies, ranging from major coins to stablecoins, metaverse tokens, and more. As of writing this, the following 39 cryptos were listed:
Aave, ApeCoin, Arbitrum, Arbswap, Axie Infinity, Basic Attention Token, Bitcoin Cash, Blur, Binance Coin, Bitcoin, Chiliz, Dogecoin, Enjin Coin, Ethereum, FLOKI, Gala, GMX, Kyber Network Crystal v2, Lido DAO, Chainlink, LooksRare, Liquity, Decentraland, Polygon, Maker, GensoKishi Metaverse, Pepe, Radiant Capital, Ronin, Rocket Pool, The Sandbox, Shiba Inu, Smooth Love Potion, TrueFi, Tron, Uniswap, USD Coin, Tether, Ripple, and Yield Guild Games.
Earn (staking/rewards)
Validators are chosen to create new blocks and safeguard the network in a proof-of-stake system based on the number of digital currencies they own and are willing to temporarily lock up as collateral. Crypto staking, also known as proof-of-stake (PoS) staking, is a mechanism in which cryptocurrency holders contribute to the validation and security of a blockchain network by "staking" their coins. Virtual currency holders can earn passive income by contributing to the network's consensus and earning frequent incentives in the form of more coins. The payouts fluctuate depending on factors like the network's inflation rate and the amount staked by the member. Coins did not offer staking or passive revenue options at the time of this research.
Customer Service
Customer service is an integral part of the finance business, and Coins.ph understands that. It offers a comprehensive knowledge base to help you find quick solutions to common challenges you may face while using the platform. The FAQs section is categorized into safety and security, virtual assets, cash in and cash outs, and account limits, with each section presenting a list of articles and answers to different issues you might encounter. The help page is accessible 24/7, allowing users to find information conveniently. You may also create a ticket via the "Contact Us" page. This comes in handy when you have complex inquiries that require you to attach details like documents or screenshots. A support representative will review the ticket and respond with assistance or clarification.
The ticket system ensures that users receive personalized support for their individual issues. Coins also offers a live chat section for those who may need to speak to a live agent. This allows for immediate assistance and the ability to resolve issues or ask questions quickly. Live chat support may have specific availability hours, so checking the website for the current operating hours is advisable. Lastly, you may contact customer service through the hotline (02) 882-26467 (882-COINS) from 8 a.m. – 7 p.m. Philippine time, Mondays to Fridays.
Hardware Compatible
As an online cryptocurrency exchange platform that allows users to buy, sell, and store cryptocurrencies Coins.ph doesn't offer direct integration or compatibility with hardware wallets. However, for safe offline storage, you can send your digital currencies to any cold storage device, including SafePal, Trezor, and Ledger.
SPV or Full Node
Coins.ph is an SPV node (Simplified Payment Verification). SPV nodes, also known as lightweight nodes, rely on block header verification rather than downloading and validating the whole blockchain. Compared to running a full node, this strategy provides faster synchronization and requires fewer computational resources. While SPV nodes provide some level of safety and functionality, they may have some drawbacks in terms of privacy and network resilience when compared to full nodes.
Who is Coins.ph Exchange Best Suited for?
Coins.ph Exchange primarily targets the demands of the Filipino market while providing services to a wide spectrum of customers, including novice and experienced traders, day traders, and investors. It is well-suited for a variety of individuals, including:
Beginner Traders
For new traders who are unfamiliar with cryptocurrency trading, Coins.ph Exchange is a fantastic option. It comes with a user-friendly layout and intuitive features. The platform offers a seamless user experience and educational materials to aid those learning the fundamentals of trading.
Advanced Traders
The sophisticated trading tools and features provided by Coins.ph Exchange can be useful to seasoned traders. A variety of order types, charting tools, and real-time market data are available on the platform, enabling experienced traders to implement complex trading strategies.
Day Traders
Day traders can profit from market volatility because of the platform's speedy order execution, reasonable costs, and access to a variety of trading pairs.
Investors
Coins.ph Exchange offers a safe and dependable platform for long-term investors wanting to own cryptocurrencies as part of their investment portfolio. It provides a huge selection of cryptocurrencies and strong security measures for digital asset holders.
Filipino Users
Coins.ph Exchange was designed exclusively for the Filipino market, making it an excellent solution for users in the Philippines. The platform accepts local payment options, allowing customers to deposit and withdraw funds in their own currency with ease.
Services Offered by Coins.ph Exchange
Coins.ph offers a range of services to its users. Here are some of the most essential:
Cryptocurrency Trading
Users can buy, sell, and trade several cryptocurrencies on the Coins.ph Exchange, including Bitcoin (BTC), Ethereum (ETH), Bitcoin Cash (BCH), and Ripple (XRP). They can place market orders, limit orders, and track real-time market prices
Fiat Currency Conversion
Coins.ph Users can exchange Philippine pesos (PHP) for cryptocurrency and vice versa. Users can utilize this functionality to switch between traditional fiat currency and digital assets simply
Remittance Services
Coins.ph provides a convenient and low-cost remittance method. Users can send money domestically and internationally at affordable rates. This service is precious for Filipinos who need to send money to their loved ones or receive remittances from abroad
Bill Payments
Users can pay various bills directly through the Coins.ph platform. This includes utility, credit card, internet, and other regular expenses. Coins.ph aims to simplify the payment process and offers a centralized platform for managing bill payments
Mobile Phone Top-ups
Coins.ph enables users to top up prepaid mobile phones in the Philippines. Users can conveniently recharge their own or someone else's mobile phone using the funds in their digital wallet
Online Shopping
Coins.ph allows users to purchase from partner merchants using their digital wallet funds. This service provides a secure and streamlined payment method for online transactions
How to Create an Account?
To create an account with Coins.ph Exchange, follow these step-by-step instructions:
Step 1: Visit the Coins.ph exchange official website using a web browser on your computer or mobile device
Step 2: Locate the blue "Get Started" button on the upper right side of the website's header. Click on it to initiate the account creation process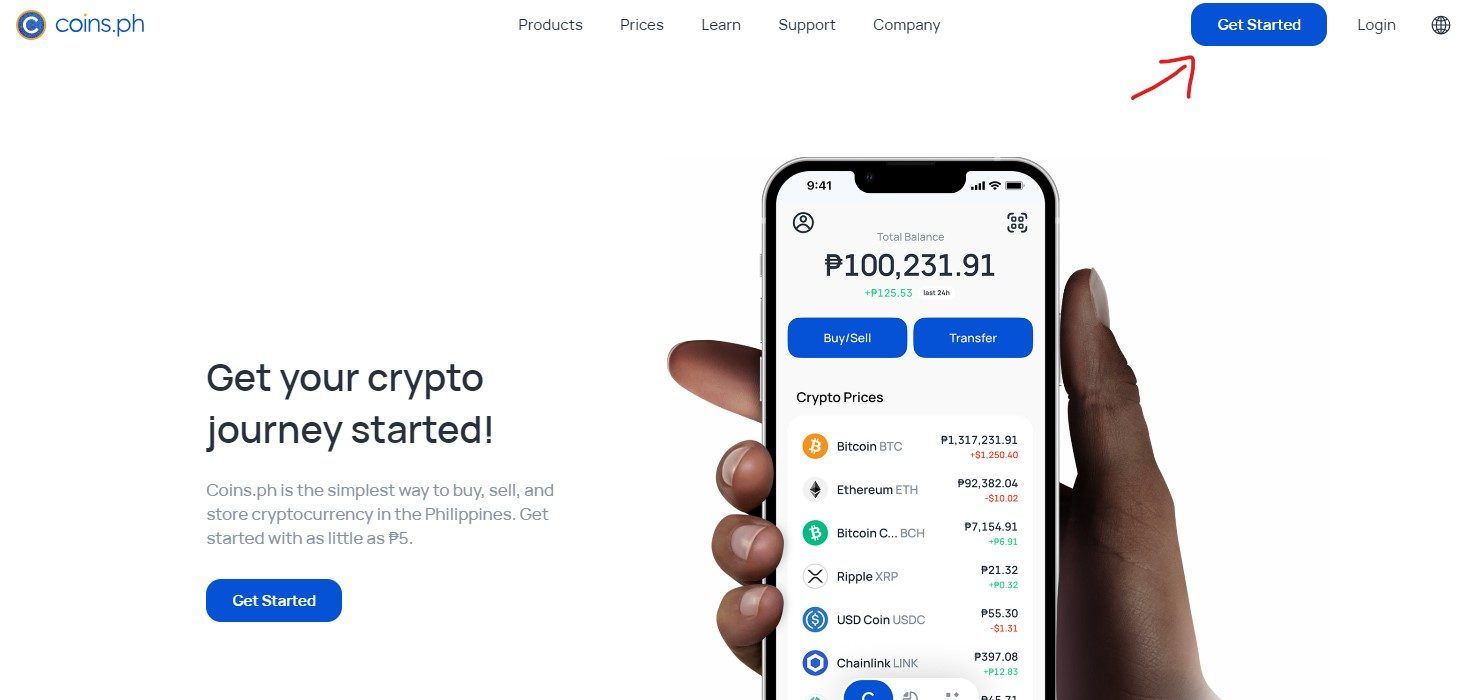 Step 3: At this point, if you are using a mobile device, you may select the relevant app store. Coins.ph is available for Android, Apple, and Huawei users. If you are using a PC, simply click "Create an Account"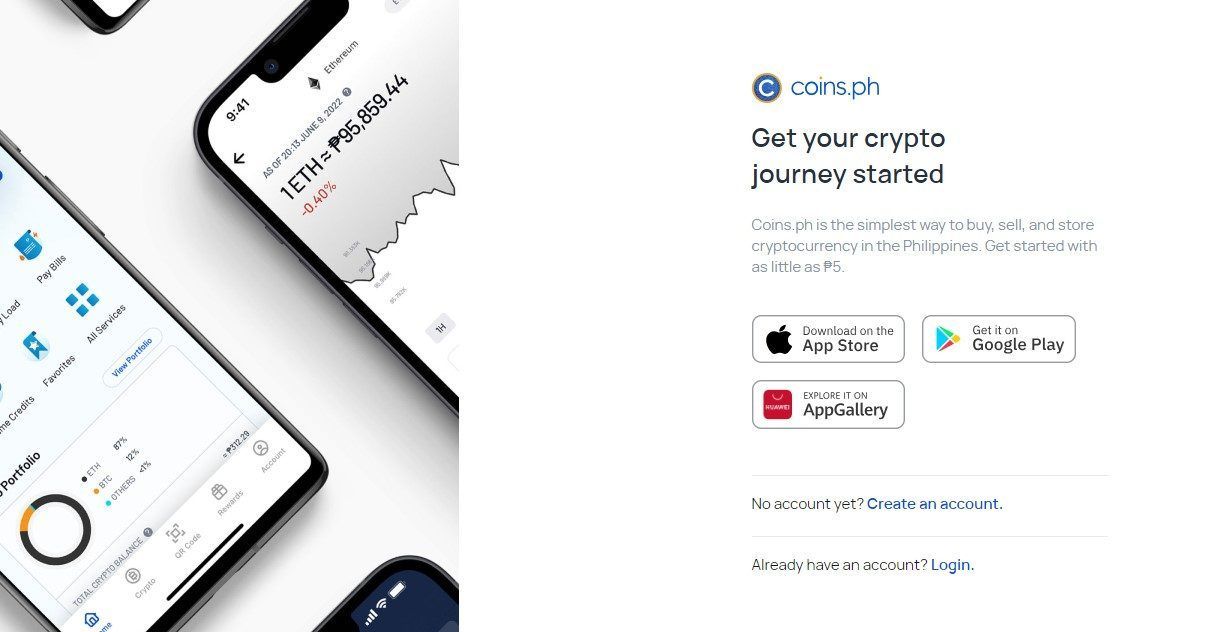 Step 4: Fill out the sign-up form and submit it. You may register using your phone or email address as the account username. Create a strong password containing a mix of uppercase and lowercase letters, numbers, and special characters. Remember to keep your password confidential and avoid using easily guessable information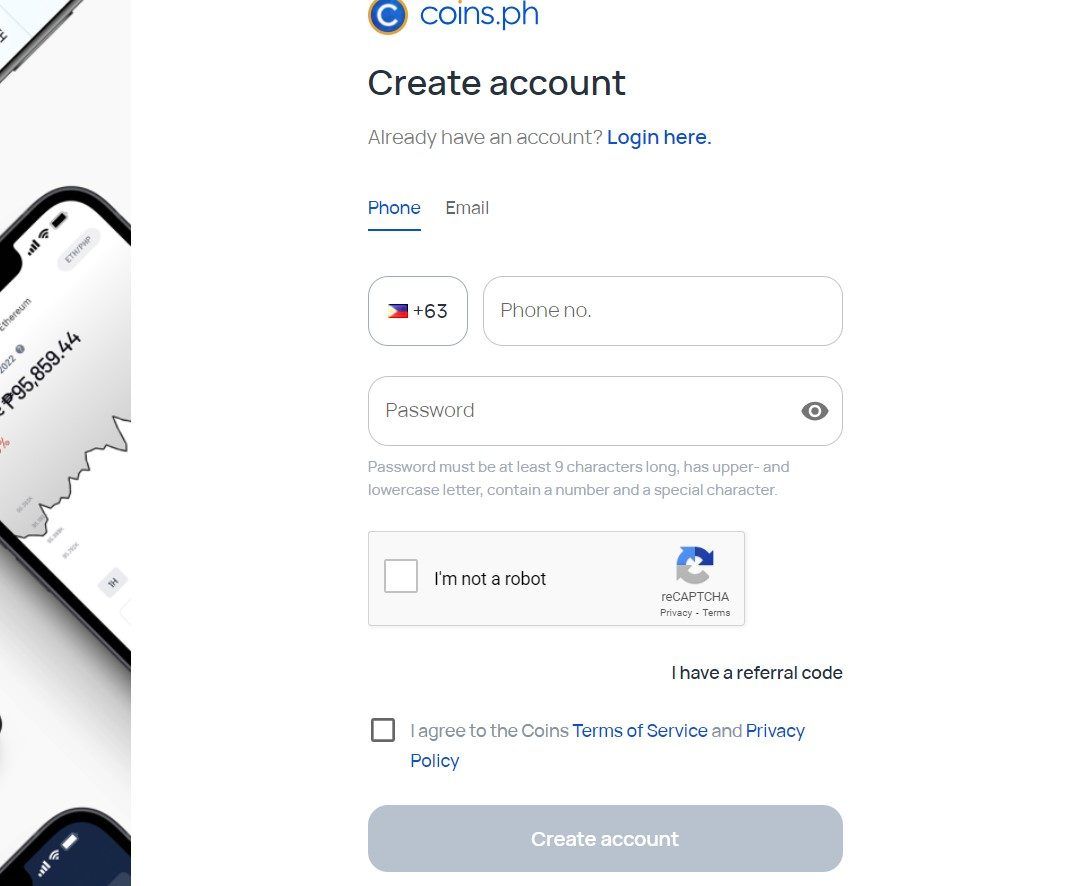 Step 5: To ensure you're not a robot, Coins.ph may require you to complete a CAPTCHA or verification step. Follow the instructions on the screen to verify your identity
Step 6: Once you have entered all the required information and completed any necessary verification steps, click on the "Create Account."
Step 7: Coins offers personal and business accounts. If you are creating an account for personal use, click "Personal"
Step 8: Your account is now ready. However, you will be mandated to provide basic KYC details to start using it. They include names, nationality, date and country of birth, address, source of funds, and the purpose of the account
Step 9: Next, go to settings and enhance the security of your Coins.ph exchange account. Consider enabling additional security features such as two-factor authentication (2FA). This provides an extra layer of protection for your account
Step 10: Congratulations! You have successfully created an account with Coins.ph Exchange. You can now access the features and services offered by Coins.ph Exchange, such as cryptocurrency trading, digital wallet management, and other financial services
How to Procced with a Transaction
Let's dive into transactions.
How to Make a Deposit?
Step 1: Visit the Coins.ph exchange website and log in using your registered email address and password. You will need to provide a 2FA code to access your account
Step 2: Once logged in, locate and click on the "Balance" option in the right side of the header. This will take you to a page with all the supported currencies
Step 3: Identify the currency you want and click the "Deposit" button next to it. This could be a fiat currency such as the Philippine pesos (PHP) or a cryptocurrency like Bitcoin (BTC) or Ethereum (ETH)
Step 4: Coins.ph exchange offers various deposit methods depending on your location and available options. Choose the deposit method that suits your preferences and is available to you. Common options include bank transfers, online banking, or depositing another cryptocurrency
Step 5: You'll need to provide specific details depending on the chosen deposit method. For example, if you're depositing cryptocurrency, you may need to provide the wallet address for the specific cryptocurrency. Remember also to specify the amount
Step 6: Double-check the deposit details you entered to ensure they are correct, then initiate the deposit by clicking the "Submit" button
Step 7: After completing the deposit, monitor the deposit status within your Coins.ph Exchange account in the transaction history section of the platform. Your funds may take a while to reflect, depending on the method you used
How to Make a Withdrawal?
To make a withdrawal using the Coins.ph exchange, follow these step-by-step instructions:
Step 1: Go to the official Coins.ph exchange website and log in using your registered email address and password. Remember to validate the URL to ensure you are not on a phishing website. Coins will also send you a 2FA code for a secure login
Step 2: Navigate to the header's right side and click "Balance"
Step 3: From the list of currencies provided, identify the need to cash out and click on the "Withdraw" button next to it
Step 4: Coins.ph Exchange offers various withdrawal methods, which might vary based on your location. Choose the withdrawal method that suits your preferences and is available to you
Step 5: Enter the necessary withdrawal details, depending on the method selected. This could be your crypto wallet address or bank account information
Step 6: Specify the amount you want to cash out, then double-check all the information provided, then confirm your withdrawal
Step 7: It may take a while for funds to be available to you, depending on the withdrawal method. Crypto payments are always the fastest and most reliable
Coins.ph Exchange Supported Tokens
Coins.ph has various types of cryptocurrency tokens. They include:
Utility Tokens
These tokens are designed to provide access to a specific product or service within a blockchain ecosystem. Utility tokens are used to facilitate transactions and interactions within the network. At Coins.ph, we have AAVE, SAND, UNI, ETH, and BNB.
Security Tokens
Security tokens represent ownership of an asset, such as equity in a company or ownership of real estate. They are subject to regulatory requirements and provide investors with rights and dividends like traditional securities. Radiant Capital is the only security token available on the platform as of writing this.
Stablecoins
Stablecoins are cryptocurrencies that are designed to maintain a stable value by pegging their price to an external asset, such as a fiat currency (e.g., USD) or a commodity. Examples include Tether (USDT) and USD Coin (USDC), which are pegged to the value of the US dollar.
Governance Tokens
Governance tokens are used to participate in the decision-making processes within a blockchain network. Token holders can vote on proposals, changes, and upgrades to the protocol, allowing them to have a say in the network's governance. MKR, AAVE, and AXIE are examples of governance tokens at Coins.ph
Non-Fungible Tokens (NFTs)
NFTs are unique digital assets representing ownership or proof of authenticity of a specific item, such as artwork, collectibles, or virtual real estate. Unlike fungible cryptocurrencies, which can be exchanged on a one-to-one basis, NFTs have distinct characteristics and cannot be replaced with another token. You will find ApeCoin, Axie Infinity, Decentraland, Pepe, GensoKishi Metaverse, and LooksRare NFT tokens on the exchange.
Is Coins.ph Exchange Safe and Legit?
From this review, we consider the Coins.ph exchange safe and legitimate for several reasons. Let's look at some of them.
Regulation and Compliance: The company is regulated by the Bangko Sentral ng Pilipinas (BSP), the central bank of the Philippines. This gives us confidence that the platform operates per established guidelines, including policies to safeguard users' funds and personal information.
Reputation: Coins.ph is one of the Philippines' oldest and most reputable cryptocurrency exchanges. It has operated since 2014 and has gained a significant user base of over 16 million accounts. The platform has a positive track record of providing reliable services and has garnered the trust of the cryptocurrency community. So far, it has never been hacked.
Security Measures: The Exchange employs robust security measures to protect user accounts and funds. They include 2FA, anti-phishing codes, address whitelisting, and more. We will expound on this in the next section.
Insurance and Audits: Coins.ph Exchange partners with reputable insurance providers to offer insurance coverage for digital assets held in the platform's wallets. This additional layer of protection provides peace of mind for users. Additionally, Coins.ph conducts regular audits to ensure transparency and maintain the integrity of its operations.
Note: Remember that no exchange or platform is entirely risk-free. Users should use caution and take the appropriate safety measures to safeguard their accounts and money. This entails creating secure passwords, turning on two-factor authentication, and keeping an eye out for phishing scams and other questionable activity.
Security is among the key factors we consider when selecting a crypto exchange. We found out during this Coins.ph exchange review that the website has taken several measures to ensure user funds' safety. First, the company implements robust encryption protocols to secure user data and communications. The website is SSL secured, meaning all communication, including client data transmission, is encrypted and private. Additionally, Coins supports two-factor authentication (2FA). This adds an extra safety layer that neutralizes the threat of compromised credentials. With 2FA enabled users are required to provide a second form of verification, usually a unique code generated by an authentication app or sent via SMS or email in order to log in.
We also noted during this review that Coins implements anti-phishing code to protect users from falling victim to phishing attacks. Phishing attacks are fraudulent attempts to obtain sensitive information, such as login credentials or personal data, by impersonating a legitimate entity. The anti-phishing code helps users verify the authenticity of communications and ensure they are interacting with genuine Coins.ph exchange channels. To avoid the risk of losing client money, most of the funds held by the company are stored in cold storage solutions distributed in different locations.
Only a portion of the funds necessary for day-to-day operations are kept in hot wallets, which are connected to the internet to facilitate transactions. Users can take advantage of the wallet safelisting feature to create a list of trusted wallet addresses from which they can withdraw their cryptocurrencies. This feature ensures that withdrawals are only processed to authorized addresses. Despite all these safety features, it's important for users to stay vigilant and exercise caution when interacting with online communications, especially those requesting sensitive information. Safety starts with you.
Coins.ph offers a friendly and straightforward interface suitable for both beginners and seasoned traders. The UI is responsive and adaptable to different screen sizes and devices, thanks to the HTML 5 code used to build it. You can access the website from a PC browser or download an app from the Google Store, App Gallery, or App Store. No matter the device used to access the website, you will enjoy a consistent and user-friendly experience. The Coins.ph exchange offers its users a straightforward way to manage their accounts with personalized preferences.
Users can manage their account settings, which allow them to maintain their personal information, configure their security settings, and organize their linked payment methods. The platform's interface provides clear options for updating these details, enabling users to enable two-factor authentication (2FA) for added security, and managing their API keys to access advanced features. The dashboard is an all-in-one hub that enables users to access their account information, balances, transaction history, and trading features in one central location.
Here, they can find links and buttons to monitor their investments and track their portfolio performance by reviewing relevant market data and charts. Moreover, the dashboard provides a clear overview of their current and historical portfolio balances, which helps users make informed trading decisions. The order placement process is efficient with two order types, market and limit orders, each offering a different advantage while trading. Users can access essential market information such as price charts, trading volumes, and market depth, which helps them make informed trading decisions.
How to Use Crypto Exchange on Android & iOS?
Here's a step-by-step guide on how to use Coins.ph Exchange on Android and iOS platforms:
Step 1: Download and install the Coins.ph Exchange app from the Google Play Store or App Store
Step 2: Create an account by giving basic information about yourself and following the steps to verify your account
Step 3: Once your account is approved, log in to the app using the right credentials
Step 4: On the dashboard, you can find links and buttons for viewing your account balance, transaction history, and other key information relevant to your portfolio
Step 5: To access buying and selling options, tap on the 'Trade' button at the dashboard's bottom menu
Step 6: To place a buy or sell order, select the cryptocurrency pair that you want to trade and choose either market or limit order type
Step 7: Provide the necessary details, such as the amount, price, and other order specifications
Step 8: Review your order and then click on the 'Place Order' button
Step 9: Once your order is successfully processed, you can view it from the 'Open Orders' tab
Step 10: You can also monitor your current positions and history by navigating to the 'Trade History' tab
How to Use Crypto Exchange on Desktop?
To use the Coins.ph Crypto Exchange on desktop computers, follow these step-by-step instructions:
Step 1: Open a web browser on your desktop computer and go to the Coins.ph Exchange website (https://exchange.coins.ph/)
Step 2: If you already have a Coins.ph Exchange account, click on the "Sign In" button and enter your registered email address and password to log in. Otherwise, click on "Get Started" to create a new account. Follow the onscreen instructions to complete the registration process. You may need to provide KYC details too
Step 3: Once logged in and verified, you will be directed to the Coins.ph Exchange trading interface. Familiarize yourself with the various sections, including the trading pairs and account information. For advanced features like charts, scroll to the footer and click "Coins Pro"
Step 4: On the trading interface, choose the trading pair you want to trade. For example, if you want to trade Bitcoin (BTC) for Philippine pesos (PHP), select the BTC/PHP trading pair
Step 5: Select the appropriate order type, specify the amount you want to buy or sell, set the price (if applicable), and review the order details. Click the "Buy" or "Sell" button to confirm and execute the trade order
Step 6: After placing a trade order, you can monitor your portfolio and track your investments. Look for the portfolio or wallet section on the website, where you can view your balances, transaction history, and other relevant information
Step 7: Coins.ph Exchange provides options to manage your account settings. You can access these settings by clicking on your account name or profile icon, typically located in the top-right corner of the website. From there, you can update personal information, update your security settings, and even refer a friend
Step 8: When utilizing the desktop version of the Coins.ph Crypto Exchange, it is imperative that you take all necessary precautions to ensure your privacy and the safety of your funds
This section needs to guide users through the process of backing up and restoring their Coins.ph exchange. It should emphasize the importance of creating backups to protect against data loss and provide instructions for both backup and restore procedures.
Coins.ph Exchange users can try these troubleshooting tips if they encounter problems while using the platform:
If you face login issues, ensure you have correctly entered your email address and password. Remember, passwords are case-sensitive. If login problems persist, try resetting the password by clicking the "Forgot Password" link and following the instructions. Clearing the browser's cache and cookies may also help.
For deposit or withdrawal problems, carefully input the payment method details to avoid mistakes. Confirm that the payment method you chose is supported and available on Coins.ph exchange, as certain payment methods, may have different restrictions or not be accessible in some regions. Contact Coins.ph Exchange customer support if the problem persists.
If your trade order is not executed or not showing up in your transaction history, check the order status first to see if it is still pending or awaiting confirmation. Ensure that you enter the correct trading details, such as trading pairs, order types, amounts, and prices. Also, adjusting the order type or price may increase the chances of execution.
For technical issues, try clearing your browser's cache and cookies and accessing Coins.ph Exchange on a different device. Keep your browser and operating system up to date, and contact Coins.ph Exchange customer support for tailored assistance.
Coins.ph Exchange Alternatives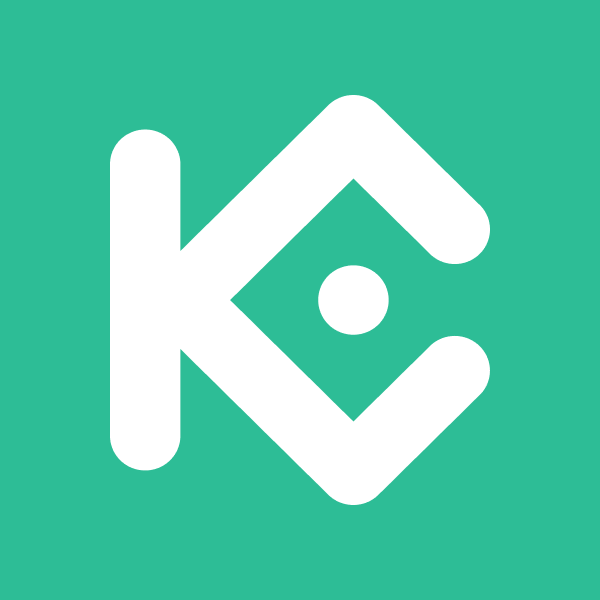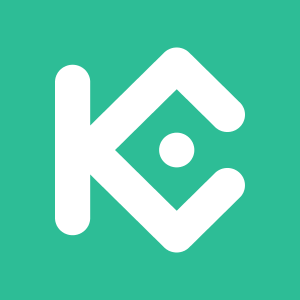 Both Coins.ph Exchange and KuCoin Exchange are well-known cryptocurrency centralized exchanges with a large user base. As of this writing, the former has approximately 16 million active accounts, while the latter has an estimated 10 million active users. In terms of worldwide rating, though, KuCoin takes the lead. With a 24-hour trading volume above $400 million, CoinMarketCap ranks it among the top ten exchanges worldwide, dwarfing its competition, which only reported a $500k volume during the same period.
The Coins.ph exchange's primary market is the Philippines; hence, it provides features tailored to the region. KuCoin, on the other hand, is a global exchange that is accessible to users internationally. It offers approximately 600 crypto assets, unlike its opponent, who only offers about 39 virtual currencies. Both exchanges offer trading features, while KuCoin provides more advanced trading features, such as margin trading and futures contracts. It also features a larger assortment of trade combinations and liquidity. Fees are dependent on the previous 30 days' trading volume. Maker fees at KuCoin fluctuate between 0.08% and 0.1%, whereas its competitor charges 0.055% to 0.25%. Coin taker costs are between 0.055% and 0.30%, while counterpart fees range between 0.08% and 0.1%. We found both platforms to be quite secure and dependable.
Despite being centrally managed, they keep users' funds in distributed cold wallets. Account holders are recommended to use 2FA for added security. Coins is more suited for security-conscious users because it includes features such as wallet whitelisting and anti-phishing codes. Both exchanges' user interfaces are intended to be user-friendly, although they may differ in terms of layout and functionality. Coins.ph Exchange aims for simplicity and ease of use, catering to new traders, whereas KuCoin provides a more complex trading interface for experienced traders. Coins provide additional services outside of cryptocurrency trading, such as a mobile wallet for storing coins, bill payment, and remittance services. While it lacks these functionalities, it lets users make passive money through staking and lending. High-rollers can use the over-the-counter desks on any website for tailored services.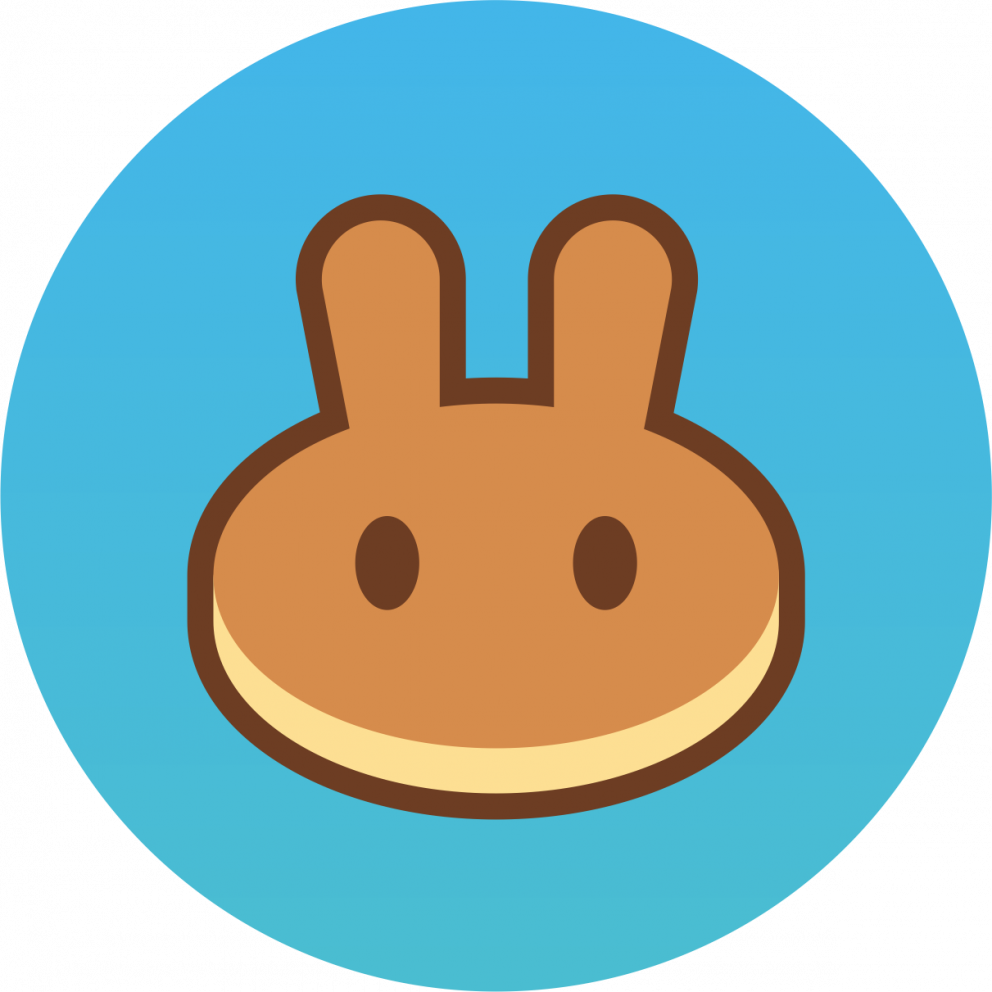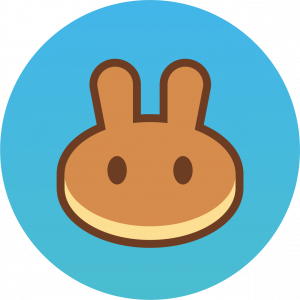 Coins.ph Exchange Vs PancakeSwap Exchange
PancakeSwap and Coins.ph are two independent cryptocurrency marketplaces with different ambitions. Although the latter is currently growing its user base, it still primarily serves consumers in the Philippines and offers services that are tailored to the local market. It functions as a centralized exchange, which means that an administrative organization runs it and acts as an intermediary for user transactions. On the other hand, PancakeSwap is a decentralized exchange (DEX) that runs globally and is based on the Binance Smart Chain (BSC). It runs on a decentralized network and enables users to employ smart contracts to transact directly from their wallets. Both marketplaces accept a wide variety of digital currencies from several blockchains.
Coinsph also provides options designed for the Philippine market. For instance, even though it permits sports trading, all currency pairs are quoted against PHP and USDT. On the other hand, its rival adopts a global strategy and targets customers worldwide with an inclusive approach. PancakeSwap has more than 180 digital currencies available, far more than its rival, which has approximately 35. Additionally, it provides users with exclusive features like staking, liquidity pools, farming, NFT games, lotteries, and trading competitions that enable them to generate passive revenue. Such features were not there at Coins.ph when we conducted our study. User security is a priority on both websites. Coins, a centralized exchange, puts the majority of its cash in distributed cold wallets to reduce the danger of losing money to hackers. Users can also incorporate other features like address safelisting and anti-phishing codes and set up 2FA for increased security. The website is SSL-secured to guarantee that all user data is encrypted and safe.
With SSL encryption to protect user data, PancakeSwap is also quite secure. Although it lacks features like two-factor authentication and wallet whitelisting, it is a wholly non-custodial platform that does not hold client cash and, as a result, has no access to your private keys. No one would lose money even if it were hacked because user funds are not stored centrally. We proved that CertiK audited and certified the exchange, demonstrating its reliability. Both businesses are entirely legal. Pancake has a US Money Service Business (MSB) financial license, while its rival has a Central Bank of the Philippines (CBP) license.
Coins.ph has established itself as one of the most trusted financial providers in the Philippines, boasting an extensive network of over 33,000 establishments and collaborating with more than a hundred company billers. This broad distribution network enables users to easily transfer cash, make payments, purchase coins, and engage in bitcoin trading, among other financial services. If you are in search of a reliable platform for your financial and cryptocurrency needs, especially in the Philippines, we highly encourage you to explore the offerings of Coins.ph. It's a user-friendly, convenient, and hassle-free platform that seamlessly caters to diverse financial requirements. We hope that this review has provided you with valuable insights and assisted you in making informed decisions in your financial endeavors.
What are the benefits of using Coins.ph exchange?
Coins.ph exchange offers several benefits, such as a user-friendly interface, convenient mobile wallet services, bill payment and remittance solutions, and access to a range of cryptocurrencies. It prioritizes security measures to protect user accounts and funds and provides customer support for assistance.
How secure is Coins.ph Exchange?
With strong security measures such as two-factor authentication and cold storage, the platform is secure. It's also SSL-certified meaning all user data is transmitted in encrypted form.
How can I get started with Coins.ph Exchange?
Anyone can get started with Coins.ph Exchange by creating an account. Once your account is set up, you can deposit funds, explore the available cryptocurrencies, and start trading.
How easy is it to use Coins.ph Exchange?
The platform is quite easy to use for both beginners and pro investors. It offers a straightforward process for account creation, deposits, withdrawals, and trading activities.
How fast are Coins.ph Exchange transactions?
Coins.ph is committed to processing all transactions immediately. However, the final transaction speed might vary based on factors like network congestion and the blockchain involved.
What happens if I lose my Coins.ph Exchange password?
Coins.ph has an easy password recovery procedure. In the event that you lose your password, you can reset it by going to the homepage, clicking on "Login," then selecting the "Forgot password" option. You will need to provide your email or phone number, where a reset link will be sent.
How private is Coins.ph Exchange?
Coins.ph prioritizes user privacy. Although you will be required to verify your KYC documents, the company will never share your data with anyone. As an SSL encrypted site, all user information is kept private from unwanted parties.
Who should use Coins.ph Exchange?
Coins.ph Exchange is suitable for individuals in the Philippines who are interested in engaging with cryptocurrencies, managing their digital assets, and accessing mobile wallet services, bill payment, and remittance solutions.
Who might not benefit from using Coins.ph Exchange?
While Coins.ph Exchange offers a range of services and features, individuals outside of the Philippines may find limited utility in its localized offerings. Additionally, those who prefer decentralized exchanges or require access to a broader range of cryptocurrencies may find other platforms more suitable.
Does Coins.ph require KYC?
To comply with regulatory requirements, Coins.ph Exchange may ask users to go through a Know Your Customer (KYC) verification process. This usually involves submitting identification documents and verifying personal information to ensure that all laws and regulations are followed.