Coinbase is famous as the most user-friendly exchange for crypto beginners. It's among the most widely used platforms too. But what features make it stand out, and is it worth it? dappGambl brings you a detailed Coinbase exchange review covering the above questions and everything you need to know.
Coinbase Overview
Coinbase Key Facts
Licences
Alabama Securities Commission, Alaska Department of Commerce, Arizona Department of Financial Institutions, Arkansas Securities Department, Colorado Division of Banking, Connecticut Department of Banking, Delaware Office of the State Bank Commissioner, District of Columbia Department of Insurance, Florida Office of Financial Regulation, Georgia Department of Banking and Finance, Idaho Department of Finance, Securities Bureau, Illinois Department of Financial and Professional Regulation, State of Iowa Division of Banking, Kansas Office of the State Bank Commissioner, Kentucky Department of Financial Institutions, Louisiana Office of Financial Institutions, Maine Money Transmitter License, Maryland Commissioner of Financial Regulation, Michigan Department of Insurance and Financial Services, Minnesota Department of Commerce and Financial Institutions, Mississippi Department of Banking and Consumer Finance, Missouri Division of Finance, Nebraska Department of Banking & Finance, Nevada Financial Institutions Division, New Hampshire Banking Department, New Jersey Department of Banking and Insurance, New Mexico Financial Institutions Division, New York Department of Financial Services, North Carolina Commissioner of Banks, North Dakota Department of Financial Institutions, Ohio Division of Financial Institutions, Oklahoma Banking Department, Oregon Division of Financial Regulation, Pennsylvania Department of Banking and Securities, Puerto Rico Office of the Commissioner of Financial Institutions, Rhode Island Department of Business Regulation, South Carolina Office of the Attorney General, South Dakota Department of Labor and Regulation, Tennessee Department of Financial Institutions, Texas Department of Banking, Utah Department of Financial Institutions, Vermont Department of Financial Regulation, Virginia Bureau of Financial Institutions, State of Washington - Department of Financial Institutions, West Virginia Division of Financial Institutions
Type of exchange
Centralized
Best for
Crypto beginners, advanced traders, and multi-currency crypto holders
Fiat Currencies Available
Euro, United Kingdom Pound, United States Dollar
Cryptocurrencies Available
200+
Products & Services
Staking
Crypto trading
Crypto wallets
Transaction bridge
Commerce
Rosetta
Query and transact
Participate
Prime API
Centralized exchange managed by the Coinbase team
Supports over 200 different cryptocurrencies
Over $1. 13 billion daily volume
Supports staking
0.5% to 4.5% trading and transaction fee
Supports all ERC20 tokens and all tokens on the EVM-compatible chains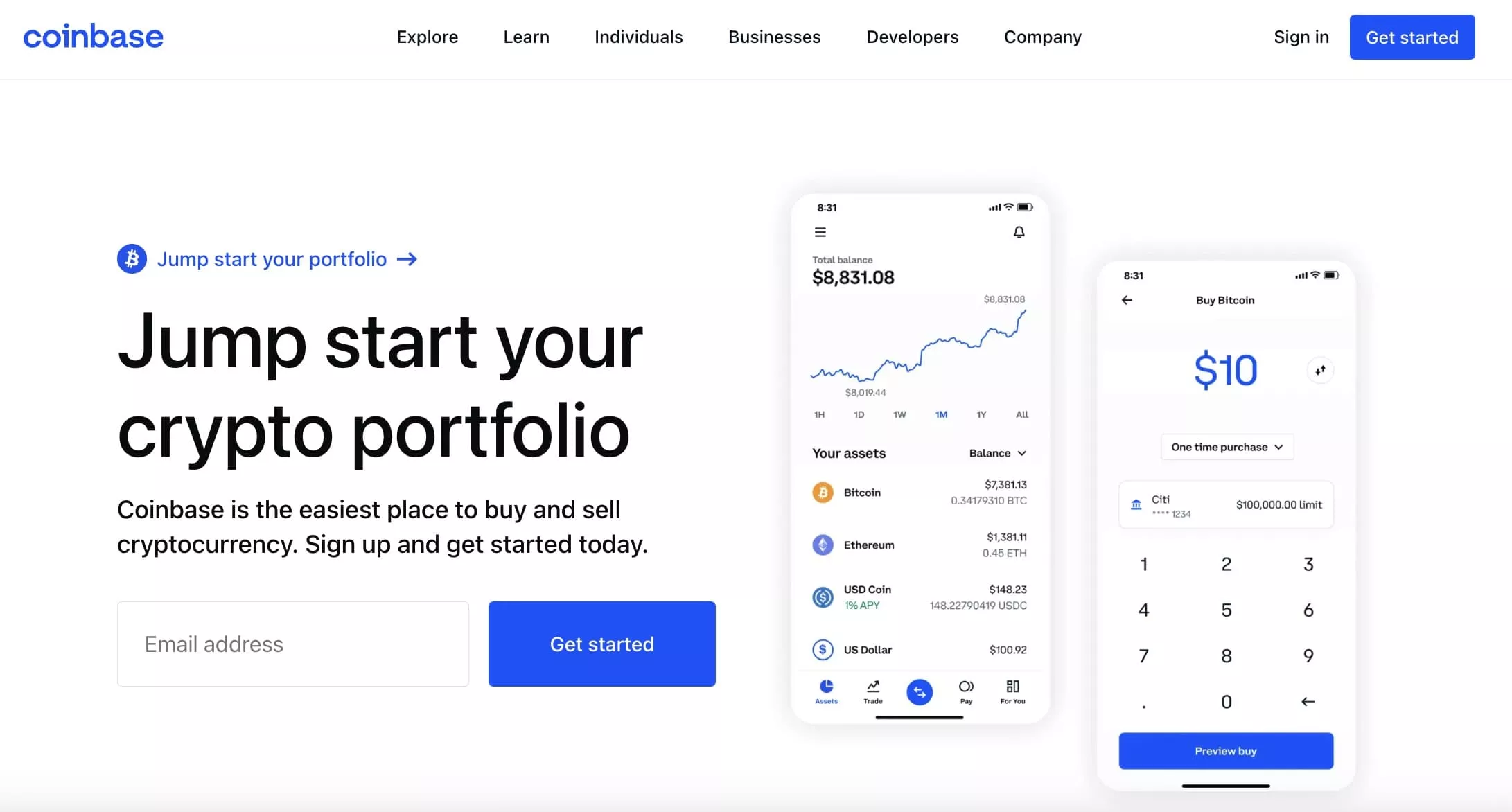 Introducing Coinbase Exchange
What is Coinbase?
Coinbase is the largest exchange in the US and second worldwide by volume. It's centralized and boasts over 103 million verified users. The marketplace has grown to become one of the most well-known cryptocurrency exchanges since it was established about two decades ago. It operates in over 100 countries and supports at least 14 global languages. Coinbase exchange users can trade on various platforms depending on their preferences. The original platform remains simple and highly user-friendly, even for beginners. The company developed additional platforms to tap into different market needs: Coinbase Pro and Coinbase One. The former comes with sophisticated features and is best for professional investors. On the other hand, Coinbase One is a no-fee platform where traders pay a monthly subscription of $30 and trade all month at zero cost. Security-wise, Coinbase crypto exchange is among the safest and most trusted, as it holds a US license. It supports a broad category of assets, including fiat currencies such as USD, EUR, and GBP. Although it has won the trust of many investors as the go-to site for cryptocurrency trading, it also has a few drawbacks, such as poor customer care. dappGambl brings you a detailed Coinbase exchange review covering everything you need to know about the marketplace. Stay with us to the end.
Pros
Intuitive, easy-to-use user interface
Multi-currency support, including ERC-20 tokens and Fiat currencies
Multiple products for users to trade and earn
Staking via Coinbase earn program
Several trading platforms available
Cons
Fees are relatively higher and somewhat confusing
Geographical restrictions, including in the US
Staking opportunities are limited
Founding Team
Brian Armstrong, a former Airbnb engineer, founded Coinbase in 2012 with $ 150,000 in funding from the Y-Combinator business incubator program. The company was established to "increase economic freedom in the world," as stated by its founder and CEO, Brian Armstrong. To achieve this, Armstrong and his team took a three-pronged approach, mainly:
Transforming crypto assets into investment vehicles
Creating a sustainable financial system centered on cryptocurrency investment
Providing a mobile app to put all the economic freedom in the palm of your hand.
It employs over 1000 people and has raised $546 million from investors like Andreesen Horowitz, BBVA Ventures, and Tiger Global Management.
Coinbase's Market Share
Coinbase is the world's second-largest cryptocurrency exchange with a market capitalization of $16.08 billion and is currently ranked 2nd on CoinMarketCap. The company processes over $1.0 billion daily transactions, representing about 5% of the global daily volume. Though second globally, it's the leading marketplace in the US, with at least 12 million Americans transacting on the platform more than once a month.
Coinbase Licence and Insurance
This CEX is a US-based company and is one of the most regulated companies in the space, making it a safe choice for crypto investors. The company is registered with FinCEN as a Money Services Business and is also licensed by various state money transmitter laws. In addition, it holds insurance policies with Lloyd's of London that cover the loss of digital assets held in Coinbase Custody accounts. The exchange recently filed a registration statement with SEC to become a licensed broker-dealer and registered investment advisor. This will enhance its credibility and allow the exchange to offer its users more crypto assets and services.
Coinbase Reputation and Security
The platform enjoys a solid reputation in terms of functionality and security. It uses a combination of hot and cold storage for most of its digital assets. Coinbase Custody, the exchange's institutional-grade storage service, stores 98% of customer crypto funds offline in air-gapped cold storage. The remaining two percent is kept in hot wallets to facilitate withdrawals and trades. Despite being a centralized exchange, it's safe to say that it is one of the most secure exchanges available today, even edging out decentralized exchanges like ShibaSwap.
Top-Notch Security Features
To ensure bulletproof security, the platform has implemented a host of security features. These features provide the protection of users' crypto assets against theft as well as internal and external hacks. Some of the security features include:
Two-factor authentication: all users are required to enable two-factor authentication (also known as 'two-step verification') for all account logins. This security measure makes it difficult for hackers to access user accounts even if they have stolen login credentials.
Coinbase Vault: security feature that allows users to store their digital assets in an offline 'cold storage' wallet not connected to the internet. This makes it virtually impossible for hackers to gain access to these funds. You can only set up Coinbase Vault via the desktop platform.
AES-256 encryption: AES-256 encryption is used to protect all the data stored on its platform. This includes user account information, transaction data, and more. AES-256 is the same encryption standard employed by the US government to protect classified information.
Coinbase Insurance: this is one of the few exchanges insured against the loss or theft of digital assets held in Coinbase Custody accounts. The exchange has insurance policies with Lloyd's of London that covers data encryption at rest and in transit, hardware security keys, mitigation against DDoS attacks, and bug bounty programs.
Overall, Coinbase is a secure and reputable cryptocurrency marketplace that's well-regulated and offers its users a wide range of features and services.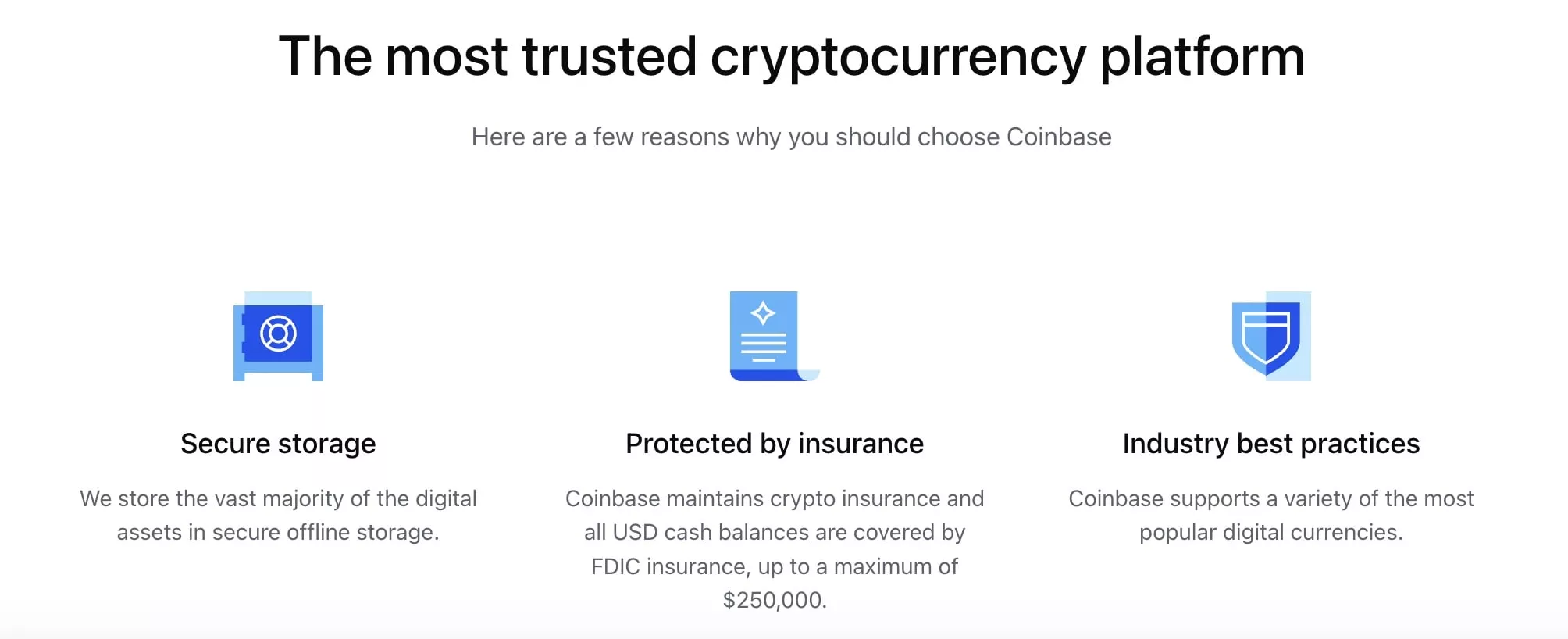 Complaints Received
After checking out authority review sites like Trustpilot we were able to clamp down on the most frequent user complaints about Coinbase. Most of the complaints revolve around customer service. Disgruntled users claim the customer service is a bit slow and sometimes totally unresponsive. In most cases, customers never get to speak to an actual customer service agent but are instead directed to a chatbot. Unfortunately, the bot isn't very effective in answering queries and solving complaints. A few users complained of losing funds to phishing attacks too.
How Secure Is Coinbase Exchange?
Coinbase is a secure and reputable cryptocurrency exchange that's well-regulated and offers users a wide range of features and services. The company continuously increases its security budget to close all security loopholes and keep your funds safe. As discussed earlier, the platform exchange abides by strict standards, including storing part of your money offline, where hackers can't gain access. Moreover, offline cryptocurrencies are kept in different cold wallets geographically separated for enhanced security. To add on other features like 2FA, 256-bit SSL, and strong password requirements, we have concluded that the exchange is highly secure. As a holder of digital coins, we encourage you to take the first step in ensuring the safety of your money. Store your passwords safely, and don't share them with anyone. You may also want to bookmark their website to reduce the chances of phishing attacks.
Coinbase Exchange Features
Order Types
Coinbase is a multi-currency exchange that offers the following order types:-
Limit orders: A limit order is an order to buy or sell a digital currency at a specific price. The order will only be executed if the price of the digital currency meets or exceeds the specified price.
Market orders: A market order is an order to buy or sell a digital currency at the current market price.
Stop orders: A stop order is an order to buy or sell a digital currency when the price of the digital currency reaches a specified price, known as the 'stop price.'
Recurring orders: Coinbase also offers recurring orders, which allow users to automatically place limit, market, and stop orders at regular intervals.
Staking Option
Users can generate passive income by staking and earning rewards in various digital coins. This is a unique opportunity to gain up to 5.75% APY on your crypto. ALGO has the highest return of 5.75%, followed by ATOM, with an APY of 5%. SOL gives the lowest return of 1%. You can also stake ADA, ETH, and XTZ for an annual gain of 2.6%, 4%, and 4.63%, respectively. DAI and USDT holders can participate in yield farming; the returns are variable.
Exchange Token
Coinbase does not have a native exchange token.
Coinbase Asset Classes
Coinbase Custody offers support for the following digital asset classes:
Stable Coins: Stablecoins are digital assets that are pegged to a stable asset, such as the US dollar. Some top stablecoins on the site are USDC, GUSD, BUSD, TUSD, OUSD, and USDP.
Utility tokens: Utility tokens are digital assets that give users access to a product or service. The platform supports various utility tokens, including REP, ZRX, BAT, CVC, DNT, GNT, and LOOM.
Crypto Derivatives: also supported are crypto derivatives, such as futures and options. The crypto derivative offerings are currently available to institutional investors only. However, the company plans to make these products available to retail investors in the near future.
Leverage
Coinbase crypto exchange offers margin trading on the pro platform only. Users can access a leverage of not more than 3x to use on USD quoted books.
The OTC Desk
Coinbase also has an OTC desk. Although it targets institutional clients, select high rollers can use it too. The OTC desk was created to enable high-volume traders to take positions with minimal price slippage. It acts as the client's agency and does not trade on a principal basis. The desk also refrains from taking positions against you or on a proprietary basis. It acts 100% based on client instructions.
Coinbase Available Tokens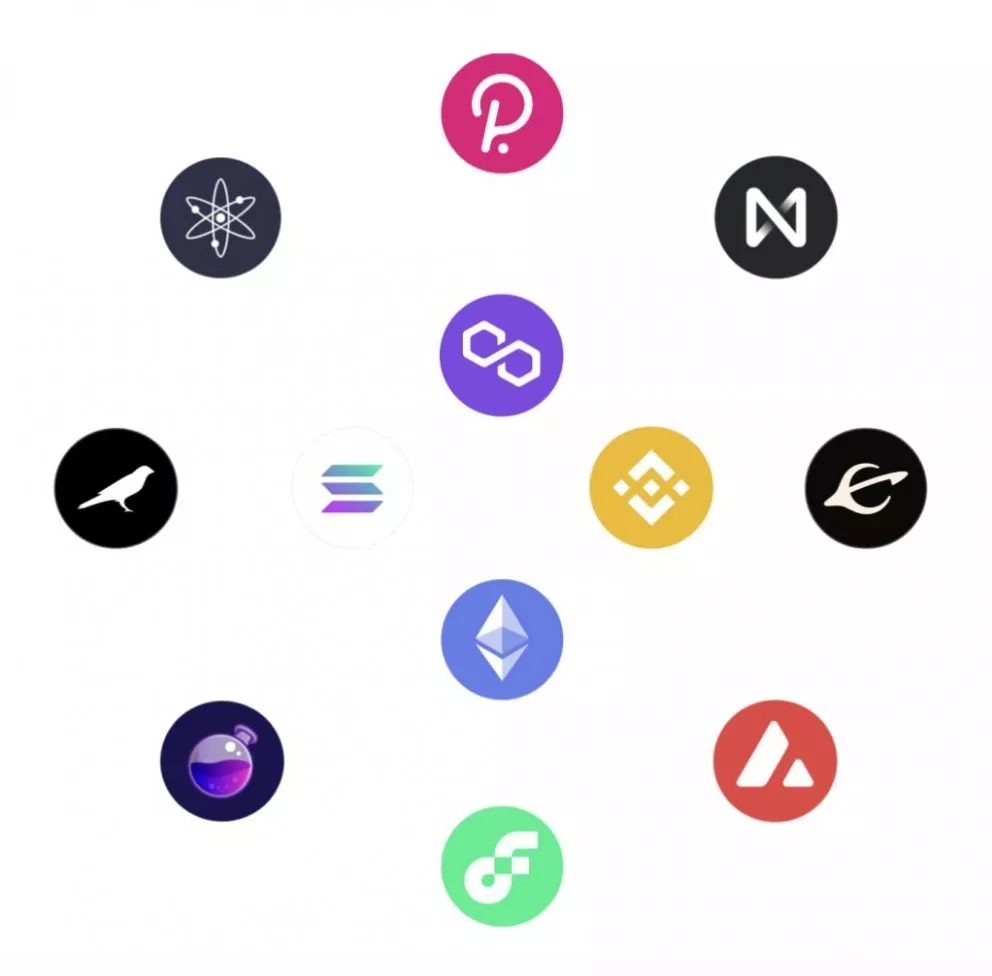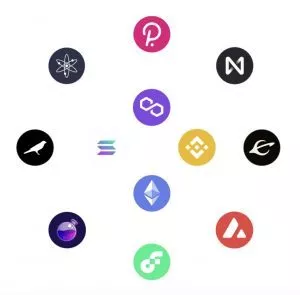 Coinbase supports various cryptocurrencies and tokens built on various blockchain networks. Some of the most popular tokens include:
– Bitcoin (BTC)
– Ethereum (ETH)
– XRP (XRP)
– Litecoin (LTC)
– Bitcoin Cash (BCH)
– EOS (EOS)
– Stellar Lumens (XLM)
– Ethereum Classic (ETC)
The exchange recently expanded its platform to support new entries into the crypto world like Algorand (ALGO), Dash (DASH), Decentraland (MANA), and Kyber Network Crystal (KNC). Coinbase plans to support more than 90% of all circulating digital assets in the future.
Available Trading Pairs
You will also find several trading pairs on the exchange. They include:
– BTC/USD
– ETH/USD
– LTC/USD
– BCH/USD
– EOS/USD
– XRP/USD
– XLM/USD
– ALGO/USD
Coinbase Exchange Payments
Fees
Coinbase has a confusing fee structure making it hard for people interacting with the exchange for the first time to estimate transaction costs. The Coinbase exchange website explains that several factors influence transaction fees: the selected payment method, market volatility, order size, and liquidity are all factors that determine how much it will cost you to transact on the platform. For example, it would cost you about 1.5% to buy BTC via ACH, but if you transacted with a debit card, the fee would rise to 3.99%. In addition, conversion fees stand at 1%, while withdrawal fees vary based on the selected method. This should not worry you; Coinbase exchange displays the fee for each transaction on the trade screen so you can know the amount you'll pay before entering a trade. Investors using the Coinbase Pro platform have a more straightforward payment structure based on the taker-maker model. It ranges from 0.5% to 0.6% for the taker fee and 0.00% to 0.4% for maker cost. Coinbase One platform has the simplest fee model, where users subscribe for $30 monthly and incur zero fees for the next thirty days.
Deposit and Withdrawal Methods
Coinbase offers a variety of deposit and withdrawal methods to attract users from across the spectrum. Here are the main Coinbase withdrawal methods.
Bank transfer (ACH)
Wire transfer
Debit/credit card purchases
PayPal
Apple Pay
Google Pay
Coinbase also allows users to withdraw funds using a Coinbase wallet. Coinbase wallets are available for Android and iOS devices and desktop computers. Keep in mind that some payment methods may only be available for users in specific geographical locations.
Are There Any Withdrawal Limits?
Coinbase imposes different limits on withdrawals depending on the user's account type. For instance, Coinbase Pro users can withdraw up to $50,000 daily. However, Coinbase imposes a limit of $200 for first-time users withdrawing via bank transfer.
How to use Coinbase Step by Step
Step 1: Sign up: Visit the Coinbase website via your PC browser and start the registration process. You must submit your full legal name, strong password, and email, then read and accept the user agreement to create an account.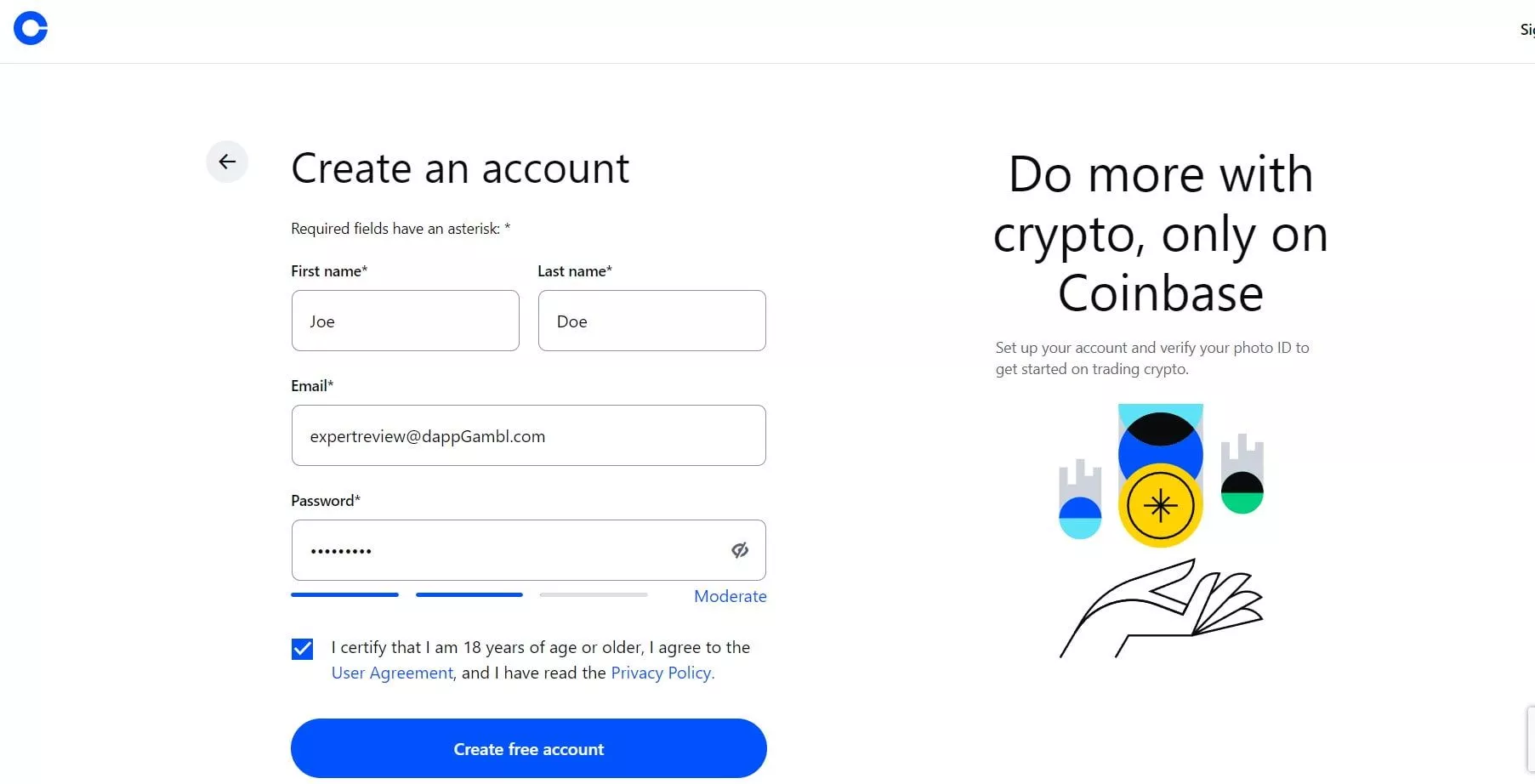 Step 2: Verify your email
You'll receive an email with a verification link. Hit the "Verify Email Address" button to proceed.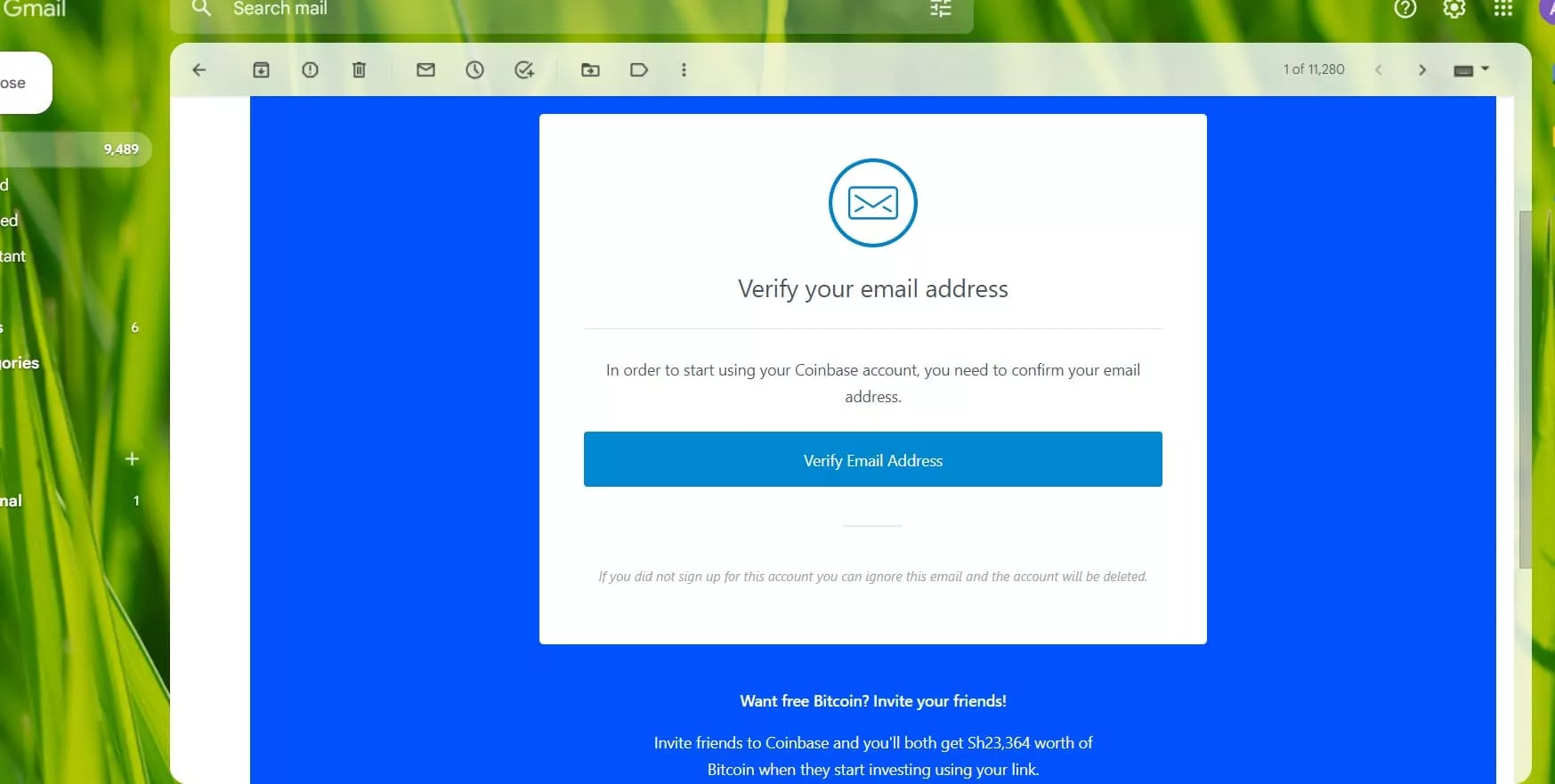 Step 3: Sign in
Once you have verified your email, you will be redirected to the login page. Insert your email address and password to sign in.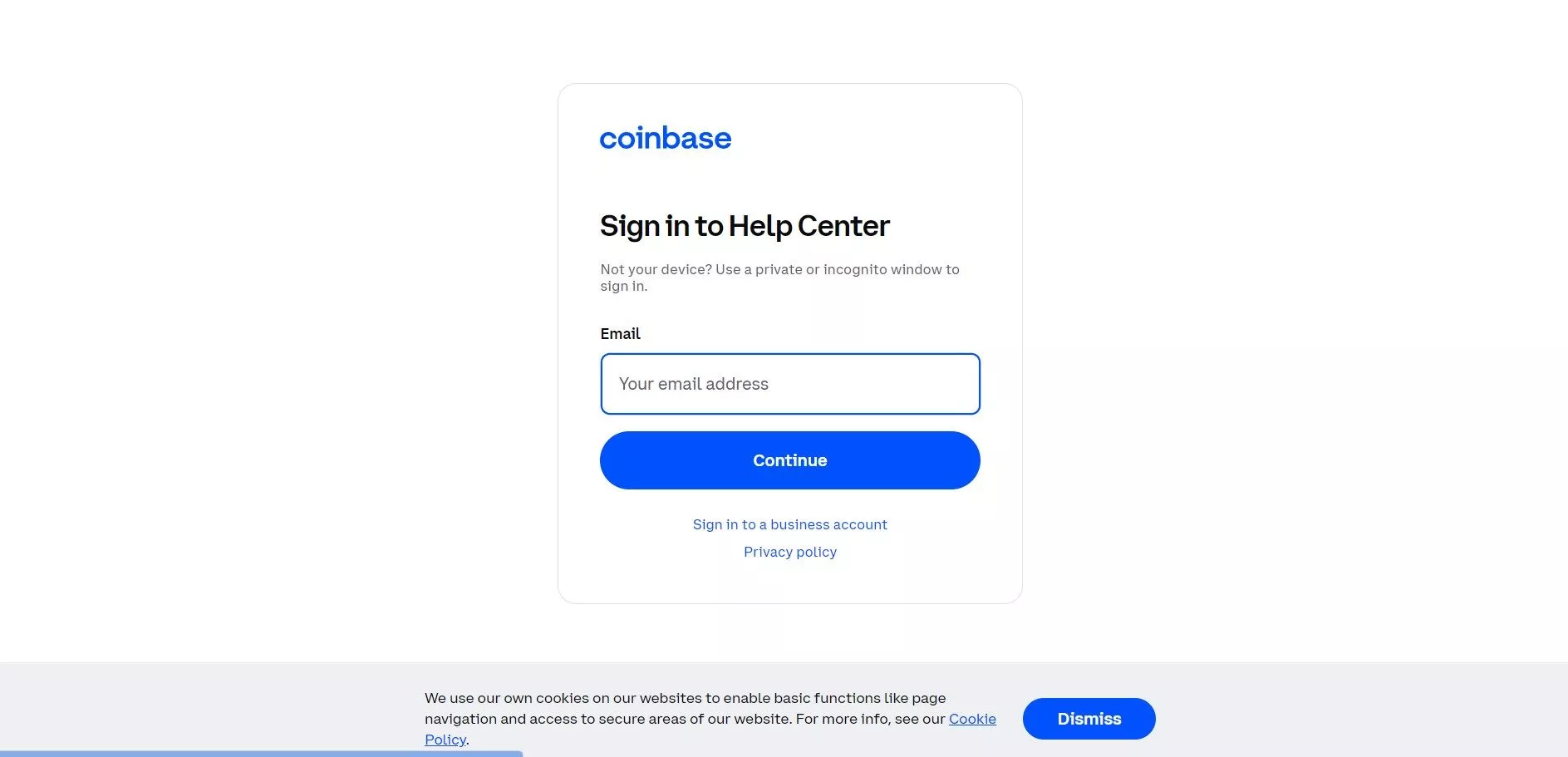 Step 4: Verify your phone number
The platform will request you to provide and verify your phone number to gain access to the dashboard.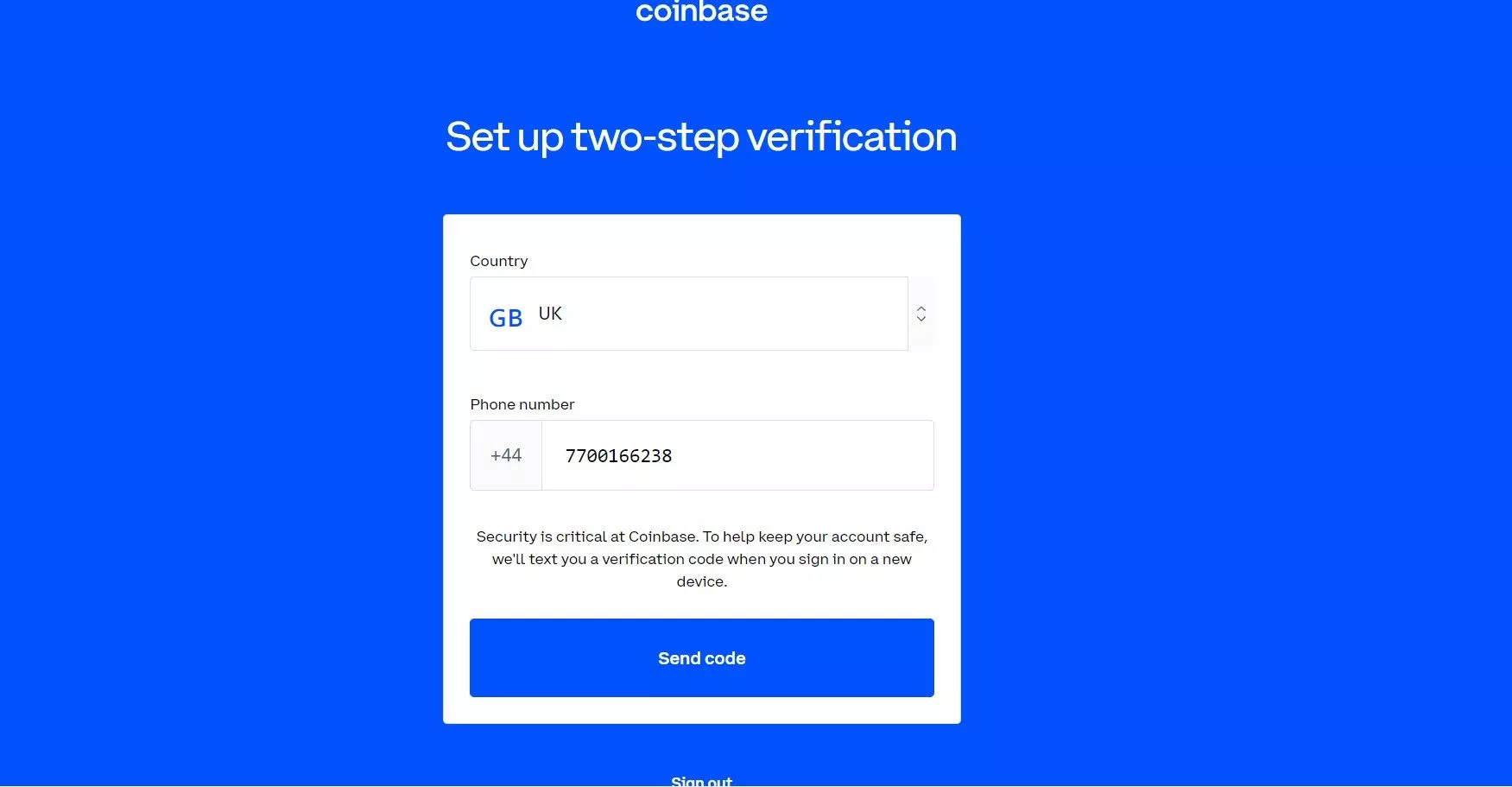 Step 5: Fund your account
Now that your account is verified, you can fund it to start enjoying the Coinbase experience immediately. Don't forget to complete your profile and enable 2FA whenever you can. You might also be requested additional KYC information in the future, so make sure you have a scanned copy of your government-recognized identity document and recent utility bill ready.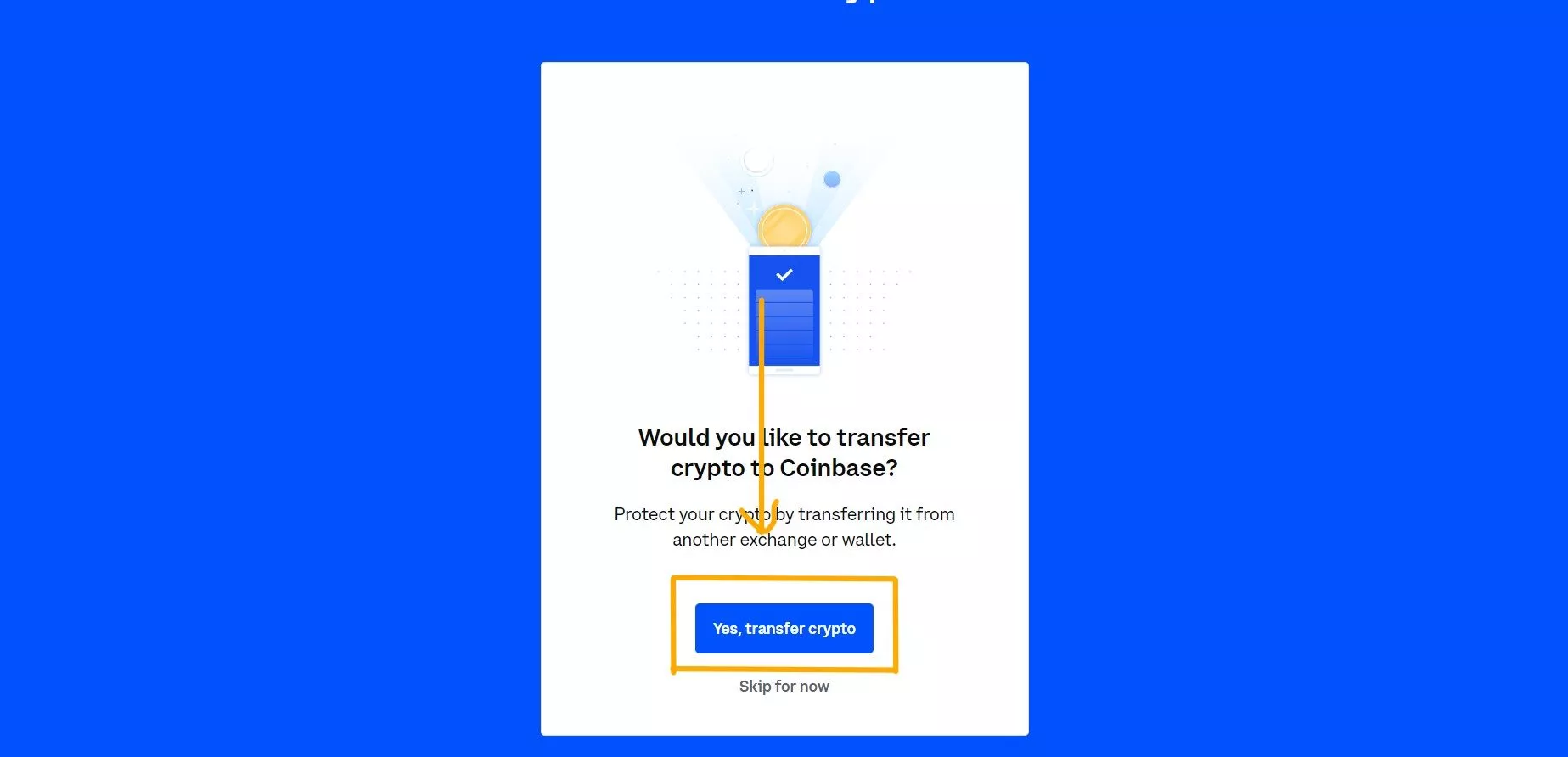 Desktop
Coinbase exchange is a user-friendly desktop interface that's easy to navigate. The main dashboard displays your recent transactions, account balances, and a price chart of the cryptocurrency you're trading. You can also access your Coinbase wallet and Coinbase Prime account from the desktop interface. It's highly intuitive, even for first-timers. The best part is you don't have to download it. Desktop users can directly access and transact on the Coinbase exchange via the web.
Mobile App
Coinbase also has a mobile app available for Android and iOS devices. The Coinbase mobile app is as user-friendly as the desktop interface. It also allows you to access your Coinbase wallet and Coinbase Prime account and place trades on the go. The Coinbase mobile app is available in over 30 languages. In addition, it's integrated with Touch ID and Face ID for added security. It's as functional as the desktop version, except it lacks some features like the Coinbase Vault service.
Coinbase Customer Service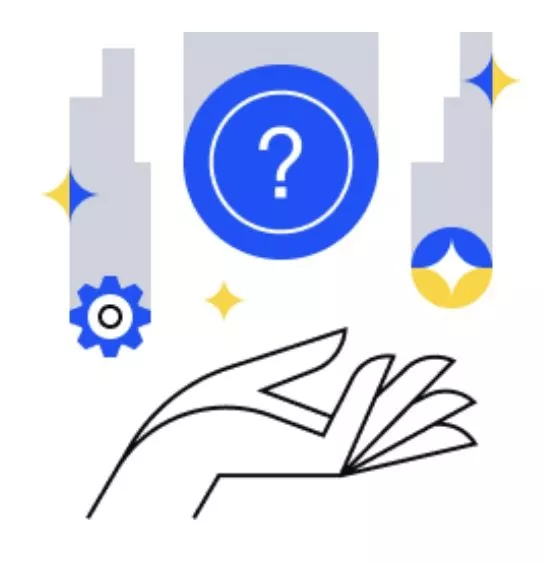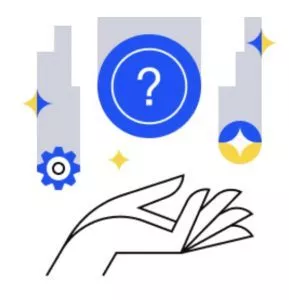 As mentioned earlier, the exchange's customer service is nothing to write home about. Despite offering different support service platforms, rarely do users speak to actual customer service agents. As such, they have to rely on chatbots that don't always have the right answers.
Kraken Versus other Crypto Exchanges
Coinbase faces stiff competition from exchanges like Binance and Pancake Swap. Let's find out more.
Coinbase vs. Binance
Binance is one of Coinbase's main competitors. The two exchanges are often compared because they offer similar services. However, there are some key differences between them.
For starters, Binance supports more than 600+ cryptocurrencies, while Coinbase only supports a paltry 200+. In terms of pricing, Coinbase crypto exchange is confusing and more expensive than Binance, which has a straightforward fee of 0.03% on all trades.
However, Coinbase takes the cake when it comes to the user-friendliness of both platforms. Although Binance has an intuitive interface, it's more challenging for beginners than the Coinbase cryptocurrency exchange. Likewise, complete beginners might need help navigating Binance's mobile app. It's also worth noting that Coinbase is licensed in the US, while its competitor isn't. As a result, US clients must go through Binance US, which has limited services. If you're just getting into crypto and digital assets, then Coinbase is the better fit for you because of its seamless interface and general ease of use. On the other hand, Binance is perfect for experienced investors who require extensive functions and features for their large digital wealth stores.
Coinbase vs. PancakeSwap
PancakeSwap is another popular cryptocurrency exchange that's often compared to Coinbase. Like Coinbase, Pancake Swap allows users to buy, sell, and trade digital assets. It's a decentralized exchange (DEX) built on the Binance Smart Chain (BSC). Coinbase, on the other hand, is a centralized exchange (CEX). This means that Pancake Swap users have complete control of their private keys, while Coinbase users have their keys stored in Coinbase's servers or other third-party servers.
Moreover, Coinbase requires its users to undergo a KYC process, while Pancake Swap does not. This makes Pancake Swap a much better choice for users who value their privacy and anonymity. Coinbase also has higher fees than Pancake Swap. For instance, Coinbase charges can go to as high as 3.99%, while Pancake Swap only charges 0.03% on trades.
So, if you're looking for a more privacy-centric exchange with lower fees, then Pancake Swap is the better choice. It's also an excellent exchange for crypto and Defi traders looking to preserve their anonymity. Coinbase is ideal for crypto beginners looking to find their bearing in the crypto world.
For more crypto exchange comparisons, you might want to check out Bitfinex Exchange and how it compares to Coinbase and other crypto exchanges.
Is Coinbase Exchange Right for You?
Coinbase is one of the most popular cryptocurrency exchanges on the market. But is it right for you? Well, that depends on what you're looking for in an exchange. If you're new to the crypto world and looking for a user-friendly platform to get you started, Coinbase is worth considering. While it may not be as advanced as Binance, the Pro version is a good fit for sophisticated investors. Institutional trades and high-volume investors can also find comfort trading at Coinbase.com. Due to the value of their transactions, it will be more beneficial for them to take positions via the Coinbase crypto exchange OTC desk. However, we do not recommend Coinbase crypto exchange for traders who value anonymity.
Unless you are highly sophisticated and looking for specific conditions that are not available at Coinbase.com, there's no reason why you shouldn't sign up. Who wouldn't want to be associated with the second-largest exchange globally and number one in the US? Aside from the seamless interface, the platform allows you to grow your money passively through staking and yield farming. Security-wise, there is no question regarding this platform. Feel free to give it a try.
What are the benefits of using Coinbase exchange?
Coinbase is one of the most popular cryptocurrency exchanges on the market. Its user-friendly interface makes it perfect for beginners who are just getting into the world of digital assets. Coinbase also has a good reputation for being a reliable and safe exchange.
What are the key features of using Coinbase exchange?
Coinbase supports multiple payment methods, staking, and yield farming and has an inbuilt crypto wallet. It's available as a desktop and mobile app.
How easy is it to use Coinbase exchange?
Coinbase is highly intuitive, even for first-timers. The layout is straightforward, and transactions are fast and seamless.
How secure is Coinbase exchange?
Coinbase is one of the most secure exchanges on the market. Coinbase stores 98% of its digital assets in offline cold storage. The company also has a comprehensive insurance policy to protect user funds from theft or loss.
What customer support is available for Coinbase users?
Coinbase offers 24/7 customer support through its website, email, and live messenger. Coinbase also has an extensive FAQ section on its website and a thriving online community that is always eager to help.
What payment methods does Coinbase support?
Coinbase supports multiple payment methods, including debit and credit cards, bank transfers, PayPal, and many more.