Bittrex Global Overview
Huge selection of cryptos
Restricted Countries
Among the restricted jurisdictions
Bittrex Global Key Facts
Headquarters
Vaduz, Liechtenstein
Licences
EU regulations, Liechtenstein regulations, Bermuda Monetary Authority
Type of exchange
Centralized
Best for
Future trading and expert traders looking for advanced order types and charting tools
Fiat Currencies Available
Euro, United States Dollar
Cryptocurrencies Available
250+
Products & Services
Staking
Buy & Sell
Educational resource
Online wallet
Bittrex Exchange Overview
It has a US sister exchange: Bittrex
Staking and FTX leveraged tokens are supported
Trading fees of about 0.35% are reasonable
Has $99M in valuation and $167.33M in total funding
It has about 500K active users
Introducing Bittrex Global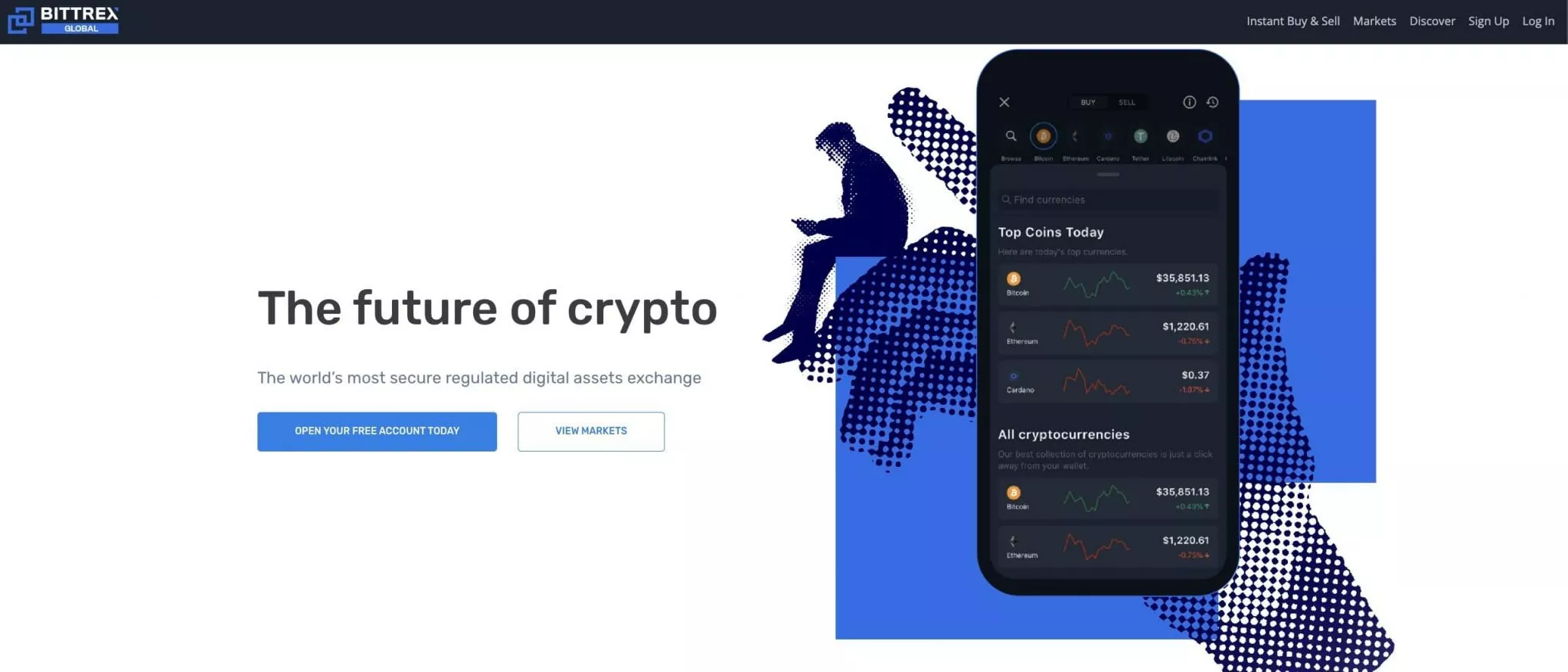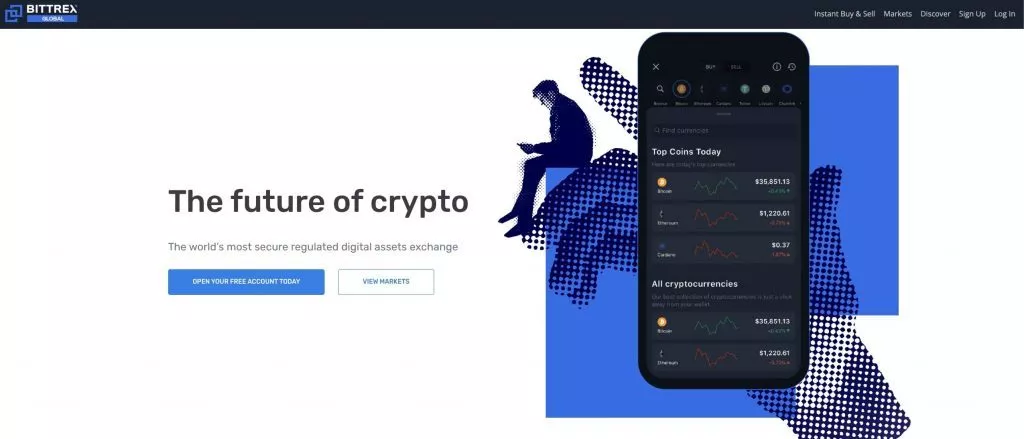 Bittrex global is a US-based secure, and reliable cryptocurrency exchange. With over 400 digital coins for trading, it easily meets the needs of most crypto enthusiasts. It is relatively affordable when it comes to trading fees and has a host of features and tools, including educational resources for the benefit of its users. Bittrex exchange branches into two platforms—Bittrex Global and Bittrex. The former has a high number of assets, 400+, but restricts US citizens, while the latter offers a lower number of digital assets, 200+, but accepts Americans. Both versions are geared towards beginner-to-experienced investors and boast powerful trading engines. You get high liquidity, worldwide access, and useful mobile apps as a Bittrex user. Other perks include custom APIs for automated trading with bots, a live trading book, and a free academy. Fiat trading is pretty new on the site, so it's not yet developed. Despite that, the Bittrex exchange offers a vast selection of crypto and stablecoins. Join us in this exclusive Bittrex exchange review for everything you need to know about it.
Pros
Extremely safe
An excellent and diverse cryptocurrency selection
Reasonable trading fees
Advanced trading tools
Lots of educational content
Staking and FTX leveraged tokens are supported
Cons
Customer service is limited
Unavailable in some US states
There is no margin trading
Bittrex Global Security and Reputation
Security Options
Bittrex Global's founders prioritized the development of a secure crypto trading platform. And thankfully, they didn't fail, as the company has no documented hacking cases. The following are some of Bittrex Global's security features.
Two-factor authentication (2FA): Users can enable two-factor authentication (2FA) to ensure the security of their funds. This feature protects accounts from unauthorized access. To log in when 2FA is enabled, Bittrex Global requires your password and a code sent to your mobile device. It can, however, be disabled, so the effectiveness of this additional layer of security is entirely dependent on the user.
Cold storage: Bittrex Global claims to store approximately 90% of its assets in cold storage. That means the funds are stored on non-internet devices. Cold storage is the most secure method of storing cryptocurrency because hackers can't access it while it isn't connected to the internet.
Whitelist crypto wallet addresses: When you add cryptocurrency wallet addresses to your whitelist, Bittrex Global will only allow withdrawals to those addresses.
IP Addresses whitelist: When you whitelist IP addresses, Bittrex Global will only allow trades and withdrawals from those IPs. Users can whitelist specific IP addresses on Bittrex Global, which means that only authorized devices (mobile or computers) with specific IP addresses can access the account. This helps to keep outside attackers from gaining access to user accounts.
Disable Account Email Link: Users can deactivate their accounts with a single click by clicking on the link in their email. When a user from a new IP address logs into your account, this email is sent to you.
SOC 2 Type examination: Bittrex Global has also completed a thorough security audit known as the SOC 2 Type II examination.
Complaints Received
Our Bittrex Global exchange review revealed that the exchange has an average rating of 1.4 out of 5 stars from over 465 Trustpilot reviews. Users report account lockouts, frozen assets, and difficulties with identity verification. While these are common concerns among many cryptocurrency exchanges, Bittrex Global should work to resolve the majority, if not all, of its customers' complaints. Bittrex Global, for example, appears to be suspending user accounts without notice and providing minimal customer support. Not all reviews, however, were negative. Some users praise Bittrex Global for its diverse asset selection and security features.
Is the Bittrex Global exchange secure?
Bittrex exchange is a safe platform. The exchange has never been hacked or had a security breach since its inception. However, there were reports of individual clients losing their money to phishing attacks in 2016. Mainly, this affected users who had not activated their 2FA. The site provides its users with helpful advice on best security practices. This includes how to avoid phishing, keep your phone safe, create strong passwords, and close your account if it's compromised.
Bittrex Global Exchange Features
Order Types
Limit orders
Stop orders
Stop limit
Ceiling Order
Market Order
Good-till-canceled orders.
Fill-Or-Kill orders,
Immediate-Or-Cancel orders,
One Cancels the Other orders.
Post only orders
Staking/Earning Interest Accounts
Many crypto exchanges like Trader Joe and ShibaSwap allow users to earn passive income through staking. Bittrex is not left out. Users can hold Cardano (ADA) and earn 5.5% interest, which is much higher than most traditional banks offer for saving accounts. You can send ADA from an external crypto wallet or purchase it locally within the platform. However, one must provide KYC details and opt-in to qualify for staking rewards. The minimum deposit required is one ADA. We did not find any other interest-earning opportunities on the site.
Exchange Token
Bittrex Global lacks a native token, and there has been no word on whether the platform plans to launch its own coin.
Asset Types
Cryptocurrencies: Apart from Bitcoin and Ethereum, Bittrex exchange is home to over 100 altcoins, including Cardano, Dogecoin, Ethereum Classic, Polkadot, Bitcoin Cash, Chainlink, and Dash.
Stablecoins: Stablecoins are digital coins pegged on a solid and stable currency, usually fiat. Users can access a vast selection of stablecoins like Tether and USD Coin on the Bittrex exchange.
Note: Bittrex does not support NFTs. Investors who want to participate in the NFT craze may have to use other platforms, such as Kucoin and Gemini. The site also lacks native tokens.
Leverage
Margin trading is one of the latest features on the Bittrex exchange. We, however, found out that this is only allowed on the Global platform, for users outside the European Union and European Economic Area. Investors in the eligible zones can invest in leveraged trading in simplified assets. Leveraged tokens on the exchange allow users to trade up to 3x the value of their investment. This is only applicable for leveraged tokens. The platform doesn't offer margin trading on cryptocurrencies. We also noted that since this feature is only available on the global platform, US clients are automatically left out.
The OTC Desk
Bittrex exchange launched an OTC desk on both global and US platforms in January 2019. This move was geared towards tapping the high net worth and institutional investors who usually perform large volume trades. Traders can buy and sell BTC, USDT, LTC, and ETH, among over 200 other assets, through the Bittrex Global OTC desk. Users must first send money to Bittrex Global's United States bank and add cryptocurrency to their Bittrex Global account to begin large block OTC trades.
It's important to note that when you send funds to Bittrex Global via wire transfer, you aren't depositing USD but purchasing digital assets directly. Once your funds are received, the Bittrex Global OTC desk team will send the purchased cryptocurrency or USD to your existing Bittrex Global account. Bittrex Global's OTC desk provides guaranteed pricing for large trades "typically $250,000 or greater," lowering customer price risk and allowing for quick trade execution.
Other Key Features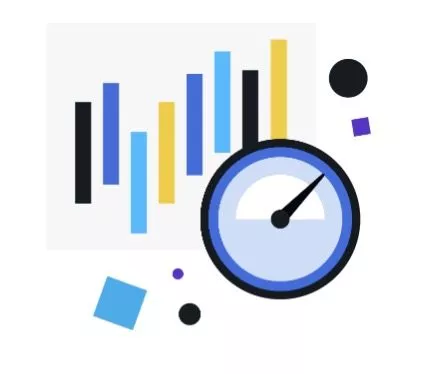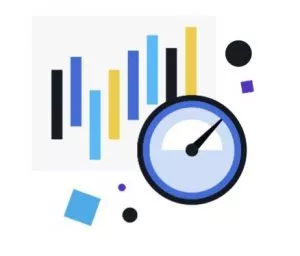 Automation: Bittrex exchange platform is fully automated. As a result, deposits and withdrawals are processed in real-time and at a high rate. Users can check their balances and make quick trades. While automation may benefit the platform, accounts are occasionally frozen or closed without explanation.
Custom-built Engine: The custom-built Bittrex exchange trading engine improves scalability and transaction speed by facilitating execution of real-time trades. It also supports third-party platforms. The APIs support algorithmic trading, making it possible for investors to deploy bots.
Bittrex Global Wallet: Bittrex Global is a trading platform that also has an online wallet. In addition to having all of the features of an online wallet, the Bittrex Global wallet supports many altcoins. At the time of writing, the Bittrex Global wallet supports 264 different cryptocurrencies.
Instant Buy and Sell: The instant buy and sell feature enables traders to buy blue-chip crypto using a linked bank account, funds already in their account, or a debit card.
Fees may not be visible at the start of the process, but they will be displayed as a spread before you place your order. Debit transactions incur an additional 3% fee, in addition to any fees your bank charges, so most investors are better off funding their accounts with free ACH transfers and quickly learning how to navigate a trading platform.
The "Discover" Section: Bittrex Global provides detailed educational resources to users via its "Discover" section, which can be accessed via the desktop. It's filled with detailed articles that cover the platform's most recent news. You can find articles on crypto topics like crypto mining and crypto staking on the Discover page. The page also provides detailed breakdowns of over 100 cryptocurrencies, which is extremely useful if you're unsure whether a cryptocurrency is a good investment.
Referral Program: The Bittrex exchange referral program allows you to earn 10% of all trading commissions when a client registers using your referral link. Here are some key rules of the program.
You can use the referral link after signing up and confirming your information in your web terminal or mobile app account.
This link can attract clicks in any closed-source or open-source application.
Users who click on your link and register with the cryptocurrency exchange website will pay you.
There is no limit to the number of referrals you can make. This is a one-level program, which means you only earn money from people you personally invite, not from the trade of users brought in by your referrals.
The program is ever running.
You will get your rewards if your referral trades on this cryptocurrency exchange.
Bittrex Global exchange offers over 200 cryptocurrencies for trading. They include:
Bitcoin (BTC)
Ethereum (ETH)
Balancer Token
Cardano (ADA)
Aave
Chainlink (LINK)
Algorand
Dogecoin (DOGE)
Bitcoin Cash
Polkadot (DOT)
ChainLink Coin
Polygon (MATIC)
Cosmos Coin
Cronos token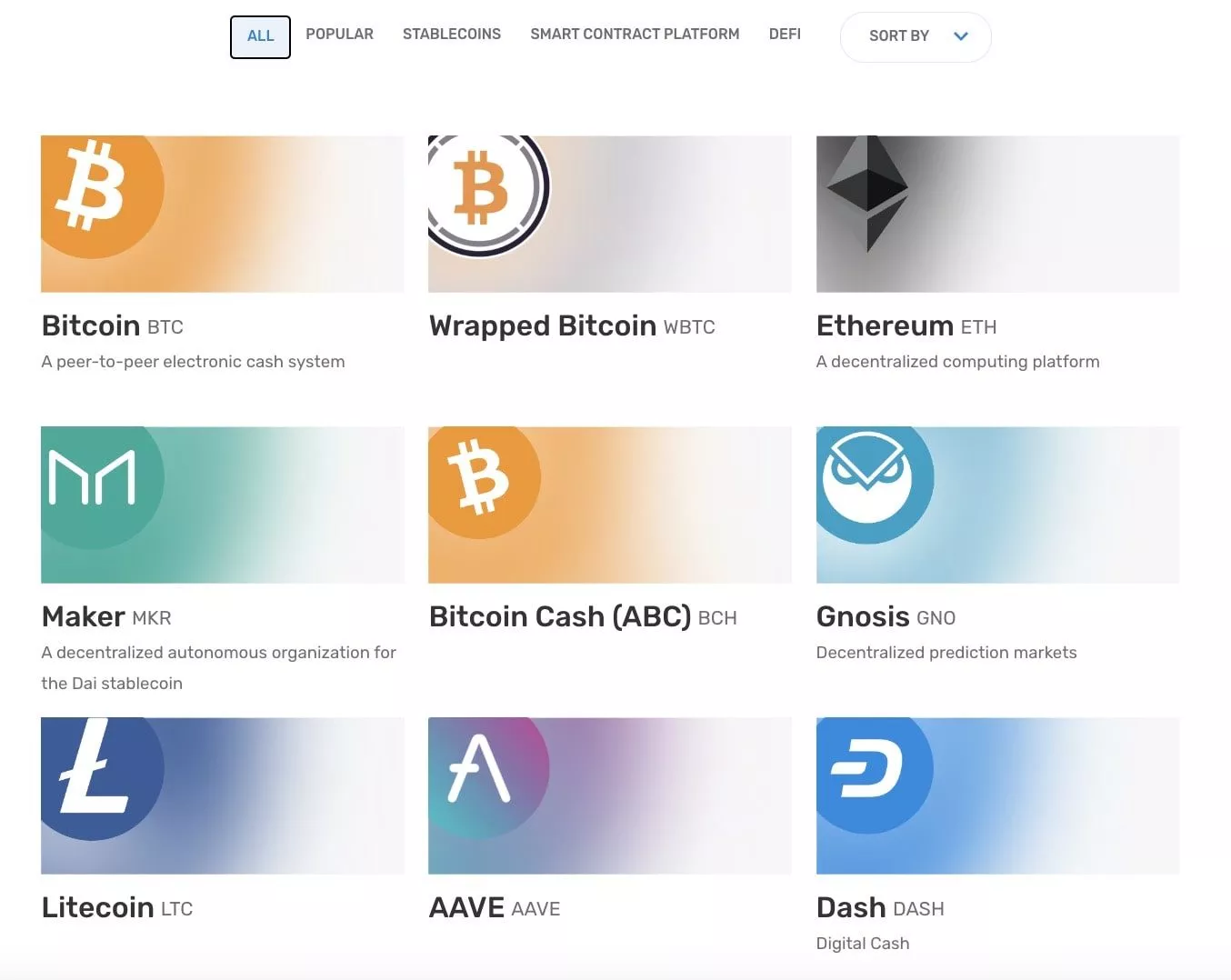 Bittrex Global exchange is home to over 600 spot trading pairs. Its US counterpart is also not left out with over 400 pairs. The main quote currencies were USD and EUR, but the list keeps expanding as per the market demand. The marketplace recently launched USDC quoted pairs and plans to add more quote currencies in the future. Some of the popular trading pairs on the site include BTC/USDT, ETH/USD, BTC/USD, B2M/USDT, TUSD/BTC, TUSD/ETH, PGX/USDT, XRP/USDT, XYM/BTC, and USDT/EUR.
Bittrex Exchange Payments
Deposit and Withdrawal Methods: ACH transfers from your bank account and money wires are two methods for depositing and withdrawing funds from Bittrex Global exchange. It should be noted that Bittrex Global only accepts fiat currencies for enhanced verified accounts. Deposits and withdrawals are thus limited to cryptocurrencies channelled through Bittrex Global exchange online wallets. To withdraw your cryptocurrency holdings, for example, you must generate an address from a wallet on an exchange that converts cryptocurrencies to fiat currencies. Once you've got the address, you can transfer your cryptocurrency holdings from your Bittrex Global wallet. Furthermore, some crypto assets can't be purchased with US dollars. You will be required to first exchange USD for another currency, such as Bitcoin (BTC) or Tether (USDT).
Limits: Bittrex Global exchange has a daily limit of 1,000 open orders and 500,000 orders. Furthermore, new and unverified accounts are can't initiate any BTC withdrawals. Basic verified accounts have a daily limit of $3000. On the other hand, the daily withdrawal limit for verified accounts without 2FA is 1 BTC. The daily withdrawal limit for ID Verified accounts with 2FA is 100 BTC.
Deposit fees: Bittrex Global doesn't charge deposit fees. Some coins and tokens, however, may need to be transferred to another address before they can be credited. As a result, you will be charged the standard transaction fee for the fund transfer.
Withdrawal fees: Bittrex Global charges a small withdrawal fee for tokens or coins with a built-in network transfer fee. The network fee is variable and can be viewed by clicking the withdraw button on the withdrawal window for each token or coin.
Trading fees: Most cryptocurrency exchanges, including Bittrex Global, use a maker/taker fee structure model. For those unfamiliar with these terms, maker orders increase liquidity on the crypto exchange while takers decrease liquidity. As a result, if maker orders increase liquidity, they frequently incur a lower fee than takers. There is no way to predict whether an order will increase or decrease liquidity. As a result, you won't know whether you have to pay the maker or taker fee until your order is processed. The site, however, offers some discounts based on the previous month's trading volume. The higher you spend, the better your discount will be. The fees typically range from 0.00% to about 0.35%.
Getting Started with Bittrex Global
Signing up for Bittrex Global is a simple process. You need an email address and a strong password to set up a free Bittrex Global account. After that, you can confirm your email address and enable 2FA to protect your funds.
Bittrex Global exchange, like some other cryptocurrency exchanges, follows know-your-customer (KYC) guidelines. Visit Bittrex Global's identification process, provide your Social Security number or ITIN, and upload a government-issued photo ID such as a driver's license or passport. Next, take a selfie to ensure that the photo on your ID is accurate.
You must verify your identity to buy, sell, or trade cryptocurrency on the platform. Bittrex Global exchange has collaborated with Jumio to aid in the verification of its client base. Jumio is a digital identity card provider of identity verification solutions Jumio can currently process clients from over 200 different countries.
Bittrex Global exchange accounts are divided into three types: new/unverified accounts, basic accounts, and enhanced accounts. New and unverified accounts can't initiate BTC withdrawals, whereas basic accounts can withdraw up to 4 BTC per day. The daily withdrawal limit for enhanced accounts is 100BTC with 2-factor authentication enabled.
After signing up, you can start trading cryptocurrency using the desktop platform or mobile app. The Bittrex Global trading experience is straightforward. After logging into your trading dashboard, you can easily make trades with a debit card, bank account, or Bittrex Global account balance using the "Instant Buy/Sell" option.
Desktop
The first thing you will notice when you get into the Bittrex exchange desktop version is the dark blue background that screams "crypto." The upper side of the website has a minimalistic design with few wordings and well-arranged items. It's attractive and easy to read and use as it's less busy. Though user-friendly, beginners may go through a learning curve. Apart from that, the sign-up and verification processes are easy and intuitive. Once logged in, you can quickly deposit funds and trade seamlessly.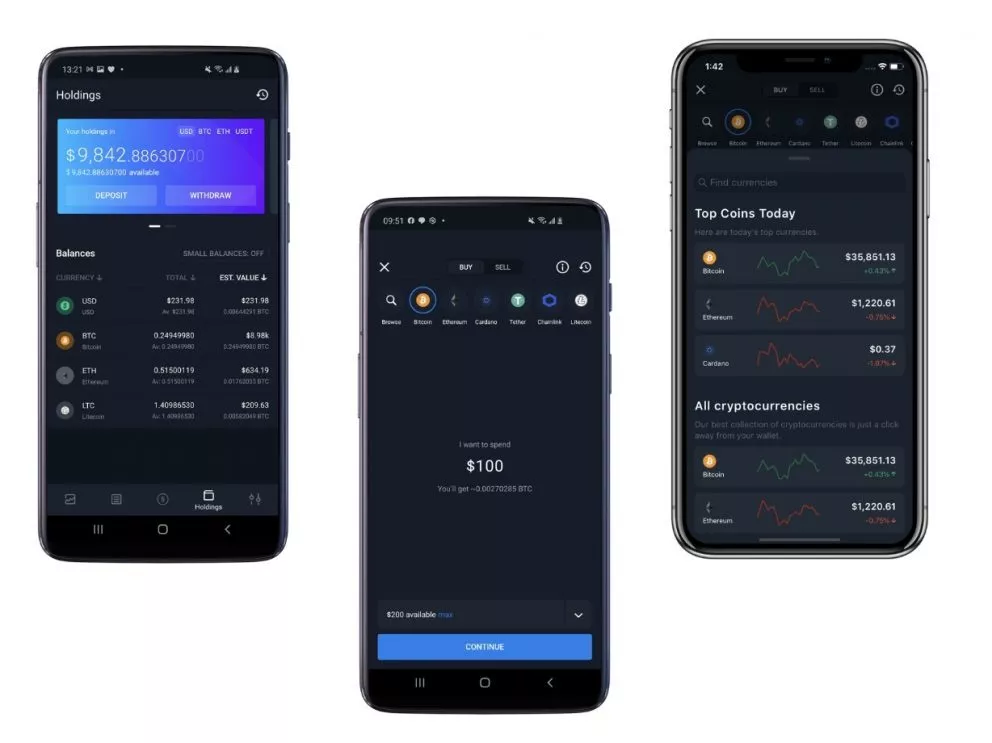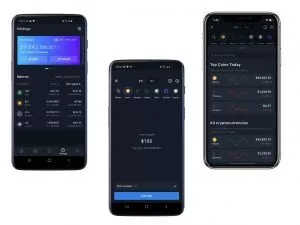 Mobile App
Bittrex exchange also has a mobile platform for both Android and iOS devices. The apps are sleekly designed and easy to use, even for first-timers. Unlike the desktop app, the mobile version only supports limit orders, market orders, stop-limit orders, Good-Til-Cancelled orders, Fill-Or-Kill orders, and One Cancels the Other (OCO) orders. Nevertheless, we enjoyed using advanced charting tools on mobile apps like the desktop version. Our experience was smooth, from buying, crypto, selling, and even withdrawing. The app favours both advanced and beginners, considering it has simple orders and advanced tools for pro traders.
Bittrex Global Exchange Customer Service
Bittrex Global exchange customer support options are limited, and you won't be able to get immediate assistance on the platform if a major problem arises. Support options include submitting a ticket through the Bittrex Global website and interacting with the chatbot, Trexie.
While support options are limited, Bittrex Global provides a helpful help center where users can find answers to frequently asked questions. Its help center is divided into different categories, and users can select the category that best matches their questions. For example, if you've got a question about order types, you could visit the Bittrex Global help center and navigate to the "Trading" section.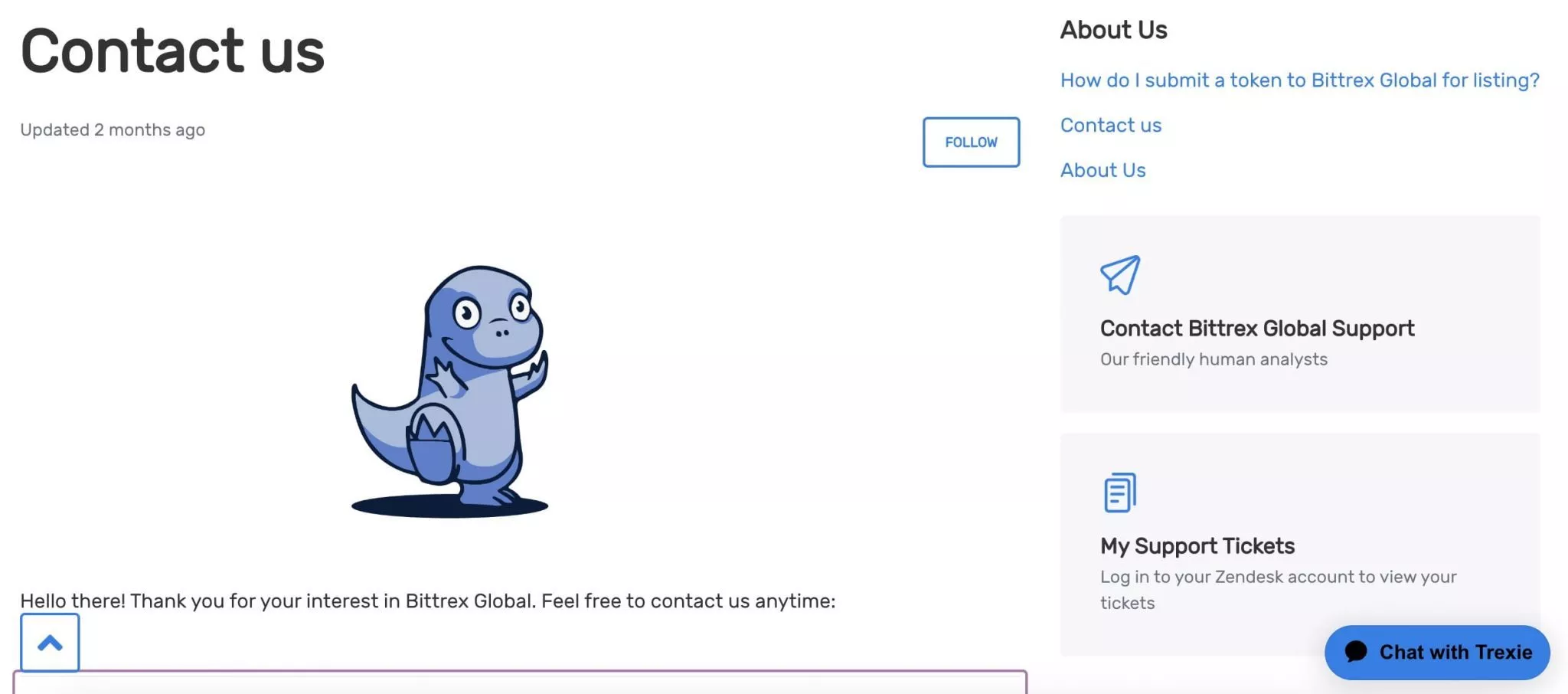 Bittrex Global vs Other Crypto Exchanges
Kraken vs Bittrex Global
Bittrex Global and Kraken are cryptocurrency exchanges based in the United States with strong security features and low fees. Both exchanges cater to active traders, with advanced charting tools and crypto pair trading available. Bittrex Global accepts over 440 cryptocurrencies, whereas Kraken accepts only 164. Bittrex Global exchange maker/taker fees are slightly higher than Kraken's. Bittrex Global charges fees ranging from 0.00% to 0.35%, while Kraken charges fees ranging from 0.00% to 0.26%. Kraken provides 24/7 live chat support to address urgent issues, whereas Bittrex Global doesn't. Bittrex Global and Kraken support various order types, but Bittrex Global provides more specialized options, such as ladder and trailing orders. On the other hand, Kraken offers the ability to trade with leverage and access to futures trading, which Bittrex Global doesn't. Margin trading is available to US investors (users must have more than $10 million in investable assets to qualify). Bittrex Global doesn't charge any additional fees for debit card deposits, whereas Kraken charges 3.75% + €0.25. You can tell that each exchange has its pros and cons. The choice is yours, depending on the features that matter the most.
Binance vs Bittrex Global
Bittrex Global is frequently compared to Binance as an alternative due to the number of altcoins it offers. However, the strict verification process and relatively high fees (0.25% vs. 0.1% on Binance) quickly demonstrate that Binance is the better option. Bittrex Global appears to be able to offer USD deposits and withdrawals for verified accounts. There is no real advantage over Binance. If this is important to you, stick with Bittrex Global; if not, perhaps the latter is a better option to consider. Binance has a larger active user base, with approximately 28.6 million users. Bittrex Global, on the other hand, has around 500K active users. Also, Binance has a higher number of cryptocurrencies than Bittrex Global. Fees-wise, Binance has the lowest trading fee percentage of 0.10%, while Bittrex Global comes in second with a fee of 0.2%.
Is Bittrex Global the Right Exchange for you?
Throughout this Bittrex Global exchange review, it's evident that the platform is an excellent choice, particularly for advanced traders. It offers a wide range of digital assets, focusing on crypto-to-crypto trading pairs, strong security features, advanced order types, and charting tools. That makes it the best fit for experienced traders who love using sophisticated charting features. High net worth and institutional investors can also take advantage of the OTC desk for large-volume trading. While features such as instant buy and sell are favourable for novices, Bittrex exchange is less beginner-friendly compared to competitors like Coinbase exchange and Binance exchange.
Almost a decade after it was established, Bittrex exchange is still reputable and continues to appeal to a large client base. This is enough proof that the platform is reliable, flexible and strong enough to withstand market changes. If you're looking for a secure crypto exchange with advanced features and multi-currency support, look no further.
What are the advantages of using the Bittrex Global Exchange?
By joining the Bittrex Global exchange, you will benefit from low trading fees, advanced charting tools, order types, and free crypto training."
What are the main features of the Bittrex Global Exchange?
Key features of the Bittrex Global exchange include instant buy and sell, staking, a mobile app for FTX leveraged tokens, and an educational resource—The discover page.
How easy is it to use the Bittrex Global Exchange?
The Bittrex Global trading platform is intuitive and simple to use. However, since it has many advanced features and charting tools, beginners might need to invest some time to get familiar. Once can get an idea on the usage of most tools within just a few hours of practice.
What are the fees for using the Bittrex Exchange?
Bittrex Global cryptocurrency exchange doesn't charge for deposits. Trading fees, on the other hand, are structured into maker and taker, and vary based on volume. They start from as low as 0.00% to a maximum cap of 0.35% per transaction.
Is the Bittrex Global Exchange safe?
Bittrex Global is a secure platform created by three former cybersecurity engineers. The platform includes security features such as IP and wallet address whitelisting, cold storage, and disabling account email links.
Is there a limit to who can use the Bittrex Global Exchange?
Except for North Korea, Iran, Syria, Cuba, and the Crimean Peninsula, the Bittrex Global exchange is available worldwide. Keep in mind that there is a different platform for US clients and the rest of the world. The website domains are geo-fenced, so you won't get confused when using the right IP address for your country.
What methods of payment does the Bittrex Global exchange accept?
Bittrex Global accepts ACH transfers, as well as debit and credit cards.
How liquid is Bittrex Exchange?
Bittrex exchange has a low liquidity. With a 24-hour trading volume of about $9 million, it ranks low compared to a competitor like Binance whose daily volume exceeds $40 billion.