Bitpanda is a one-of-a-kind cryptocurrency broker and investment platform. It is quick, dependable, user-friendly, secure, and highly rewarding to users. The platform is ideal for any cryptocurrency enthusiast interested in investing.
Bitpanda Overview
Restricted Countries
Among the restricted jurisdictions
Bitpanda Key Facts
Type of exchange
Centralized
Best for
Complete beginners looking for an easy yet complete platform to use
Fiat Currencies Available
No FIAT currency support
Cryptocurrencies Available
200+
Products & Services
Staking
Stocks
Swapping
Crypto indices
Branded card
Savings plan
Commodities
Fiat transactions
Reward system
Referral scheme
ETFs
Introducing Bitpanda Crypto Exchange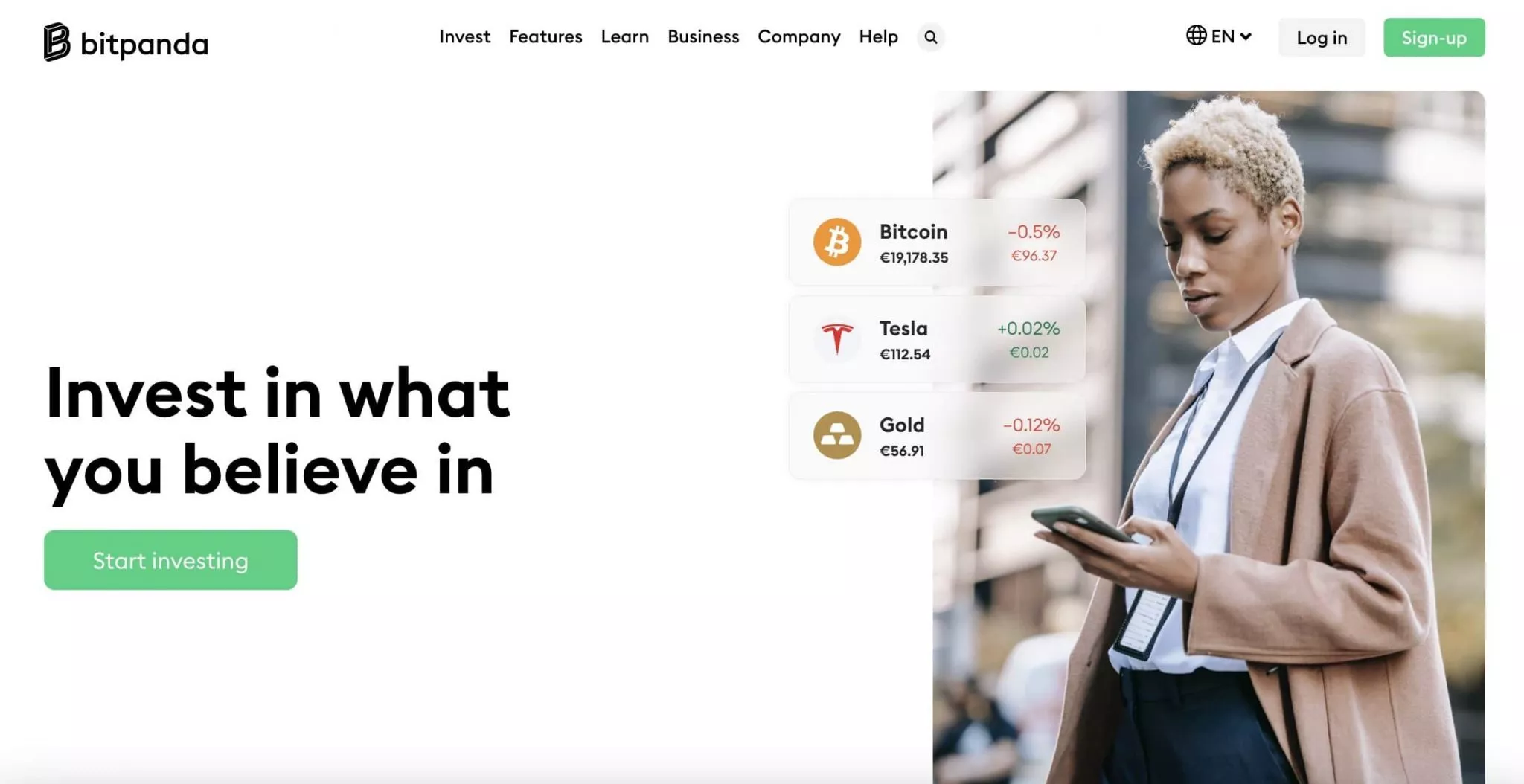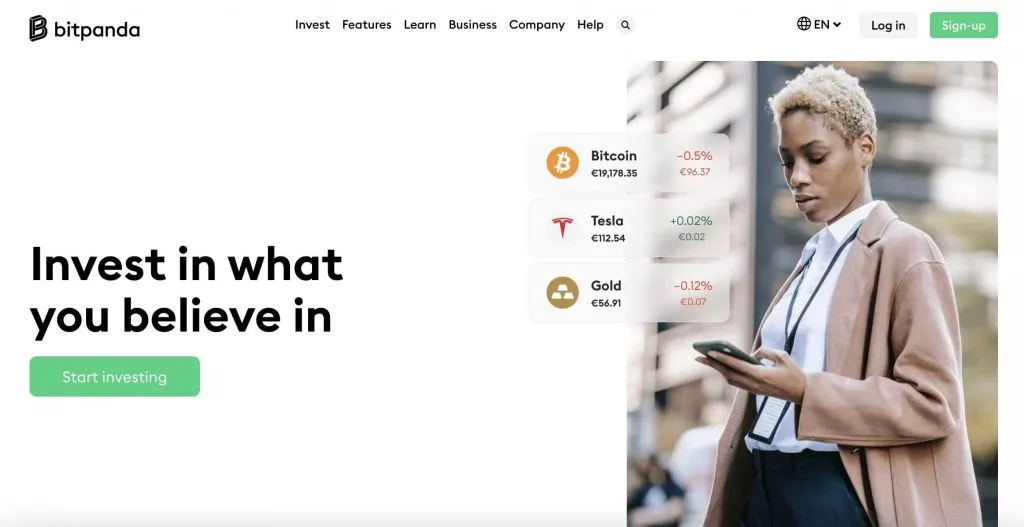 Bitpanda is a well-known Austrian exchange and trading platform that makes cryptocurrency investments simple and affordable for everyone. Previously known as Coinimal, the unicorn company began as a pure digital coin exchange but later evolved into a multi-asset platform. It provides a hot wallet where you can store and trade your cryptocurrency as well as other assets such as stocks, commodities, and ETFs. It is one of the best brokers in the European Economic Area (EEA), providing customers access to all major financial markets. You can also benefit from diverse income-generating opportunities, such as staking and fractional trading. The exchange has grown into a multi-billion dollar company in less than a decade, with a team of 700+ members and at least 3.5 million users from over 50 countries. This and much more is what dappGambl brings you in this review. Stick with us to learn about its features, reliability, pros and & cons, reputation, license, owners, and how to get started. Let's get moving.
Pros
Extremely user-friendly UI/UX
No history of security breaches and hacks
Multiple payment options
Multiple services in one platform
High liquidity platform
Offers OTC trading services
Useful educational resources
Cons
Crypto purchasing limited to EEA members
No advanced trading platform
Security Features
 User data protection: The exchange keeps users' data secured in an encrypted form. It only retrieves it for purposes permitted by General Data Protection Regulation (GDPR) law. Your personal information will never be used for profiling or automated decision-making.
Multiple regulations: Bitpanda Group is regulated and licensed by numerous authorities. This puts it under strict scrutiny that can assure you of safety. In addition, the company adheres to all the European laws regarding crypto and investment, including the Markets in Financial Instruments Directive 2014.
24/7 Availability: The platform's security and engineering team operates round the clock. This puts it in a position to respond to attacks and system errors promptly without affecting your operations.
Asset protection: The exchange is big on security. It deploys multiple security measures to keep your funds safe from threats. All client's digital coin assets are stored in safeguarded cold storage facilities that are subjected to regular external audits.
Encryption: The platform deploys some of the latest encryption technologies recommended by its security team. The website is also SSL-secured to protect user data from unscrupulous persons.
Continuous Audit: The trading terminal and company in general undergo regular internal and external audits to seal any security loopholes and ensure user funds are secure. KPMG, a highly reputable auditing firm, is its primary external auditor. Previous audit reports are availed to all clients.
Session management: The platform gives users more control over their accounts by allowing them to view which browsers and devices they are logged in from. With this feature, you can sign out from suspicious devices.
Account Lock: You will be asked to verify your email every time you reset your password. If the request wasn't yours, or in case you sense strange activity, you can freeze your account.
Multi-factor Authentication (MFA): This feature adds an extra layer of security to your platform requiring at least two unique signatures when signing into your account. You can activate 2FA, where you'll receive a verification code with every log in, or use the Google Authenticator app.
Complaints Received
Despite the multiple positive reviews about the wallet, some customers are unhappy with it. Like most crypto platforms, the highest number of complaints received is about the unresponsiveness of the support team. A Trustpilot member identified as "SY Music" claims the customer support team responds to emails slowly. There are also multiple complaints about funds being frozen and users not being able to cash out when needed. We found out that the platform can freeze one's withdrawals and request additional KYC details where there is suspicious activity. The exchange's support responded to most complaints and tried to offer a solution. We found that to be impressive.
Reliability & User Experience
Reliability 
At a valuation of over $4 billion and a team of at least 700, Bitpanda crypto exchange leaves no gaps in delivering quality and reliable services. Our experts found out during this review that the platform has had zero outages since it was launched. So, you can expect seamless and uninterrupted trading using this platform. In terms of security, we have already covered multiple security features deployed to safeguard your assets. Besides, the company is multi-regulated, so it's highly reliable.
User Experience
Users of all skill levels will enjoy using the platform to invest in crypto. It has a tremendously intuitive interface. The UI is clean and elegantly designed, with a white background for the standard account and a dark theme for the pro account. Every process, from registration, KYC, trading, and to available features, feels nicely thought out. You can sign up and start using the app within just a few minutes. However, services are restricted to verified members only, so this may not be the right platform for traders who are highly conscious about their privacy. Trades execution was seamless throughout this review. The charts are easily customizable into daily, weekly, monthly, and annual time frames. Take advantage of advanced trading tools like price alerts to help you monitor different markets. Although client support is slow, the FAQs page is extensive for solutions to your challenges before creating a support ticket.
Step One: Hit the Sign-up button on the top right corner of the Bitpanda website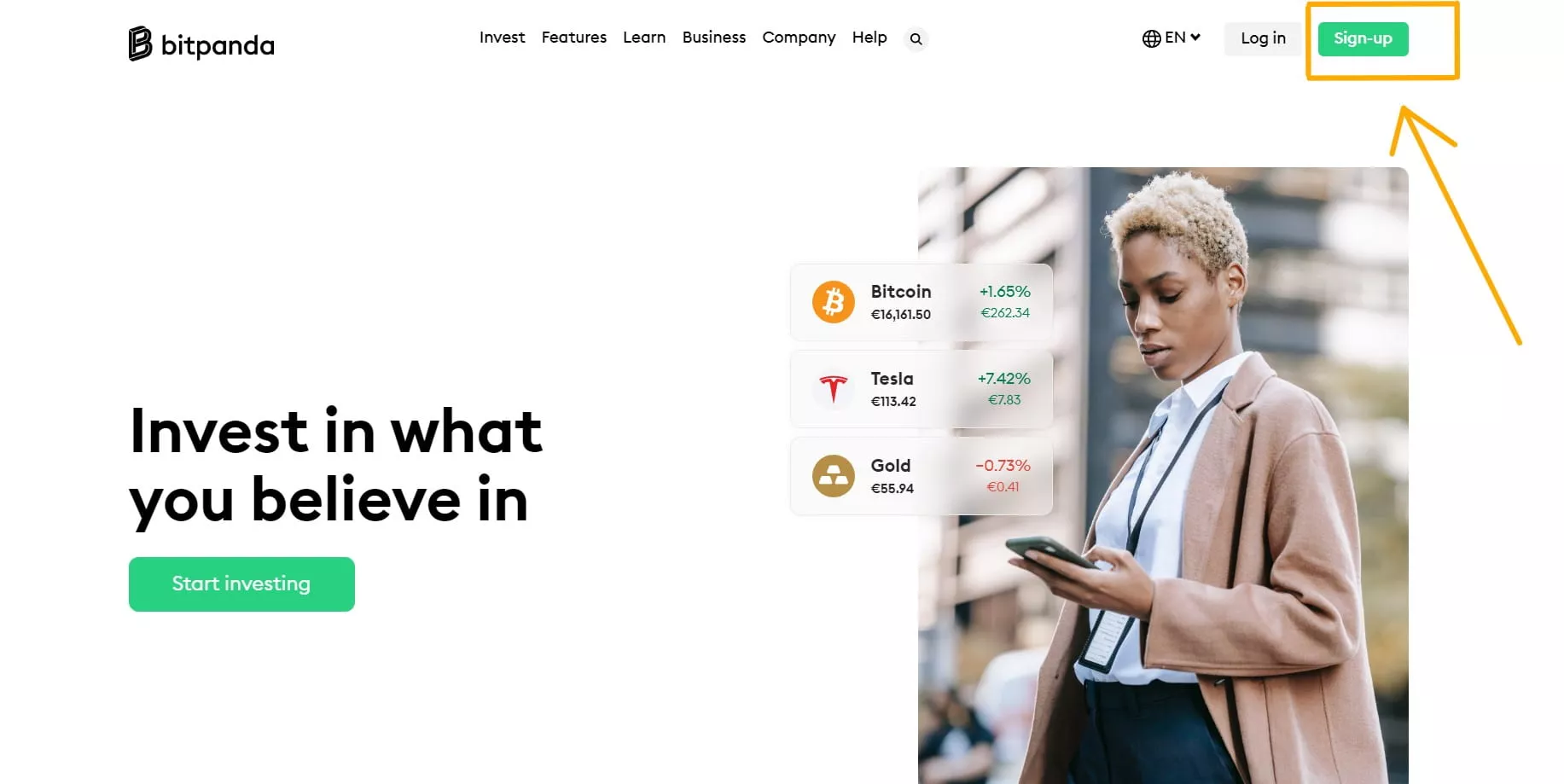 Step Two: Fill in your name and email address and select a strong password. Next, choose your country of residence and accept the terms and conditions if you agree with them.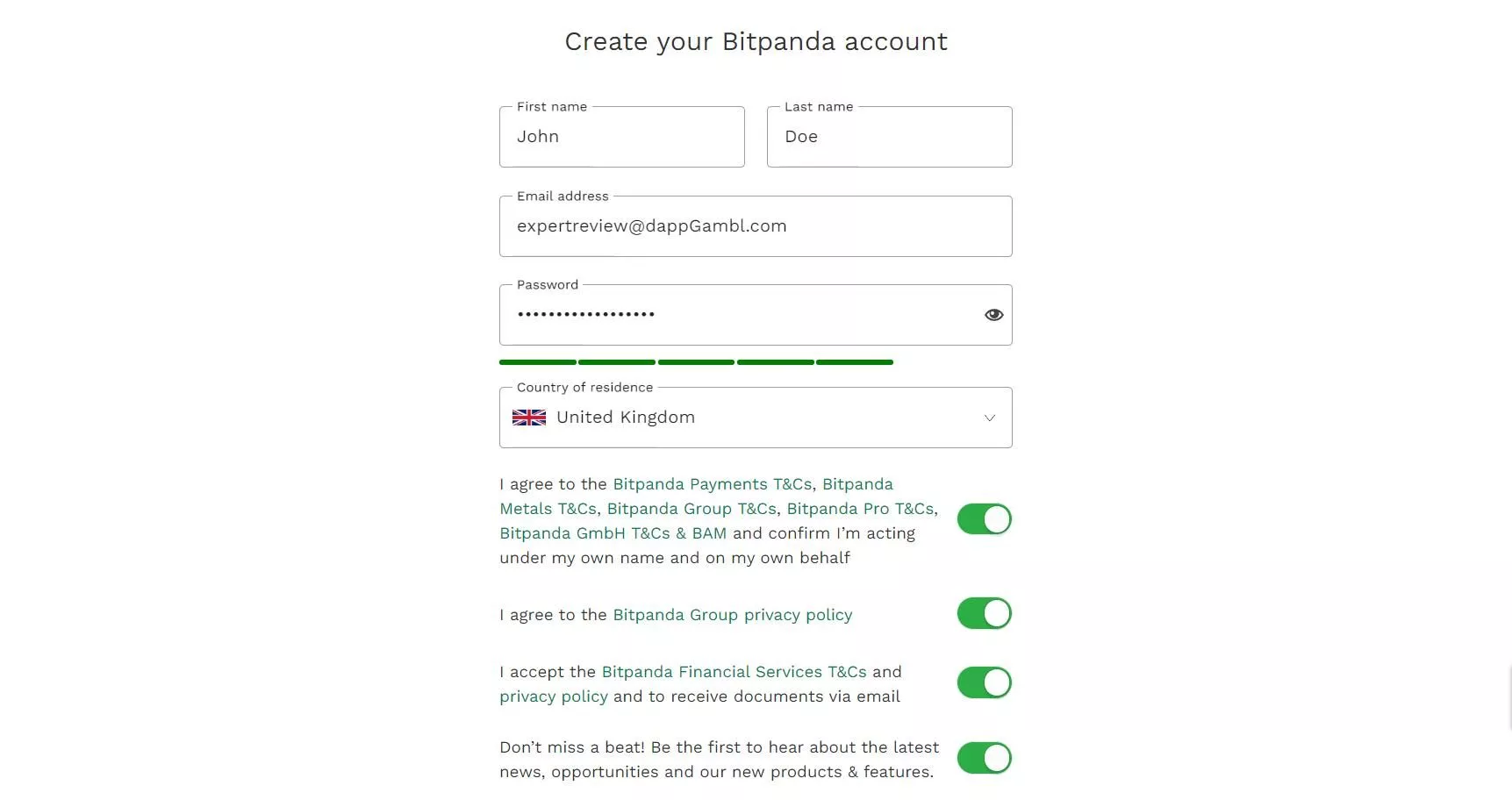 Step Three: Click on "Create Account." Next, go to your email address and open the confirmation email. Finally, click "Confirm my email" to complete your account creation.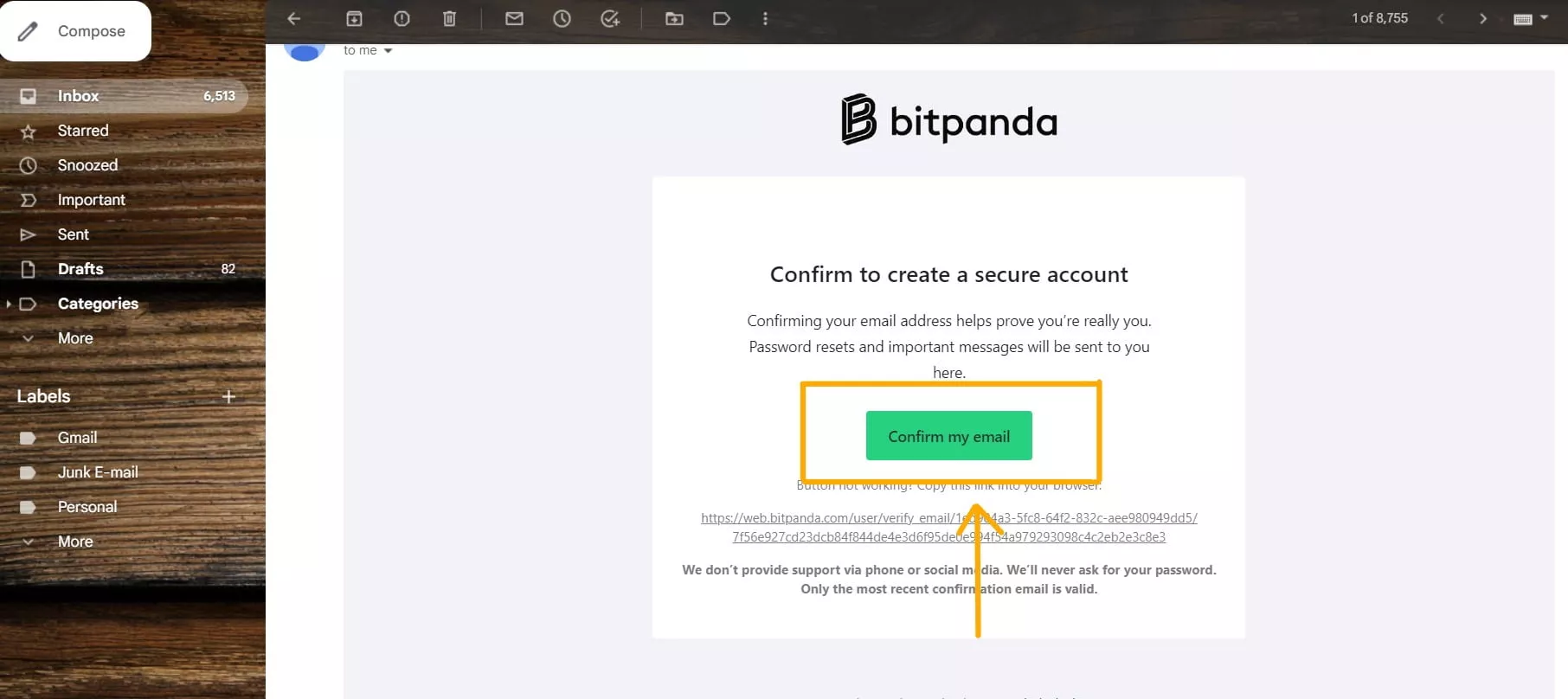 Step 4: Now log into your account. The dashboard should look like this.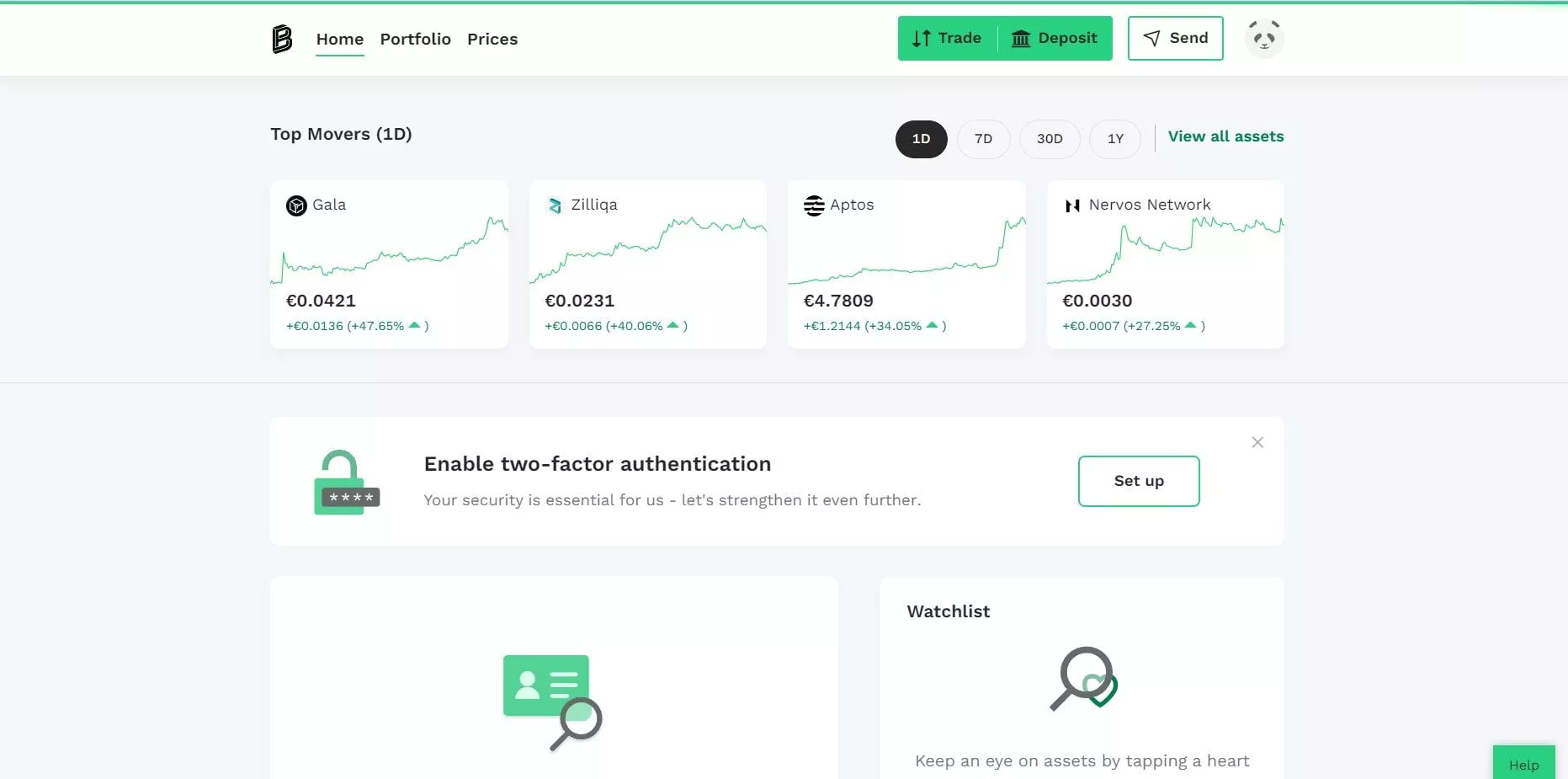 Step 5: Click the verification button, fill in the KYC form, and submit it. Proceed to verify your account, starting with your phone number. The site will guide you through the process to the end.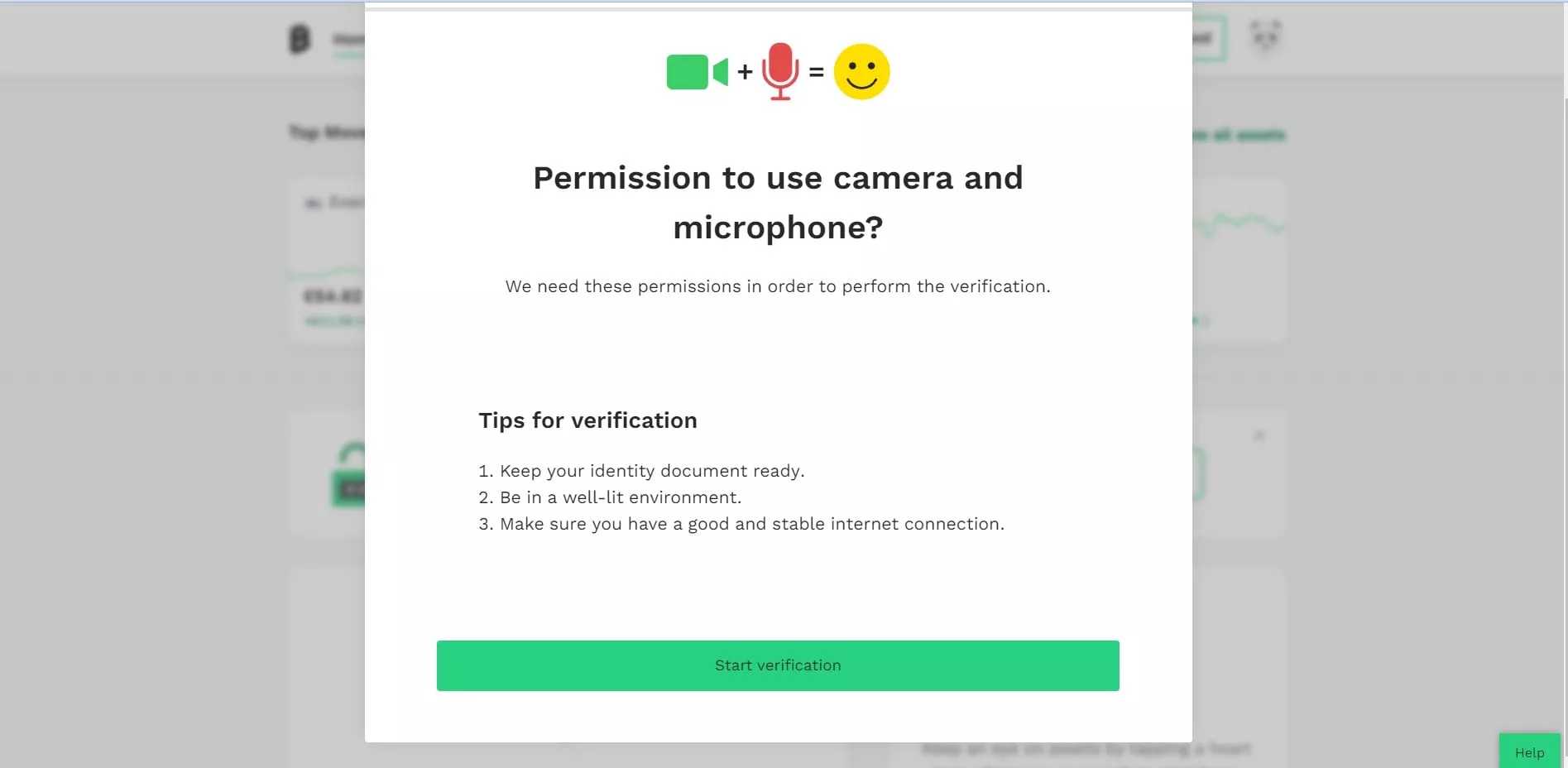 Step 6: Your account is now fully set. Deposit and start trading. Remember to activate the 2FA for enhanced security.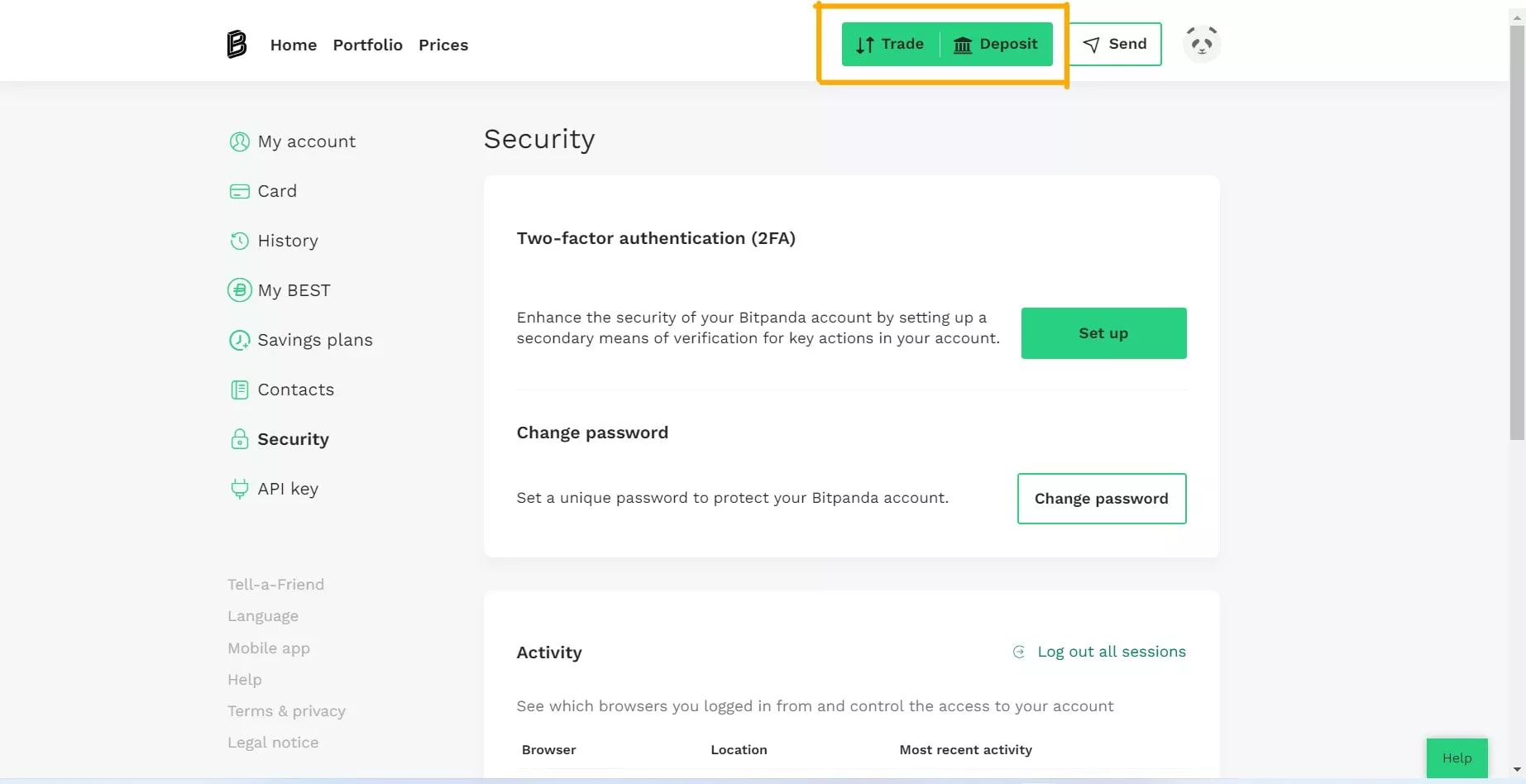 What is Bitpanda Ecosystem Token (BEST)?
BEST is Bitpanda's native utility token and loyalty standard. It's used for investments and to incentivize users. The more BEST one holds, the higher one rises in the VIP scheme and the more rewards one receives. It runs on the Ethereum blockchain as an ERC20 token. As of writing this, it has a market cap of over €98. million, and an average daily volatility of 3%. It operates on the burn mechanism, which makes supply scarce over time. The token has a max supply cap of 1 billion coins. At launch, 500 million of them were issued to the IEO
Deposits and Withdrawals Options 
Fiat: Mastercard, Visa, Sofort, EPS, Giropay, Neteller, Skrill, SEPA transfer
Cryptocurrencies: Bitcoin (BTC), Ethereum (ETH), Dash (DASH), Litecoin (LTC), Bitcoin Cash (BCH), Ripple (XRP
Commissions and fees are not well stated on the standard account, plus they vary depending on the market conditions and size of your trade. For example, it costs 1.49% to buy BTC and 1.29% to sell it. The pro account is more explicit about fees. Marker costs start from 0.00% to 0.10%, while taker fees range from 0.00% to 0.25%. Institutional clients use special rates for their first three months.
You will have access to two trading platforms: standard and professional. The first is intended for new traders, while the second is for experienced traders. The basic platform allows you to exchange tokens for other cryptocurrencies, stocks, commodities, and vice versa. You can program automatic orders, such as recurring trades that open at various price levels. This implies that strategies like averaging down are unrestricted. Unlike peer-to-peer sites, Bitpanda is your trades' end seller and buyer. As a result, it charges a premium price for its services above the wholesale rate.
Different Trading Options Offered
Users can trade different crypto assets depending on your account type and geographical location. Here is a complete list of trading instruments offered by the Bitpanda crypto exchange:
Cryptocurrencies: Buy, sell and swap more than 40 digital currencies
Stocks: Invest in leading stocks like Apple, Tesla, Paypal, and Google
ETFs: Access EFTs from Europe, Britain, Germany, and Emerging Markets
Crypto Index: Bitapanda touts itself as the first investment platform in the world to introduce actual crypto indices.
Precious Metals: Invest fractionally in precious metals like gold, silver, and palladium
Commodities: Enjoy 24/7 access to the commodities market and invest in assets like Brent, Natural gas, Wheat, and Soybean
Can I Trade With Leverage? 
Unfortunately, the exchange does not offer margin trading.
What are the Spreads?
Spreads on the trading platform are 100% dependent on market conditions. They might change with every incoming tick data and hence are not stated. They are, however, competitive as compared to other platforms.
Banking Features
Saving plan
Debit Card
Bitpanda pay
Swapping
Staking
Deposit and Withdraw services
eWallet services
Trustworthy security
Additional Features
Free Academy
Affiliate Program
OTC Trading Desk
Bitpanda to-go
Bitpanda Plus
Multi-Asset Platform
The help desk can be accessed via the "Help" item on the menu. It consists of a support ticket function and a detailed FAQs section. There is no live chat or customer care phone number. It might take up to six hours or more to get a response when you submit a ticket. Consider joining the Bitpanda community, where you can also get help from other users.
| | |
| --- | --- |
| Åland Island | Jersey |
| Andorra | Lithuania |
| Austria | Luxembourg |
| Belgium | Malta |
| Bulgaria | Monaco |
| Croatia | Netherlands |
| Cyprus | Norway |
| Czech Republic | Poland |
| Denmark | Portugal |
| Estonia | Romania |
| Faroe Island | Serbia |
| Finland | Slovakia |
| France | Slovenia |
| Germany | Spain |
| Greece | Svalbard and Jan Mayen |
| Guernesey | Sweden |
| Holy Sea (Vatican State) | Switzerland |
| Hungary | Turkey |
| Iceland | United Arab Emirates |
| Isle of Man | United Kingdom |
| Italy | |
For the novice and experienced investors wishing to diversify their holdings in the cryptocurrency market, Bitpanda is the perfect platform. You can hold digital coins as assets, use Bitcoin to purchase stocks and invest in crypto index funds and options. It is only available to crypto aficionados in Europe due to geographical limitations. Its stellar reputation makes it clear that it is dependable and highly safe. Feel free to sign up.
How long does it take to process the deposits & withdrawals?
The platform has an automated deposit and withdrawal system. That means payments are processed almost instantly after a client's request. However, the time it takes for funds to reflect on your account depends on the selected payment method.
What is the minimum & maximum amount that can be deposited?
The minimum and maximum amounts vary depending on the funding method and currency. For example, SEPA has a maximum daily deposit limit of €500,000. On the other hand, you can only deposit up to €2,500 via card.
What is the minimum & maximum amount that can be withdrawn?
Just like deposits, withdrawals vary based on the selected currency. For example, SEPA users can cash out up to €5,000,000 daily, while card users can withdraw up to the limit set by their issuer.
How secure are eWallets?
Multiple levels of protection surrounding eWallets make them highly secure. They have cutting-edge encryption that makes it nearly hard for even the greatest hackers to intercept your money with each transaction. Besides, you can enable extra security features like 2FA, biometric login, and cold storage services for additional safety
Is Bitpanda Legit?
Very legitimate! It is one of the most regulated investment platforms in Europe. The company adheres to multiple European requirements, including MiFID II, E-Money, and PSD II regulations.
Do I need to verify my identity on the exchange?
Since 2020, the platform has made KYC verification mandatory for all users. As a result, you will only be able to transact once your KYC documents are approved.