Bitfinex serves both novice and expert traders, with a user-friendly interface and advanced trading tools. It's easily accessible across multiple platforms and devices. While there was no downloadable mobile application as of writing this, the platform was developed in HTML5 making it highly responsive on all mobile devices.
Bitfinex Overview
Restricted Countries
Among the restricted jurisdictions
Bitfinex Key Facts
Type of exchange
Centralized
Best for
Traders comfortable in fiat that want to dabble in crypto
Fiat Currencies Available
China Yuan Renminbi, Euro, United Kingdom Pound, Japan Yen, United States Dollar
Cryptocurrencies Available
170+
Products & Services
Spot trading
Staking
Buy & Sell
Exchange
Trading
Crypto wallet
Currency exchange
Pros
Long standing reputation
Multiple crypto support
Offers advanced trading features
Opportunity to earn passive income
Multiple funding methods
Competitive trading fees
Cons
History of hacking
Weak regulation
Not beginner friendly

Bitfinex is a prominent 2012 established cryptocurrency exchange offering a range of features and services for users looking to trade and manage digital assets. It supports a wide range of coins, including popular options like Bitcoin (BTC), Ethereum (ETH), and Litecoin (LTC), as well as lesser-known altcoins like Aptos, Aragon, Band, Dash, and Fantom. This diverse selection allows users to explore various investment opportunities and diversify their portfolios. The company is led by the CEO, JL van der Velde, who works with a team of other highly experienced and visionary developers steering the company forward by offering clients a safe and low-latency trading environment. As of writing this, one could trade over 200 different tokens and 400 different spot trading pairs. We also found a list of over 60 perpetual futures contracts on the website. The company regularly reviews all the tokens listed on the Exchange to ensure they remain compliant with high standards of governance and liquidity. Users seeking to explore many trading strategies can take part in margin trading. Apart from crypto, the Exchange has diversified into securities to cater to a broader market base. Regarding safety, exchange is secure with two-factor authentication (2FA), cold storage for most user funds, and regular security audits. As one of the largest exchanges, you can be sure it offers ample liquidity for fast and accurate trade execution. Despite its strengths, the exchange has faced its fair share of controversies. It was hacked in May 2015 and August 2016. Lost funds were reimbursed and has since reviewed its safety standards and implemented extra tight security processes that may sometimes seem cumbersome.
Fees
Bitfinex has a wide payment structure. All crypto deposits are free. Bank wire transfers attract a fee of 0.100%, with a minimum charge of $60. Withdrawal fees are zero for currencies like Dash, Bitcoin Cash, Polkadot, Elrond, EOS, Fantom, NEO, and Doge. It will cost you 0.0004 BTC to cash out Bitcoin. Other currencies that attract a withdrawal fee include Compound, Curve, Ethereum, and Ripple. Normal bank wire transfers are charged a standard fee of 0.1% per withdrawal. There is a minimum fee of $60. If you use express bank wire, which completes payments in 24 hours, you will pay 1% in fees. You may visit the payment page on the Exchange's website for a full view of deposit and withdrawal charges. Trading fees are categorized as "maker" and "taker" and vary according to the amount in question. The maker fees start from a high of 0.1% for amounts between $0 to $500,000 and go down to as low as 0.0% for transactions exceeding $20 million. On the other hand, taker fees are capped at $0.20% for $0 to $500,000 and adjust to 0.055% for amounts exceeding $30 billion. Generally, Bitfinex is one of the most affordable exchanges based on average industry fees.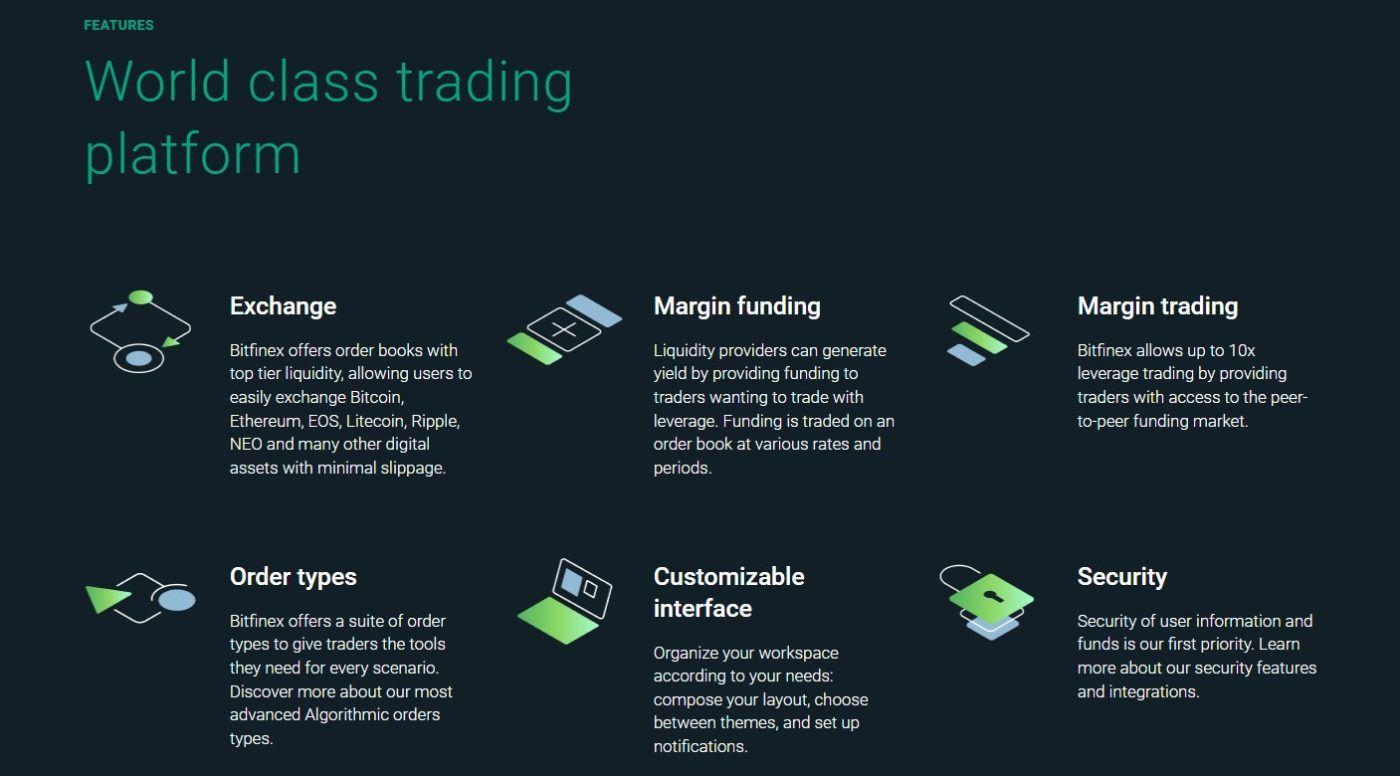 Features
Currency Exchange
As an exchange, the primary feature offered is currency swapping services. You may convert different fiat pairs, such as USD, or cryptocurrencies, like BTC, ETH, and more. The platform also allows users to exchange fiat for digital coins and vice versa. Users can sell their crypto or fiat and receive any preferred currency as long as it's supported on the platform. The exchange rate basically depends on the prevailing market conditions and may fluctuate occasionally. Always review the current rates before transacting.
Trading
Users can participate in various trading options, including spot trading, margin trading, and peer-to-peer (P2P) financing. Spot trading allows users to buy and sell cryptocurrencies at the prevailing market price, at near instant execution, while margin trading enables users to trade with borrowed funds. While margin trading potentially amplifies gains, the risk of losses is as high. Lastly, P2P financing allows users to lend or borrow cryptocurrencies from other users.
Securities Platform
The website offers a securities exchange platform where it allows companies of all sizes from all over the world to get listed, access liquidity and raise capital. The 24/7 terminal harnesses the power of blockchain to give previously under-served firms access to a global network of investors.
Bitfinex Pay
Businesses and individuals seeking to start accepting crypto payments on their websites can take advantage of this newly released feature. It's an easy-to-use widget compatible with HTML and can be easily integrated with one's website to help effectively manage simple and bulk digital coin transactions. As of writing this, it offered zero processing fees, lightning-speed transactions, and a complete easy to user management dashboard.
OTC Desk
The company has an OTC desk catering to high rollers looking for exclusive deals outside the public order books. OTC trading is primarily designed for high-volume traders like institutional investors and traders who require personalized service and increased privacy. It offers a dedicated team and allows you to access virtual money liquidity without affecting or being affected by the platform's market prices. The minimum P2P trade size is $50 and incurs a 0.1% charge on both sides, while the lowest OTC liquidity trade is 100,000 USD or equivalent.
Borrowing
This feature allows you to take loans from other investors providing crypto as collateral. Borrowers can use the funds anyhow within the platform. They can also set the most suitable repayment period and interest rates according to the terms and conditions of the Exchange. The overall loan limit as of writing this was $250,000 or equivalent.
Multiple Order Types
The platform offers numerous order types to help users meet their different trading goals. As of writing this, traders could execute Limit orders, market orders, stop orders, and trailing stop orders.
Wide Range of Cryptocurrencies
The exchange supports a diverse range of cryptocurrencies, including Bitcoin (BTC), Ethereum (ETH), Ripple (XRP), Litecoin (LTC), Bitcoin Cash (BCH), and many others. Users can trade these cryptocurrencies against other cryptocurrencies or fiat currencies like USD, EUR, and GBP.
Cross Platform Availability
Bitfinex is available across many platforms. Apart from browser access, you can download a desktop version for Windows and iOS. We also found out during this research that the website is built of HTML 5, hence highly responsive to all screen sizes including mobile phone browsers. Lastly, Bitfinex offers a user-friendly mobile app downloadable via Google Play Store and the App Store.
Number of Cryptocurrencies Supported
Here is a list of the digital currencies supported by the exchange:
Bitcoin, Ethereum, 1INCH, AAVE, Cardano, Multiverse, Algorand, Ampleforth, Aragon, ApeCoin, APENFT, Aptos, Arbitrum, ATLAS, Cosmos-Atom, Avalanche, AVAXC, Axie Infinity, Bit2Me, Balancer, Band, Basic Attention Token, XEC, Bitcoin Cash, Bitpanda, Bitget Token, BLUR, Bancor, BOBA, BOO, Boson Token, Bitgert, Bitcoin Gold, BTSE, BitTorrent, Concordium, CHEX, SwissBorg, Socios.com Chiliz, Callisto, Compound, Convergence, Curve, Dai Stablecoin, Digibyte, Doge, Dora, Polkadot, Dash, Dusk Network, Deversifi Token, pNetwork, Elrond, Enjin, EOS, Ethereum Classic, ETHW, ETP, EURS, E-RADIX, Fenerbahce Token, Fractal, Fetch.AI, Filecoin, FLOKI, Flare, FORTH, Fantom, FunFair, Gala, Gnosis, Golem, GoCrypto, The Graph, Gate.IO, Hector Network, Hi Dollar, Human, Huobi Token, ICE, Dfinity, Everest, Iota, Jasmy, JST, BitKan, KARATE, Kyber, Kusama, LayerAI, Lido, Unus, ChainLink, Loopring, Litecoin, LUNA, Luna Classic, LUXOchain, Lympo, MATIC, Magic, Maker, Melon, Decentraland, Mobilecoin, Near, NEO, NEXO, NEOGAS, Onomy, NXRA, OCEAN Protocol, Omni, Harmony ONE, Blockpass, Paxos, PEPE, PLANETS, Pluto, Kleros, Polkacity, POLIS, Prema, QRDO, Quantfury, Qtum, RBTC, REEF, Augur, Rally, SAND, SENATE, Songbird, Shyft, SHIB, SIDUS, Shimmer, Status, Synthetic Network, Solana, SPELL, Stargate Finance, Storj, SUI, SUKU, SUN, SUSHI, Sweat Economy, SX Network, TENET, Telos, Toncoin, Polytrade, TREEB, TRON, TrueUSD, USDC, Uniswap, Ultra, UTRUST, VELO, VeChain, Veracity, WAVES, WAX, Wrapped Bitcoin, WhiteBIT Token, WMINIMA, WNCG, WOO, XCAD Network, Chain, XinFin, Stellar Lumen, Monero, RADIX, Ripple, Tezos, Verge, Yearn.Fiance, Zcash, Zilliqa, Zipmex Token, 0x
Earn (staking/rewards)
Users are exposed to multiple ways of generating passive income. You can make money by staking or lending. Here is a quick overview.
Staking
Staking involves holding certain cryptocurrencies in a wallet to support the network's operations and validate transactions, and in return, users earn staking rewards. Users can participate in staking programs for select cryptocurrencies. As of writing this, one could stake Tron for 6%-8%, EOS for 0%-3%, Tezos to attract 3%-5%, Cosmos for 1.5% – 3%, Solana for up to 6.5%, Polygon at 4.5% – 6%, Cardano 4% -5%, Polkadot for up to 7%, Ethereum to get up to 3.5%, and Kusama for up to 8% annually. Staking rewards are paid weekly, and the process is 100% free.
Lending
The exchange also facilitates peer-to-peer (P2P) lending through its platform. Users who have excess funds in their accounts can choose to lend them to other users who want to borrow for margin trading. Lenders earn interest on the funds they lend, providing them with an opportunity to generate passive income. The platform acts as the middleman providing the needed technology, security, and a friendly environment for lenders and borrowers to interact. Lending on Bitfinex is typically done through the "Funding" section, where lenders can set their own terms, including the interest rate and duration of the loan. Borrowers can then choose the best available loan offers.
Customer Service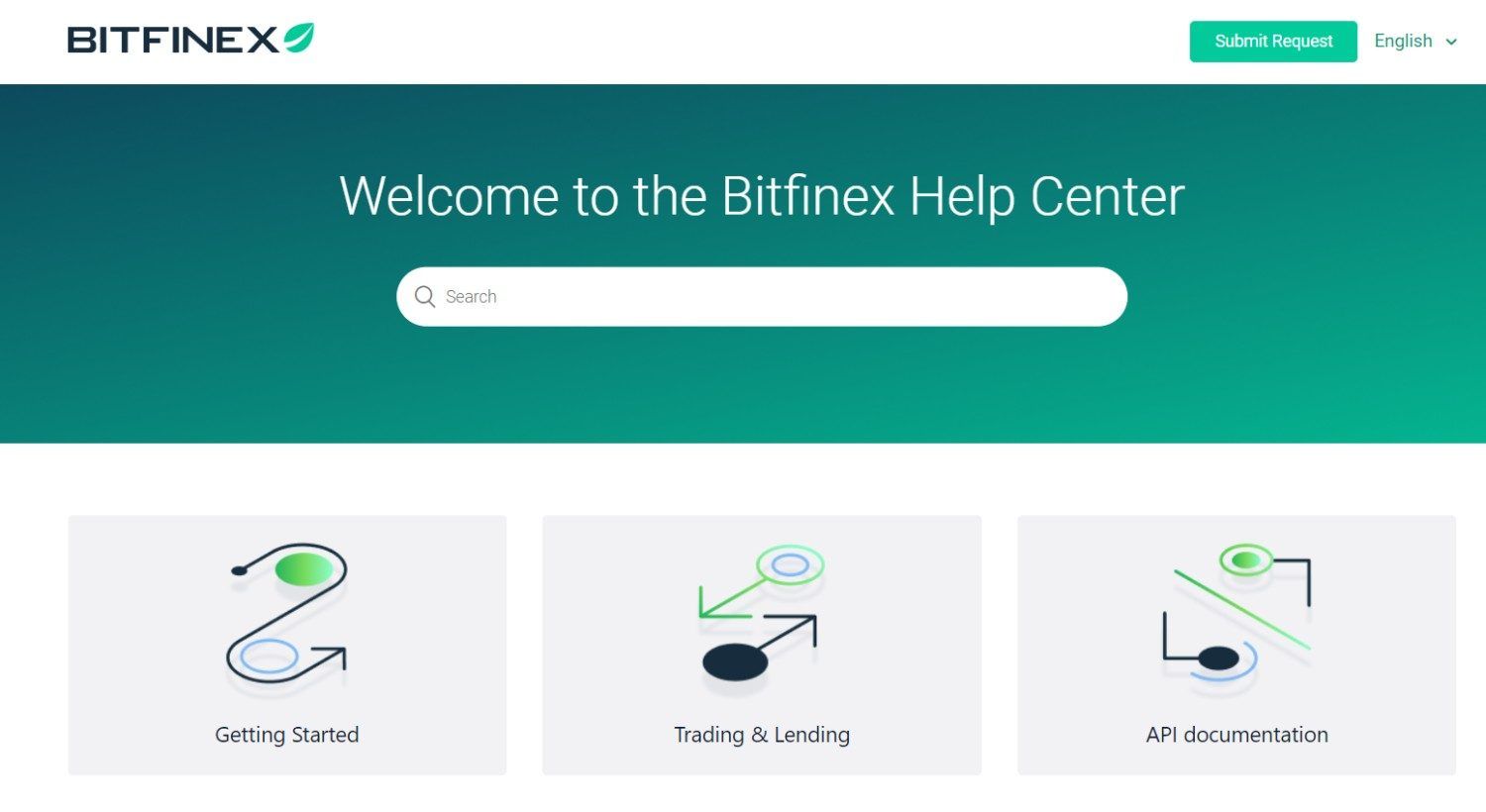 The platform has a great customer support system to ensure users get timely solutions whenever they run into issues. First, there is a comprehensive knowledge base discussing all key sections of the website, from getting started to API integration, account access, verification, deposits/withdrawals, security, trading, mobile app, and more. You can use the search function on this page to easily find answers to what you are looking for. If your issue is a common one, rest assured you will get your answers on the FAQs page. If not, scroll to the bottom of the page and hit the green "Contact Support" button. This will take you to a new page with a list of different ticket topics. Select the most appropriate one to proceed. Next, you must fill out a support form providing details of your challenges. Make sure to describe your problem fully for a proper response.
You may attach any screenshots or documents if you need to and submit them to complete creating your ticket. Bitfinex aims to provide timely responses to user inquiries. The response time may vary depending on the complexity of the issue and the volume of support requests they receive. We got an initial response within 30 minutes of submitting our ticket. It's, however, advisable to allow some time for the customer service team to address and respond to your query or concern. If your issue is urgent, consider using the live chat function. You will typically start by chatting with a live bot that will eventually transfer you to a standby live chat agent. The team is patient, understanding, and highly knowledgeable. All support channels are available 24/7. While these are not the official communication channel, the company maintains a strong social media presence. Its Twitter page, for example, had over 941,000 followers while writing this review. It was quite active, with an average of 8 posts daily. There was also a telegram group with about 16,000 members and an Instagram page with 25,000+ followers. You may follow these pages to stay updated on the latest development.
Hardware Compatible
As of writing this, Bitfinex did not offer direct support for hardware wallet integration or compatibility within its platform. However, it encourages users to store funds in self-custody platforms, including hardware wallets like Trezor and Ledger wallets. A hardware wallet is a physical device that stores private keys offline and provides an extra layer of protection against potential hacks or online vulnerabilities. Unlike software wallets, hardware storage devices come at a fee. The purchase price may range from about $40 to over $300, depending on the features offered.
SPV or Full Node
A full node is a form of cryptocurrency wallet that keeps a complete copy of the blockchain and verifies all transactions and blocks independently. Full nodes help to secure and decentralize the network by validating transactions and blocks, and they are reliant on a third party to manage funds. An SPV wallet (Simplified Payment Verification), on the other hand, is a lightweight wallet that does not download the entire blockchain. Instead, it queries full nodes or trusted services to verify transactions. SPV wallets provide a mix of security and resource efficiency, but they still require contact with full nodes on the network. As a centralized exchange, it is neither a full node nor SPV. Instead, it focuses on managing users' cryptocurrency balances and facilitates trading. When you deposit funds, you are essentially trusting the Exchange to hold and manage your funds securely.
Who is Bitfinex Exchange Best Suited for?
Based on the multiple features provided by Bitfinex, it's suitable for a broad user base. Here are some groups that will find the Exchange useful:
Pro Traders
Experienced traders seeking to engage in spot, margin, and derivatives trading will find Bitfinex highly beneficial. They can take advantage of the advanced analysis and reporting features to make informed decisions.
High-Volume Traders
The platform offers high liquidity, making it suitable for traders who want to execute huge orders without experiencing unfavorable slippages that could eat into their funds. High liquidity also guarantees timely order execution.
Margin Traders
With a 10x leverage, margin traders can control more significant amounts and potentially take home huge profits even though they only have a relatively small capital. For example, an investor with a capital of $10,000 can control up to $100,000.
Cryptocurrency Investors
It goes without saying that Bitfinex is a great platform for digital coin investors. It offers a variety of methods to make money actively and passively, including lending, staking, and crypto speculative trading.
Institutional Traders
The exchange provides services tailored to institutional traders, including an OTC trading desk and various account management features. Institutional traders often require dedicated support, high liquidity, and advanced trading functionalities, which Bitfinex aims to provide.
Traders Seeking OTC Liquidity
Bitfinex's OTC trading desk caters to users who wish to conduct large-volume trades outside of the regular exchange order books. This service is suitable for traders who require personalized service, higher privacy, or enhanced liquidity for large trades.
Services Offered by Bitfinex Exchange
Bitfinex offers a range of services related to cryptocurrency trading and management. Here are the key services provided by Bitfinex:
Spot Trading
Bitfinex enables users to trade a wide variety of cryptocurrencies against other cryptocurrencies or fiat currencies. Users can buy, sell, and exchange cryptocurrencies at the current market prices through the spot trading feature
Margin Trading
Bitfinex offers margin trading, allowing users to trade with borrowed funds. Margin trading provides users with the opportunity to leverage their positions and potentially amplify their trading gains. However, it's important to note that margin trading also carries higher risks
Derivatives Trading
Bitfinex provides derivatives trading options such as futures and perpetual contracts. These products allow users to trade cryptocurrency-based derivatives with leverage, enabling them to speculate on the price movements of various cryptocurrencies
Staking
Bitfinex supports staking for at least ten select cryptocurrencies, allowing users to earn staking rewards by holding and participating in the network validation process. Staking on Bitfinex offers users an opportunity to earn additional income based on the staked cryptocurrencies they hold
Transaction Service
Bitfinex allows users to deposit funds and store them in its hot wallet, send cash to other wallets, and withdraw to bank accounts. Users can also exchange their crypto for speculative purposes
API Integration
Bitfinex provides an API (Application Programming Interface). With this, programmers can integrate some Bitfinex's functionalities into their applications, websites or trading bots.
How to Create an Account?
To create a Bitfinex account, you can follow these general steps:
Step 1: Click on the green "Sign Up" button on the upper right side of the website to start creating a new account.

Step 2: Fill out the form provided. You will need to provide your email address, username, password, country of residence, and an answer about how you heard about Bitfinex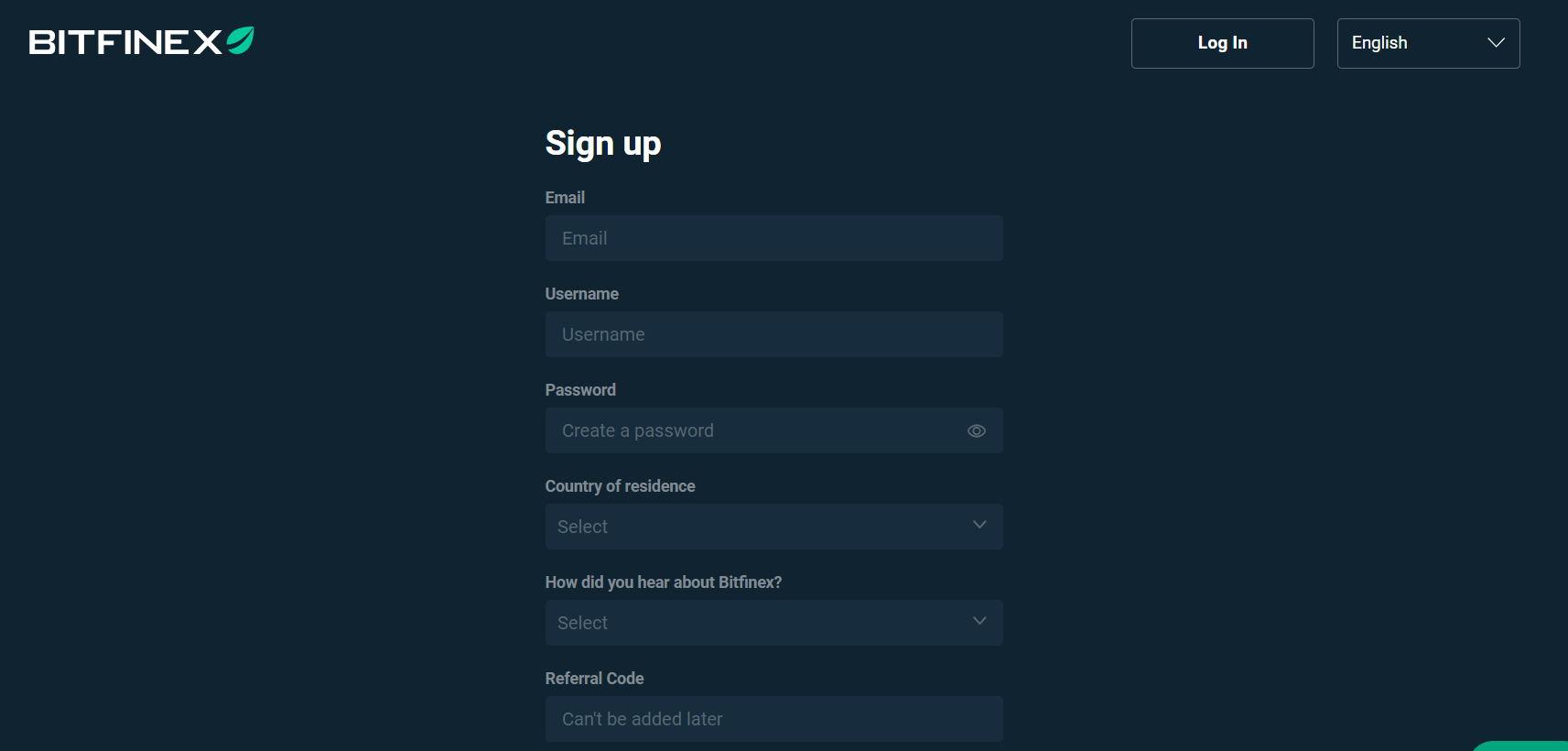 Step 3: Upon submitting the signup form, you will be requested to complete a picture puzzle to verify you are not a robot.
Step 4: The website will prompt you to download an authenticator. If you already have one, click "Continue," then scan the code provided to set up a 2FA login.

Step 5: Afterward, go to your email and click the verification link sent to verify your email before gaining access to your newly set up Bitfinex account. Once you confirm your email, accept the company terms and conditions to proceed to your dashboard. Your account is now fully functional.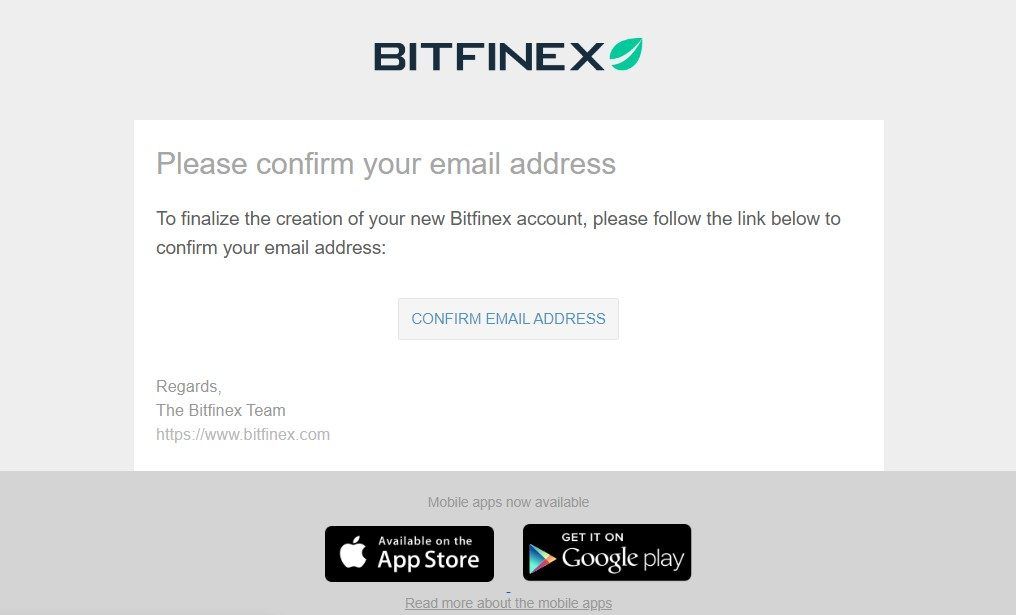 How to Procced with a Transaction
Let's dive into transactions.
How to Make a Deposit?
Step 1: Log in to your Bitfinex account by visiting the website (www.bitfinex.com) and entering your registered email address and password
Step 2: Now, navigate to the deposit page. You must place your cursor on the Wallet button, then select "Deposit" from the drop-down list
Step 3: On this page, you will see a list of available payment methods. Choose from cryptocurrency, bank transfer, Tether tokens, and Credit/Debit cards
Step 4: Now select the currency you want to deposit under the "Choose Currency" option
Step 5: If using crypto, you will need to generate an address depending on the wallet you want to fund. Mainly, users can deposit money into the Exchange wallet, Margin, or Funding Wallet. Card payment users can select their preferred payment gateway between Mercuryo and Simplex
Step 6: Specify the amount and follow the onscreen prompts to complete your deposit. Depending on the method used, funds should reflect in your account starting from about 2 to over 20 minutes
How to Make a Withdrawal?
Cashing out from Bitfinex is easy. The process is simply an inverse of the deposit process described above. Here is a step-by-step guide:
Step 1: Visit the website through its official URL (www.bitfinex.com) and enter your credentials to log in to your account
Step 2: Hover the cursor over the "Wallet" button on the right upper side of the website then click "Withdraw" from the drop-down list to proceed
Step 3: Now select your preferred method of cashing out. You can use crypto, bank transfers, Tether tokens, or lightning network
Step 4: Choose the currency from the list presented. For example, select BTC from the list if you want to withdraw Bitcoin (BTC)
Step 5: Specify the withdrawal amount and the destination address. Make sure to double-check the destination address for accuracy to avoid sending funds to the wrong address
Step 6: Depending on the currency and withdrawal method, you may have additional options to configure. For example, if you are withdrawing a cryptocurrency, you may be able to choose a specific blockchain network (such as Ethereum or Bitcoin)
Step 7: Review the withdrawal details, including the withdrawal amount, destination address, and any configured options. Make sure all the information is correct, then submit your withdrawal request. The withdrawal status will typically be displayed on the "Withdraw" page of your account's transaction history. You will receive an email once your funds are processed
Bitfinex supports a variety of payment methods to facilitate deposits and withdrawals on the platform. The specific payment methods available may vary depending on your jurisdiction and the currency you are dealing with. Here are some of the common payment methods supported:
Is Bitfinex Exchange Safe and Legit?
Bitfinex is a well-known Bitcoin exchange in the business. It has been in business since 2012 and has established a strong foothold in the Bitcoin market. It has a massive user base and a large social media following, and it has weathered the test of time. However, it's worth noting that the Exchange has had security issues in the past, including a noteworthy hacking event in 2016. Since then, Bitfinex has taken steps to improve security. It's licensed in Kazakhstan and El Salvador and run by a team of experienced professionals in the finance, technology, and compliance fields.
Security is a critical aspect of any cryptocurrency exchange, and Bitfinex employs several measures to ensure the protection of user funds and data. Here's an overview of the security features offered:
Encryption and Authentication
The Exchange utilizes industry-standard SSL encryption protocols to secure user data. This includes encrypting sensitive information during transmission between users and company servers. Encryption helps protect against unauthorized access and ensures that user data remains confidential.
Two-Factor Authentication (2FA)
The Exchange makes it mandatory for new users to set up and enable two-factor authentication as an additional layer of security during sign-up. This adds an extra barrier for potential attackers, even if they manage to obtain a user's password.
Cold Storage
As a centralized exchange, Bitfinex is susceptible to the risks of hacking. To mitigate that, the company stores the majority of funds (95%+) in cold storage to reduce the risk of theft from online attacks. It uses a using a geographically distributed multi-signature system to enhance cold storage safety
Multi-Signature Wallets
The Exchange employs multi-signature wallets for enhanced security. Multi-signature wallets require multiple signatures (approvals) from authorized parties to initiate a transaction. This helps prevent unauthorized access to funds and adds an extra layer of security.
Address Whitelist
The website has an address whitelisting feature where you can add a trusted wallet for security purposes. If someone ever gets access to your account and places a withdrawal request, funds will only go to the whitelisted address.
Sessions
The website allows you to set a time out session that logs you out of the account after 30 minutes of inactivity. This may come in handy if you are sharing your computer with other people, or using a work or public computer.
Email Alert
The exchange notifies users through email every time they log into their accounts. The email includes the IP of the authenticated user and link allowing them to freeze their account in case they suspect suspicious activity.
Detect IP Address Change
This feature marks your IP address and ensures only the allowed IP address can be used to access your account. If this changes, the account automatically notifies you and immediately logs out all active sessions
Monitoring and Security Measures
The Exchange maintains a dedicated team responsible for monitoring and responding to potential security threats. It has developed a strict technology that detects new IP logins, analyzes data for unusual activities, tracks patterns, and sends warning notifications to users, all in a bid to ensure a safe trading and transacting environment.
The Bitfinex website comes in a dark blue-themed background. Although we consider it intuitive, new users might go through a learning curve. You may want to start from the dashboard to get the hang of it. Menus are displayed on the far left and right, while a trading view primarily occupies the rest of the page. It typically includes charts, order books, trade history, and order placement options. Users can choose from different chart types, time intervals, and technical analysis tools to analyze market trends and make informed trading decisions. With regards to trading and exchanging currencies, things are similarly straightforward. You may access the website via PC. Or download an iOS/Android mobile app for convenience. Bitfinex typically includes a support section or help center within the UI. This provides users with access to FAQs, guides, tutorials, and a ticket-based support system to assist with any platform-related inquiries or issues. Customer care responds fast to user queries to ensure you have the best experience.
How to Use Crypto Exchange on Android & iOS?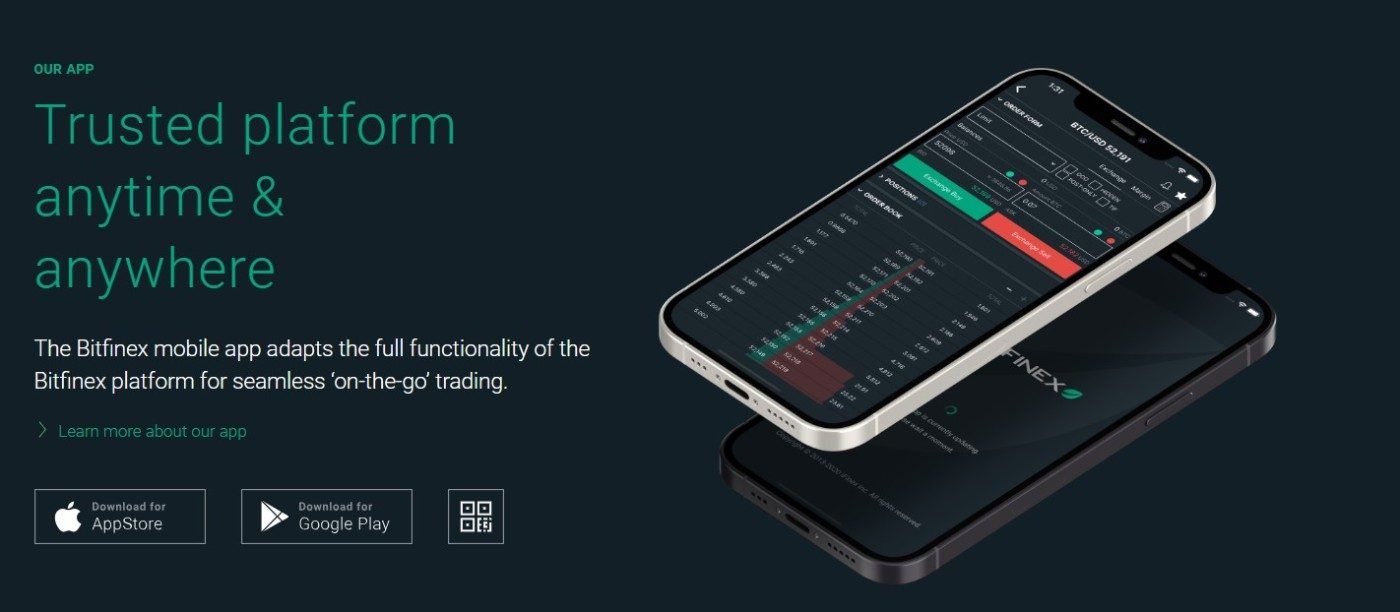 Step 1: Download and Install the App - Go to the app store on your Android or iOS device (Google Play Store for Android or App Store for iOS). Search for Bitfinex, and download it. Once downloaded, install the app on your device.
Step 2: Create an Account - Open the app and select the option to create a new account. Fill in the required information, which typically includes your email address, username, and password. Follow the onscreen instructions to complete the account creation process. Some exchanges may require additional verification steps, such as identity verification, for enhanced security.
Step 3: Security Measures - It's crucial to prioritize security when using a crypto exchange app. Enable two-factor authentication (2FA) for an added layer of security. Set up a secure PIN or biometric authentication (if available) to protect the app and access to your account.
Step 4: Fund Your Account - Once your account is created and verified, you'll need to deposit funds into your exchange account. Look for the "Deposit" or "Funding" section within the app. Select the cryptocurrency or fiat currency you want to deposit and follow the instructions to initiate the deposit. This may involve generating a deposit address or linking a bank account or payment method.
Step 5: Explore the Trading Interface - Once your account is funded, you can start exploring the trading interface. The main trading interface typically displays trading pairs, price charts, order books, and trading options. Familiarize yourself with the different sections and features available, such as selecting trading pairs, setting order types (market, limit, stop), and entering trade details.
Step 6: Transact - To place a trade, select the desired trading pair and enter the details of your trade, such as the quantity and price. You may also perform other activities like swapping coins or staking.
Step 7: Manage Your Account - The crypto exchange app also provides options to manage your account. This includes features such as viewing your account balances, transaction history, open orders, and personal settings. Take some time to explore these sections and familiarize yourself with the available options.
How to Use Crypto Exchange on Desktop?
Step 1: Sign up - Visit the website on your desktop computer. Look for the option to create a new account and click on it. Fill in the required information, including your email address, username, and password.
Step 2: Enable Two-Factor Authentication (2FA) - It is highly recommended to enable two-factor authentication (2FA) for an added layer of security. This typically involves downloading an authenticator app like Google Authenticator and linking it to your exchange account. Follow the instructions provided by the Exchange to set up 2FA.
Step 3: Account Verification (if applicable) - Depending on the Exchange's requirements, you may need to complete an account verification process. Bitfinex typically gives you a six-week newcomer window to verify your account. This may involve providing additional personal information and documentation to verify your identity.
Step 4: Fund Your Account - Once your account is created and verified, you'll need to deposit funds into your exchange account. Look for the "Deposit" or "Funding" section on the Exchange's website. Then, select the cryptocurrency or fiat currency you want to deposit and follow the instructions to initiate the deposit.
Step 5: Explore the Trading Interface - Now that your account is fully set up and funded, you can start exploring the trading interface on the Exchange's website. Just like in the mobile app, it displays trading pairs, price charts, order books, and trading options. Take some time to familiarize yourself with the different sections and features available, such as selecting trading pairs, setting order types (market, limit, stop), and entering trade details.
Bitfinex is a centralized exchange, and unlike non-custodial wallets, it doesn't offer security and recovery seed phrases. However, you may still protect your account by setting a string password and ensuring you have saved your credentials in a safe place like a password manager. This is important to ensure your account is always safe and that you can easily restore it in case you forget and have to reset your login details.
Login Issues:
Double-check your username and password to ensure they are entered correctly.
Reset your password if you've forgotten it by following the password recovery process provided by Bitfinex.
Clear your browser cache and cookies and try logging in again.
If the issue persists, contact Bitfinex customer support for further assistance.
Deposit or Withdrawal Problems:
Verify that you've entered the correct wallet address when initiating a deposit or withdrawal.
Check if there are any minimum deposit or withdrawal amounts or additional requirements specified by Bitfinex.
Ensure that you've completed any necessary verification steps to enable deposits and withdrawals.
Contact Bitfinex support if the transaction is taking longer than expected or if you encounter any error messages during the process.
Trade Execution Issues:
Check your available balance to ensure you have sufficient funds or assets for the trade.
Verify that you've entered the correct trade details, such as the trading pair, order type, quantity, and price.
Review the order book and market conditions to ensure there is sufficient liquidity for your trade.
If your trade is not executing or is experiencing delays, check for any system maintenance or trading halts that may be affecting the platform.
Contact Bitfinex support if you encounter persistent issues with trade execution.
Account Security and Two-Factor Authentication (2FA):
Ensure that you've set up 2FA and have access to the authenticator app or device used for authentication.
If you're having trouble with 2FA, verify that the time on your device is synchronized correctly.
If you're unable to access your 2FA device, follow the account recovery process provided by Bitfinex to regain access to your account.
If you suspect unauthorized access to your account, immediately change your password and contact Bitfinex support for further assistance.
Website or App Performance Issues:
Check your internet connection and ensure it is stable.
Clear your browser cache and cookies or reinstall the app to resolve any temporary issues.
Try accessing Bitfinex from a different browser or device to see if the issue persists.
Check Bitfinex's official social media channels or status page for any reported service disruptions or maintenance updates.
Contact Bitfinex support if you continue to experience performance issues.
General Support:
If you encounter any other issues or have general questions, consult Bitfinex's official documentation, FAQs, or user guides for guidance.
Reach out to Bitfinex customer support through their official support channels, such as email or live chat, for personalized assistance.
Remember, each user's situation may be unique, so it's always recommended to reach out to Bitfinex customer support for specific issues that you are unable to resolve on your own.
Bitfinex Exchange Alternatives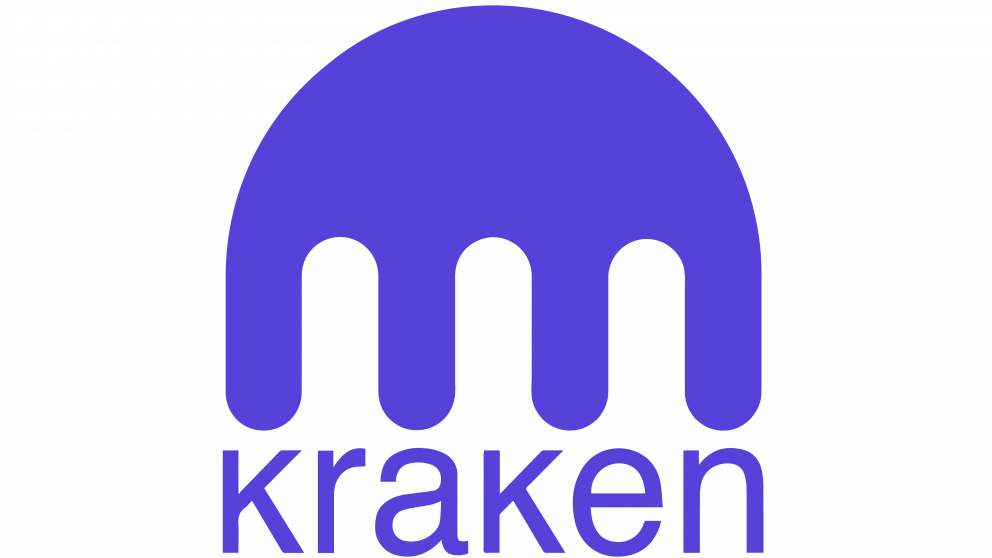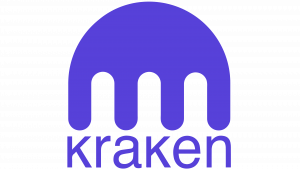 Kraken and Bitfinex are both popular crypto exchanges with a huge user base. They offer users a wide range of cryptocurrencies for trading, including Bitcoin (BTC), Ethereum (ETH), Ripple (XRP), Litecoin (LTC), and many others, and also support various stablecoins like Tether (USDT). As of writing this, Bitfinex supported about 179 digital coins in total, while its counterpart offers over 200. Both platforms offer advanced trading features like derivatives and margin trading. You can trade at Kraken with a leverage of up to 5x, and at its competitor with up to 10x leverage. Kraken has more trading options. You can trade futures, options and indices. These products are not found on its competitor's website. In terms of fees, Bitfinex has a tiered fee structure that varies based on the trading volume within the last 30 days. The fees range from 0.0% to 0.2% for makers and 0.055% to 0.2% for takers, depending on the trading pair and volume. Kraken also has a similar tiered fee structure. It ranges from 0.16% to 0.26% for makers and 0.26% to 0.42% for takers, depending on the trading pair and volume. We found both exchanges highly secure. Apart from having SSL encryption, they both offer 2FA login and store user digital coins in cold storage. Users can access any of the two exchanges via PC browser, or iOS and Android mobile app. Beginners may find Kraken easy to use thanks to its simple and minimalist interface. Its competitor may have a steeper learning curve as it's quite sophisticated. Generally, the overall choice boils down to user preferences.
Bitfinex Exchange Vs Coinbase Exchange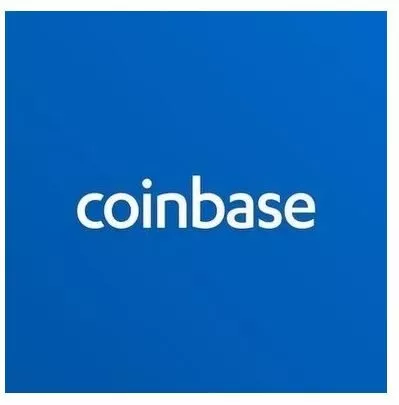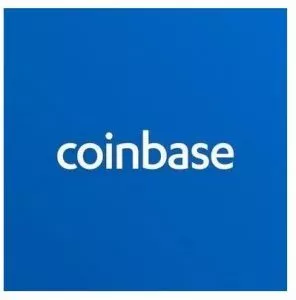 Coinbase is a 2012 established company that has grown into the second largest crypto exchange with a daily trading volume of about $1.1 billion as of writing this. While it offers services to both beginners and professionals, it's a popular entry-level platform due to its user-friendly interface. Its competitor, on the other hand was also founded in 2012 and ranks among the leading exchanges globally. As of writing this, it's the 8th largest crypto marketplace with a 24 trading volume of about $105 million. It's known for offering multiple advanced trading and analysis tools and hence primarily caters to professional and experienced investors. Unlike Coinbase, it offers margin trading and derivatives. Both sites allow users to earn passive income through staking and lending. High rollers can take advantage of the OTC desk on both websites to transact high-volume trades off the order book. In terms of fees, Bitfinex uses a tiered fee structure starting from 0.0% to 0.20% for maker fees and 0.055% to 0.20% for taker fees. Its competitor, on the other hand, charges a flat rate of 1% for all cryptocurrencies. Both Bitfinex and Coinbase prioritize the security of user funds. They implement measures like two-factor authentication (2FA) and cold storage to safeguard user assets. Additionally, they conduct regular security audits to ensure the safety of their platforms.
In conclusion, Bitfinex Exchange is a reputable cryptocurrency exchange that offers a range of advanced trading features and a wide selection of cryptocurrencies. With its focus on catering to professional traders, they provide robust tools such as margin trading, derivatives, and various order types. The platform's emphasis on security, including cold storage and two-factor authentication, makes it a great choice for security conscious investors. While it may have a steeper learning curve for beginners, Bitfinex's user-friendly interface and intuitive design make it accessible to traders of all levels. With its extensive liquidity and support for multiple fiat currencies, the exchange stands as a reliable option for those seeking a comprehensive and feature-rich cryptocurrency exchange.
What are the benefits?
Users enjoy multiple benefits including a wide range of cryptocurrency trading options, advanced trading features, competitive fees, liquidity, passive income opportunities, and access to various trading pairs.
How secure is?
The website employs robust security measures, including encryption, two-factor authentication, cold storage, and regular security audits, to ensure the safety of user funds and data. However, it's important to practice good security hygiene and follow best practices to further enhance your account security.
How can I get started?
To get started, go to the website's homepage, then hit the sign up button. Proceed to create an account by filling out the registration form providing the required information, complete any necessary verification processes, deposit funds into your account, and start trading by selecting your preferred trading pairs and executing trades.
How easy is it to use the exchange?
The platform provides a user-friendly interface with intuitive features and tools, making it relatively easy to navigate and use for both beginner and experienced traders. However, it's recommended to familiarize yourself with the platform and its functionalities before engaging in complex trading activities.
How fast are transactions?
Bitfinex Exchange transactions are generally fast and efficient, allowing for quick deposits, withdrawals, and trade executions. The speed may vary depending on network congestion, blockchain confirmations, and the specific cryptocurrency being used. However, they are all processed instantly.
What happens if I lose my password?
If you lose your password, you can initiate the password recovery process through the provided account recovery options, such as email verification or answering security questions. It's important to follow the instructions carefully and ensure the security of your account by updating your password and enabling two-factor authentication.
How private is the exchange?
The website is SSL secured, meaning all user data and communication between the company servers and client interface is encrypted and transmitted in a private manner that can't be accessed by hackers. One would need at least 2256 combinations to crack the website's 256-bit encryption, which is impossible even by the most powerful computers.
Who should use it?
The exchange is suitable for both individual retail traders and institutional traders looking for a comprehensive cryptocurrency trading platform with advanced features, liquidity, and a wide range of trading options.
Who might not benefit from using it?
The platform may not be suitable for individuals who are not comfortable with the risks associated with cryptocurrency trading or those who are unable to comply with the exchange's regulatory requirements, such as Know Your Customer (KYC) procedures.
Does Bitfinex require KYC?
Yes. they may require KYC verification for certain account activities, such as fiat deposits and withdrawals, or reaching specific trading thresholds. Users have six weeks after registration to complete this process. Compliance with KYC regulations helps ensure the platform's regulatory compliance and enhances security measures.