1. Coinbase: Best Overall NFT wallet
| Coins supported: | 100,000+ |
| --- | --- |
| Type of wallet: | Software wallet |
| Price: | Free |
| Why choose it: | Most user-friendly |
Ethereum Casinos Pros & Cons
Pros
It offers multi-coin support.
It has a friendly user interface.
It offers two-factor authentication.
It supports both mobile and desktop devices.
It provides secure crypto storage and anonymity online.
Cons
High transaction fees.
Prone to hacking.
Coinbase Overview
Coinbase is best known for being the most user-friendly cryptocurrency exchange. However, its notoriety does not stop there. The company has investments in a variety of virtual coin sectors, including NFTs. The Coinbase wallet, like its digital currency marketplace, is one of the most user-friendly and intuitive NFT storage solutions. It facilitates transactions by allowing you to transfer tokens using usernames rather than public addresses. This way, you can be certain that you are dealing with the right recipient. It is a "hot wallet," which means it is always connected to the internet and conducts all transactions through a web server. However, unlike the Coinbase exchange, this one is entirely non-custodial and allows users to trade NFTs without entrusting them to centralized exchanges. Users retain their private keys and have complete control over their collectibles. You can access it through the official website, a web browser extension, or an Android or iOS mobile device. Coinbase Wallet has partnered with the Ledger hardware storage device to allow you to switch between cold and hot storage as needed. Despite having the best features, we discovered that the wallet is not open source, so developers cannot build software on it. Because the code is locked, you may also not be able to fully test its security.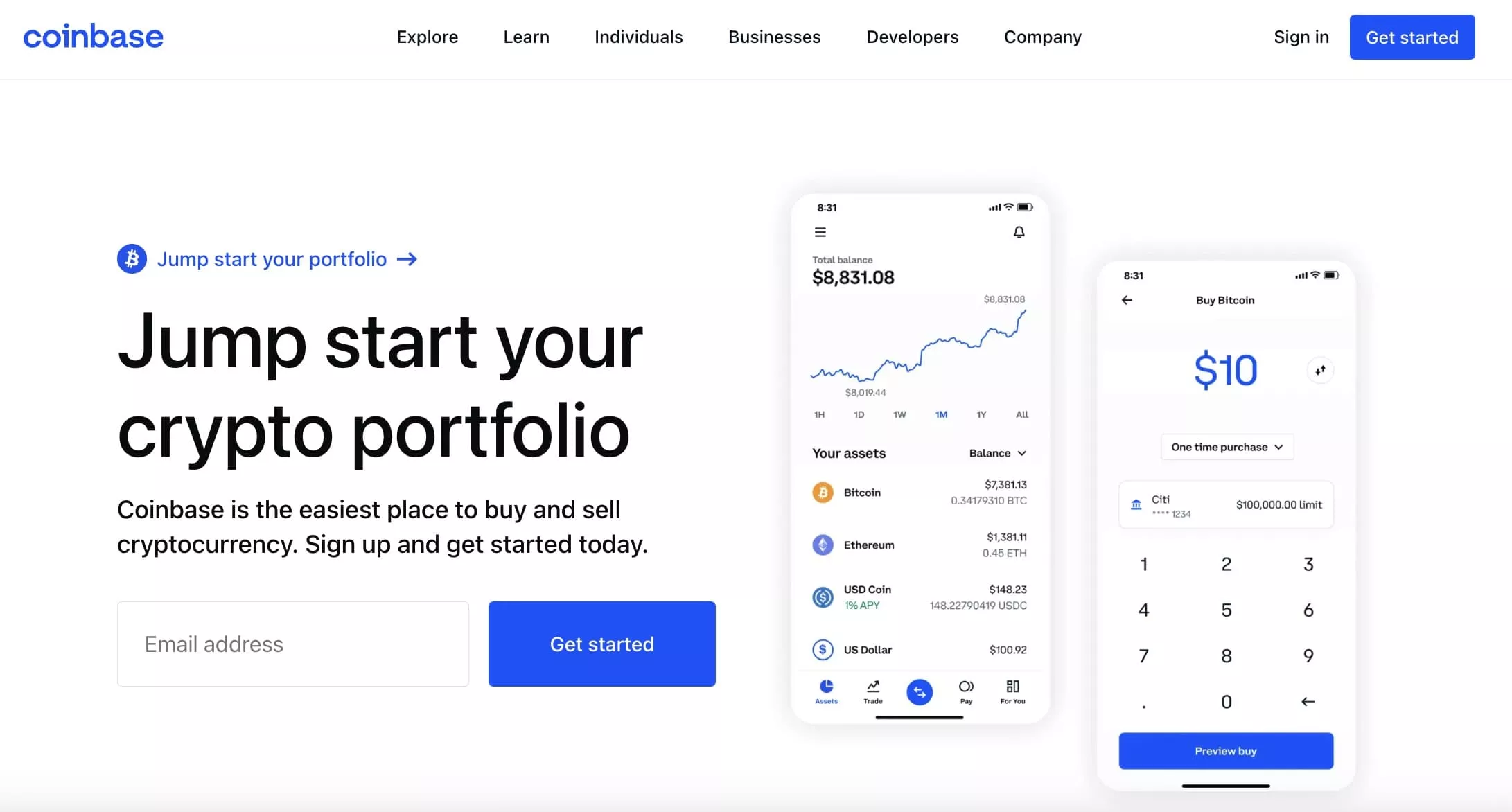 2. MetaMask: Best for Ethereum Network Tokens and dApps
| Coins supported: | 450,000+ |
| --- | --- |
| Type of wallet: | Hot wallet |
| Price: | Free |
| Why choose it: | For Ethereum Network |
Pros
Open source software, accessible through several browser networks.
Dapp access includes staking tools and NFT marketplaces.
Seamless installation and setup process.
MetaMask is free to download on all platforms.
Offers High Levels Of Security.
Cons
Security concerns – a hot wallet.
No desktop application.
Doesn't support non-Ethereum coins such as Bitcoin unless they are wrapped.
MetaMask Overview
Metamask is one of the most popular cryptos and NFT wallets. It was launched in 2016 by Aaron Davis as a pioneering platform for decentralized Ethereum applications. It supports over 450,000 ERC-20, ERC-721, and ERC-1155 tokens. ERC721 is the Ethereum characteristic standard for non-fungibility, which represents NFTs. Unlike Coinbase and Exodus, the Metamask wallet only works with Ethereum standard NFTs. It also supports Binance Smart Chain, Avalanche, and the Polygon networks. The platform only existed as a web-browser extension service until 2020, when a mobile version for Android and iOS mobile devices was launched. PC users can access the extension via Chrome, Firefox, Brave, Edge, and Opera. The best part about Metamask is the fact that it's among the most advanced platforms for the Ethereum network, hence the easiest entry into the world of Web3. It boasts over 17,000 Web3 integrations, making it one of the most interoperable NFT wallets in the decentralized finance world. With Metamask, you get a direct connection to the largest NFT marketplace, Opensea, where you can buy and sell collectibles without having to log out of your wallet. It's also compatible with AirGap Vault, Keystone, Lattice, Ledger, and Trezor.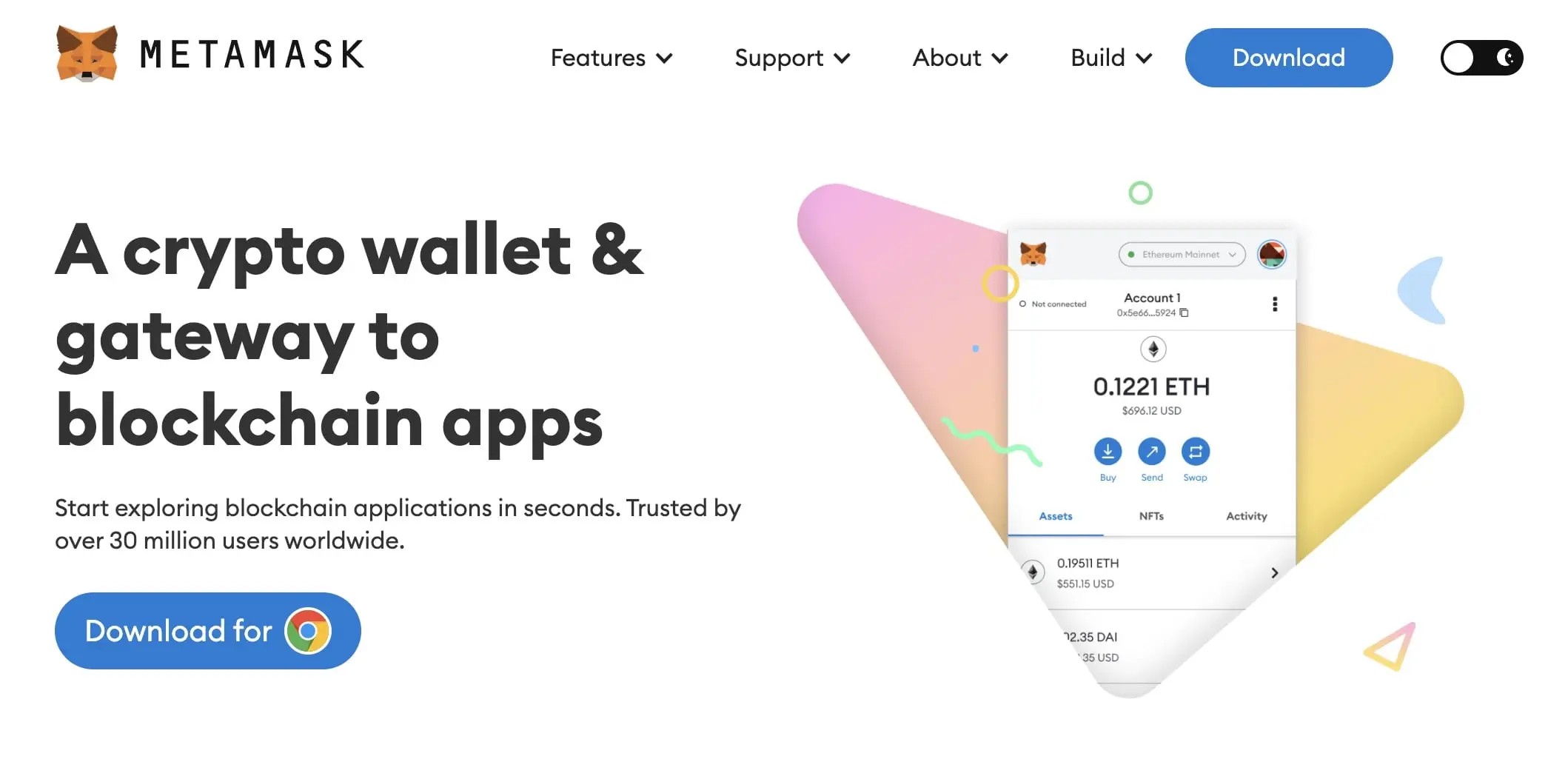 3. Ledger Nano X: Best Hardware Wallet for NFTs
| Coins supported: | 5,500+ |
| --- | --- |
| Type of wallet: | Hardware |
| Price: | $149 |
| Why choose it: | To store your assets offline |
Pros
Private Keys 100% Under Your Control.
Used by over 4 million people.
Highly secure.
Attractive design.
Cons
Cumbersome navigation.
On the expensive side.
Ledger Nano X Overview
The Ledger Nano X is the second hardware crypto storage solution launched by Ledger and one of the safest NFT wallets on the planet. The team behind it comprises over 100 professionals specializing in security and infrastructure solutions for the blockchain sector. The wallet has its own operating system, BOLOS, with a CC EAL5+ certified Secure Element (SE) chip for enhanced security and optimal performance. All transactions are signed by ST33J2M0. Ledger Nano X is compatible with all 64-bit desktop computers using Windows 8 and above, as well as macOS 10.8+ and Linux operating systems. Mobile device users can access it via Android 7 and up or iOS 9 and up. It's a cold wallet, meaning all your assets are stored offline. Users require a pin to access the wallet, and all transactions or changes initiated must be authorized by pressing two physical buttons. A potential deal breaker is that purchasing the hardware device costs a whopping $149. If you need a hardware wallet with a sizable touch display screen, you may also not want to go for the Ledger Nano X. Aside from that; the device is extremely safe and reliable.

4. TrustWallet: Supports Highest Crypto Capacity
| Coins supported: | 1,000,000+ |
| --- | --- |
| Type of wallet: | Hot wallet |
| Price: | Free |
| Why choose it: | For multiple Web3 connections |
Pros
Cross-Platform Availability.
Includes Web3 Browser.
Supports 1,000,000+ coins.
100% anonymous.
Cons
Limited transaction support.
TrustWallet Review
Trust Wallet is a non-custodial crypto and NFT digital wallet that uses a hot storage model. The Toronto-based company is owned by Binance, one of the most experienced and significant investors in the blockchain sector. It emphasizes being among the most user-friendly and intuitive wallets globally. It's simple and minimalist design allows even the most non-tech-savvy newbies to start exploring the world of NFTs seamlessly. It offers integrations with multiple NFT marketplaces, such as Opensea, X2Y2, Mintbase, Treasureland, tofuNFT, and Mintable. So, you can buy dozens of collectibles from any of these exchanges directly from your TrustWallet dashboard. In addition, users have easy access to decentralized applications (dApps) via the in-app dApp browser. With this, you can stake your NFTs and start earning passive income instead of purely holding them in your wallet. You get all these for free, as the app isn't for sale. Keep in mind, however, that you must pay the associated network fee for every transaction. Finally, your privacy is protected when using TrustWallet since that app doesn't collect. No names, phone numbers, or email addresses are required while signing up.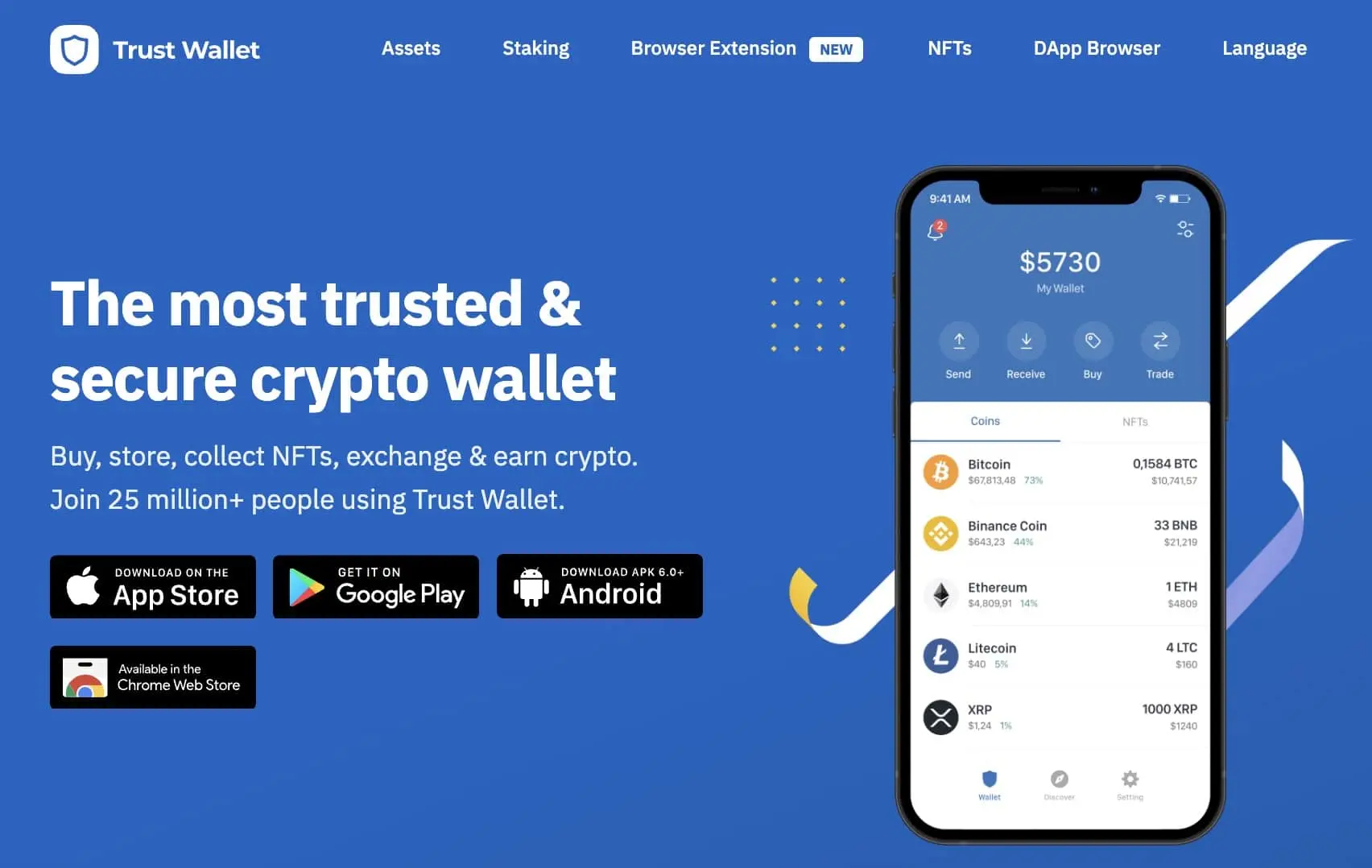 5. Exodus: NFT Wallet With Best UI
| Coins supported: | 225+ |
| --- | --- |
| Type of wallet: | Software/Hot Wallet |
| Price: | Free of Charge |
| Why choose it: | For a seamless experience |
Pros
Secure storage services.
User-friendly U.I.
It supports over 225 crypto coins.
Exchanges and DeFi connectivity.
It has both mobile and desktop versions.
Cons
No two-factor authentication.
Exchange fees can be high.
Software not open source.
Exodus Wallet Overview
Exodus, founded in 2015, is a multi-currency wallet supporting NFTs. It's free to download for Android and iOS devices and also available as a Chrome and Brave web browser extension. Users can easily integrate it with their favorite hardware wallet, such as Trezor, and access numerous features and dapps, such as Compound Finance, without leaving the platform. Exodus, like Coinbase, does not use open-source software. We also discovered that it lacks multi-signature transaction approval. However, the company claims its products are developed using the most advanced safety design framework. Aside from the standard password, the wallet provides users with a 12-seed security phrase to aid in recovery and recovery. In addition to the traditional password, the wallet provides users with a 12-seed security phrase to assist in the recovery and security of their NFTs. It also includes an SSL 256-bit certificate, which means that all information and data shared on the platform is encrypted for additional security. In addition to NFT storage, the Exodus wallet can store and exchange over 200 different cryptocurrencies. Thanks to its simple interface, the wallet is suitable for traders of all levels, including beginners and professionals. You will never be asked to provide KYC documents, so your transactions will be completely anonymous.

Compare the Best NFT Wallets
| Wallet | No of Coins | Type | SPV or Full Node | Price |
| --- | --- | --- | --- | --- |
| Coinbase | 100,000+ | Software | SPV | Free |
| Metamask | 450,000+ | Software | SPV | Free |
| Ledger Nano X | 5,500+ | Hardware | Full Node | $149 |
| TrustWallet | 1,000,000+ | Software | SPV | Free |
| Exodus | 225+ | Software | SPV | Free |
dappGambl Verdict - Best NFT Wallet
Security is a key aspect of minting and trading NFTs. That's why having a good wallet matters. We have presented you with the best five NFT wallets, and it's now up to you to pick one that meets your requirements. Coinbase is our best overall NFT wallet. It's the most trusted and user-friendly platform. Although the software is not open-source, that's not a problem since the company has a large team of developers and enough resources to develop a first-class product. In terms of security, it offers SSL encryption and allows users to add an extra security layer through 2FA. If you are looking for the best wallet for Ethereum NFTs, you are better off with Metamask. Finally, ledger Nano X is the best fit for cold storage. Feel free to explore all our recommendations until you find the best one for you.
If you have read this article from the beginning, you might already know what NFT wallets are and what they do. When it comes to physical fiat money, you keep it in a wallet. It could be a leather wallet, a cloth wallet, or a simple bag. You can also securely store your fiat money on your e-banking platform or an e-wallet like Paypal or Skrill. However, each wallet only transacts and keeps the specific currency it's been created for. With this analogy, we can now define an NFT wallet as a blockchain-compatible digital storage solution for non-fungible tokens. It's digital and works with blockchain networks just like NFTs. Most wallets are designed to interact with specific networks. For example, Metamask only supports the Ethereum blockchain. In that case, you can't use it to transact non-fungible tokens from another network, such as Solana. Similarly, some platforms, such as Coinbase and TrustWallet, support a wider range of networks, making them compatible with most NFTs.
What Makes a Great NFT Wallet?
In case you are wondering how we arrived at our selection of the best NFT wallets, here are the key factors we considered that make a great non-fungible token storage solution.
Compatibility: This is the first aspect everyone must consider while selecting a non-fungible token storage platform. As discussed earlier, different platforms support specific networks. Some are versatile enough to accommodate many blockchains, while others are not. For example, the Metamask wallet only supports Ethereum Standard ERC721 tokens. On the other hand, TrustWallet is compatible with at least 52 networks.
Security: Once you have selected the platforms that accept your favorite NFTs, you need to find out about their security features. Remember, there are a lot of hackers out there looking for prey. You want to ensure you pick a solution with enough security features, such as 2FA, an SSL certificate, and a multi-signature. Finding all these features in one wallet may not always be possible, but make sure at least one is available.
Intuitiveness: A good wallet is easy to use. Everything from signing up to purchasing and transacting tokens is smooth. Where technical knowledge is required, there should be an easy-to-follow guide that anyone can use.
Multichain support: Although NFTs first became famous on the Ethereum blockchain, they are now widespread across most networks, such as Solana, Cardano, Binance Smart Chain, and EOS. Unless you plan to focus only on a specific network, it helps to go for a wallet that offers support across multiple chains.
Cross-device support: Just as you want a wallet that is compatible with collectibles from different chains, you also want to access your tokens from multiple platforms. For example, you should be able to access it via Android, iOS, PC, and even directly through the company website. This gives you the flexibility to transact from anywhere worldwide as long as you have internet access.
Do You Need an NFT Wallet?
Now that you have learned about non-fungible token wallets, you may wonder whether you need one. As discussed, anyone planning to invest in these tokens must know to store them securely. Hence the need for an NFT wallet. Some exchanges offer temporary storage for collectibles, which can pretty much hold your tokens long enough. However, NFT wallets come with extra features such as interoperability through their different integrations. Most of them usher you into the entire DeFi universe, where you can stake your tokens and earn passive income. On the other hand, if you're purely focused on buying and selling crypto coins, you don't need a non-fungible token wallet.
How do NFT Wallets Work?
NFT wallets work similarly to their crypto storage counterparts. In fact, an NFT is a type of cryptocurrency called a "token." These platforms do not actually hold any NFTs. Instead, wallets only secure your public and private key data needed for transacting specific tokens while the assets remain distributed in the blockchain. All wallets use the following two types of keys:
Public Keys: A public key is like an email address or bank account number. You need to share it with people who want to send you tokens. While it is associated with your NFT storage, it doesn't grant anyone access to your assets. It simply points to where they should be sent. For simplicity, non-fungible token storage platforms have a receiver's address, which is usually a compressed version of your public key.
Private Keys: As the name suggests, private keys should not be shared with anyone. They are the ones that give access to your actual NFTs on the blockchain. So anyone who holds your private keys can control your crypto assets.
Every NFT wallet comes with a private and public key to function properly. To receive tokens, you simply need to share your public key with the sender and wait for them to make the transfer. On the other hand, to send NFTs to someone, you will need their receiver's address, which is a compressed version of their public key. You will then hit the "send" button in your wallet's dashboard, insert the receiver's address, specify the NFTs being sent, and authorize the transaction. Apart from sending and receiving tokens, some platforms are integrated with different decentralized applications to enable you to make the most of your tokens. For example, TrustWallet allows you to stake your NFTs and earn passive income.

NFT wallets can generally be categorized as "hot" (software) or "cold" wallets. Software storage platforms are those that are always connected to the internet. On the other hand, cold wallets are offline; hence, you only connect them to the internet when you want to transact. There are three broad segments that fall under either software or cold wallets.
Hosted Wallets: Also referred to as custodial wallets, these platforms hold private keys on behalf of clients. They are popular among new users since they are easy to set up and use. Some people may also call them "exchange wallets." Since you don't hold your private keys, forgetting your password is usually not a cause for concern, as you can easily reset it via your email address or phone number. On the flip side, they are most prone to hacking.
Non-custodial wallets: These are the exact opposite of their hosted counterparts. Users have full control of their private keys and are, therefore, fully responsible for the security of their assets. It is critical to keep your private keys secure, as you may be unable to retrieve your tokens if you lose your keys.
Hardware wallets: These are cold storage solutions and come as physical devices, usually in the shape of USB sticks. Over time, they are transforming to take different shapes, though. They are considered the safest form of storing tokens since they are not connected to the internet. Hackers and fraudulent individuals have no way of accessing your assets without the device in hand. On the flip side, the devices come at a cost that may seem expensive to some people.
Classification of Software Wallets
Software wallets, whether hosted or non-custodial, can further be identified as desktop, mobile, or web-browser platforms. Here is a detailed explanation.
Desktop wallets: These are apps that users download and install on their PCs. They store private keys on the computer where they are installed. To transact, you must first launch the apps and sign in. Coinbase, TrustWallet, and Exodus all have desktop versions. They can also come as browser extensions, such as Metamask.
Mobile wallets: Mobile wallets are applications for Android and iOS users. Of course, they may also be compatible with other mobile device operating systems, such as Huawei. Just like the desktop versions, you must download these applications and install them on your phone to transact. They are considered convenient as they offer services on the go.
Web wallets: These ones are accessed through a webpage, usually the provider's website. You can sign in and transact from anywhere in the world as long as you have internet access. Both PC and mobile users can access them through their browsers. Web wallets tend to be less secure than desktop and mobile versions.
How to Choose the Best NFT Wallet for You?
Security Level: If you're going to invest $5,000 in your wallet, you want to make sure it's safe and won't get hacked. Check out the security level of different potential wallets and stick with the safest.
Fees: Fees are a major factor in the blockchain industry. Every cost incurred directly determines whether you will make a profit or not. If you are serious about investing in NFTs, make sure to keep your costs as low as possible. One of the ways to do so is by ensuring the platform you choose to transact with has low fees.
User-Experience: Your user experience while using any platform to transact is everything. You can first ensure your experience is top-notch by choosing an easy-to-use platform. Other features earlier discussed, such as security, fees, and additional features, further contribute to your general user experience.
Additional Features: Competition has pushed providers to create different unique add-on features to make their platforms competitive. Once you have found wallets that pass your threshold, find out what additional features they have. Then, pick one with the most relevant add-ons as per your needs and preferences.
How to Get an NFT Wallet?
Step 1: Finding a wallet First, identify the best platform for your needs. You may choose from our top list or find another good solution according to your preference.
Step 2: Create an account. Once you select the right wallet, simply visit the website and follow the setup procedure. You might be required to download it on your PC or mobile phone. For hardware wallets, you will have to purchase and wait for your shipment.
Step 3: Complete the setup Depending on the type of platform you choose, prepare it for transactions by making sure it's fully set up. This may include writing and securing your secret seed phrases, as well as creating an access pin, password, and biometrics where applicable.
Step 4: Fund your account. You are now good to go. Fund your wallet with supported cryptocurrencies and start exploring various marketplaces like Opensea to buy your favorite collectibles.
You now have all the basic knowledge needed for getting started with NFTs. We have shared with you reviews of our most preferred platforms, as well as how we arrived at them. NFTs are a hot subject, so you don't want to be left out. Pick one of our top reviews and get started. Remember, there are hundreds of alternative wallets out there. you are free to research on your own and explore them too. If you need a suggestion, consider Coinbase wallet. It's our ebay overall.
What are some unique features of NFT wallets?
The main unique feature of these wallets is that they store and facilitate NFT transactions. They prioritize security and cross-device compatibility and offer seamless connections to marketplaces such as Opensea, where you can trade collectibles.
Can I also store crypto tokens on my NFT wallet?
For interoperability and versatility, most wallets are designed to offer support for both coins and different types of tokens. However, within the wallet, you will find specific pockets that either hold tokens or coins. For example, a BTC pocket within the wallet can only store Bitcoin.
Which blockchain is best for NFT wallets?
There is no specific blockchain that favors NFT wallets. Initially, the Ethereum networks seemed to be the most preferred. Things have gradually changed as competitor blockchains like Solana have become more innovative. These days, most smart contract networks support non-fungible tokens.
How many NFT wallets are there?
Research by the Financial Times indicates that there will be only about 360,000 active NTF wallets by 2021. Today, with the sector hitting a capitalization of more than $40 billion, FindStack estimates that there are more than 28 million active non-fungible token wallets globally.
Can you store NFTs in any wallet?
You can't store non-fungible tokens in any wallet. Just like you can only send Euros to eligible accounts, NTFs can only interact with specific software that supports them. Factors such as the blockchain network may influence which tokens a wallet accepts.