Top VR Metaverse Casinos Sites
ICE Poker – Best for playing Poker in a metaverse casino
Chateau Satoshi – Best for playing table game in a metaverse casino
Social Club VR – Best for playing casino games with no real money
VR Metaverse Casinos Sites Reviewed
Want to know which ones are the hottest VR Metaverse casinos on the market where players can win real money? Here's a real look at existing casinos which are active and give users the chance to gamble and win in a real VR casino.
ICE Poker
ICE Poker is one of the few crypto metaverse casinos fully operational, allowing users to earn in-game tokens by playing games. Players can't deposit or wager using fiat currency, and as a play-to-earn casino, ICE Poker will enable users to earn $ICE tokens as winnings. The casino is developed and launched on the Polygon blockchain and published by Decentral Games. It includes NFT as in-game assets, which players can hold, wear, and trade. Since all interactions occur on the decentralized network, the casino doesn't require a gambling license, as no real transactions occur outside the network. Thus, bets and winnings are made using utility tokens, and users can only access them. The casino doesn't include support since blockchain transactions are flawless and can be verified if the result is accurate. The casino is not compatible with VR headsets.
Pros
Developed on the blockchain
Uses Polygon with near-instant results
Cons
Network fees apply
No VR headset compatibility
| Crypto Bonus | Wagering Requirements | Minimum Deposit | Available Currencies |
| --- | --- | --- | --- |
| N/A | N/A | No minimum deposit | ICE |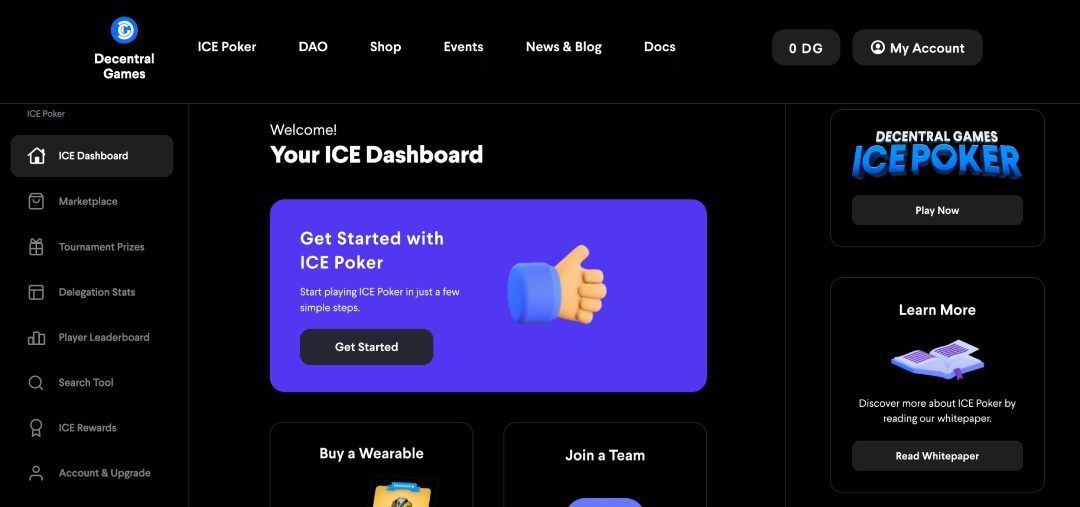 Chateau Satoshi
Chateau Satoshi is a metaverse casino on Decentraland that allows users to connect with the Ethereum wallet and interact with the casino using cryptocurrencies. Chateau Saroshi features most casino live games such as roulette, blackjack, or other table games and is also built and managed by the same developers as ICE Poker and Decentral Games. Chateau Satoshi has been live since 2019 and mimics the same experiences as real-life casinos only in the metaverse. The casino integrates ICE Poker tables and allows users to make deposits using tokens like Ethereum, MANA, and ICE. Users can only access the casino using the crypto wallet by connecting to Decentraland and then proceeding to enter the casino, located on the Vegas Strip, using their avatar. The casino is not compatible with a VR headset. Anonymous gambling is allowed since all results
Pros
Launched on Decentraland
Makes use of the Ethereum network to verify transactions
Launched since 2019
Uses ETH, MANA, or ICE
Cons
No VR headset compatibility
Requires users to know how to use Decentraland
| Crypto Bonus | Wagering Requirements | Minimum Deposit | Available Currencies |
| --- | --- | --- | --- |
| N/A | N/A | No minimum deposit | MANA, ETH, ICE |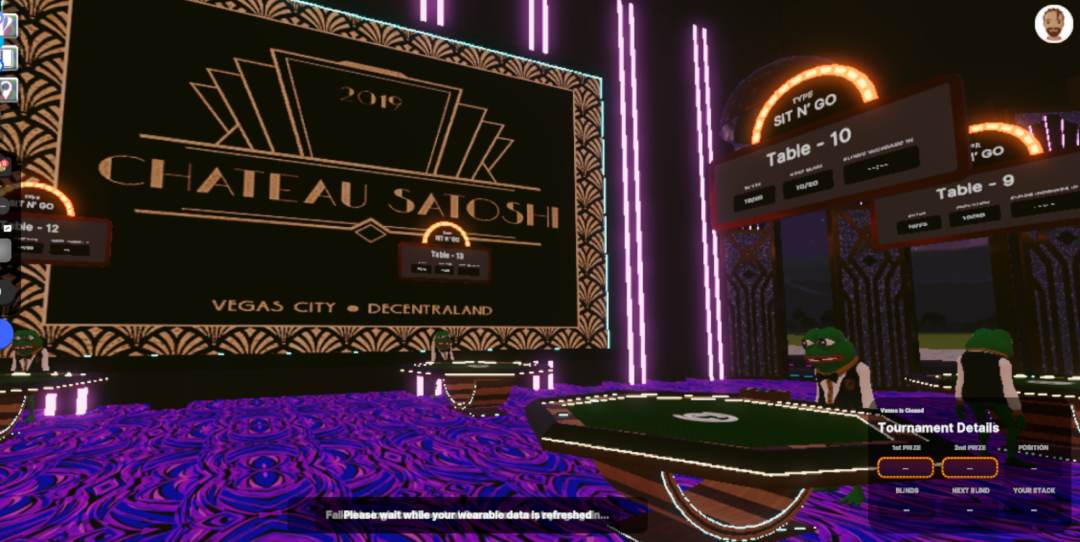 Social Club VR
Social Club VR is a Steam-powered virtual reality game that also features live casino options where players can gamble publicly using a VR headset or join private casino rooms to place bets on Roulette, Blackjack, or Poker games. The game can be accessed using the Meta Quest 2 VR headset and does require users to have a computer. There's an 18+ restriction that applies to all users to access the casino even though real-money gambling is not available. With that, there's no gambling licence on the platform, and the operator only features a few gaming options compared to regular casinos. Unlike the previously mentioned platform, Social Club VR doesn't allow players to win any real prizes, isn't developed on the blockchain, but does allow users to use VR headsets to interact with players and the game.
Pros
VR headset compatible
Easy to integrate with Facebook
No gambling licence required
Cons
It doesn't allow users to earn real money
| Crypto Bonus | Wagering Requirements | Minimum Deposit | Available Currencies |
| --- | --- | --- | --- |
| N/A | N/A | N/A | N/A |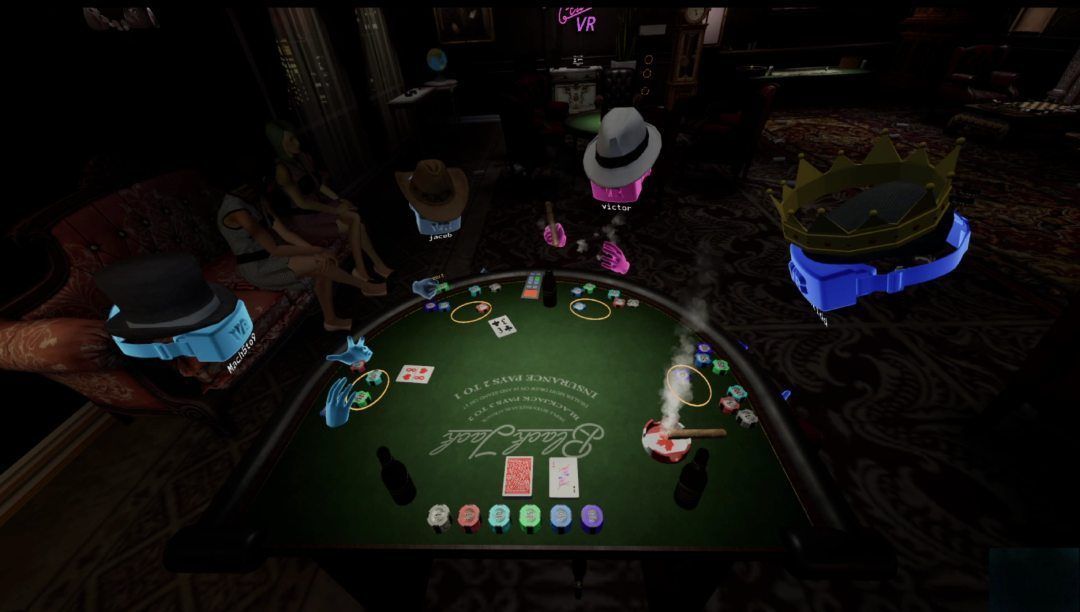 Understanding Virtual Reality (VR) Casinos
Virtual Reality or VR casinos are the newest trends in online gambling. VR technology has provided the platform for creating a virtual world that replicates the environment of a traditional casino giving its users an immersive gambling experience. VR casinos allow players to interact online in a social setting similar to a real-life casino. Players can move around the casino floor, sit at a table, and chat with other players.
The experience players have when interacting with the VR Metaverse casino is similar to real life and differs significantly from regular online casinos that don't feature interactive features. The virtual world created by VR technology is almost indistinguishable from reality, making the gambling experience more enjoyable. While there aren't that many VR casinos that are fully regulated, VR technology has opened new opportunities for casinos to experiment.
Pros and Cons
Virtual Reality (VR) Casinos offer a truly immersive and realistic gaming experience. Players can enter a virtual environment where they can interact with their surroundings and other players in real-time through VR technologies, which allow for high-quality graphics and sound, adding to the overall experience.
Casino enthusiasts can access a real casino environment from within their homes and interact with players and the game environment like never before. VR casinos replicate physical casinos in the real world, changing how online casinos are perceived.
However, access to VR casinos is not as easy as some might believe since it involves users paying high fees to access these platforms. They also require users to know how to set up, interact with the gameplay and navigate a new digital setting. In the current state, VR casinos are still in their infancy. They can't compete with real casinos in terms of usage, level of interactivity, quality of graphics, and gameplay quality.
While there's the potential to disrupt the gambling industry, VR casinos can't compete with real casinos regarding real user interactions.
What to Look for When Choosing a VR Casino
Virtual Reality casinos are new entries in the world of gambling. Even so, the same key features apply for any crypto or VR casino to be effective and provide a great gambling experience.
Reputation
When considering a VR metaverse platform, it's crucial to research its reputation within the industry. Look for reviews from other players, expert opinions, and any possible red flags that may indicate poor customer service or unethical practices. It should have a mix of positive and negative reviews, with the balance leaning towards positive, and provide provably fair gaming as much as possible.
Accepted Cryptocurrencies
If you prefer using cryptocurrencies for your transactions, make sure the VR Casino you choose supports your preferred currency. This will provide added convenience, security, and potentially faster transaction times.
Game Selection
A diverse game selection is essential for keeping players engaged. However, VR platforms still need to be established to feature many features. That's why always analyze if the casino includes live casino games, which are popular in VR environments, while also working on adding new game features. The more games a VR Casino offers or is expected to add, the better the chances are that you'll find something that suits your preferences.
Security
Ensure the platform utilizes robust encryption measures to protect your personal and financial information from cyber threats. Additionally, since the casino uses VR or AR, it's equally important to keep private data secure and not have security breaches that could lead hackers to record private information. Verify if the VR Casino is licensed and regulated by a reputable governing authority, which ensures adherence to strict security protocols and fair play standards.
Top-Notch Tech
The quality of the VR experience relies heavily on the technology used by the platform. Look for VR Casinos that develop their front end and user interface to help render high-quality images and offer smooth gameplay. By using cutting-edge technology, the casino can increase user satisfaction and create a virtual environment with high-quality graphics. This will ensure a more immersive and enjoyable gaming experience.
Accessibility
A good VR Casino should be easily accessible across various devices and platforms. Whether using a PC, Mac, or a specific VR headset, ensure the platform is compatible with your hardware. Additionally, consider if the VR Casino offers a mobile app or browser-based access, allowing you to enjoy your favorite games on the go.
Payment Options
Having a variety of payment options is essential for a hassle-free gambling experience. To provide flexibility and convenience when making payments or withdrawals, check if the VR Casino supports multiple payment methods, including crypto and fiat (debit cards, e-wallets, or bank transfers).
Bonuses and Promotions
Lastly, consider the bonuses and promotions offered by the VR Casino. These incentives can significantly enhance your gaming experience by providing additional funds or rewards for playing. Look for platforms offering generous welcome bonuses, ongoing promotions, and loyalty programs to get the most value.
The world of Virtual Reality (VR) Casinos is continually expanding, offering players a wide range of immersive gambling experiences. As technology advances, various types of VR Casinos have emerged, each with unique features and gaming options. This article will discuss some popular types of VR Casinos, including Jackpot VR, Social Club VR, PokerStars VR, Mobile VR Casinos, Blackjack VR, Metatable Poker, and Blackjack Bailey.
Jackpot VR
Jackpot VR is a virtual reality casino that provides an authentic casino experience with various games. Players can enjoy traditional casino favorites like slots, roulette, and poker, all in an immersive 3D environment. The platform also offers progressive jackpots, allowing players to win big prizes while enjoying their favorite games.
Social Club VR
Social Club VR is a unique VR Casino emphasizing social interaction and multiplayer gameplay. This platform allows players to create custom avatars, interact with other users through voice chat and gestures, and participate in various casino games. Social Club VR's emphasis on community makes it an excellent choice for those seeking a more social gambling experience.
PokerStars VR
PokerStars VR is a virtual reality poker platform that brings the excitement of live poker to the comfort of your own home. Players can enjoy a realistic poker experience, complete with physical tells, chip tricks, and social interactions with other players. PokerStars VR also offers a variety of environments to play in, from classic casino settings to futuristic landscapes.
Mobile VR Casinos
Mobile VR Casinos bring the immersive experience of virtual reality gambling to smartphones and tablets. These platforms typically offer a selection of popular casino games optimized for mobile devices and compatible with various VR headsets. Mobile VR Casinos provide the convenience of on-the-go gaming, allowing players to enjoy their favorite games anytime, anywhere.
Blackjack VR
Blackjack VR is a virtual reality platform dedicated to the popular card game of blackjack. Players can enjoy an authentic and immersive blackjack experience with realistic graphics, sound effects, and gameplay. By focusing on a single game, Blackjack VR offers a highly specialized experience for blackjack fans.
Metatable Poker
Metatable Poker is a virtual reality poker platform allowing players to play in various unique and immersive environments. With a focus on realism and social interaction, Metatable Poker provides a captivating experience for casual and experienced poker players.
Blackjack Bailey
Blackjack Bailey is a virtual reality game offering a more casual and relaxed gaming experience. With its friendly dealer, Bailey, players can enjoy a laid-back environment while trying their luck at the classic card game. The platform's simplicity and easy-to-navigate interface make it an excellent choice for those new to virtual reality gambling or looking for a less intense gaming experience.
What Cryptocurrencies Are Accepted at a VR Casino?
Real VR or Metaverse casinos are built on the blockchain, meaning each platform can only accept a set number of tokens since the blockchain lacks interoperability. Existing VR casinos don't have a real token feature. However, the casinos we reviewed previously do include cryptocurrency payments and offer rewards in virtual assets. Thus, players can connect their wallets and interact with the casino using Ethereum (ETH) and Polygon (MATIC).
The advantage of using crypto for any payment type is that making deposits is fast and easy. However, current Metaverse casinos rely on users connecting directly using their wallets and sorting out game results on-chain. This decreases response time and incurs additional network or gas fees. The primary advantage of using cryptocurrencies in VR casinos is allowing users to gamble and win anonymously since it doesn't involve making payments on any platform.
Traditional payment methods like credit cards require personal information, while cryptocurrency transactions are pseudonymous and do not require personal information. This also helps give players the added security of their identity and financial details remaining private.
How to Create an Account with VR Casinos?
VR Casinos currently are either in Web2, meaning players must register as signing up for a game, or they are developed on blockchain. Here's how you create an account with VR casinos and start playing.
Launch your web browser and type in the name of the casino. If it's on a decentralized platform, you need to access the URL of that platform.
To get started, you need to sign-up using your cryptocurrency wallet to gain access to the casino. Click the sign-up or open now button and click on the image of your crypto wallet (most of the time, it's either Coinbase, Wallet Connect, or Metamask)
After clicking the wallet icon, sign the wallet transaction to authorize the wallet to connect to the casino.
How to Place a Withdrawal and Deposit?
Making withdrawals or deposits on a VR casino is similar to interacting with any online platform. It's important to note that VR Casinos may have different regulations and procedures for deposits and withdrawals, and it is advisable to read through their terms and conditions. VR platforms are new entries into the gambling world, and the requirements for verification and approvals could vary or change as regulations are set into place.
Making a deposit
Open Cashier
On the casino's homepage, check on the right side of the screen the "Cashier" section and click on it. Here you'll be able to make your deposit.
Select the payment method
Select "Deposit" from the top menu and choose the payment method you want to use to deposit. You can select between crypto, fiat, or other types of payments.
Send money to the wallet address
Make sure the casino includes the cryptocurrencies you have in your wallet, copy the wallet address, and paste it into your own crypto wallet. If the VR casino is decentralized, make sure you hold the right tokens in your wallet.
Wait for the funds to be credited
Type the amount you want to send in your crypto wallet and click "Send." Once the blockchain processes the transaction, your tokens will be credited to the casino. You'll then be able to start playing.
Making a Withdrawal
The process of making withdrawals is similar to any crypto casino. Users need to have a compatible crypto wallet, copy their wallet address and make sure they send tokens on the right network. Here's a step-by-step process
Open the Cashier
Open the casino, go to the Cashier section, and click on the withdrawal button to take you to the correct section.
Choose the withdrawal method
From the available options, choose crypto withdrawals by selecting the token you want to withdraw with. You can also select fiat withdrawals, or if you choose a crypto payment, make sure it's compatible with your wallet.
Enter your wallet details
Open your crypto wallet, and copy the necessary information, such as your wallet address. Make sure you copy the wallet address for the right blockchain network to avoid missed funds.
Check your wallet after processing
Past the address into the casino withdrawal section, type the amount you want to withdraw, and click ok. You might be required to verify the withdrawal on your email. Once it's processed, check your wallet to see if the crypto tokens have arrived.
What Equipment Do You Need to Get Started?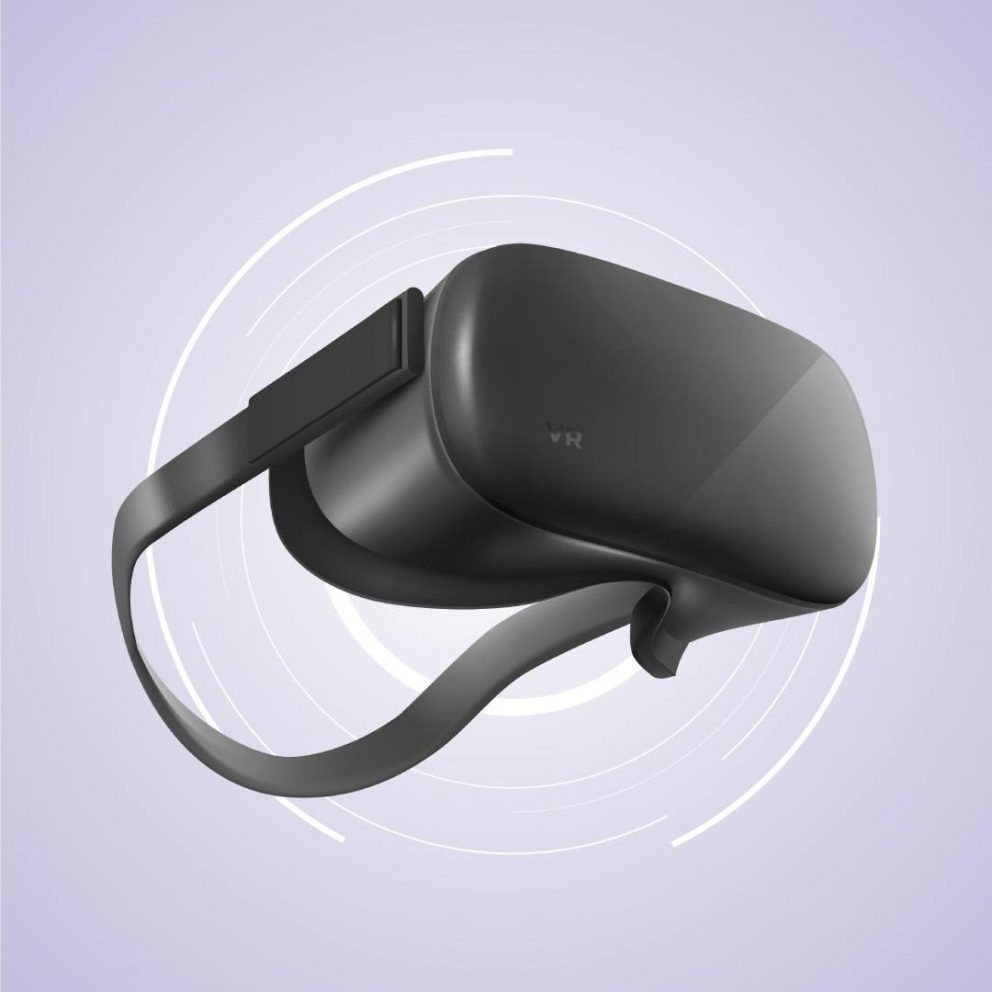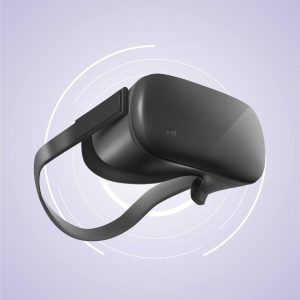 Users must have the necessary equipment to access a Virtual World or the Metaverse to immerse themselves in virtual reality casinos fully. This can be as simple as using a powerful PC with good specifications or could require players to purchase, install and use VR headsets.
Two popular headset options are the Oculus Quest 2 and the HTC Vive, which are stand-alone and don't require users to connect to a computer. However, these have their limitations as users can only access games provided by the platform, and in most cases, these VR casinos aren't suited for real money games.
To access the Metaverse and enter a virtual world where navigation is done using a keyboard and the PC, users must meet a minimum requirement to prevent lagging or slow gameplay. The minimum standards should be an NVIDIA graphics card with at least 4 GB of power or a better graphics card, at least 8 GB of RAM, and a powerful processor such as the Intel Core i5 or higher. This helps ensure the players can interact with the casino without any delays and not cause extra frustration.
With VR technology still in its infancy, it's worth highlighting that VR headsets will continue to evolve, and each year the technology will be better – the case of Apple's Vision Pro, which provides a higher quality experience than its predecessors in terms of graphics and usability.
Virtual Reality Gambling Vs. Traditional Gambling
Virtual Reality (VR) Gambling and Traditional Gambling each offer distinct experiences, features, and advantages that cater to different preferences among gamblers. Traditional Gambling occurs in physical casinos, providing a social atmosphere with face-to-face interaction. Classic games like poker, blackjack, and roulette are enjoyed on tangible tables, while slot machines line the floors. This form of gambling offers an authentic experience that some gamblers prefer, as they can read opponents' body language, observe the spinning roulette wheel, or hear the clinking of coins from a slot machine win.
On the other hand, VR Gambling offers an immersive, digital experience by transporting players into a virtual casino environment. Through VR headsets, players can explore the casino, sit at gaming tables, and interact with other virtual players. This technology enables users to enjoy gambling from their homes while still experiencing a realistic casino atmosphere. Additionally, VR Gambling provides opportunities for innovative games and experiences not possible in traditional casinos, such as exploring themed environments or incorporating video game elements.
As VR technology advances, it has the potential to significantly impact the gambling industry by offering unparalleled gaming experiences, attracting new demographics, and expanding the reach of gambling beyond physical locations. However, it remains to be seen whether VR Gambling can fully replicate the unique social and sensory aspects of Traditional Gambling that many players value.
What Does the Future Hold for Metaverse Gambling?
As technology continues to evolve, Metaverse Gambling is expected to grow significantly since users continue to discover the advantages of interacting in real time from the comfort of their homes. The current online gambling experience lacks the interactive factor, and Metaverse casinos help users immerse themselves in the gameplay. One potential development is integrating haptic feedback and sensory technologies in VR devices. These technologies would enable players to see and hear the virtual world and feel it through touch, further enhancing the immersive experience. Additionally, AI technology and machine learning could be integrated into Metaverse casinos to assist users and casino developers in creating personalized experiences, games, or instances by analyzing their preferences, habits, and play styles. This information can tailor game offerings, promotions, and rewards, creating a more engaging and customized experience for each player. Additionally, AI can monitor and analyze player behavior to identify and mitigate problem gambling, promoting responsible gaming practices within the metaverse.
Using blockchain in VR and metaverse is key to maintaining users' privacy but also facilitates the creation of decentralized virtual casinos. By leveraging decentralized finance (DeFi) and smart contract technologies, gambling platforms can offer more secure, transparent, and efficient transactions. This could lead to decentralized casinos, where players have greater control over their data and funds. As the lines between reality and the virtual world continue to blur, the integration of these emerging technologies promises to transform the landscape of Metaverse Gambling, offering unprecedented levels of immersion, personalization, and security.
Virtual Reality casinos are growing in popularity among crypto gamblers; however, they're not at a ready stage where they can readily change how gamblers interact with online casinos. Still, VR and Metaverse casinos have limited functionalities compared to regular and online casinos, but they do feature several options where players can test out game modes in-free play. Blockchain metaverse casinos are the only genuinely immersive operators that provide financially rewarding gameplay.
However, they're not fully regulated, and players win in-game tokens rather than real money. VR headsets only give players a taste of how the gambling industry could evolve, and we're still years away from having a fully immersive casino. Until then, technologies still need to be perfected, new regulatory frameworks must be implemented, and users need to adopt Virtual Reality hardware into their digital activities.
In sum, VR casinos are an exciting prospect because it transforms a dull and automated online casino interaction into an immersive experience for gamblers.
Are there casinos in the metaverse?
Yes, there are casinos in the metaverse. These virtual casinos offer immersive gambling experiences within virtual environments, allowing players to participate in various casino games through VR devices.
What is the best casino in the metaverse?
It is difficult to pinpoint the "best" casino in the metaverse, as this depends on individual preferences and the specific features one is looking for. Some popular options include PokerStars VR, SlotsMillion, and Casino VR Poker. Researching and trying different platforms is essential to find the one that suits your preferences best.
Are there any VR casinos?
Yes, there are VR casinos. These casinos use Virtual Reality technology to provide an immersive gaming experience, allowing players to explore virtual casino environments and engage in various games using VR headsets.
Is VR part of the metaverse?
Yes, VR is a part of the metaverse. The metaverse refers to a collective virtual shared space created by the convergence of virtually enhanced physical reality and physically persistent virtual reality. VR technology enables users to access and interact with this shared space, contributing to the overall metaverse experience.