M2E dApps reward players for staying active. They are the most recent blockchain development, leveraging key areas to promote healthy living. M2E dApps combine various technologies, such as crypto finance, GPS, and body wearables, to provide users with a new experience that involves physical activities. They involve moving and earning money, as the name implies. Players are expected to participate in jogging, running, walking, and various workouts. Users may be required to wear devices such as heart monitors and turn on their GPS for the apps to track their physical activities. Newer dApps like FightOut proposes developing technology that can connect with exercise machines such as the treadmill in your local gym. In return, you earn cryptocurrencies. Most games have their own tokens, which they use to reward gamers. You may also earn in terms of NFTs or simple reward points. The more active you are, the higher your earnings. Tokens earned can be used to purchase in-game assets or sold in the secondary market for cash. In today's world, where everyone is trying to achieve a healthy lifestyle, M2E cryptos are facing high adoption. Keep reading.
The Trend in Move to Earn Games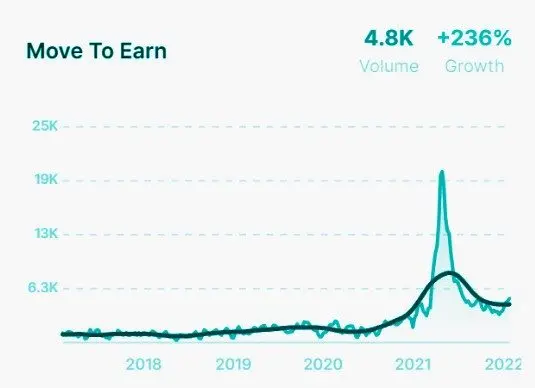 Pokemon Go introduced the first M2E concept about six years ago. The game, which was released in 2016, used augmented reality and GPS to create activities and missions that required users to move while wearing virtual reality headsets. Genopet, the first-ever successful blockchain-based M2E, was announced in 2021. It required players to perform various physical exercises in order to earn points and cryptocurrency. Since then, the industry has grown steadily as more players have become interested. According to MeetGlimpseTrends, M2E internet searches increased by 236% in 2022. With the release of more creative games, the figure is expected to skyrocket in 2023. Take a look at the graph.
Why Are People Loving Move-to-Earn Games?
The main factor behind the popularity of M2E cryptos is the fact that they motivate users to stay healthy. Everyone wants a healthy lifestyle, yet only a few have the discipline to exercise. The monetary reward offered by these apps seems lucrative enough to get people off their couches to exercise. The best part is that they can be played anywhere. You can take a fifteen-minute break at work to walk, which would still count towards earning you money. The games come with intuitive dashboards which help users set goals and track their progress. Every goal hit means more digital coins and better health. The games tap into three main industries; blockchain, traditional gaming, and sports.
Blockchain
Crypto enthusiasts who see a new investment opportunity will likely start playing M2Es. Although their main goal might be earning digital coins and perhaps staking, they will simultaneously experience fitness. Metaverse users may also get interested.
Traditional gamers
People playing classic subscription games like Xbox might also get attracted to the new gaming industry. They may want to try out the latest gaming sector, which is more engaging and rewarding.
Sports
Gym and sports enthusiasts now have more incentive to meet their workout objectives. Perhaps some of the tokens earned could be used to pay for their gym memberships. People who have previously struggled to stay fit are also included, as there is an incentive.
Case Study: FightOut ($FGHT) Move-to-Earn-Crypto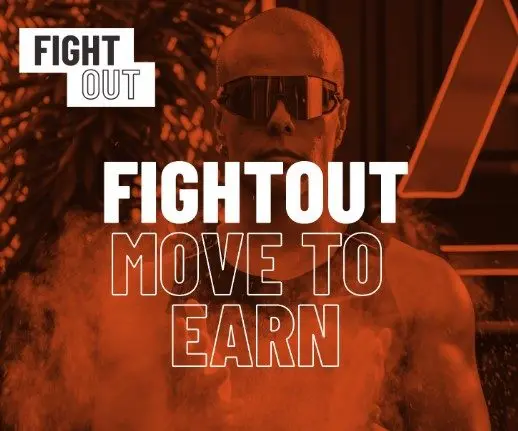 FightOut, one of the most recent M2E games is already causing a frenzy worldwide.  With its presale in December 2022, the company raised more than $1.5 million in less than 24 hours. No doubt, the industry is about to combust spontaneously.   It's an ambitious crypto move-and-earn game with big plans to merge Web3 and the real world. To begin, it will open gyms worldwide where users can exercise; the gym equipment will directly feed data to users' dashboards to update their progress. Players can access top-tier training through organized partnerships with professional athletes and coaches. Users are provided with high-quality instructional videos and customized programs. It will also include information such as diet and workout plans to help members achieve total wellness. The app not only tracks movement but also key features to measure effort and ensure that each player is fairly rewarded. Other metrics, such as sleep, can also be tracked and rewarded. The large number of subscribers for the FightOut ($FGHT) token is an excellent indicator of what is to come in the future.
Pros and Cons of Move to Earn
Pros
Popularity
Easy to earn money
Users can create their NFT Avatars
Simple Blockchain
Motivates users
Cons
Earnings are exposed to crypto volatility.
Are Move-To-Earn Games Good for Me?
While M2Es are growing in popularity, they may only be best for some. However, the answer mainly depends on your goals. For many people, fitness is essential. But why pay for a gym, work hard, and earn nothing apart from a good body? Many sports enthusiasts like you already make money while doing what they love. If you're active in sports or gym workouts, you may need to earn some crypto while at it. Also, if you've always wanted to start physical training but have no motivation, these apps may be for you. Everything becomes easy with the right inspiration, which you get from M2E projects.
The best part is that all these games are free. If your primary goal is money, play-to-earn games might work. M2E is best for people who want to develop workout discipline or general wellness, including better sleep patterns. Perhaps everyone would love this. So, M2E games might actually be good for anyone. Remember to consult your physician before engaging in intense exercises if you have a history of health problems.
Starting with M2E cryptos can be done in several ways. First, search for the finest move-to-earn blockchain sites after you are familiar with the idea and register. Even though they are generally free to play, you might be required to start with a tiny investment. However, this is not a monthly fee. Typically, before you can begin playing games, you might need to purchase NFT sneakers and other virtual sports clothing. Some of the top platforms to consider are:
FightOut

Genotype

STEPN

DeFit

MetaGym
Earning virtual currency while working out is a recent practice that has already gained popularity. M2Es are going to soar as FightOut enters the mainstream in a few months. As the year goes on, more initiatives should be implemented. The biggest form of market sensitization may be using well-known athletes to endorse games. In no time, the games will become a worldwide phenomenon. If you're considering moving to earn gaming, why not start early? Recall that when more people start playing M2E games, token prices will increase. The largest winners will be the early participants.
What does M2E mean crypto-wise?
M2E, which comes from "Mover-to-Earn," refers to blockchain-based games that integrate Web3 into the real world. They mainly encourage users to live a healthy lifestyle through sports activities like walking, jogging, and running.
What is a good move-to-earn crypto investing strategy?
Investors have different strategies for investing in M2E cryptos. One of the best approaches is looking for tokens with a low maximum supply limit, which tend to rise in value as demand increases.
What are the latest M2E projects?
Developers are constantly launching new games as the industry demand starts to rise. Some of the best recent projects are FightOut, MetaGym, and STEPN.