In this article, we reviewed 12 top cryptocurrencies to invest in 2023, providing an analysis of each coin's journey and the future prospects for growth.
Metacade (MCADE): The Next Big Thing in Play-to-Earn Crypto Games


Metacade is a revolutionary new platform that combines classic arcade-style games with blockchain technology to create a play-to-earn experience for gamers. The platform offers integrated rewards in MCADE tokens, which can be monetized by players, making it a highly sought-after investment opportunity.
The Metacade project utilizes MCADE as its utility and governance token, playing a crucial role in the platform's functionality. Holders of MCADE can vote on the project's direction and new game proposals, as well as interact with the Metacade ecosystem through activities such as entering tournaments, purchasing merchandise, and more.
Token holders can earn rewards by contributing content, reviewing and testing games, and engaging within the ecosystem. Additionally, MCADE holders can stake their tokens in liquidity pools to earn rewards and APYs in the stablecoin, protecting the value of their funds from inflation and price swings. Metacade plans to introduce a burn mechanism or buyback scheme to promote deflationary attributes, lowering the overall supply and boosting the value of MCADE.
The MCADE token completely sold out in stage 1 of its presale raising over $3.2 million in just nine weeks, adding to its earlier win in the beta phase. Investors have limited time to purchase MCADE's current price is $0.012, as it enters stage 2 of the presale. The value of MCADE is expected to rise to $0.02 soon.
The MCADE presale will be followed by the launch of the website and the building of a founding team. In Q1 2023, MCADE is planned to be listed on Uniswap and top centralized exchanges, with a goal of revolutionizing the ownership and operation of a traditional community hub.
Meta Masters Guild: Redefining Play-to-Earn with Fun and Addictive Games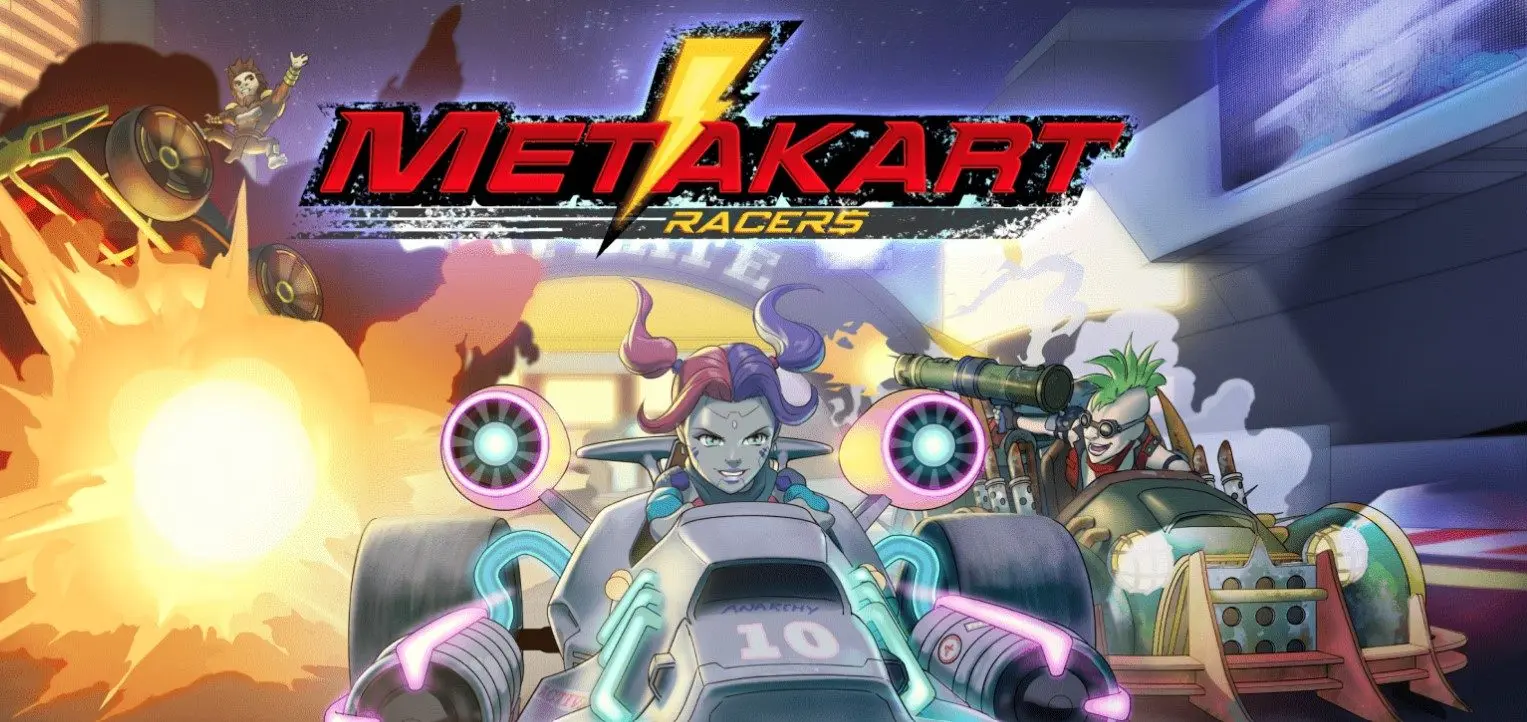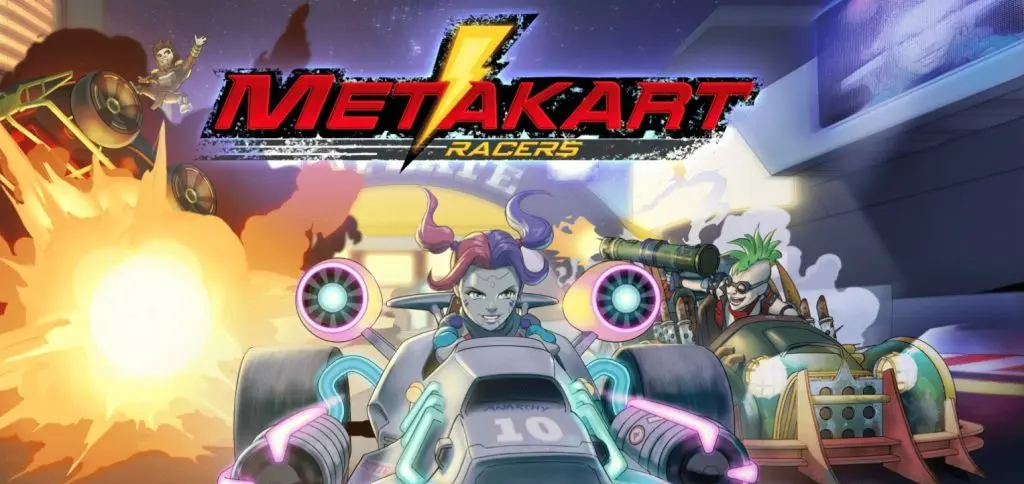 Meta Masters Guild (MEMAG) is quickly gaining popularity to become one of the leading crypto projects of 2023. The gaming guild's presale has already hit the $1.5 million milestone, signaling strong investor and gamer interest in its potential. As the largest mobile gaming guild in Web3, MEMAG aims to create NFT-playable games that prioritize fun and addiction over earning mechanics.
The MEMAG platform operates on a play-and-earn approach, allowing players to earn rewards in GEM, and trade them for MEMAG tokens in the marketplace. With a limited supply of one billion MEMAG tokens and built on the Ethereum network, all assets and resources earned or purchased by players are secure and owned by the player.
The MEMAG presale is a seven-staged event with prices ranging from $0.007 to $0.016. The second stage raised over $800,000, and the third stage has hit the $1.5 million milestone. The Meta Masters Guild plans to offer all gaming genres to its players, and is launching three titles, including Meta Cart Racers, Raid NFT, and Meta Masters World.
According to the roadmap, the first listings for MEMAG are planned for Q2 2023 on CoinGecko and CoinMarketCap, followed by numerous CEX and DEX listings. In Q3 2023, the platform will see further game development, new titles, and improved features, leading to a steady user base growth and future developments. With the stage 3 presale ending on January 31, now is a prime opportunity to invest in MEMAG before the price increases.
Fight Out: Combining Health, Fitness, and Blockchain for Move-to-Earn Rewards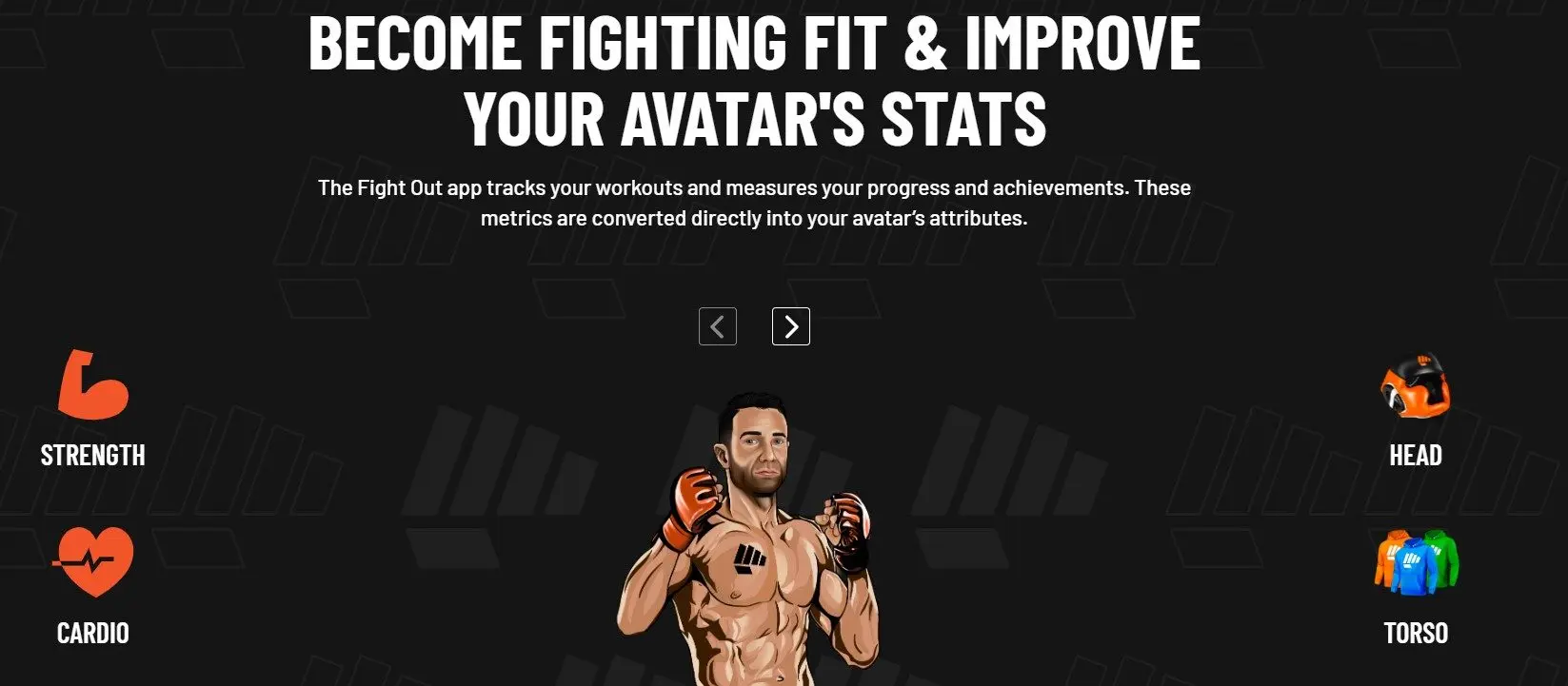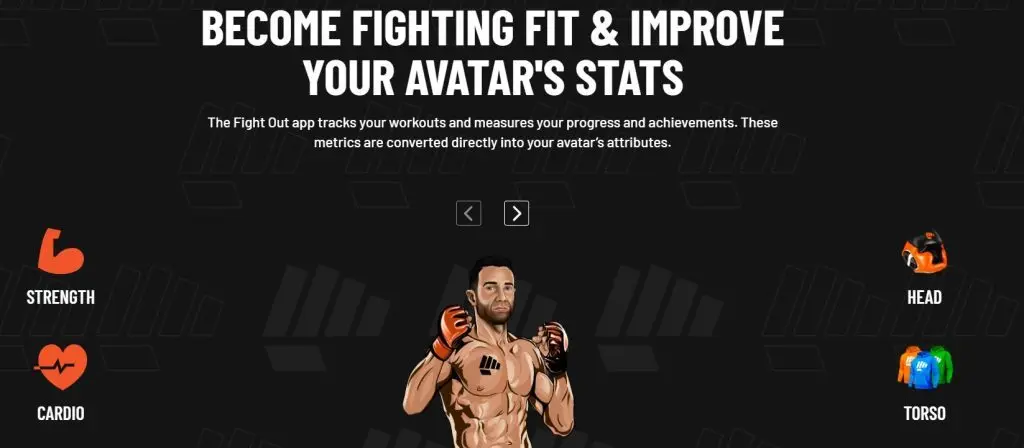 Fight Out is a new project taking the crypto world by storm, by introducing the move-to-earn (M2E) model that rewards users for staying active and healthy. Utilizing the Fight Out mobile app, users can earn FGHT and REPS tokens by achieving their fitness goals. The app tracks a variety of metrics, allowing users to see a complete fitness profile reflected in their avatar, and incentivizing them to continue working out.
Fightout (FGHT) crypto has been attracting a lot of attention with its quick-selling presale. So far, it has raised $3.47 million, showcasing strong investor interest. The presale is currently in stage 1, and is set to end on March 31st, 2023. However, with the current pace of sales, the presale may end sooner.
The token is currently available for purchase at $0.0166 (1 USDT = 60.06 FGHT), but the price doubles to $0.0333 when the $5 million fundraising milestone is reached.
The FGHT tokens, worth $10 billion, are divided into three pools. 60% of the tokens will be sold in the presale to finance the launch of the project. Up to 30% of tokens will be awarded as rewards to early FGHT buyers based on the amount purchased, and the selected vesting period. 10% of tokens will be reserved for liquidity on centralized and decentralized exchanges, with any remaining tokens earmarked for platform growth.
Investors have to act fast to secure lower prices, as it gradually increases at per-second intervals to reach $0.0333 by the end of the presale on 31st March. This provides incentives for investors to buy sooner to beat rising prices.
The price of FGHT is expected to rise significantly after it lists on its first centralized exchange on April 5th, 2023, as news of the project spreads.
Investing in Real Estate with Metropoly: A Game-Changing Cryptocurrency


Metropoly is a revolutionary cryptocurrency that allows investors to purchase shares in real-world property using its native METRO token. The platform's NFT marketplace offers a unique approach to real estate investment, as each NFT is backed by a physical property. This eliminates the need for traditional down payments, and the lengthy process of bank loan applications and solicitor fees, allowing investors to purchase a share in a property for as little as $100, and in just 20 seconds. Investors can earn passive income through rent from tenants, and the properties are fully managed by a dedicated team to minimize maintenance costs. Additionally, METRO holders can benefit from the appreciation of the properties' value when they choose to cash in their coins.
Metropoly aims to democratize the real estate market and bring it into the digital age. With more than 90% of real estate transactions still taking place offline, the platform has identified a significant opportunity to disrupt the industry. The platform's smart contract code has been verified by Solidproof, and the team has undergone a CertiK audit to confirm their identities. 
Metropoly has recently launched its first Beta version of the Metropoly marketplace and is currently in phase 2 of its roadmap journey. In phase 3, it plans to release the Beta version of the app that would enable external real estate agents to list their RENs. In phase 4, it plans to implement the in-app trading function.
The current price of the METRO token is $0.05, and the exchange listing price is set at $0.1. Metropoly is in its 8th stage of presale and has raised over $300,000, which is 76% of its minimum goal of $500,000. Though the planned launch date is on 1st April 2023, it looks like METRO presale would be sold out before. Investors looking to diversify their crypto portfolio should consider this as one of the promising investments in 2023.
C+Charge: Revolutionizing Carbon Credits for EV Drivers


C+Charge, a new cryptocurrency project, is making a name for itself in the sustainable energy industry. The platform aims to provide easy, and transparent access to carbon credits for electric vehicle (EV) drivers. By introducing a peer-to-peer payment system for EV charging stations, C+Charge is making it easier for EV drivers to contribute to the fight against climate change.
CCHG are utility tokens that will be used to charge electric vehicles at thousands of charging stations around the globe. Token holders will also accumulate carbon credits, while EV drivers will be able to earn them for driving and charging with the C+Charge network. This not only helps make EV charging stations transparent in terms of availability and pricing, but also incentivizes EV drivers to make a positive impact on the environment.
CCHG token is currently in the early presale stages and is available at $0.013, and has raised over $500,000. Experts predict that the coin could surge up to 30x due to its unique and beneficial approach to the carbon credit industry.
The CEX launch of the C+Charge project is set for March 31, 2023. 8% of the total token supply has been allocated to liquidity and exchange funds to ensure adequate provision for added liquidity. The project is expected to grow rapidly in the coming months due to its increasing user traction, which will positively impact the $CCHG ecosystem and could result in significant growth for the token by the end of the year, making it a strong contender as one of the best altcoins. A listing on top decentralized exchanges and CEXs can significantly impact the value and performance of a cryptocurrency, as seen with Tamadoge, which experienced a 2000% increase in price following its OKX exchange listing. With anticipated investor interest, $CCHG is estimated to reach the range of $0.08 to $0.1 by the end of the year due to increased trading activity and heightened demand.
Introducing RobotEra: A Metaverse Blockchain Game


RobotEra is a blockchain game project, supported by the Asian crypto platform LBank, similar to The SandBox. The game allows players to create their world and experience through the Metaverse, embodying robots to govern and regulate their territory. The ultimate goal is to rebuild the fictional planet, Taro, after a devastating event.
The TARO digital asset is currently available for purchase during its presale period. There are three planned stages of the presale. Over the past several weeks, the presale has raised more than $785,000 and is still ongoing. During the first stage, early investors can buy TARO for $0.020. However, the price will be subject to change as the presale progresses through different stages.
An NFT will identify each player's robot, and the native token, TARO, which is an Ethereum-based utility token, facilitates interactions and exchanges between players. The success of the game is attributed to its integration of NFT technology with Play to Earn mechanics, enabling users to earn passive income.
A total of 10 NFT robots with unique characteristics are distributed among factions. The platform also has a staking feature, allowing users to deposit their TARO tokens, which are used to power the game operations. Assets created in the game can be monetized in the real world and also in the Robot Era. The world-building activity rewards players in the form of TARO tokens, thus allowing them to profit from cryptocurrencies. In the RobotEra virtual world, all virtual items such as avatars and properties are unique and verifiable digital assets, known as NFTs. This enables players to truly own and generate income from what they purchase in the game using TARO tokens.
The 2023 roadmap for RobotEra is split into two phases: Q1 which focuses on constructing the alpha metaverse galaxy and enhancing gameplay, and Q2, which aims to integrate virtual reality through VR/AR technology, and launch a new immersive experience mode. Currently, in presale, we believe RobotEra is a great investment opportunity for those interested in participating in a metaverse blockchain game and capitalizing on the growing trend of NFTs and metaverse.
Introducing Dash 2 Trade: The Ultimate Crypto Analytics Platform


Dash 2 Trade is a crypto analytics platform that offers unparalleled insights for investors, and traders. With features like API trading, strategy testing, and presale analysis, the platform helps users make data-driven investment decisions, and avoid risky trades. Additionally, the platform's social sentiment analysis provides real-time data on the performance of various cryptocurrencies. This information can be used to make informed investment decisions and monitor the overall health of the market.
The platform's presale, initially planned for ten stages, was shortened to four stages to allow earlier access to its dashboard and other features, and sold out on January 4th, raising over $13.4 million from eager investors. However, the team extended the presale by four days through an over-funding round, with D2T tokens priced at $0.0556, a slight increase from Stage 4's price of $0.0533. Only 36 million tokens were allocated at this price before the first CEX launch on January 11th.
D2T's unique feature, the Dash Score, provides an in-depth analysis of crypto projects and has attracted significant interest from investors. After a successful presale, D2T's token price increased by 51% in the first week of its launch, listing on several major exchanges such as Gate.io, LBank, Changelly Pro, BitMart, and Uniswap.
The whole ecosystem of Dash 2 Trade is built around the utility token D2T, which is an ERC-20 token and therefore tax-free for purchasing and selling on exchange platforms. To access the platform's features, users must pay with D2T tokens. The platform offers three subscription tiers to choose from, based on affordability.
Built by traders, for traders, Dash 2 Trade aims to revolutionize the approach to the cryptocurrency market by providing a platform for both experienced and novice users. With its advanced analytics and intelligence features, the project is expected to take off in 2023 with the launch of its much-anticipated dashboard.
Calvaria: A Revolutionary Play-to-Earn Crypto Game Taking the Industry by Storm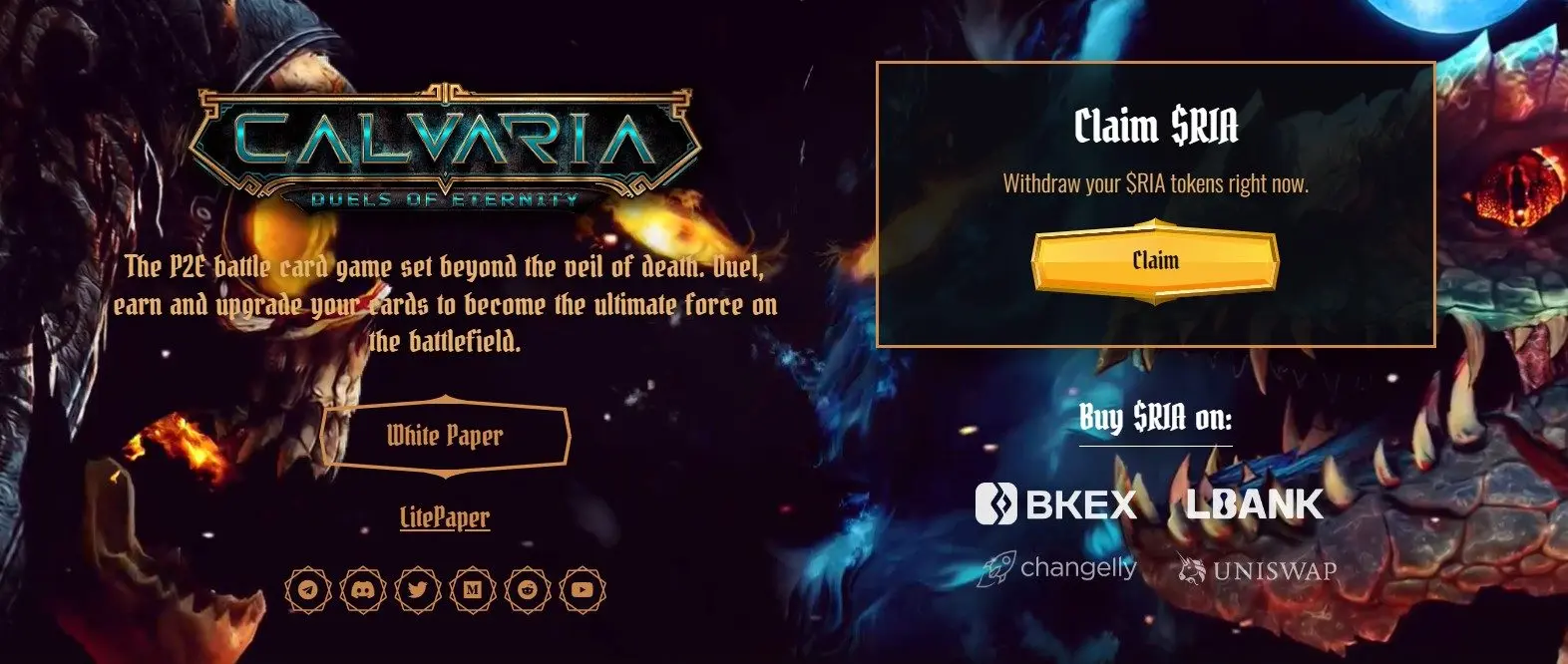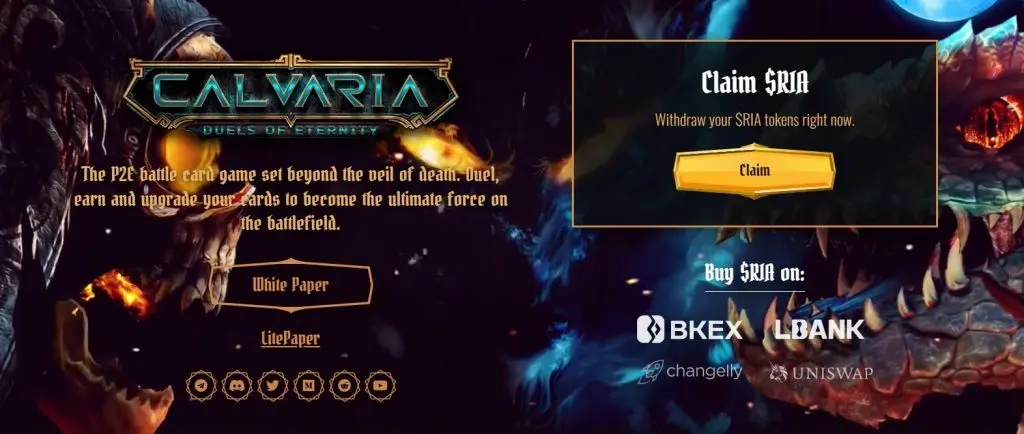 Calvaria, an NFT-based P2E crypto card game, has been making waves in the crypto gaming industry with its innovative storyline and advanced gameplay features. The game centers around unique underworld monsters fighting for control of the afterlife.
The game raised over $3 million in its presale stage with a unique concept and advanced gameplay features. It offers two versions, P2E and F2P, and uses RIA tokens for economic stability and rewards/purchases. Owning RIA tokens also grants governance rights and staking for passive income. The presale for RIA was planned to close on January 31, to be followed by an IEO on BKEX, with listings on Lbank and GotBit. Calvaria is in its 5th and final stage, with only 15% of RIA tokens available for purchase before the IEO. 4% of the 1 billion token supply is allocated to liquidity. The RIA token price is $0.0325 in the presale and is expected to surge further upon launch. P2E tokens offer intrinsic reward value and mass appeal. Calvaria allows players to earn passive income through staking and voting on key issues affecting the ecosystem. With a hard cap of $3,075,000, the presale may sell out soon and provide investors with 225% gains.
Calvaria offers a unique investment opportunity for 2023 with its innovative concept and strong investment. With the presale ending soon, time is running out to invest in RIA before its potential price explosion on exchanges.
Snowfall Protocol: Setting the Stage for Exponential Gains This Year

Snowfall Protocol is an innovative asset transfer ecosystem and bridging solution that is changing the way crypto assets and NFTs are transferred between chains. With its all-new canonical token bridge and swap/wrap system, Snowfall Protocol is the first, and most efficient solution for improving blockchain interoperability and chain-to-chain communication.
Snowfall Protocol recently made headlines with the launch of its highly anticipated dApp feature, which enables seamless transfer of both fungible and non-fungible tokens across multiple blockchain networks. The world's first and most efficient NFT cross-bridging platform, Snowfall Protocol, is poised to be at the center of the blockchain environment, serving the DeFi and GameFi sectors. In addition to the dApp launch, Snowfall Protocol is set to release its Snowfall wallet, which will serve as the master key to all cryptocurrencies and crypto assets.
The token is currently in its last stage of presale, selling for $0.20, having gained over 1000% in price since its launch. Its dApp and wallet features have already made a significant impact on the token's price performance, with over $5 million raised during the three-month presale campaign, which sold more than 200 million SNW tokens. With the presale campaign coming to an end, and the protocol set to go live on PancakeSwap in February, the token is expected to launch at $0.22, with investors anticipating returns of up to 5000% post-launch. Less than 15% of tokens remain in the ongoing final round of the campaign.
Snowfall Protocol has a strong roadmap in 2023, with its excellent interoperable use case and investor base supporting the project since inception. By eliminating the need for third-party intermediaries and high transaction fees, it offers users the ability to make money off their transactions with more ease and security. Snowfall Protocol's innovative approach to asset transfer and chain-to-chain communication, combined with its next-generation features and a strong investor base, make it a promising investment opportunity in the crypto space. With the presale campaign coming to a close, and the launch of the dApp and wallet, 2023 is a prime time for investors to consider investing in this project.
Orbeon Protocol (ORBN) - A Promising Crypto Opportunity


Orbeon Protocol (ORBN) is a blockchain-based crowdfunding platform that allows start-ups to raise funds by tokenizing equity into NFTs. The platform's unique twist on traditional crowdfunding models has attracted both innovators and everyday investors. ORBN token holders benefit from discounts, staking rewards, and voting rights, all at a price of only $0.06.
In terms of price performance, Orbeon Protocol (ORBN) has seen a 1400% increase from its initial presale price of $0.004, and currently stands at $0.06. Experts predict that by the end of the presale, the price of ORBN will reach $0.24, presenting a 6000% gain. The platform's "Fill or Kill" mechanism protects investors from rug pulls and ensures a refund if the start-up fails to raise the full amount of funds required.
Orbeon Protocol (ORBN) is in phase five of its presale and has sold over 6 million tokens so far. With the fractionalization of equity, investors can get a stake in the company with just $1, opening up early-stage investing to a wider group. ORBN token also functions as a currency for transactions, is used to reward investors and startups, and adds liquidity to the marketplace.
In 2023, Orbeon Protocol aims to revolutionize the venture capital industry by making it easier for everyday investors to access the most promising tech and crypto start-ups. With its unique features, opportunities for growth, and low entry price, Orbeon Protocol (ORBN) presents a promising investment opportunity for crypto enthusiasts.
Lucky Block: An Emerging Platform for Crypto Casino


Lucky Block is an online competition platform that offers investors the opportunity to win exciting prizes like luxury cars, houses, and even $1 million worth of Bitcoin. The platform has its own native token, LBLOCK, which is compliant with BEP20 and ERC20 standards. LBLOCK quickly gained popularity and reached a market cap of $1 billion soon after its launch. Investors can purchase LBLOCK through multiple exchanges, including MEXC, LBANK, Pancakeswap, and Uniswap.
Lucky Block recently launched a crypto casino for players with a minimum deposit of $1. The casino accepts 10 different cryptocurrencies, including Bitcoin and Ethereum, and has no limits or fees on deposits and withdrawals. The Lucky Block V1 and V2 tokens were both launched in 2022, and provide holders the chance to win huge rewards. The V2 token offers advanced features such as high-speed transactions and the possibility of CEX listings.
The Ethereum bridge, currently being audited by CertiK, will allow for seamless swapping between LBLOCK V1 and V2 tokens. The bridge is expected to go live in September, coinciding with the listing on Gate.io, with another major exchange listing rumored. LBLOCK V2's upcoming listing on Gate.io is expected to increase its value and liquidity.
The crypto market is expected to recover in 2023, and Lucky Block is well-positioned to take advantage of the rebound. With listings on multiple exchanges and the launch of its crypto casino and sportsbook, Lucky Block is expected to continue its growth trajectory. Some analysts predict that LBLOCK will reach the $0.0045 to $0.007 price range by Q1 of 2023, and could experience even stronger gains by the end of 2023.
Mushe: The Future of Decentralized Interaction


Mushe Token (XMU) is a decentralized token that plays a major role in the Mushe World ecosystem, providing liquidity to its exchange and facilitating peer-to-peer interaction, rewards, and governance.
XMU has had a volatile price history since its launch in July 2022. XMU reached its all-time high of $0.0703 on 20th July 2022, but since then its price has fluctuated and dipped to a low of $0.003732. The current price of XMU is $0.004180.
Despite the bearish sentiment in the market, the XMU token has shown some signs of growth in recent times, reaching a cycle high of $0.004377, since its last cycle low. The Fear & Greed Index also indicates greed at 61, suggesting that there may be room for growth in the near future.
In 2023, XMU's integration with the Solana blockchain, and the planned MusheSwap DeFi exchange could provide a boost to the token's price. The Mushe team's mission to increase accessibility and education about digital currencies, along with its partnerships with traditional banks and an accessible mobile application, make XMU a competitive player in the DeFi space. XMU's potential for growth in 2023, and its strong mission, make it a token to watch.
The cryptocurrency market is ever-evolving and offers a wide range of opportunities for investors. As we head into 2023, there are several crypto projects that stand out as promising investments. This article has covered 12 such projects that are poised to make a significant impact in the crypto world. However, as with any investment, it's important to do your due diligence and understand the potential risks involved. Diversifying your portfolio and taking a long-term approach can help mitigate those risks and maximize the potential for success. With the current market conditions providing an opportunity to acquire high-quality assets at a discounted price, now may be the perfect time to consider investing in crypto.