The New Crypto Normal
It's no news that cryptocurrencies have been adopted and integrated globally. However, users are still looking to spot a rising cryptocurrency and become part of a select group of early adopters. People who invested in Bitcoin in the early stages can be proud of being early adopters who've successfully invested in a revolutionary technology. The same goes for investors who first bet on Ethereum and smart contract platforms.
As the blockchain adoption curve increases, users begin to understand the value of cryptocurrencies, researching the new Bitcoin or Ethereum. Each crypto or stock investor wants to take a position before the retail excitement takes over the market.
Cryptocurrencies are speculative assets. Only some of them will last the test of time and become integrated into our digital fabric. Nonetheless, this does not mean investors cannot leverage the market and generate a significant return even in the early stages of crypto development. Successful cryptocurrencies have the same characteristics: a smart contract platform, a casino gambling platform, or a utility token yet it's important to understand how cryptocurrencies work.
So how can you become a crypto sniper and stop a rising cryptocurrency at the right time? Below we explore what to look for when trying to spot an upcoming cryptocurrency and possibly help you identify what cryptocurrencies will explode in future.
Token information and data are key
During the initial stages of Bitcoin, data was not thoroughly used by investors. Instead, users made their decisions based on their intuition and the Bitcoin whitepaper. However, as institutions embraced cryptocurrencies, new data sets became available for investors, making it easier to make deliberate decisions.
So how does data and information help spot a rising cryptocurrency? First, data can tell a compelling story, such as network activity, trading activity, and even the current demand for a specific cryptocurrency compared to the market narrative.
Using data history and understanding where demand for a specific cryptocurrency lies, users can stop the next rising currency and be ahead of the other investors. For example, cryptocurrencies with fewer price fluctuations and entering an accumulation phase could be the next 100x investment, but that's only visible in price and token analysis.
Ease of access
There's a common misconception that tokens that are yet listed on big exchanges are a gem. While that is accurate in some cases, investors are taking a big risk when investing in less popular cryptocurrencies.
Cryptocurrencies that have gained market proof and are used on several online platforms hold their value for a longer time and can further increase in price. Due to a supply and demand dynamic, the more a token can be used in a decentralized ecosystem such as crypto gambling, the more buying pressure the token will have. This will lead to a bigger price demand on the exchange, which will be reflected in the token price.
Cryptocurrencies that are easier to access by retail investors have the biggest potential of gaining momentum and rising in value.
Low Token Supply
Almost all cryptocurrencies have a finite supply. Some of them also implement a burning mechanism to decrease token liquidity and ensure demand for tokens continues to rise.
Liquidity and market capitalization play a crucial role in the potential of a token to increase further. Before deciding what makes a cryptocurrency valuable, users must compare the total market capitalization of a token and its existing supply. If the supply is higher than the average token and the price is much higher than expected, then that cryptocurrency has had its moment of shine.
Another element is comparing the current supply with the total supply, indicating a hyper-inflated price. Thus, a rising cryptocurrency has a market supply equal to the total supply or a price valuation smaller than similar tokens with a completed issuing circle.
Identifying cryptocurrencies with a fully issued token supply and buying into projects that are not inflationary will pay dividends for investors.
Step by Step for Identifying the Next Big Crypto to Invest
Step 1: A Quick Google Search
If you don't know where to start, a quick search engine run will give you a rough idea. Simply type something like "The Next Big Crypto" into your search engine and hit the search button. We understand that this can be more confusing if you have no idea what you're looking for. So we advise that you only pick top websites like dappGambl and similar ones to find out what they think. Stick to the latest cryptocurrency articles for updated information.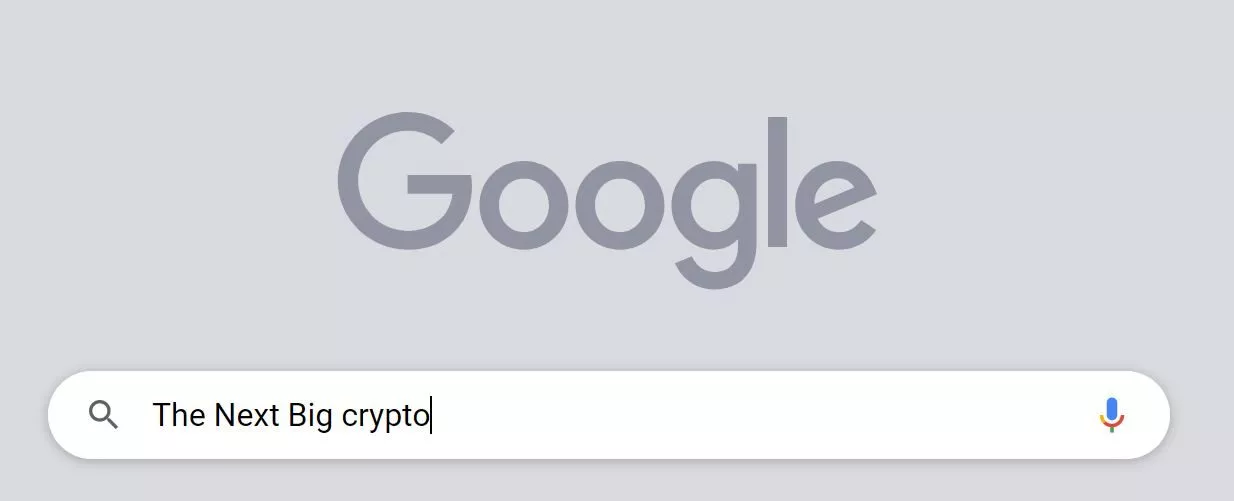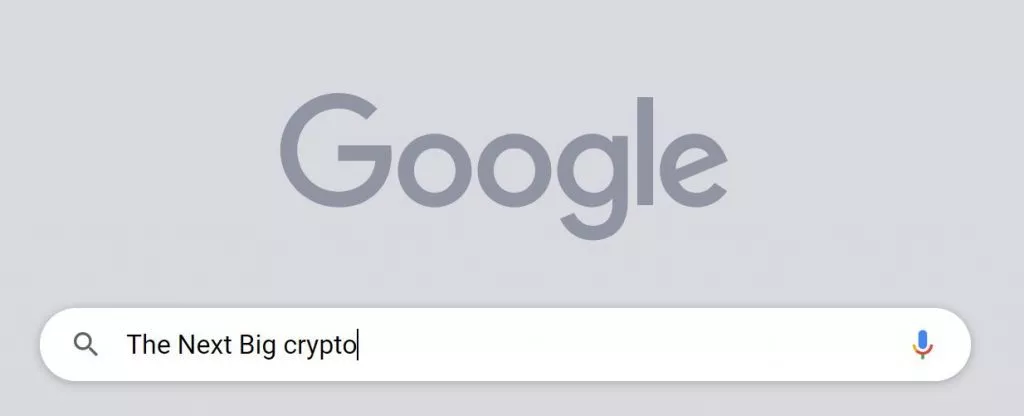 Step 2: Come up with a List of Cryptos to Evaluate
There's always a certain kind of hype around potentially explosive digital coins. The challenge is that we have no timeline of when most of the coins being hyped up will rise, yet we are only interested in the next big thing. Nevertheless, list down different cryptos you think have potential. Make use of the information you picked from your internet search to add more candidates to your list.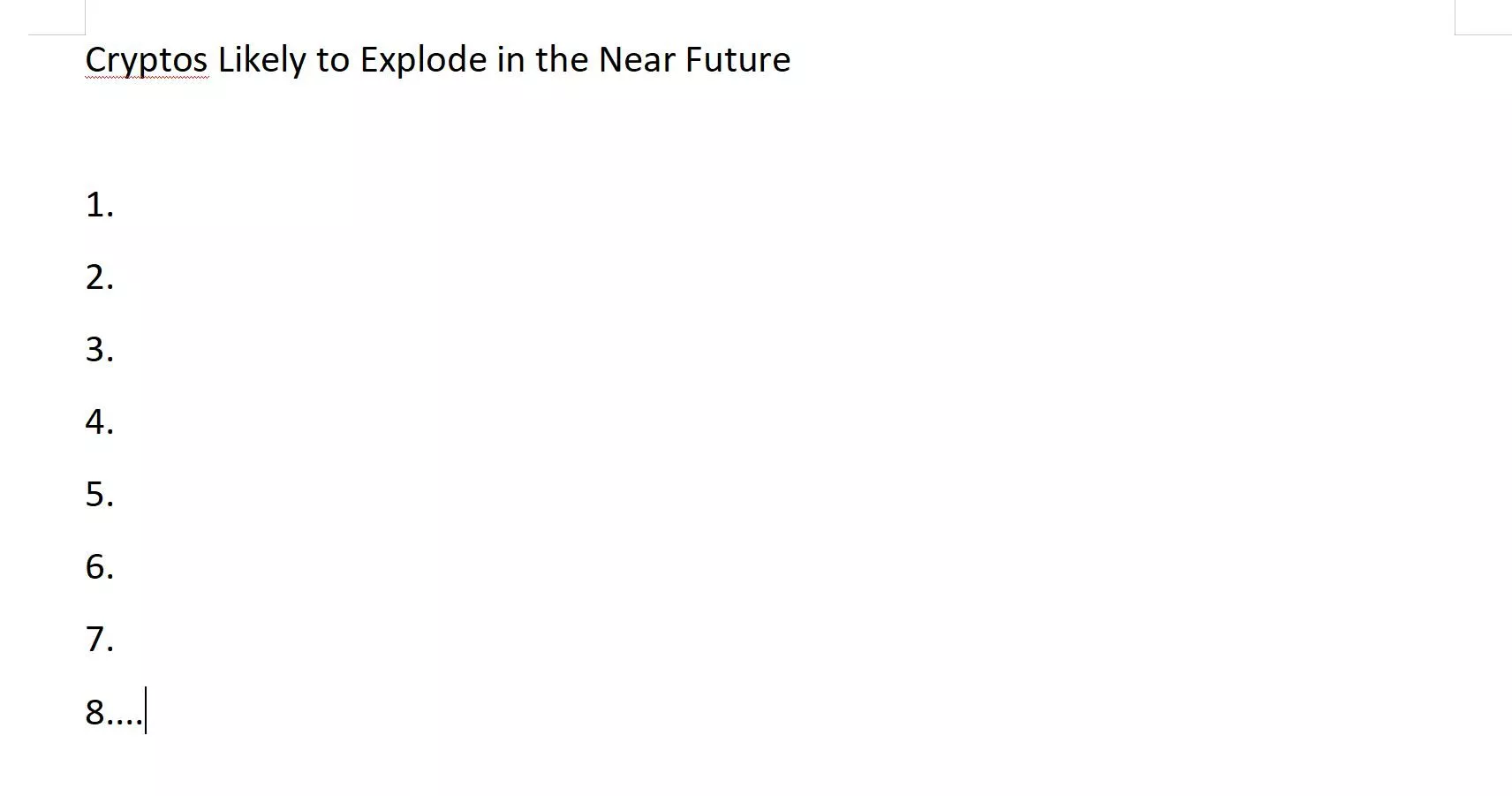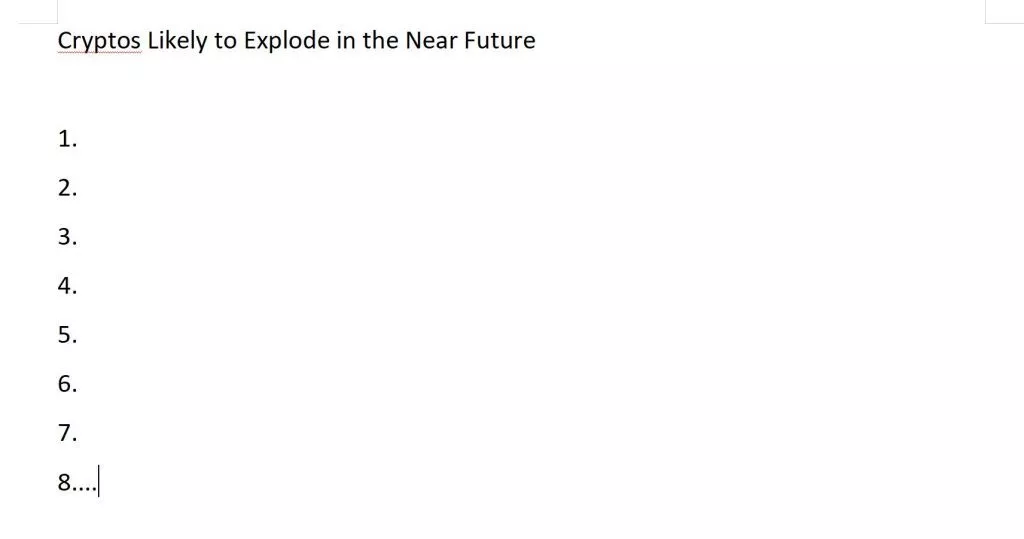 This is where the rubber meets the road. You need to start narrowing down to a few options with the highest potential to explode in the near future. How do you do that? Scrutinize each candidate against the following factors:
Price: You want to stick to low prices cryptos that have not yet made major strides in terms of price gain. Remember, you are looking for massive profits. It's more likely that crypto priced at $0.001 will pay you a 2000% return than one valued at $5000.
Supply: Assuming there's high demand and a good use case, a coin's value will likely go up as the supply nears maximum.
Buzz & Following: Digital currencies like Dogecoin grew on a wave of memes. Chances a crypto will explode when it doesn't have a significant buzz, and an active community of followers is close to zero.

Now that you are only left with a few options, it's time to rank them. To do so, we recommend carrying out a chart analysis of each crypto on your list to pick up any hints of buying volume. You don't have to be an expert to do this. Just by looking at any crypto chart on sites like CoinMarket.com, you can tell whether the trend is rising or not. Hardly will a digital coin explode before the big players stake their orders. Most of them invest tons of money in research, so they start buying orders stealthily when preparing for a massive bull run. The good thing is that you easily identify their activities on the chart.
Step 4: Confirm with fundamentals.
Step 5: Determine when to Get in
Final Words
Spotting a rising cryptocurrency involves using multiple strategies and making decisions guided by data rather than intuition. One of the best is the top cryptocurrencies by market capitalization and adoption, as they can yield further results in the long run.