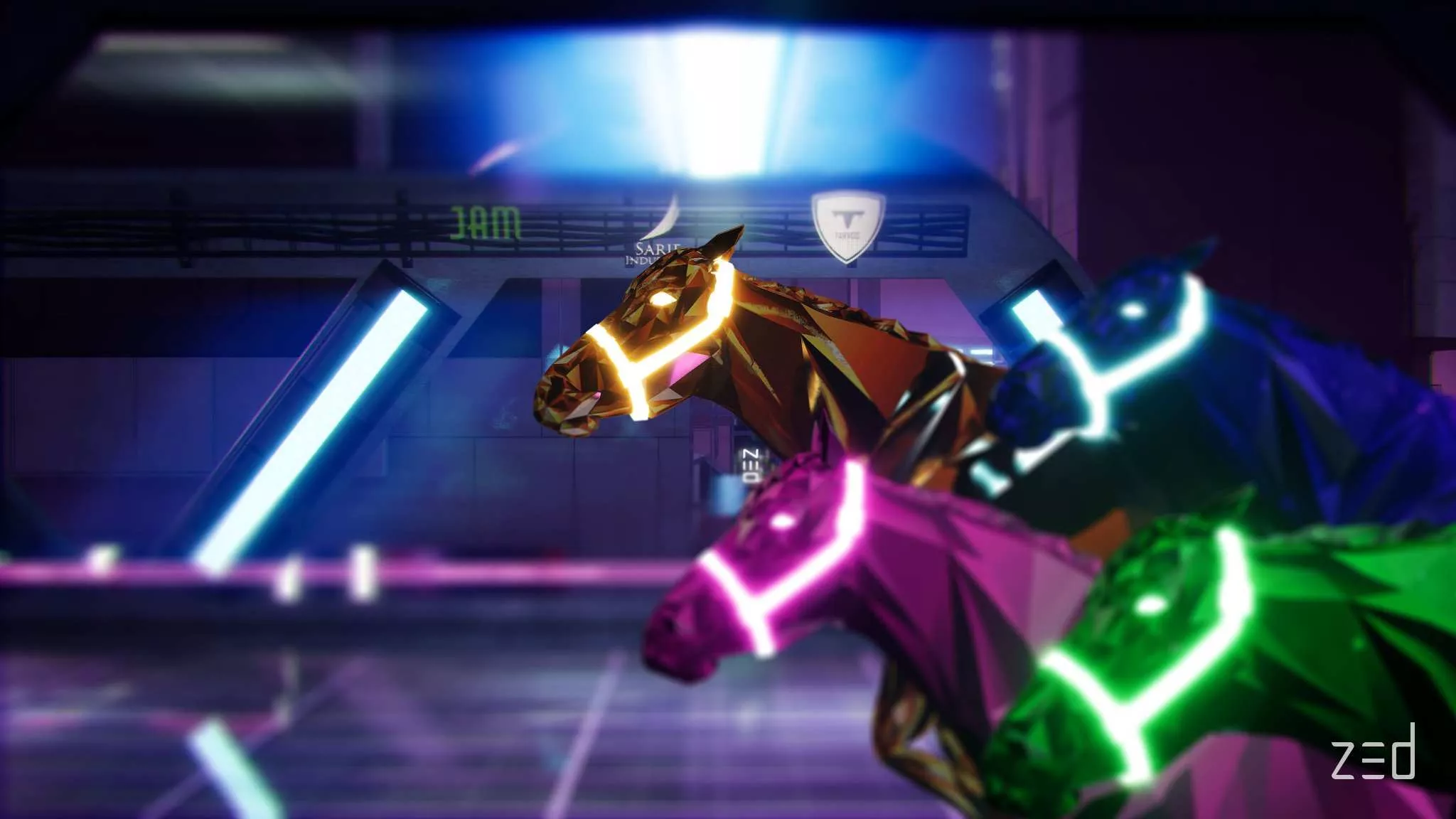 What is NFT Horse Racing?
NFT horse racing is regular horse racing turned into digital horse racing and a form of crypto betting. Like horse racing in real life, horses are bought based on their bloodline and are entered into races where the winning horse owner gets the prize money. However, unlike real horses, you can't feed or pet virtual racehorses.
Best Bitcoin Horse Racing Betting Sites
With NFT horse racing becoming ever so popular, Bitcoin horse race betting sites are also gaining in popularity. Since Bitcoin horse race betting sites typically offer better odds than traditional online horse betting sites, as they are not subject to the same restrictions, it is no surprise that they are favoured by bettors worldwide.
From the majority of existing crypto casinos that allow crypto horse racing betting, we've curated a list of the Top 5 casinos to choose from. Our top casino list takes into consideration factors such as ease of play, ability to gamble anonymously, and a trusted casino.
Although real-world racing is still a thing, NFT racing is fast becoming a trend in the crypto world. They both involve buying, breeding, entering races, and making a significant amount of money. The major differences are that NFT horse racing is more easily accessible for everyone with a cryptocurrency wallet address and is not bound to a specific location. Instead, NFT horse races occur on blockchain platforms – in the metaverse.
Like real-life racing, nft horseracing entails that owners can bet on their horses and win real money. Crypto horse racing is significantly less expensive than racing in the real world; training a real horse will require thousands of dollars. NFT horses have no risk, don't eat, don't require bonding, no medical costs, don't die, and there is a 100% certainty of making profits from digital horse racing.
What is Zed Run NFT Horse Racing?
Zed Run is a digital horse racing platform where players can own, breed, and race their digital horse NFTs. Similar to real-life scenarios, players can interact with other NFT horse owners, only this time, interactions are mediated by blockchain technology. In the case of Zed Run NFT, these interactions occur on the Ethereum blockchain. The game has gained massive popularity, and there are over 15,000 stable owners on Zed Run crypto.
Before purchasing your first horse, you should take note of the bloodline, genotype, and breed horsed – that is if you want to start gambling you NFT horse.
There are a total of 4 bloodlines on Zed Run, each with its unique characteristics. However, owning a pure bloodline does not automatically entail winning the race, but you have higher chances. Below at the four bloodlines, players can own.


Nakamoto – This is the rarest and purest bloodline, with a high scarcity rate. They are also called the samurai breed and are the most expensive racehorses.

Szabo – These are also super rare with low availability but are considerably less expensive than the Nakamoto bloodline.
Finney – Although the third rare breed, the Finney bloodline can still perform well. The availability isn't too low. 
Buterin– The Buterin bloodline is the most common thoroughbred in the Zed universe. The horses are easy to find, quick, and sturdy.
Zed Run NFT Horses and Genotypes
Genotype is the gap between the pure form and the current form. Numbers range from Z1 to Z268, and the lower the number, the purer the horse is. Genesis, the original bloodline, always ranges from Z1 to Z10, while offsprings have numbers below Z10. Again, a lower number doesn't mean you'll win the race, but you have higher chances.
There are six breeds in the Zed universe and are ranked in order of purity: Genesis, Legendary, Exclusive, Elite, Cross, and Pacer. Genesis horses are thoroughbreds, and only 38,000 of them will ever be made available in the game.
The secondary factors are gender and coat color. There are 7 coat color groups: Neptune, Earth, Wild, Moon, Fiery, Classic, and Mystical. Although the colors don't directly affect a horse's performance, they can affect the horse's personality. For instance, Earth represents horses that love to run races but can be easily frightened.
How to Buy a NFT Racehorse for Zed Run
You can buy an NFT horse from the comfort of your bed, unlike a real horse. If you're looking to buy Zed Run horses so you can start gambling and, you can find them on Opensea. Follow these steps to understand fully: 
Install a new digital wallet – You'll need a digital cryptocurrency wallet to interact with the Ethereum blockchain, such as Metamask. After topping your Meta wallet with Ethereum, you have to convert to WETH (wrapped Ethereum) since Zed Run is on a layer 2 Ethereum version. 

Connect – Go to Zed Run's website and connect your Metamask wallet to create your digital stable.

Searching the market – You could get a thoroughbred from Zed Run in the early days, but now the website rarely drops NFT horses. The next best thing is Opensea, where you can find all the racehorses on sale.

You can now purchase racehorse NFTs with your WETH currency.
With more than $30 million in sales of digital horses and $20 million in funding raised, Zen Run's value has continued to grow in leaps and bounds. As a trickle-down effect of the company's value, the values of its racehorses have also increased. If you've ever wondered how much Zed Run horses are, their prices range from as low as $130 to as high as $45,000. Nakamoto is the rarest and most expensive, while Buterin is the commonest and least expensive.


How to Race Your Zed Run NFT Horse
For a racehorse to compete in races, it needs to have a class number and each horse has a set nft odds.  There are 6 classes in the Zed universe, and each class is designed to cater to horses with similar racing abilities to maintain a level of fairness. In order of increasing rating: Griffin (unraced), Class 5 (0 – 20), Class 4 (21 – 40), Class 3 (41 – 60), Class 2 (61 – 80), Class 1 (81 and above). A horse cannot enter a race below his class.
When a horse races for the first time, he will enter the free Griffin class race, an entry point that determines your horse's class. For each horse genotype, there's a corresponding base rating: 
Z1 to Z4 – 57
Z5 to Z9 – 37
Z10 and above – 17
After the Griffin class race, points are assigned according to the places taken. First place is awarded 4 points, second place receives 3 points, and the points continue to recede until the 12th place. For example, if a Z6 horse finishes in third place, its class rating will be 37 + 2 = 39, which puts the horse in Class 4.
On Zed Run's website, click on any free gate number and select your eligible racehorse. Each race has a name, class designation, distance, entry fee, and prize money. After 12 gates have been filled with horses, the race will begin, and you can either watch live or go back to replay the race. If your horse finishes in 1st, 2nd, or 3rd position, your winnings will be automatically added to your cryptocurrency wallet.
How to Make Money With Your Zed Run NFT Horse
There are three ways to make money in NFT horse racing: breeding, racing, and selling.
To breed nfts, the opposite sex of the horse is required. A female horse's owner will pay a 'stud fee' charged by the male horse's owner, although there is a minimum charge fee. The fee is split among the male horse owner, the prize pool, and Zed Run. A female horse can only have an offspring in a month, while a male horse can have three offspring per month. Horses cannot enter NFT horseracing during the breeding process, but the foal can be entered into runs immediately. Also, horses cannot breed with their parents or siblings.
As you breed more horses and grow your stable, you can earn money by selling your NFT horses. Don't forget that the value of your horses is proportional to the number of races won; the more you win races, the higher the money you earn.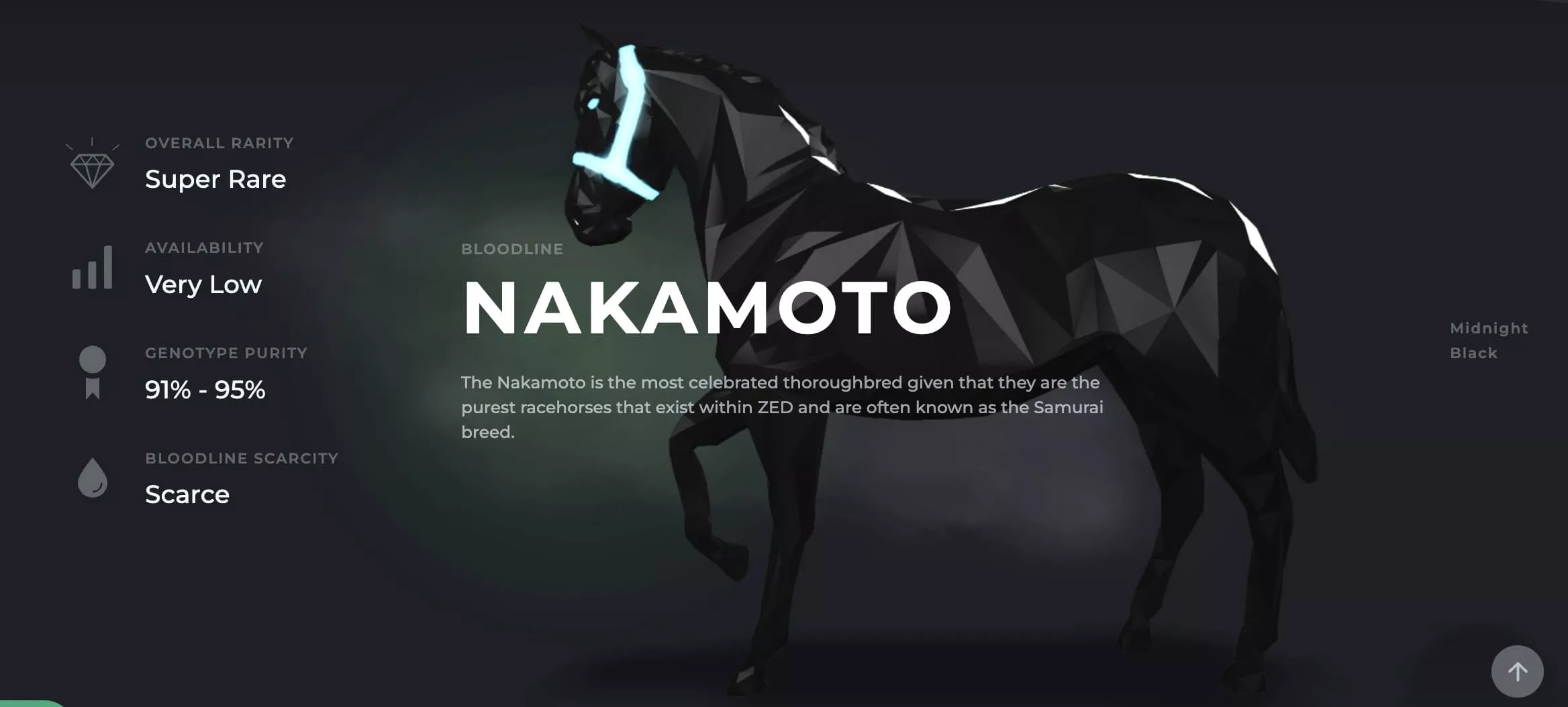 There's no doubt that NFT horse racing and horse race betting is here to stay; it has the potential to overpower its real-life horse racing counterpart completely. The advantages of digital horse racing far overwhelm the disadvantages as users are no longer required to physically attend the race track and they can place odds wagering on NFTs from within the metaverse. Surely, everyone should jump on the trend before it's too late if they seek the excitement of NFT odds betting.
Is NFT horse racing a video game?
Although NFT horse racing seems like a video game, it isn't. But just like in video games, there's a level of skill required for a player to be successful.
How much does an NFT racehorse cost?
NFT racehorses range in price from as low as $130 to as high as $45,000. Exclusive horses have been bought for as high as $125,000.
Is Zed Run a good NFT?
Yes, Zed Run is currently rated as the best digital horse racing game on the Polygon network.