Swissborg presents itself as a top contender when it comes to a crypto exchange programme. The platform boasts excelletn UX and offers a wide variety of features.
SwissBorg Overview
Popular cryptocurrencies accepted
SwissBorg Key Facts
Headquarters
Lausanne, Switzerland
Licences
Estonian Virtual Currency Service License, AMF-France PSAN Registration, VQF-Switzerland Regulation, Two Licenses For GDPR Data Protection Requirements
Type of exchange
Centralized
Best for
Crypto investors looking for an asset management platform and exchange with interest-earning features
Fiat Currencies Available
United Arab Emirates Dirham, Canada Dollar, Switzerland Franc, Czech Republic Koruna, Euro, United Kingdom Pound, Hong Kong Dollar, Hungary Forint, Israel Shekel, Norway Krone, Romania Leu, Sweden Krona, Singapore Dollar, South Africa Rand
Cryptocurrencies Available
40+
A successful $53 million fund-raising effort.
A $1 billion valuation
The launch of two successful apps: community and wealth app
Runs Smart Yield wallets.
Community governed.
The platform and the native Swissborg token (CHSB) have high adoption.
Swissborg is a crypto exchange and investment management platform. It offers users a comprehensive wealth overview, financial goal planning, and portfolio management tools. While wallet management platforms may appear more traditional, Swissborg is involved in the emerging decentralized finance (DeFi) space. Users can also earn a competitive return on digital assets. Unlike competitors, it enables users to earn digital assets by making their investments available on all exchanges, from centralized exchanges to various Ethereum DeFi applications. Swissborg provides users with the tools, infrastructure, and clarity they need to manage their digital assets effectively. It aspires to build a user-friendly platform where users can manage their wealth without the assistance of financial experts. It accomplishes this goal by integrating with major cryptocurrency exchanges and Defi protocols and utilizing a community-based ownership model. In addition to its desktop platform, it has an award-winning Swissborg App for iOS and Android devices. Swissborg has received numerous awards, including Mass Adoption Project of the Year and being named one of the Top Swiss FinTech Startups. So, is it worth investing in Swissborg? Let's find out in this Swissborg exchange review.
Pros
Community-focused
Providers of top-tier liquidity
Secure platform
Accepts both fiat and cryptocurrency
Available in over 115 countries
Excellent Reward Program
Cons
US citizens aren't accepted
Doesn't accept credit cards as a deposit method
Security Features
Like any other cryptocurrency exchange, prioritizes security. MPC encryption, platform stress tests, and the development of advanced security software are some of the features keeping user funds safe. Let's look at security features.
Multi-party computation (MPC) keyless technology: This is a highly secure cryptography method where different parties transact or perform computations without revealing private keys. By executing mathematical computations without one party revealing its information to another, MPC technology ensures top-tier security. This eliminates any point of failure and increases the security of the exchange.
Fireblock: Fireblock is a security partner. It is one of the secure and flexible platforms that use multi-party computation technology to secure digital assets. As a result, the Swissborg Wealth App is stable and secure, and hackers and bugs can't gain access.
Offline Cold Wallet Storage: The platform stores its users' funds in a multi-signature cold wallet. This security feature protects clients' investments from hackers while also mitigating risks.
Two-factor authentication (2FA): Users can enable two-factor authentication (2FA) on their accounts to add an extra security layer.
Account Recovery: Users don't have to worry about losing funds if they switch devices or forget their login information. The platform's help center contains a detailed article on the recovery process.
Complains Received
While it's common for a cryptocurrency platform to perform poorly on TrustPilot, Swissborg is an outlier. The platform has a rating of 3.6/5 based on 1107 reviews. The rating is 67%, which is an excellent result. Customers praise it for being a safe, user-friendly mobile app for buying and exchanging assets that are also community-focused and transparent. Interestingly, the Swissborg has responded to almost every review, good or bad. While it can never be perfect, some users have expressed dissatisfaction with its withheld funds and poor customer service.
Orders Types
Limit order
 Stop order
 Market order
Staking / Earning Interest Accounts 
Users can earn passive income on supported crypto assets such as Bitcoin and Ethereum, stablecoins such as USD coin (USDC) and Tether (USDT), and, of course, Swissborg's native token, CHSB, using the smart yield feature.
The procedure is straightforward. Simply transfer your funds to the yield account and let the platform use them by lending them to others. Then all you've got to do is wait for your rewards according to how much profit the site earned. There are over 20 assets that can be yielded. The rates range from 0.2% for Bitcoin to 3.8% for ETH, 14% for SushiSwap, and 25% APY for Swissborg Token.
Exchange Token
CHSB is a crypto utility token developed by Swissborg. It's an ERC-20 standard coin with a 1 billion token supply. Currently, just under 30% of CHSB circulating supply is staked, with over 55% of CHSB tokens held in yield accounts, which has a significant impact on supply
The crypto exchange purchases CHSB tokens weekly using Smart Yield program fees. 20% of all revenue earned from exchange fees is used to purchase CHSB tokens.
The native coin holders receive numerous benefits such as:
Future exclusive wealth management products and services will be available in the app.
Premium membership with excellent exchange rates and no fees. This is known as "staking" on the wealth app.
The right to vote on referendums and the future of the Swissborg Platform.
Earn incredible benefits for investing in the Swissborg ecosystem.
Price volatility is one of the most serious issues confronting the crypto market. Swissborg used to have a Protect and Burn policy, which supported the price of CHSB tokens by buying back and burning circulating tokens whenever the price of CHSB was falling. This has evolved into the Protect and Choose feature, in line with the need to be a community-centric platform. So, instead of buying back and burning CHSB tokens, Swissborg switched to buying back the tokens and putting them into a pool where loyal token holders can vote on how the funds should be used.
Asset Classes
NFTs are ERC-1155 tokens issued by Swissborg. These tokens are created and infused with the Enjin coin on the Enjin platform. The Enjin platform is a pioneer in the world of NFT. Swissborg doesn't mention its NFT offers other than telling users to invest in NFTs through their app.
Leverage
Leverage in cryptocurrency refers to borrowing funds to increase one's buying or selling power. For example, 3x leverage means that your $100 will turn into $300. Investors use leverage to increase their profits. Unfortunately, Swissborg doesn't provide this option.
The OTC Desk
Over the counter (OTC) desks carry out client trades. It acts as a broker for investors who want to trade in bulk. An OTC desk finds the best price and manages the transaction on the client's behalf. Our Swissborg review found out that the platform doesn't support over-the-counter trading.
Other Key Features
Swissborg Thematics
Swissborg Thematics is a wealth app crypto bundle feature that allows you to invest in the crypto market effectively. It also assists investors in diversifying their portfolios. Because crypto investing can feel like throwing darts at a moving dartboard, this feature allows investors to put their money in crypto bundles that contain pre-selected digital assets grouped to mitigate risk and boost performance. The crypto bundles are rebalanced automatically regularly, with funds going into higher-performing crypto assets to maximize gains while remaining diversified. The bundles available to investors are organized around themes. Investors can choose a theme in which they've got a long-term belief.
The Swissborg Exchange Smart Engine
Swissborg's Smart Engine features provide users the best liquidity and exchange rates available in the crypto market. This is accomplished by scanning hundreds of trading pairs in seconds and searching the best exchanges for the best rates to buy or sell in your local currency or digital assets. It also recommends the best routes to take to complete your orders as quickly as possible.
This method can provide access to 1,650 distinct crypto-to-fiat trading pairs, even if they are unavailable on an exchange. The exchange will handle all of the conversions. It also keeps its trading fee structure simple, charging an exchange fee instead of a market spread. It's also worth noting that if you've got a premium account, staking CHSB can help you reduce your fees.
As a result, rather than users executing orders, the platform fulfils its customers' orders at the best affordable price. As a result, you won't find an order book in the Swissborg app. This is a fantastic feature, especially for cryptocurrency newcomers. This isn't the platform to use if you want to set price triggers and stop losses.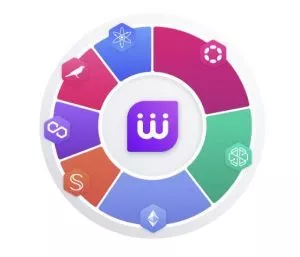 Swissborg Exchange AI Portfolio Analytics
The Swissborg analytical tools and advisors are excellent resources for investors, particularly newcomers. Users can gain deep insight into their profile performance, get real-time advice on improving it, and better understand their costs and weak points using the Wealth App's hourly asset analysis and deep learning algorithms. This includes analyzing a user's overall performance, providing real-time advice, and displaying their personal return on investment (ROI) for gains made and losses suffered.
Deep learning algorithms are also used by Cyborg advisors to predict the direction of trends and assist users in making better investment decisions when investing in any crypto asset offered by the Wealth app.
The Cyborg Predictor employs machine learning to forecast the movement of an asset by combining historical data and technical indicators. The Swissborg indicator, which combines the most popular technical indicators, allows traders to assess the strength of a market quickly.
The volume of transactions over a 24-hour period calculates the Community Sentiment indicator. The support and resistance indicator highlights critical levels to be aware of.
Swissborg Community App
This app is a good choice for those who are new to the world of cryptocurrency. With this app, the exchange has effectively gamified the learning process of cryptocurrency and blockchain technology, and users can earn a small amount of cryptocurrency. At the same time, they learn about this new financial revolution.
It's available for both iOS and Android.
Smart Send
The smart send feature allows you to send cryptocurrency while paying no gas fees easily. It works with all Swissborg assets and is available in over 115 countries. To send money, you don't need a cryptocurrency wallet. To send money instantly, enter your phone number. To employ smart send:
Choose the coin you want to send.
Locate the recipient in your contact list or enter their phone number.
Enter the amount to be sent.
Select Send.
Swissborg's Reward Program
The Swissborg Rewards Program is a referral program in which users can invite friends and earn CHSB. Every successful invite earns the user and their friend a Swissborg token reward ticket worth €1 to €100. The procedure is straightforward:
Visit the rewards tab in the Swissborg app to share your invitation link.
Your friend downloads the Swissborg app and deposits at least €50 into their account.
You and your friend receive a reward ticket and can claim your CHSB reward.
Please remember that you won't be eligible for the program if you've already downloaded the app. Also, if you downloaded the app without first "pairing" it with your phone, you aren't eligible for the Rewards Program.
Swissborg is compatible with over 43 different cryptocurrencies. They are as follows:
Bitcoin
Ethereum
Swissborg Token
USD Coin
PAX Gold
Enjin Coin
Binance Coin
Aave
KyberNetwork
Dai
Compound
Ren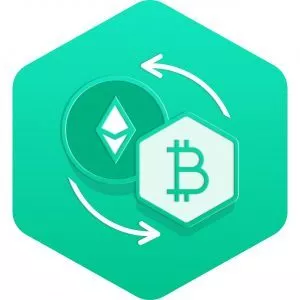 Swissborg trading pairs include:
CHSB/BTC
CHSB/ETH
CHSB/USDT
CHSB.USD
CHSB/USTC
USDC/CHSB
CHSB/LTC
CHSB/DOGE
CHSB/EVR
CHSB/WAVES
CHSB/RUB.
Swissborg doesn't charge any deposit fees. However, depending on your bank, you may incur bank charges.
Users will, however, incur varying withdrawal amounts and network fees. For BTC, ETH, and CHSB withdrawals, the platform charges 0.10%.
Swissborg trading fees are an intriguing offer. While standard users must pay a 1% fee for trading between fiat, stablecoins, BTC, or CHSB, premium users pay no fee for this type of trading.
Deposit and Withdrawal Methods
Users of the Swissborg Wealth App can deposit and withdraw funds from their accounts using Direct Bank Transactions and Crypto Funds transfers. Clients can only make deposits from bank accounts that match the Swissborg App's names.
It should be noted that the Swissborg platform will return all deposits from other third-party bank accounts.
Users of Swissborg can fund their accounts in 16 different fiat currencies, including USD, EUR, and GBP. Withdrawals are simple, and because Swissborg banking partners are members of the SEPA and Faster Payments networks, bank transfers can be completed in as little as 5 minutes.
Limits
Swissborg has a minimum and maximum amount of assets that must be ordered. These are:
The bare minimum is $5 USD/EUR/GDP/CAD, or the equivalent in digital assets or CHSB Tokens.
Maximum amounts: 20,000 USD/EUR/GDP/CAD or digital assets equivalent, or 5000 CHSB Tokens.
Swissborg has several account levels with varying transaction limits that necessitate varying KYC/AML approval levels. The following classes are available:
Level 1: Deposits are limited to EUR 5,000, and withdrawals are also limited to EUR 5,000.
Level 2: Deposits are limited to EUR 50,000 and withdrawals to EUR 1,000,000.
Level 3: Funds Proof: Deposits and withdrawals are both unlimited.
Level 1 approval is granted when a user provides proof of identity. Levels 2 and 3 are awarded when users reach deposit and withdrawal limits.
How to Proceed with a Transaction?
Once traders have connected to SwissBorg, it's time to start trading. Fortunately, it's not a challenge to get up and running, particularly for new users. In our SwissBorg exchange review, we have collated a simple guide to help users make their first trades.
Step 1: Tap on the invest button
Step 2: On the drop-down menu, click buy crypto
Step 3: Choose how much to buy or sell
Step 4: Confirm the exchange
How to Make a Deposit?
Users don't make a deposit as such with SwissBorg exchange. Instead, they connect a banking card and can make crypto purchases through it. As a result, traders can fund their crypto wallets, and add to their holding.
How to Make a Withdrawal?
Withdrawals work in the opposite manner to deposits. Users must exchange their crypto for fiat and then pay it back onto their bank card. An exchange can sometimes take a while to convert back to fiat, so users must know there's a wait. However, on the whole, it's a relatively fast process.
Of course, it's not the same procedure for staked crypto funds. Users must either wait for the staking time to complete or pay a break fee to end the process early. After completing this, the withdrawal will be available. Traders have to be aware ending a staking period early can cause losses, so they should only do it when completely vital.
Desktop
Swissborg doesn't provide a desktop application. While a desktop app makes the experience more seamless, users will appreciate the Swissborg mobile app's intuitive and user-friendly design.
Mobile App 
The exchange has a well-organized and intuitive app accessible to both iOS and Android users. To gain access to Swissborg's products and services, download the platform's mobile apps: the Wealth App and the Community App. Download takes a few seconds to minutes depending on your internet speed. Pick the account type you prefer and register. Keep in mind that you will have to submit KYC documents for a wholesome experience. There are two types of accounts: Standard Accounts and Premium Accounts. Both of them have similar interfaces. However, the premium version comes with zero exchange fees on select cryptocurrencies such as CHSB, stablecoins and BTC. The dashboards for both standard and premium accounts are exceptionally powerful and easy to navigate even for first timers. Each token has a simple explanation beside it making crypto investing easy for everyone.
How to Use Crypto Exchange on Android & iOS?
After creating an account, it's simple to start. Our guide provides the most relevant steps to start trading. So, beginner investors should take a look to ensure they don't suffer any problems.
Step 1: Open the app on the relevant mobile device
Step 2: Traders must ensure they fulfill KYC and connect a crypto wallet
Step 3: Navigate to the appropriate section; trading or staking are the most common
Step 4: Choose the required crypto and carry out the desired actions
Backup & Restore
All backups have to be through the wallet rather than the exchange. So, creating a backup isn't the responsibility of SwissBorg. As a result, traders must carry out the process themselves through the wallet. A one-size-fits-all guide is impossible because each wallet has different settings and protocols. However, investors can still get an idea of the process with a specific guide.
Users who are using Metamask can connect their wallet with the following steps:
Open the Metamask wallet menu
Navigate to the settings section
Open the security page within the settings section
Click on the link to protect the wallet
Select the protect the wallet option
This creates a backup and ensures users have more peace of mind. Despite this, it's still critical for traders to check the specific instructions for their wallets, as there may be slight differences in how they work.
Troubleshooting
Even the simplest platforms have common issues that crop up. With Decentralized platforms having a few extra steps to a standard exchange, it can throw up some problems for new users. So, we've covered the most common issues to help traders get started.
One of the biggest issues traders see is crypto not appearing in their wallets. Fortunately, most of the time, this has a simple solution. Instead of panicking, users must check on the blockchain to see if it has hit the confirmation threshold. If it hasn't, investors must wait for it to happen, and the crypto will land. Each transaction will have a different requirement for blockchain confirmations, with more substantial transactions having a higher amount.
If card payments bounce back, the most common error is naming issues. So, traders must check the card is in their name. As the site conforms to KYC protocols, users cannot use funds from someone else to make trades. Additionally, business cards and prepaid cards are not accepted.
These are the most common issues, but users can find a more comprehensive list at the SwissBorg site.
An exchange can only be as good as its support. Swissborg app has a live support feature where you can talk to a live representative directly. Unfortunately, we experienced situations where we got transferred to other agents multiple times, increasing our wait time. You can also use th help page where you simply fill in your request and submit a ticket. The average response time for simple issues we raised during this Swissborg review was 24 hours. It may take over a week to handle complex issues due to the slow response time. Swissborg has offices in Lausanne, Switzerland, Toronto, Canada, London, England, and Tokyo, Japan. You can go there and get customized solutions to your problems if you're near any of these centers.
Swissborg vs Other Crypto Platforms
Celsius vs Swissborg
Celsius Network is among the top competitors of Swissborg. It is a cryptocurrency lending platform that allows users to buy, borrow, and make payments in various cryptocurrencies. Both platforms have exciting offers for their users. They both, for example, have native tokens (CEL for Celsius and CHSB for Swissborg) whose holders receive amazing benefits such as discounts. However, several features distinguish them; for example, Celsius is available in more than 100 countries, whereas Swissborg is available in more than 115. Swissborg charges withdrawals. If you use Celpay, the network payment service, Celsius deposits and withdrawals are free. Both platforms must improve their customer service. Celsius provides email and phone support, whereas Swissborg only has a comprehensive page, a request form, and live chat. As a lending platform, it doesn't support cryptocurrency swapping and thus doesn't have trading pairs or fees. Swissborg, on the other hand, charges a 1% trading fee to standard users and has over 37 trading pairs. Celsius has more than 40 digital assets in crypto support, comparable to Swissborg's 43+ assets. It accepts USD, EUR, AUD, and CAD, whereas Swissborg accepts approximately 16 fiat currencies, including Swiss Franc (CHF), Czech Koruna (CZK), British Pound (GBP), and South African Rand.
Nexo vs Swissborg
Nexo is a platform for crypto lending and borrowing. It was founded in 2018 in the UK with its headquarters in London. Nexo supports 17 crypto assets, while Swissborg boats over 43 cryptocurrencies. Supported fiat currencies are EUR, USD, and GBP. Nexo customer service includes live chat, online messaging, and email support, while Swissborg has only live chat and help ticket request forms. Unlike Swissborg, which charges a network fee and a varying withdrawal fee, Nexo's withdrawals are free. Additionally, Nexo offers users up to 3x leverage on their crypto holdings, somethign you will not find on its competitor's app. Nexo payment options include debit/credit card, or bank transfer, whereas Swissborg supports SEPA and bank transfers. Other features include the NEXO card, which allows users to spend their crypto and earn interest, and Nexo ambassador programs, through which users get paid for promoting crypto adoption. On the other hand, Swissborg offers a referral program and a smart send. Depending on your loyalty level on Nexo, you can also get a loan with an interest rate between 13.9% and 6.9%. This feature resembles the Swissborg smart yield feature can get you up to 25% APY for Swissborg Token. While there are some differences in the apps, there is no doubt that the two competitors have more similarities. The choice rests in your hands.
Is The Swissborg Exchange Right for You?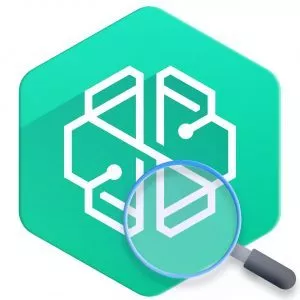 The Swissborg shines out as being a user-friendly app with wealth management tools. And while it may be suitable for every investor, it's best suited for:
Investors who need a self-trading platform
Crypto investors looking for a portfolio management app that supports trading, crypto interest earning, and a native token.
Novices looking for a beginner-friendly exchange to enter the crypto world.
In summary, Swissborg is a free financial planner and portfolio manager. It's secure, has no hidden fees, and is a significant exchange to buy, sell, and swap crypto assets. It also offers valuable analytics; hence, you can rely on it to make solid crypto investment decisions. Because it works with many other DeFi protocols, it will provide you with the best price, liquidity, and yield rate.
We recommend Swissborg because it is a well-thought-out platform for those looking for asset management and exchange platform. Download it now.
In this section, Eugene Abungana will address your inquiries and the most common questions regarding SwissBorg Exchange and offer guidance to newcomers in the field. Feel free to submit your questions through our contact form, and we will strive to respond within 48 hours.
What is the SwissBorg exchange ranked?
It depends on the metric, however, the market cap for SwissBorg hovers around $125,000,000, which gives it a ranking between 195 and 210 depending on current market conditions.
Where is SwissBorg based?
SwissBorg's main office is in Switzerland, but it also has other offices in Canada, Estonia and the United Kingdom. The Estonian office makes particular sense due to the Estonian regulatory license.
What are the benefits of using the Swissborg Exchange?
Users enjoy the diverse asset management and trading tools such as portfolio management thematic, smart exchange engine and AI price analytic tool. The platform also offers free deposits and zero trading fees for premium users.
Is the Swissborg Exchange safe?
The exchange is highly secure. Some security features include two-factor authentication, MPC cryptography, cold storage, account recovery, and platform stress tests.
Is SwissBorg regulated?
SwissBorg is regulated by the Estonian and French financial authorities. So, it provides a greater degree of protection from a legal standpoint.
How straightforward is it to use the Swissborg Exchange?
Swissborg's founders wanted to build a user-friendly platform. The wealth app is simple to use, and users don't need crypto knowledge to use it.
Is it safe to leave crypto on SwissBorg?
Yes, as long as the wallet has safety features in place, traders are safe to leave their crypto linked to the site.
What options are there for customer service?
The platform has few support options. It only offers a live chat and help page where users can submit a support ticket.
Are there any restrictions on who can use the Swissborg Exchange?
The exchange is available in over 115 countries, including France, Hongkong, Greece, and Denmark. Its exclusion includes the US and Australia.