Crypto.com touts itself as a one-stop shop for all cryptocurrency requirements. You can use it to purchase digital coins, invest, and hone your cryptocurrency trading skills. It is one of the most compliant exchanges, collaborating with global regulators to make digital currencies beneficial to all. Here is an overview of the market.
Crypto.com Overview
Crypto.com Key Facts
Licences
Financial Conduct Authority (FCA) of the United Kingdom, Singapore Monetary Authority, Dubai Virtual Assets Regulatory Authority, Organismo Agenti e Mediatori (OAM), Hellenic Capital Market Commission, Securities and Exchange Commission, Cayman Islands Monetary Authority, Malta Financial Services Authority (MFSA)
Type of exchange
Centralized
Best for
Sport, derivatives, and margin trading.
Fiat Currencies Available
Australia Dollar, Brazil Real, Canada Dollar, Euro, United Kingdom Pound, Singapore Dollar, United States Dollar
Cryptocurrencies Available
500+
Products & Services
Staking
Swapping
Online wallet
Exchange
Branded card
Cashback rewards
Low trading fees of 0.075% and 0.034% for the Spot and Derivatives markets
Centralized exchange with decentralized features like DeFi wallet.
Supports NFTs and staking
50+ million users in 90+ countries
Cronos (CRO) is the platform's native coin.
Introduction to Crypto.com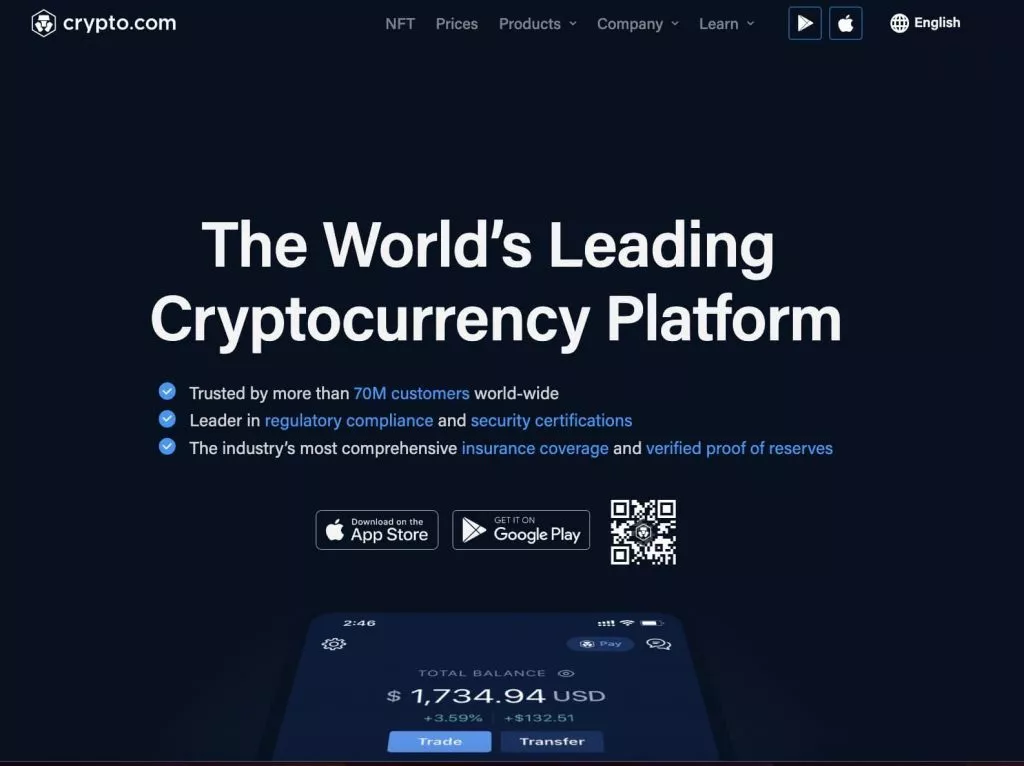 Crypto.com is an affordable digital coin exchange where you can buy and sell a wide range of cryptocurrencies. The company also offers an NFT marketplace, an independent crypto wallet, and a virtual money credit card. Users are free to connect multiple digital coin wallets including hardware ones like Ledger Nano. The company suffered a security breach in January 2022 leading to a loss of about $15 million. Clients who lost their funds were quickly reimbursed within 12 hours. Apart from the PC platform, investors who are always on the move can take advantage of the iOS/Android app to trade. The exchange intensified its marketing activities over the past two years, leading to an upsurge of users from 10 million in 2021 to over 70 million by the end of 2022. A significant part of the marketing budget went on high-profile marketing campaigns such as Formula One racing, the NBA, NHL, European football, and others. There's a lot to learn about this marketplace. So, read this review to get answers to all your questions including its founding team, features, and what distinguishes it from other cryptocurrency exchanges.
Pros
Earn up to 10-14% interest by staking CRO.
Outstanding UI convenient for users
A comprehensive list of supported cryptocurrencies
Fees are transparent and competitive
Support for a cryptocurrency product ecosystem
Relatively affordable exchange
Money conversion is simple
Cash back rewards on Visa cards
Maximum security
Cons
Credit and debit card payments have relatively high fees
Some services are unavailable in the United States
Restricted in some countries
Customer service is subpar
Who Founded Crypto.com?
The marketplace was founded by Kris Marszalek, Bobby Bao, Gary Or, and Rafael Melo in June 2016. It was formerly known as Monaco Technologies GmbH before rebranding to Crypto.com in 2018, aiming to clearly communicate what the company was about, and attract an international appeal. Matt Blaze, a cryptography researcher, and professor, sold Monaco the domain "Crypto.com." The firm is led by CEO Kris Marszalek and is part of the Singapore-based parent company, Foris DAX Asia. Foris DAX Asia is a subsidiary of the parent company in Malta, Foris DAX MT.
Crypto.com Market Share
Crypto.com is ranked 14th by CoinMarketCap, with an average 24-hour trading volume of not less than $596 million as of this writing. This represents about 0.76% market share, compared to the 24 hour total market trading volume of about $83 billion. In terms of users, the platform boasts over 70 million active clients from at least 90 countries. Cronos (CRO), the exchange's native coin, has a fixed maximum supply of 30 billion and a circulating supply of 25.26 billion. It is currently trading at $0.1258 per coin.
Crypto.com Exchange Licence & Insurance
Several organizations have granted licenses to Crypto.com. They include the Financial Conduct Authority (FCA) in the UK, the Securities and Exchange Commission in the US, and the Malta Financial Services Authority (MFSA). Crypto.com keeps US dollars in regulated custodial bank accounts. User funds held in the Metropolitan Commercial Bank, an FDIC member, are insured up to $250,000. The platform's cold storage assets on the Ledger Vault are covered up to a maximum of $750 million by Arch Underwriting at Lloyd's Syndicate. This is one of the largest insurance programs in the industry.
Crypto.com Reputation and Security
Going by the number of registered users, 70M+, one can already tell that this is one of the highest regarded exchanges. Although it experienced a security breach, client funds were reimbursed in less than 24 hours. Besides, a $15 million loss is insignificant for a company of such magnitude. The platform is considered secure, reliable and trustworthy. By holding a US and UK license, the platform affirms its commitment to offering top tier services.
The platform has implemented several security measures to keep your funds safe. While these features are robust, we recommend you use a strong password and all personal online security measures to help strengthen your account's security. Password, biometric, email, phone, and authenticator verification are all some of the personal security features you can deploy. Remember it is unlikely that you will be able to recover your assets if your account is compromised, because crypto transactions are irreversible.
Security Options
The security page of Crypto.com begins with "Security First. Always," line and philosophy of "Defence in Depth." This declaration of their values and robust security certification strengthens their commitment to providing their users with the highest security possible. Here are some of the security features available:
100% user funds in cold storage: the exchange has integrated a ledger institutional-grade custody solution, the Ledger Vault, through a partnership with Ledger company. Furthermore, the exchange uses hardware security modules (HSM) and multi-signature technologies. Crypto.com has secured USD 750 million in cold storage insurance against physical damage, destruction, and theft by third parties.
Funds in hot wallets are corporate funds: Furthermore, all the funds in hot wallets are corporate funds. For the security of its hot wallet, the crypto exchange employs HSM and multi-signature keys. The money in hot wallets is owned by a company and is part of the exchange's total holdings. It is sufficient to cover daily withdrawal requests from customers.
Multi-factor authentication: all transactions are protected with multi-factor authentication (MFA). Password, biometric, email, phone, and authenticator verification are part of the multi-factor authentication process.
Whitelisting: Address whitelisting is an advanced security feature allowing wallet owners to specify authorized withdrawal addresses. Funds can only go to the whitelisted address, meaning even if a successful hacker tried to cash-out your digital coins, they would only be sent to the specified address.
Certifications and Assessments: Crypto.com is the first cryptocurrency exchange to have ISO 22301:2019, ISO/IEC 27701:2019, ISO/IEC 27001:2013, and PCI-DSS v3.2.1 Level 1 compliance, as well as Tier 4, the highest level for both NIST Cybersecurity and Privacy Frameworks, as well as Service Organization Control (SOC) 2 compliance. The exchange also boasts that it employs reputable security consulting and auditing firms such as Kudelski Security to test and audit its core blockchain systems. In addition, the exchange employs Hacker One, a bug bounty program, to identify flaws.
Complaints Received
TrustPilot gives Crypto.com a rating of 2/5 based on 6,044 reviews. Customers complain about poor customer service, account locking and hacking, withdrawal issues, and lost funds. Poor customer service is a common problem with cryptocurrency exchanges. Considering the complexity of virtual money exchange platforms, beginners might easily find difficulty navigating them.
Is Crypto.com Exchange Secure?
Crypto.com has established itself as a trustworthy cryptocurrency exchange. It has done an admirable job of protecting users' funds. For example, it monitors all incoming transactions to ensure they aren't originating from the black market. As a result, they continue to launder money from criminals. Crypto exchanges should strive for this level of compliance to prevent money laundering and criminal financial activity. Furthermore, their hot wallet isn't user funds, but company money, dedicated to ensuring that transactions on their network of services run smoothly. Adding to the multiple security features already discussed earlier, it goes without saying that the marketplace is highly safe.
Crypto.com Exchange Features
Orders Types
Order types on Crypto.com include:
Limit
Market
Stop-Limit
Stop-Loss
Take-Profit Market
Take-Profit Limit
Staking / Earning Interest Accounts 
Staking is permitted on the exchange. Users can earn up to 14.5% p.a. on their digital assets through the Crypto.com Earn feature. Stablecoins can rake in an interest of up to 8.5% annually. On the other hand, you can earn up to 5% on Bitcoin and 6% on Ethereum. Interest rates are determined by the length of time you hold your funds, the currency in which you save, and the amount of CRO you have staked. So, if you stake 40,000 CRO and hold it for six months, you will earn more interest than an investor staking the same amount for a shorter period.
Exchange Token
Cronos, Crypto.com's native coin, was launched in December 2018. Cronos is the Cronos Chain's official token standard, just like ERC is for Ethereum. The Cronos blockchain is decentralized and open-source enabling users to make payments, trade, and access other financial services. CRO is essential to the exchange because it is used by services such as Crypto.com Pay, mobile app, and Visa card rewards program. Having the platform's native coin also guarantees you lower trading fees, higher staking rates, and better credit card rewards.
Asset Classes
NFTs: The NFT page is a marketplace where you can buy, sell, and showcase your non-fungible tokens. It's one of the new features still being rolled out. Bidding begins at $0. You also get access to premium NFT collections from top artists. If you like their work, you can purchase it with a credit or debit card. You won't be charged anything for purchasing an NFT. If you choose to resell, you must pay a 1.99% fee. The creators will also bear the cost of selling on the NFT marketplace.
Stable Coins: Stable Coins are digital currencies whose value is usually pegged to another asset, typically fiat money. You can access different types of stablecoins on this site. The top ones include USDC, BSC, BUSD, and USDT.
Major Crypto: Users have access to Bitcoin, Ethereum, and all major plus minor altcoins like Cardano, Polkadot, Dogecoin, Litecoin, Solana, Shiba Inu, and Chain Link.
Utility Tokens: Utility tokens enable transactions on a particular platform by using distributed ledgers, such as blockchain networks. The primary utility token on the network and the native coin of Crypto.com is called Cronos (CRO). CRO is the fundamental payment and reward token, despite the fact that you can trade hundreds of different third-party tokens on the platform.
Leverage
Leverage is the use of borrowed funds to trade in cryptocurrency. The platform allows for derivative and margin trading with leverage of up to 50x and 10x, respectively.
The OTC Desk
OTC trading on Crypto.com allows users to place bulk orders with a minimum of 50,000 USDT and a maximum of 1,000,000 USDT or equivalent at competitive rates and enjoy fast settlements without the involvement of a third party.
OTC trading is only available to several institutional and VIP clients. OTC trading pairs supported include BTC/USDT, ETH/USDT, ADA/USDC, SOL/USDC, and XRP/USDC.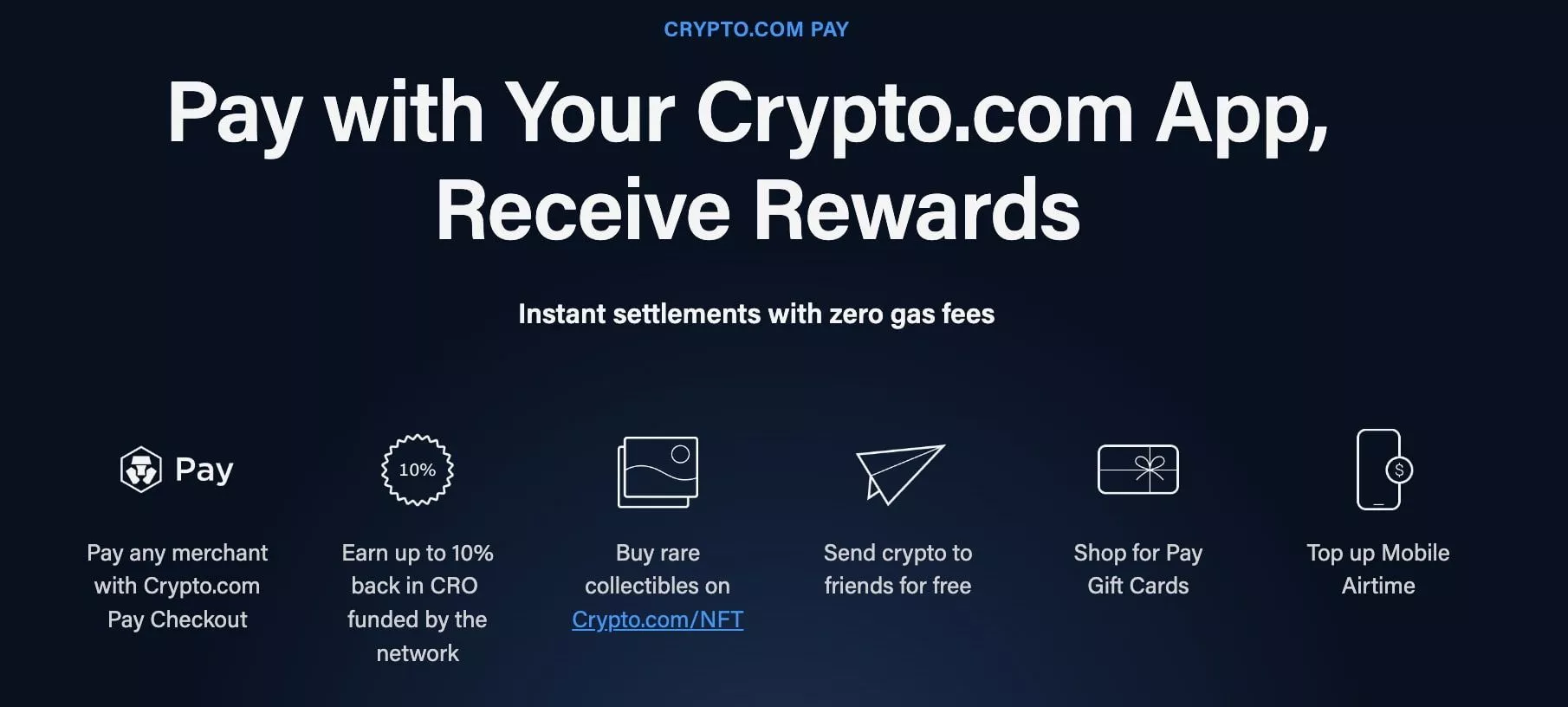 Other Key Features
Crypto.com Pay: This service allows users to use cryptocurrency to pay for goods and services from online retailers. The exchange ensures simple transactions by acting as a middleman and changing the payment on the user's behalf. You only need to grant payment access. As a result, the feature allows you to remain anonymous and within the Crypto.com ecosystem throughout the payment process. Furthermore, if you use the exchange pay portal, you will earn rewards.
Cashback Visa Card: Crypto.com Visa Pay is a reward debit card that works like any other card you swipe. The only difference is that it only uses CRO. You can use your digital assets to make payments with it. You earn significant interest on your crypto holdings, ranging from 1% to 8%. To take advantage of this benefit, you must hold the platform's native coin, CRO. The branded Visa Card has five reward tiers based on how much CRO you have. Please remember that you can only use this card in places that accept Visa cards. Each tier provides refunds for specific services like Spotify, Netflix, or even Airbnb, as well as free ATM withdrawals. The card provides a 100% rebate on standard Spotify subscriptions and basic Netflix subscriptions. You must invest £300,000 in the CRO token to earn 8% cash back.
Crypto.com Earn: Just like other cryptocurrency exchanges, it provides lending services. It should be noted that this feature is only available on the Crypto.com app, not the exchange. You can earn interest by lending your cryptocurrency to other cryptocurrency investors. Borrowers can use the loan amount to confirm proof of stake currency transactions. This feature allows lenders to earn up to 14.5% on deposits of more than 30 cryptocurrencies per year. The amount of interest you earn is determined by the cryptocurrency you lend and the amount of CRO you have in your account. Rates may change over time, but you can lock in your rate. You can also withdraw your locked funds at any time.
DeFi Swap: DeFi Swap is a fork of Uniswap V2 that allows users to swap and farm the hottest DeFi tokens privately and at the best available rates without jeopardizing their private keys. You can easily connect this feature to the Crypto.com DeFi wallet to safely store your digital assets. In contrast to the app or exchange, the branded DeFi Swap lets you connect your personal Ethereum wallet for simple ERC20 token swaps. To support the operation of smart contracts, you will typically pay 0.3% to liquidity providers.
DeFi Earn: Users can maximize their returns by depositing their tokens into the protocol that offers the highest APY at the time of deposit. It is compatible with Aave Lending, Yearn Earn, Compound, Cosmos Staking, and native CRO Staking.
DeFi Wallet: The DeFi wallet is a decentralized non-custodial wallet in which you serve as the custodian of your private keys. Using the DeFi wallet, as opposed to the Crypto.com app, gives you complete control over your funds and safety. To store, send, and receive cryptocurrency in the Crypto.com Wallet, you don't need a Crypto.com account.
The Syndicate: The Syndicate is a platform for discounted token offerings on the Crypto.com Exchange.s can use the Syndicate to get up to 50% off top cryptos like BTC, DOT, and ZIL.
Trading Arena: The Trading Arena page describes "trading battles," contests in which people can win money, a Tesla Model 3, or other prizes based on certain rules. For example, the trader who trades the most of a specific cryptocurrency during a given time period, or the first 1,000 traders to trade on the exchange via the API, may be eligible for a prize.
Supercharger pool: Users of the branded App and the Exchange can deposit CRO into the Supercharger pool to earn popular DeFi tokens as rewards. The reward allocation is determined by the user's liquidity and is calculated daily during the charging period.
Note: Some Crypto.com features may be unavailable depending on your location. For example, lending services are unavailable to Hong Kong, Singapore, Switzerland, Malta, or United States residents.
Crypto.com Supported Cryptocurrencies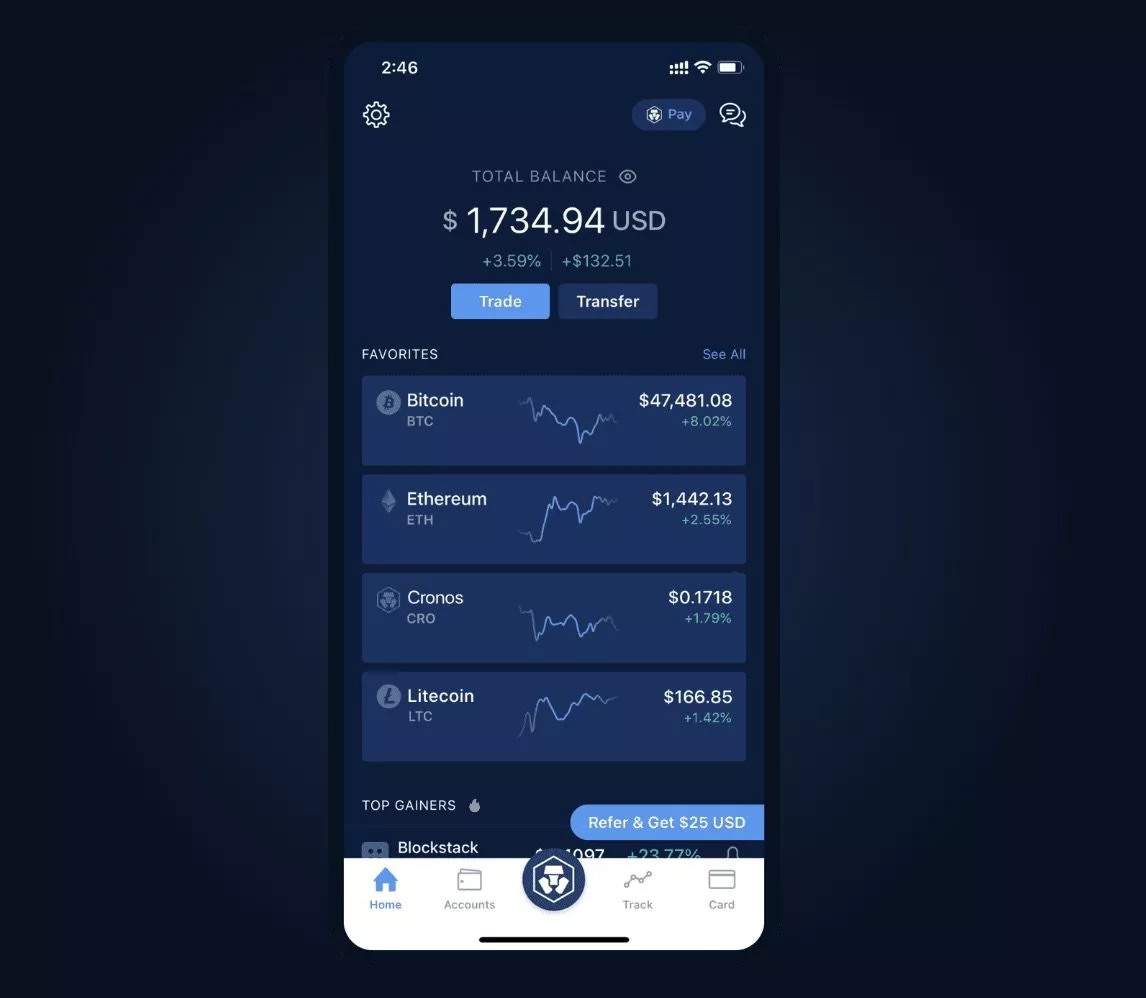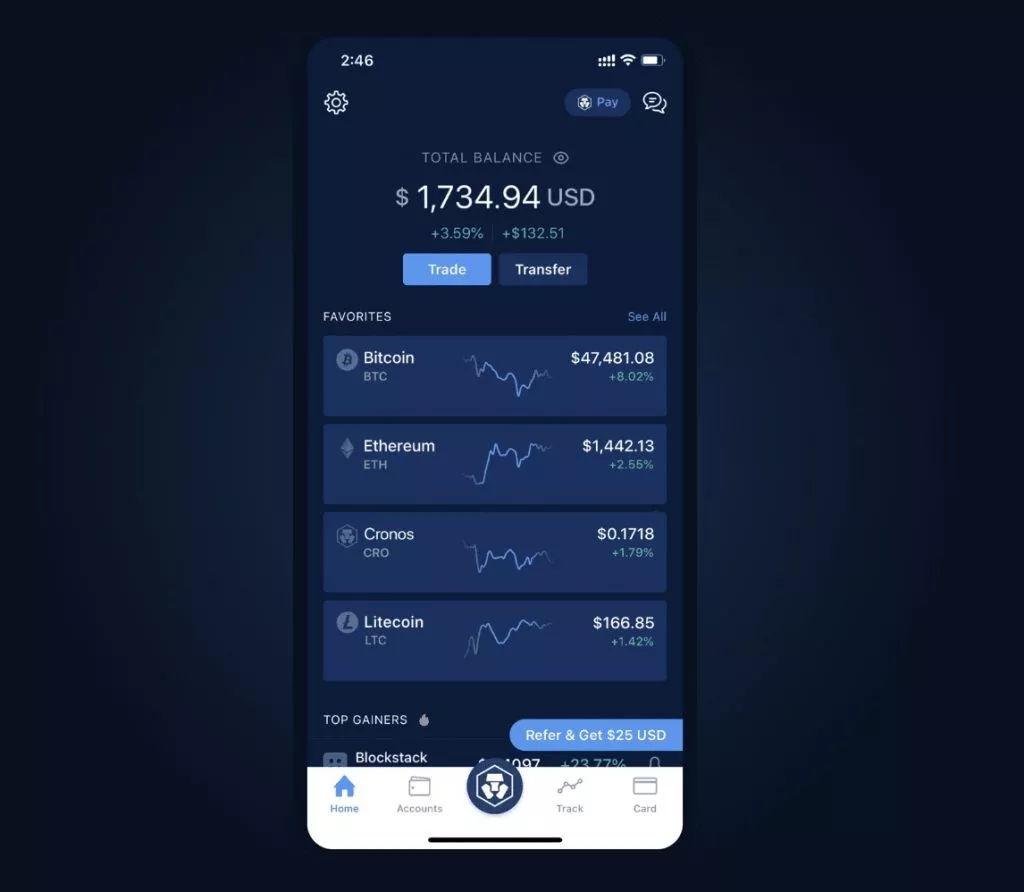 Crypto.com supports over 250 currencies. Here are some crypto assets available for purchase and sale on the exchange.
Algorand (ALGO)
Balancer (BAL)
Protocol for Bands (BAND)
Token of Basic Attention (BAT)
Bitcoin (BTC)
Cardano (ADA)
Chainlink (LINK) (LINK)
Cronos (CRO)
Dogecoin (DOGE)
Filecoin (FIL)
Elrond (eGLD)
The Enjin Coin (ENJ)
Ethereum (ETH)
The Kyber Network (KNC)
Litecoin (LTC)
OmiseGO (OMG)
0x (ZRX)
Origin (OGN)
Standard Paxos (PAX)
Polkadot (DOT)
US Dollar Coin (USDC)
XSGD (XSGD)
The platform provides several crypto to fiat and crypto to crypto pairs. Over 349 trading pairs are available on the cryptocurrency exchange. They include:
BTC/USDT
CRO/USDT
ETH/USDT
CRO/USDC
ALGO/USDC
AAVE/USDC
1INCH/BTC
ETH/BTC.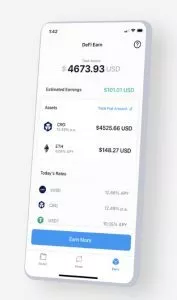 The fact that Crypto.com has lower trading fees than other exchanges such as Gemini is one of its selling points. The lower fee structure allows users to purchase more Cronos, their core token (or CRO).
Deposit and withdrawal fees: The exchange accepts cryptocurrency deposits for free. It also supports free transfers to the branded Exchange and DeFi Wallet and allows free crypto to crypto exchanges. You will be charged a fee when you withdraw cryptocurrency to an external address. The fee varies depending on the cryptocurrency being withdrawn.
Trading fees: Trading fees are based on your 30-day trading volume. The greater your trading volume, the larger the discount. Trading fees at Crypto.com were recently reduced by 80%. Users will now benefit from lower costs starting at 0.075% and 0.034% for the spot and derivatives markets, respectively. Surprisingly, no minimum trading amount is required.
Deposit and Withdrawal Methods:
Crypto.com deposit methods include bank transfer (ACH), PayPal, Bank transfer (SEPA), SWIFT, Xfers, Credit or Debit Card, and TransferWise. The exchange is also one of the best value exchanges because you can buy and sell cryptocurrencies at their true value.
Crypto.com charges a fee for credit/debit card cryptocurrency purchases made through its app. If you pay with a credit card, your card company may charge you a cash advance fee if you use it to purchase cryptocurrency.
Limits:
For bank transfers, the minimum deposit or withdrawal is 500 USDC, but we did not come across a maximum amount. The fee for withdrawing funds from your USDC wallet is $25 USDC. The maximum withdrawal limit for BTC is 10 coins every 24 hours, up to a maximum of 100 BTCs a month.
Crypto.com has a desktop app as well as a mobile app. After creating an account and verifying your identity, you can begin trading through the app or DeFi wallet. It should be noted that the Crypto.com App and Exchange aren't identical. The app, for example, supports fiat currencies. As a result, you can use it to buy cryptocurrency with fiat. The Crypto.com Exchange, on the other hand, is a crypto-only exchange; thus, you can't use fiat currencies on this platform. Only crypto assets can be traded on the branded exchange. Here is what we found during our investigation:
Mobile App
Our experience with the mobile app was amazing. A beginner may find it challenging to navigate the app comfortably, but it will only take a few clicks to get the hang of it. You can use the mobile app to buy and sell crypto assets, exchange fiat currencies, manage your visa card, access crypto earnings and credit, and make crypto payments. You can also use the mobile app to manage your portfolio, send coins to the Crypto.com Exchange, withdraw cryptocurrencies to external wallets, and track your portfolio. The app is available for download on iOS and Android devices via the App Store or Google Play.
To get started, download the mobile app from the Google Play Store or the Apple Store. Next, open it, and enter your sign-up information, such as an email address and a strong password. Next, use your real name, photo, and selfie to prove your account is still active. Then, connect your preferred payment method. Everything should be easy. We didn't get any challenges or experience bugs while conducting this review.
Desktop
Desktop users can take advantage of web browser or desktop app. Both options have a minimalistic design with a dark background and are easy to use. Just like the mobile app, we don't expect a newbie to easily navigate the platform at first interaction, but it will not take long to understand it. Different features are well grouped under the menu function for easy accessibility. You may choose to stick with Crypto.com web or download the desktop app, depending on what you want to achieve. The app is mainly a wallet, which we best recommend for beginners seeking a seamless entry point to crypto with fiat money. On the other hand, the web version has more complex functionalities for sophisticated trading beyond buying and selling digital coins. It's the best fit for professional crypto enthusiasts.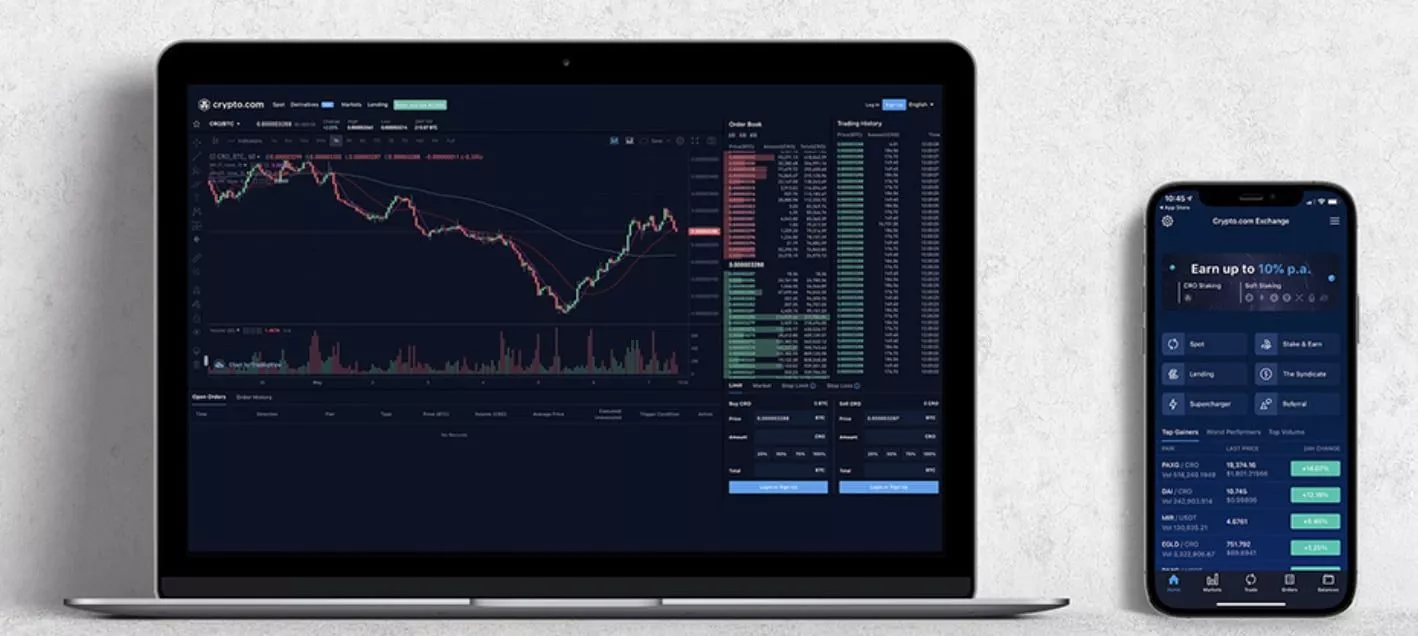 Crypto.com Customer Service Experience
Customer support options at Crypto.com include a help page, email, and a chat-bot. The help page, which includes well-written articles, contains a detailed guide to using each feature. You may use the chat -bot feature, which is pretty much like a live support. The automated support function is programmed to provide the best solutions to your questions. In case you are not satisfied, it will direct your queries to a live person who will respond within four hours. There is no support phone number.
What Makes Crypto.com Different from other cryptocurrency exchanges?
Binance vs. Crypto.com
Binance is Crypto.com's main competitor. Binance is one of the largest cryptocurrency exchanges offering various trading pairs. They both share several characteristics: Crypto.com, for example, has its own native coin, CRO, while Binance has its own proprietary token, BNB. Both tokens provide users with numerous benefits, such as staking. Both exchanges provide a safe wallet as well as commendable interest accounts. While Binance serves over 180 countries, Crypto.com only serves 90 markets whilst Binance also supports over 600 countries. This is significantly more than the 250+ digital assets supported by Crypto.com.
Coinbase vs. Crypto.com
Both Crypto.com and Coinbase are reputable cryptocurrency exchanges where users can buy, sell, and exchange digital assets. They both have highly decentralized wallets, proprietary tokens, and robust security features that help secure the funds of their investors. The USD coin (USDC) from Coinbase is a US dollar-stable coin. As a result, 1 USDC equals $1. The value of the Crypto.com native coin, Cronos (CRO), on the other hand, fluctuates. Users may receive benefits for staking CRO. In terms of trading fees, Crypto.com is less expensive than Coinbase. Coinbase Pro charges 0.50%, whereas Crypto.com charges 0.40%. Furthermore, Crypto.com supports over 250 assets, whereas Coinbase only supports about 158.
Is the Crypto.com Exchange a Good Fit for you?
Crypto.com stands out as an old timer in the fast-paced world of cryptocurrency exchanges. It distinguishes itself as a one-stop shop for all your crypto transaction needs. As a result, it is an excellent choice for investors of all levels. Some crypto traders, however, will enjoy it far more than others. For example, if you're looking for low-fee crypto exchange, Crypto.com has competitive trading fees. Remember that you will want lower trading fees if you hold a significant amount of the exchange's native coins, CRO. Additionally, its extensive list of features will ensure that you fully utilize your cryptocurrency for investors who need to do more than just trade cryptocurrency. Among other things, you can earn rewards, spend your cryptocurrency, and mint and sell NFTs. Because of the newly introduced learning resource, the university, new traders can now enjoy lower trading fees and a simpler trading experience.
Throughout this Crypto.com exchange review, it is clear that the platform has provided various premium services in a short time. It's no surprise that it has over 50 million users worldwide. It also has several security certifications and concrete security measures in place, distinguishing it from the long list of cryptocurrency exchanges.
You can do a lot with Crypto.com exchange. You can trade crypto, stake, or even lend your digital assets at competitive rates. Furthermore, the NFT platform enables you to create and sell NFTs simply. The exchange rates are appealing. So, what's holding you back from utilizing this platform? Get it now!
What are the advantages of trading on the Crypto.com Exchange?
The exchange provides more than just asset buying and selling. You will benefit from low trading rates, high staking and lending rates, and referral bonuses as a user.
What are the most important characteristics of the Crypto.com Exchange?
The main features of Crypto.com are Crypto Pay, Crypto Earn, Crypto Credit, Crypto.com Visa Cards, NFTs, DeFi Wallet, and DeFi Swap.
How straightforward is it to use the Crypto.com Exchange?
The exchange is a platform for traders of all skill levels. It has an easy-to-use interface and a straightforward fee structure. Beginner traders can use the university, the exchange's educational resource, to help them navigate the platform.
What are the costs of using the Crypto.com Exchange?
For the spot and derivatives markets, the exchange trading fees are 0.075% and 0.034%, respectively. In addition, depending on the token, you will be charged a withdrawal fee.
Is the Crypto.com Exchange safe?
Crypto.com is a safe platform with numerous security measures and certifications in place. It has collaborated with Ledger, a leading security organization, to help keep its users' funds safe.
What options are there for customer service?
For customer support, a help page, email, and chat support are available on their website.
How does one go about buying and selling cryptocurrencies on the Crypto.com Exchange?
Log in to your account on the exchange website. Next, go to the markets page and select the market in which you want to trade. Also, select trade after navigating to the trading pair you want to use. Next, select the order types you want to use and fill in the necessary fields.
Which payment methods are accepted?
Credit and debit cards, wire and bank transfers, and cryptocurrency deposits are all accepted payment methods at Crypto.com.
Is there a limit to who can use the Crypto.com Exchange?
To buy or sell cryptocurrency on the Crypto.com Exchange, you must be at the beginner level or higher. Any person of legal age is eligible to use the site unless from a restricted region like Aruba, Democratic Republic of Congo, Ghana, Belize, Iraq and Laos.
What is the liquidity of Crypto.com?
A High trading volume of exchange means high liquidity. With a 24 hr trading volume of $459,837,234.62, this review confirms the exchange has deep liquidity.