BC.Game – Best Overall Betting App Sportsbook
Sportsbet.io – Best for Live Betting
Coinplay – Best for Cryptocurrency Choice
Stake – Best for Low Minimum Bets
Best Crypto eSports Betting Sites
Finding the best crypto betting sites can be challenging for players. However, our toplist and reviews makes it a simple task. Take a look through our reviews to find the best crypto and bitcoin betting apps.
1. BC.Game - Best Overall Betting App Sportsbook
Many crypto users look to BC.Game as the pinnacle of crypto betting. It's not just the high-quality sportsbook options but the fantastic casino choices make it stand out even more. The site is simple to navigate, but the mobile app perfectly caters to small-screen users. Playing at BC.Game is consistently excellent at all times. While there's no welcome bonus available, it does provide additional bonuses, which are highly appealing.
Each day there's a bonus wheel for players to spin. It typically awards a small amount of crypto as a reward but can pay out as much as 1 BTC. Every spin of the bonus wheel is no-deposit and wager-free, giving free crypto for sports bettors daily. It makes it perfect for bettors with a smaller bankroll who can't deposit funds regularly. BC.Game also has a significant selection of sporting events with comprehensive betting markets available.
Players must be mindful of the KYC policy at BC.Game. Although there's no need to provide personal details when creating an account, a KYC policy is in place. It means if players behave suspiciously, they will have to complete the process. However, crypto bettors do tend to be left alone at BC.Game, so it's rare to have to go through verification.
| Crypto Bonus | Wagering Requirement | Minimum Deposit | Number of Crypto |
| --- | --- | --- | --- |
| Daily wheel spin up to 1 BTC | N/A | $10 | 14 |
Pros
Players can claim up to 1 BTC daily with the bonus wheel
No wagering requirements for the daily bonus wheel reward
Superb choice of cryptocurrencies
Excellent range of sporting events and betting markets
Cons
Available promotions don't include sports betting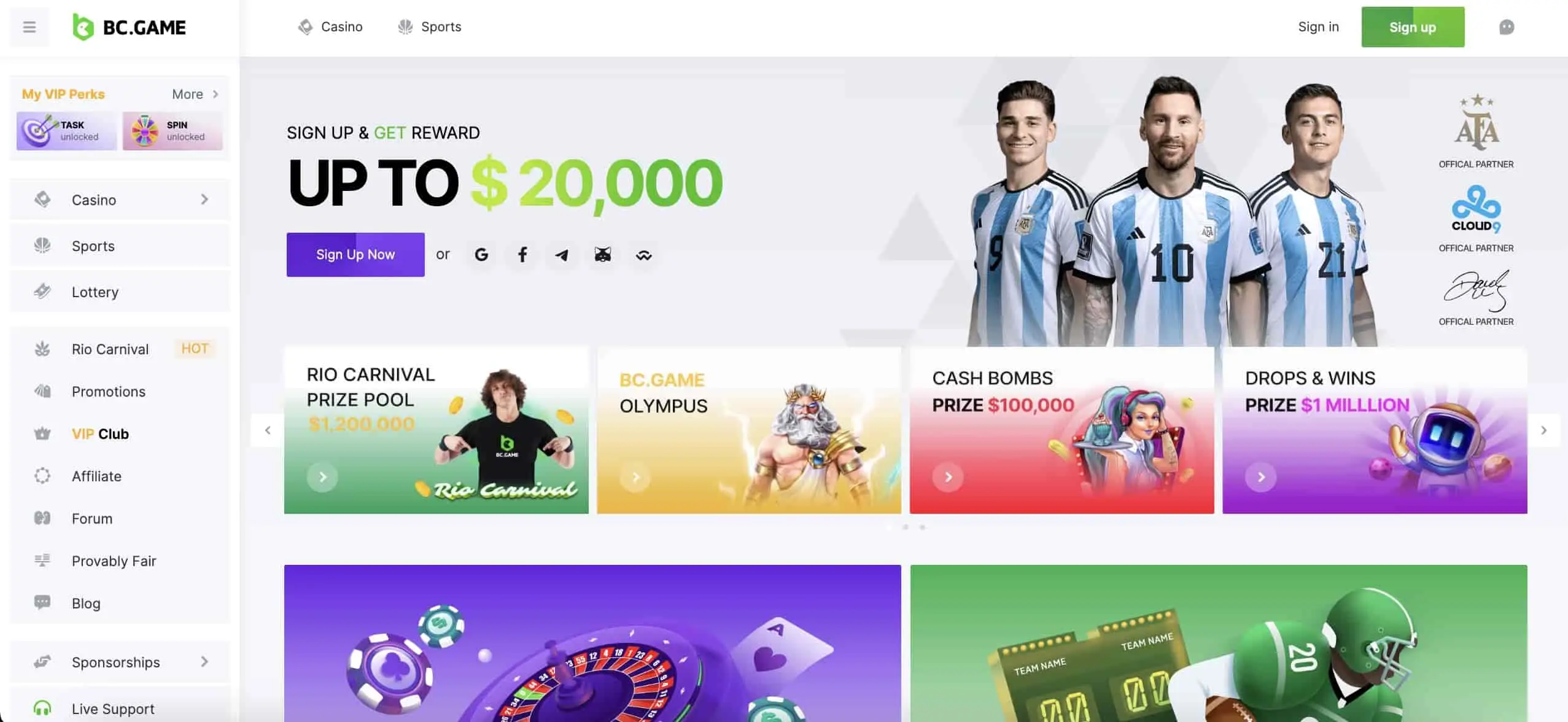 2. Sportsbet.io - Best for Live Betting
As the name suggests, Sportsbet.io focuses mainly on sports betting. Although it does have a section where players can enjoy crypto casino games, sports are at the top of its priorities. So, it's not surprising to see the sports selection standing out as one of the best on the market. Bettors can enjoy a wide range of sports and markets, but the live betting is what stands out. Users can access a fine choice of in-play markets, making finding solid value an easier task. It also provides a high-quality mobile app, which makes it perfect for players who want to bet on the go.
While there isn't a welcome bonus at Sportsbet.io, it does feature a range of regular bonuses. Players can enter free-to-play games weekly, receive bet boosts, and enter tournaments. Every promotion has a link to sports, making it more immersive for users who love sports.
A minor negative is the KYC policy. Bettors must complete the process if making a significant deposit or withdrawal. So, high-roller players are unlikely to be able to avoid verification. Even low-budget players may have to complete KYC if they manage a substantial win.
| Crypto Bonus | Wagering Requirement | Minimum Deposit | Number of Crypto |
| --- | --- | --- | --- |
| No welcome bonus | N/A | 0.00002 BTC | 6 |
Pros
A fantastic range of sports betting selections
Live betting is available and is simple to use
An excellent choice of eSports betting options
The bonuses and promotions are incredibly appealing
Cons
Players can't claim a welcome bonus

3. Coinplay - Best for Cryptocurrency Choice
A wide selection of cryptocurrencies is critical for bettors with a diverse portfolio. With more crypto options appearing constantly, some players may find themselves excluded if their chosen crypto isn't available. However, Coinplay attempts to avoid this issue by providing an extensive selection of cryptocurrncies. There are over 20 options here, which gives players plenty of choice. It also provides a fantastic mobile app, ensuring users can easily navigate their way around the site.
The welcome bonus is also incredible at Coinplay. It provides players with a 100% matched bonus of up to 5,000 USDT on the first deposit, with three more deposit bonuses. The wagering requirements are 40x, which is relatively high, but in general it's an appealing bonus.
KYC is in between two places with Coinplay. Players don't have to go through the process when first setting up an account, but Coinplay states in its T&Cs it has a KYC policy. So, users must be aware of the possibility of having to complete the verification process.
| Crypto Bonus | Wagering Requirement | Minimum Deposit | Number of Crypto |
| --- | --- | --- | --- |
| 100% up to 5,000 USDT | 40x | 0.001 BTC | 22 |
Pros
The welcome bonus is generous and across four deposits
Massive range of different cryptocurrencies
Features a wide selection of extra promotions
Allows bettors to wager on eSports
Cons
No option to bet with fiat currency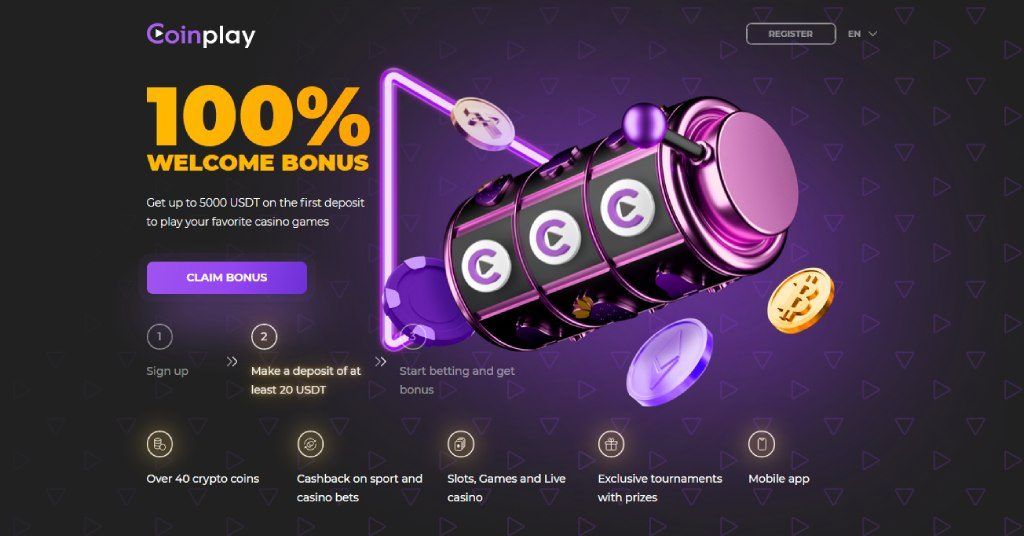 4. Stake - Best for Low Minimum Bets
Far too many sports betting sites ignore low-budget players. With high minimum stakes, it makes it challenging to put a betting strategy into practice. However, Stake ensures all players can enjoy its services. With a minimum stake of 100 satoshis, bettors at any level can begin playing. While it doesn't have a static welcome bonus, it does provide a rotating selection of offers. Up to 200% as a matched bonus is regularly part of the Stake welcome package.
Stake covers sports betting in detail. It has one of the most comprehensive sports selections, a wide range of markets, and live betting. It also features eSports betting and runs regular bet boost promotions. A wide range of crypto casino games are also available for bettors looking for a change from sports betting.
Unfortunately, Stake has a robust KYC policy. Players have to complete ID verification when signing up to play. As crypto players often value their privacy, the guarantee of KYC may put some players off. The site also has fees for certain withdrawals, which is another minor downside.
| Crypto Bonus | Wagering Requirement | Minimum Deposit | Number of Crypto |
| --- | --- | --- | --- |
| 200% up to $1,000 | 30x | 0.0002 BTC | 8 |
Pros
There are superb betting choices at the sportsbook
Instant processing for crypto withdrawals
Good choices of bonuses which rotate regularly
The minimum stake is one of the lowest available
Cons
Fees on certain withdrawals
Players must complete the KYC process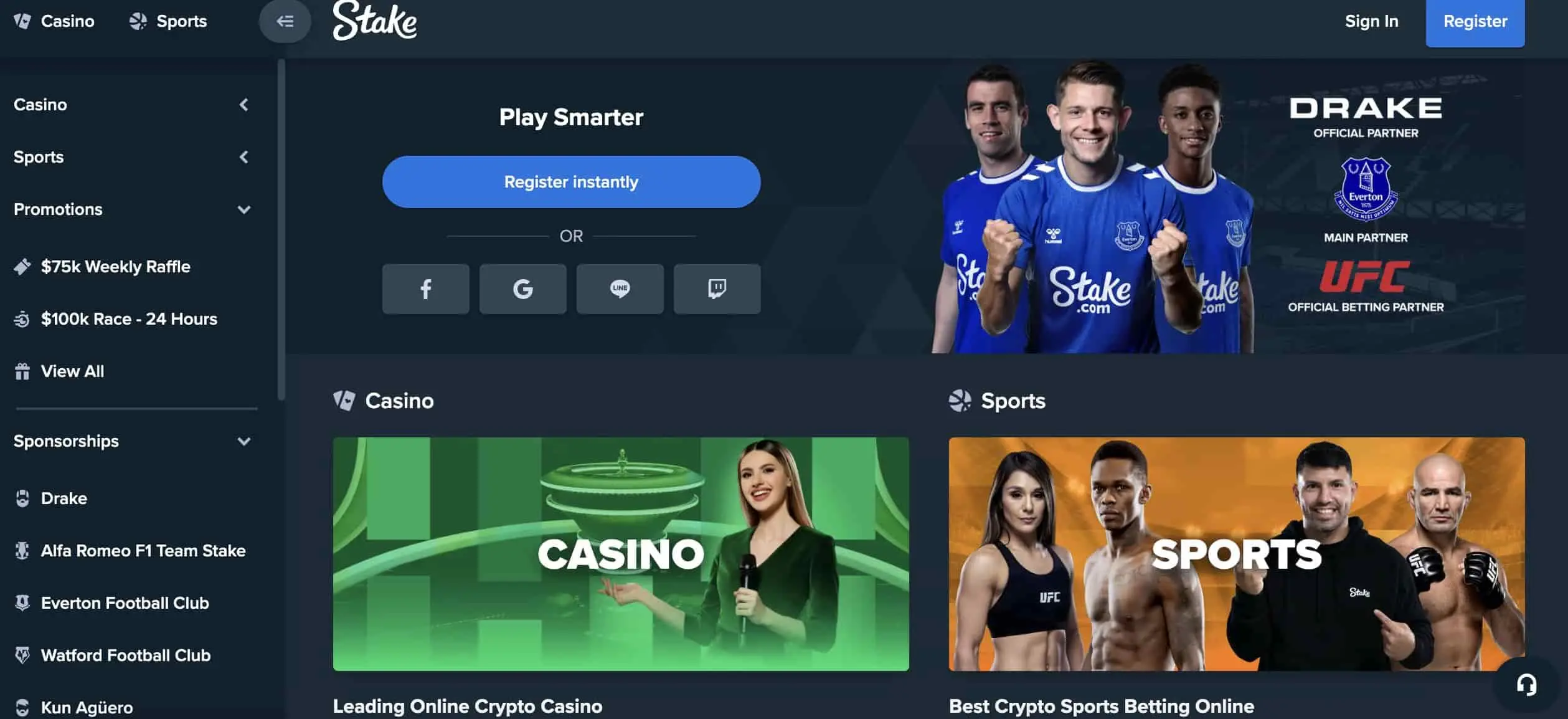 A betting app is a mobile application which allows bettors to access a crypto betting site. Although most crypto sportsbooks provide access through a mobile browser site, an app is still preferred. It typically provides smoother navigation, faster response times, and better live betting. 
Some apps will even offer exclusive bonuses, perfect for users who love to boost their betting. Using a betting app can give players a streamlined experience, which is extremely useful for live betting, which requires rapid decisions.
As with any method of betting, mobile betting apps have pros and cons. Players can enjoy sports betting when using them but must be aware of potential drawbacks.
Pros
More straightforward navigation and faster response time
Access to exclusive app bonuses
Can provide streaming of live sporting events
Rapid login process
Rapid login process More accessible deposit and withdrawal processes
Cons
Bettors must install the app on their device
Not all sites feature a mobile app
What to Look for in a Crypto Betting App
Of course, bettors must be aware of app features and factors before choosing an option. So, we have collated a collection of the vital details players must understand.
Device Compatibility
Downloading an app is a simple task, but if it's not compatible with a device, it's not possible. So, checking before signing up is critical to ensure the app is available. It's not just whether the app is designed for iOS or Android, either. Some apps may be too large or too complex for older devices. So, bettors need to confirm the stats of their device to ensure compatibility.
Online Security
Being online can represent a security risk, so players must check their safety at every stage. An example would be a mobile betting app which is known to have a backdoor exploit wouldn't be safe for players.
Secure Deposits
The ability to make a secure deposit is critical. If players cannot trust the banking process, their funds aren't safe. As a result, it's vital to ensure the app has a secure payment protocol.
Helpful Customer Support
Everyone has issues at times with every form of online commerce, and crypto betting sites are no different. So, if the app doesn't provide high-quality customer service, it can make it hard to resolve problems. Before downloading an app, ensure it has access to its customer service.
Terms and Conditions
Players should always check the terms and conditions for everything they use. It ensures they have protection as well as making sure they are aware of how the site works. The app may also provide slightly different services to the main site, so it's critical to double check. 
Mobile Betting with Cryptocurrencies
Betting with cryptocurrency on a mobile platform is a simple enough concept. Bettors must deposit their funds into the account, and from there, they can choose the right bet and set the stake. It's then a case of waiting for the event to finish and seeing if the bet has won.
Of course, betting using crypto provides advantages to players. Transactions are rapid, costs are lower, and the volatility provides the chance for additional profits. 
While mobile apps aren't as accessible as standard mobile browser sites, they make it a faster process for players. A great example of when it's critical to have a faster response time is with live betting. If users want to place a wager on a live event, it has to be fast, as the game can change, making it a poor bet if players wait too long. Mobile apps are, therefore, preferable for fans of in-play betting.
List of Cryptocurrencies Eligible for Betting Sites
There are plenty of different cryptocurrencies available on the market. However, not all bettors understand what they can use at mobile betting sites. We've compiled a guide to the most popular crypto choices for beginner crypto bettors.

How to Use Crypto Betting Apps
Using a crypto betting app is a simple enough process. However, technophobes or beginners may struggle at first. Our step-by-step guide makes it easy to start playing with an app.
Navigate to the app store and find the chosen app
If it's unavailable on the app store, it may be available through the sportsbook website
Click the download button and start the process
Once the app installs, players can either create an account or log in to an existing one
The touchscreen on the mobile device allows players to navigate through the different sections
Once the app is available on the device, players can use it however they like. Deposits, withdrawals, account creation, and bet creation will all be available through the on-screen menu. Additional features will also be available through the app menu.
Placing a bet is a simple task with a mobile sportsbook app. Bettors just need to follow our guide to get up and running.
Research different sporting events to find the best value bet
Select the appropriate stake level
Choose the bet, set the stake, and confirm the wager
Wait for the event to finish
Either withdraw the winnings or use them to place another bet
How to Make a Deposit and Withdrawal?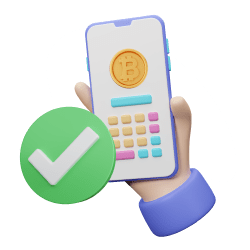 Making a deposit or withdrawal is critical for bettors who want to wager with crypto. Our simple guide makes it an easy process to fund an account or request a withdrawal.
Deposit
Navigate to the account section on the app menu
Select the deposit page
Note down the wallet address for the sportsbook
Double check the address is correct
Enter the address to send funds to the sportsbook
Check again before confirming the transfer
Wait until the funds process and become available
Withdrawal
Find the withdrawal section on the account menu
Choose how much crypto to withdraw
Enter the personal wallet address
Double check to ensure it's correct
Confirm the withdrawal request
Wait until it processes
Security of Crypto Betting Apps
Being secure is critical for crypto bettors. With so many risks online, using a site without adequate security measures is a poor choice. So, users need to research what each app offers before signing up.
An important aspect is the availability of 2-factor authentication, as apps can often be cloned or hacked. With 2fa, players can avoid this issue and protect themselves from malicious attacks. The level of encryption is also vital. Without full encryption, player data is always at risk. It can lead to identity theft and other forms of fraud. So, only download an app with encryption built in. 
Users can also increase security with their own actions. Strong passwords, keeping apps updated, and using a VPN are all ways users can improve their safety when playing with an app.
Regulations and Licensing
Regulation and licensing aren't as prevalent in crypto sportsbooks are traditional sportsbooks. However, there are still regulators for crypto sportsbooks. Many sites will use Curacao as a regulator, which is a trustworthy legislator.
While a regulatory license won't guarantee safety, it increases the likelihood a crypto operator behaves fairly, as there are repercussions for unfair treatment, such as losing the license.
Players must check on regulatory requirements when using an app, as some countries have specific licensing laws. Each jurisdiction is different, so it's vital to research what each location expects.

Future of Crypto Betting Apps
Currently, there are no apps on the market built on blockchain technology. So, it means the future of crypto betting apps is bright. With the potential for new apps to come along, there's a lot of room in this area. Mobile crypto bettors could expect to see groundbreaking apps in the future. 
However, it will require the desire from dapp developers. As with any development, if there's no clamor for a product, it makes it unlikely ever to come to pass. It's an area which would improve mobile crypto betting exponentially. As most sites use mobile browser sites currently, an app using crypto to underpin it would provide considerable advances in performance. 
Of course, some sites with a stronger link to crypto will be more likely to follow this area of development. So, bettors who want an app along these lines should look closely at what their developers are promising.
Although mobile betting apps aren't as prevalent as before, they still provide the optimal mobile betting experience. It means bettors who primarily bet on the go should search for the best possible apps. Our toplist and reviews ensure it's simple to discover the top betting apps, streamlining the process for players.
While many sites prefer mobile browsers, an app still comes out on top for pure speed. So, live bettors will also benefit from downloading and playing with an app.
Users looking to learn more about the best mobile crypto sportsbooks can find everything they need to know with our detailed reviews.
Are Bitcoin betting apps legal?
Yes, they are. As long as they are available in a location where crypto betting is legal, then the app is also legal. Many sites don't offer them due to time and resources, not legality.
Can I bet completely anonymously with Bitcoins?
In theory, it's possible to bet anonymously with BTC. However, as many sites expect players to complete KYC before they allow them to bet, it removes the chances of remaining completely anonymous.
How long do crypto deposits take?
Crypto deposits are typically instant. However, it can take a few hours to complete if the blockchain is busy.
How long do crypto withdrawals take?
Crypto withdrawals usually complete instantly. However, during peak times, it can increase the length of time for a withdrawal to process.
What coins can I use for betting and gambling online?
It depends on the crypto sportsbook. Each site will allow a different selection of cryptocurrencies for players to use. So, bettors must research the available cryptos before creating an account. They can then avoid issues like the site not accepting their deposit.
What are the best sports and competitions usually available on betting sites?
It completely depends on the individual player. Some bettors may want to wager on sailing, so if it's not available, no other sports will be good enough. So, users must check the available sports before signing up. It's important to note the most popular sports are typically available. So, NFL, NBA, NHL, MLB, soccer, and UFC tend to be in place.