Binance: Best Overall Crypto Exchange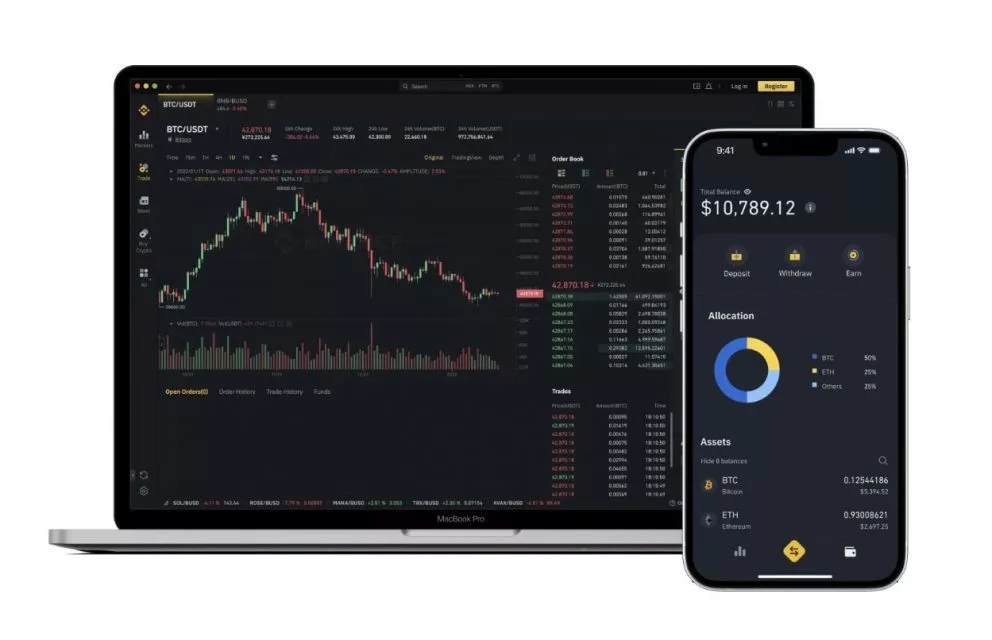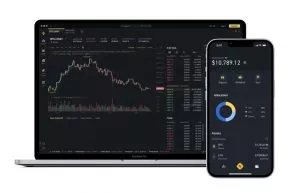 Binance takes the lead out of all the top crypto exchanges 2022 that we reviewed. It's a full-service crypto exchange that merits in all our classification categories. We are talking about key determinants such as user interface, security, fees, number of coins, compliance, customer service, and regions covered. More than 28 million clients from 200+ countries trust this platform. That's the highest number of customers we've seen registered on any crypto exchange. You can easily access 500+ cryptos and altcoins at Binance.com at low transaction fees. US clients are forbidden from Binance.com but can access it via a US version, Binance US. The US version is nonetheless limited due to some US laws and only offers 80 virtual coins to American citizens.
Traction fees:
Binance is one of the cheapest crypto exchanges you'll come across. It applies only 0.1% per trade. Deposit and withdrawal fees vary depending on your preferred method.
Security features:
SSL certificate, API Control, FDIC insurance, 2FA via Google Authenticator, cold wallet, and address + IP whitelisting.
Transactions supported:
Market order, Limit orders, stop orders, trailing stop, one cancels the other order, peer to peer trades.
Customer Service:
FAQs page, Support email, contact form, support hotline, no live chat.
Pros
Offers 500+ currencies
Affordable transactions
Supports many transaction types
Cons
Binance US has limited products
Can be overwhelming for newbies
Live chat not available
Coinbase: Best Crypto Exchange for Beginners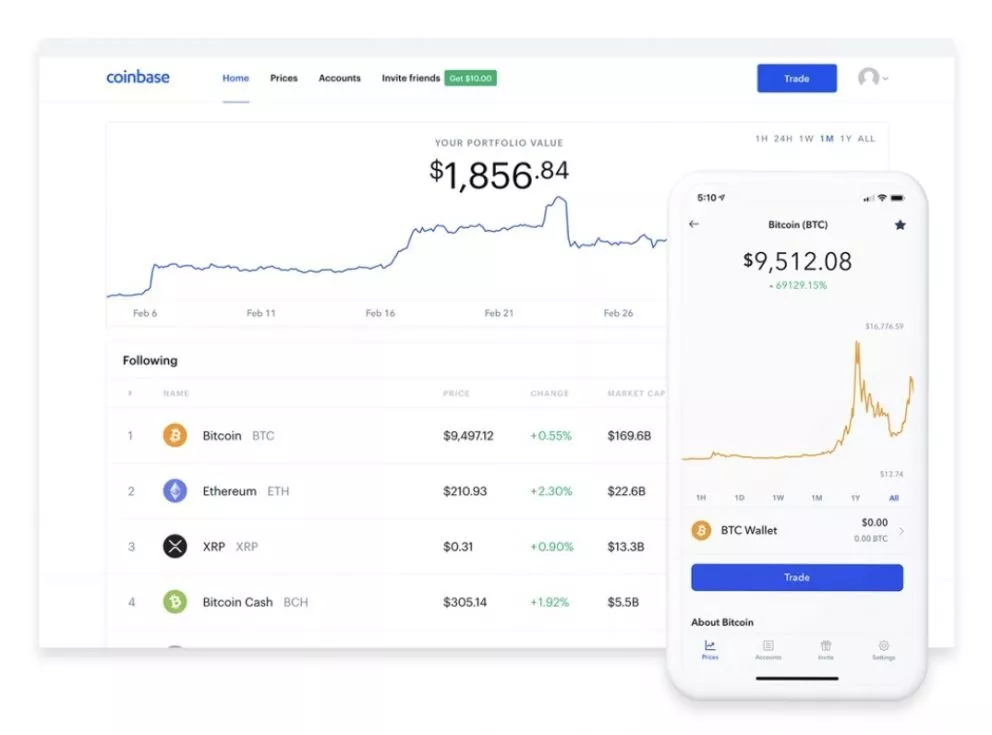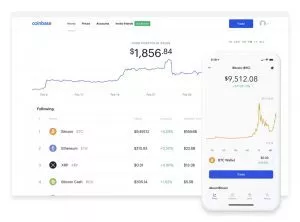 Just as the name suggests, Coinbase has been striving to be the ultimate "base" for all your digital coins since its inception back in 2012. It has undergone tremendous growth and today it's traded on the stock exchange, with a market cap exceeding $35 billion. Coinbase stands out in the crypto exchanges ranking list as the most user-friendly platform. Although it's not our overall best, no other exchange competes with Coinbase in the category of "Best Crypto App for Beginners 2022."
Setting up an account is easy as pie. Deposits and withdraws are seamless too. Usability and navigation through the app are extremely easy. You might feel like a ninja steering through the platform on your first day as it's so simple. We counted over 107 coins on the Coinbase platform.
In terms of storage, there is the Hot wallet (accessed through Coinbase .com) which is an appropriate option for first-time users that are still trying to find their way around the crypto world. Once you have gained some experience, you can move your money to Coinbase non-custodial wallet (Coinbase wallet) which is more secure and safe from online hackers. Trustpilot users mention incidences of sudden account closures. We believe you can avoid losing your account this way by providing all your KYC details, and abiding by their terms and conditions.
Transaction Fees:
Transaction fees at Coinbase are slightly higher than Binance but still very competitive when compared to other crypto trading apps in the industry. You'll spend a fee of 0.55 for every trade you make at Coinbase.
Security Features
Storage Insurance, AES 256 digital wallet encryption, Two Factor Authentication, FDIC insurance for USD wallets, Cold Storage, Biometric Access.
Transactions supported:
Buy order, Sell order, Send cryptos, exchange coins. You can also now initiate ACH transfers at Coinbase.
Customer Service:
Live phone support, email address, FAQs page, contact form. No live chat feature.
Pros
User friendly even for beginners
Trusted by US regulatory bodies
Has cold and hot wallet
FDIC insurance
Cons
Relatively high fees
Limited order types
Lacks live chat feature
What is a Cryptocurrency Exchange? How Does it Work?
Just as you may be getting from the name, a crypto exchange is where cryptos are exchanged or traded. It's akin to the New York or London stock exchange, except that it is not centralized, deals in digital money, and runs 24/7. There are no physical cryptocurrency exchanges since the assets are purely virtual. So in the simplest form, cryptocurrency exchanges are online platforms for trading virtual coins. There are many independent exchanges, and so you must set up an account with one of them to buy digital coins such as Polkadot, Dogecoin, or Bitcoin. Binance, Coinbase, eToro, and KuCoin are among the many crypto exchanges you will come across while going through the crypto exchanges list.
Crypto exchanges list the prices of different coins that they are allowed to host. Keep in mind that prices of currencies are purely determined by market forces of supply and demand. To buy crypto, you must first fund your crypto exchange or wallet. But how do crypto exchanges make money? They do so through transaction fees, which may be as absurd as 5%, depending on which company you're using. Much more decent ones like Binance and Coinbase have lower fees. Investors trade by either placing buy orders or sell orders depending on whether they're acquiring or disposing of an asset. There are more complicated order types such as limit and stop orders but we will discuss them on a different page.
Different Types of Cryptocurrency Exchanges
Now that you know what crypto exchanges are, let's expand your knowledge of this field. There are three types of virtual coin exchanges and this is how they uncurl.
1. Centralized exchanges (CEX)
The world "centralized" in the digital assets world means to hand over a certain level of control to a third party. Centralized exchanges, also called CEX, work like traditional stock exchanges. So they act as middlemen by facilitating secure trading and transacting. These platforms might also vet new currencies before listing them on their website.
They facilitate large numbers of transactions, hence useful when multiple traders are trying to buy and sell simultaneously. Just like in the stock exchange marketplaces, CEXs keep order books with lists of prices and transaction volumes and facilitate orders by clearing them. So they are the main party that you're dealing with when buying or selling currencies. CEXs are the most popular crypto exchanges and apps and account for over 90% of entire crypto trading volumes. Let's look at the three best ones.
Pros
Advanced trading technology
Wide range of products
Low buy fees
No deposit fees
Business account available
Cons
Relatively high withdrawal fees
High minimum withdrawal requirements
Shallow educational material
Pros
Worldwide access
Client funds are insured
Available in most US states
Pays interest on crypto balance
Cons
No margin trading features
Lacks FDIC or SIPC protection
Limited customer care features
Pros
Strong customer support
Supports both fiat and crypto deposits
Low trading fees for high rollers
Fast sign up and verification
Cons
No margin trading
Low liquidity in some coins
2. Decentralized Exchanges (DEX)
Decentralized digital assets exchanges (DEX), try to stay true to the founding tenets of cryptocurrencies by operating without any third-party intervention. A DEX is a peer-to-peer platform where buyers and sellers come together to perform transactions between each other through an escrow. They are theoretically more secure than CEXs since there is no server that hackers can target. However, if hacking happened, investors would be on their own as they are fully responsible for their security. Smart contracts and atomic swaps facilitate transactions with no third-party intervention. DEXs generally offer lower fees and faster transactions than CEXs too. The challenge that scares many away is that they are only friendly to tech-savvy investors as they are a little complicated for transacting. Client funds are not insured and you have nowhere to launch complaints in case you run into a glitch. Here are our recommended ones.
Pros
Available globally
High degree of privacy
Works on P2P network
Cons
Relatively low trading volumes
Relatively high trading fees
Slow transaction speed
Pros
Wide range of crypto
User friendly mobile app
Cons
Relatively high fees
Poor customer support
Pros
Swap ERC-20 tokens
Stake crypto and earn interest
No KYC requirement
User-friendly design
Cons
High gas fees
Fiat not supported
3. Hybrid Crypto Exchanges (HEXs)
Finally, we have Hybrid Global Exchanges that blend the function of both centralized and decentralized virtual coin platforms into one exchange. These are exchanges that have a bit of every function found in other types of exchanges, They are not specialized on a specific function, but serve the needs of different client types.
Pros
Anonymous trading
Top notch security features
Good mix of both old and new coins
Very low deposit and withdrawal
Pros
Good customer care
User friendly interface
Offers margin trading
Cons
Customer support not 24/7
Limited number of coins
Strict account opening procedures

Compare the Best Cryptocurrency Exchanges
| | Binance | Binance US | Coinbase | Crypto.com | Bisq |
| --- | --- | --- | --- | --- | --- |
| Crypto supported | 500+ coins | 80+ coins | 107+ coins | 250+ coins | No set list |
| Maker Fees | 0.1% - 0.0150% | 0.1% - 0.0150% | 0.00% - 0.40% | 0.036% - 0.4% | 0.001 BTC or 8.66 |
| Taker Fees | 0.0300% - 0.1% | 0.0300% - 0.1% | 0.05% - 0.60% | 0.090% - 0.4% | 0.007 BTC or 60.59 BSQ |
| Minimum Deposit | $10 | $10 | $2 | $1 | 0.006 BTC |
| 24 Hour Volume | $17B+ | $320M+ | $2.50B+ | $1.83B+ | $480K+ |
How Do You Open a Cryptocurrency Exchange Account?
Step 1: Find the right broker
The first step is to find the best crypto apps for beginners. There are over 600 active exchanges and it can be confusing to pick the best out of all of them. Lucky for you this article has already introduced you to the best exchanges according to our user experience. Binance is our best overall crypto exchange, so we will use it for demonstration.
Step 2: Go to your preferred exchange website
In our case, we will go to Binance's website. Cases of phishing are common. Always inspect the website URL and confirm that it's SSL-Secured before doing anything on the site. You may want to bookmark the page for easier future access.
Step 3: Fill in the Sign-up form
Click on "Get Started" at the centre of the home page, or hit the "Register" button on the Binance website's top right corner to submit your sign-up details. Select your country from the drop-down list, then proceed to the next form where you'll fill in your phone number or email address. Create an 8-digit password (with at least 1 number and 1 uppercase), accept terms and conditions, and click "Create Account."
You're almost there. Everything is as seamless as it appears. Binance will now ask you to complete a simple security puzzle, after which they'll send you a 6-digit verification code to your email. Complete this stage to get ushered into your account within seconds. Binance will prompt you to set up 2FA before you can proceed.

Step 4: Security
You're almost there. Everything is as seamless as it appears. Binance will now ask you to complete a simple security puzzle, after which they'll send you a 6-digit verification code to your email. Complete this stage to get ushered into your account within seconds. Binance will prompt you to set up 2FA before you can proceed.
Step 5: Verification
A few years ago you would start buying Bitcoin on the Binance platform without verification. However, the exchange has made KYC verification mandatory amid growing pressure from the international community. Click on "verify" on the far top right side of the website.
 Binance has two verification levels for personal accounts, "Verified" and "Verified Plus."
a) Verified
This is the lowest cadre of verification at the Binance crypto exchange. It unlocks a fiat deposit and withdrawal limit of $50K, or a crypto limit of 80 MBUSD daily. Complete the verified level by
Submitting your full names, date of birth, and confirming your nationality.
Fill in your residential address information.
Take a photo of your government issued ID or passport for the nationality you selected
Go through camera face verification.
You're good to go. The website tells you to wait for up to 10 days but usually, this is done in less than 15 minutes.
b) Verified Plus
Verified plus simply means a user has also verified their residential address. Take a photo of a recent utility bill or bank statement to upload to become a verified plus Binance account holder. This level comes with higher transaction limits of up to $200K daily and $2M monthly.
Step 7: Explore Binance
Hurrah! You're now the newest user of the Binance crypto exchange. So take time to explore the platform and enjoy all the benefits that come with being a Binance user.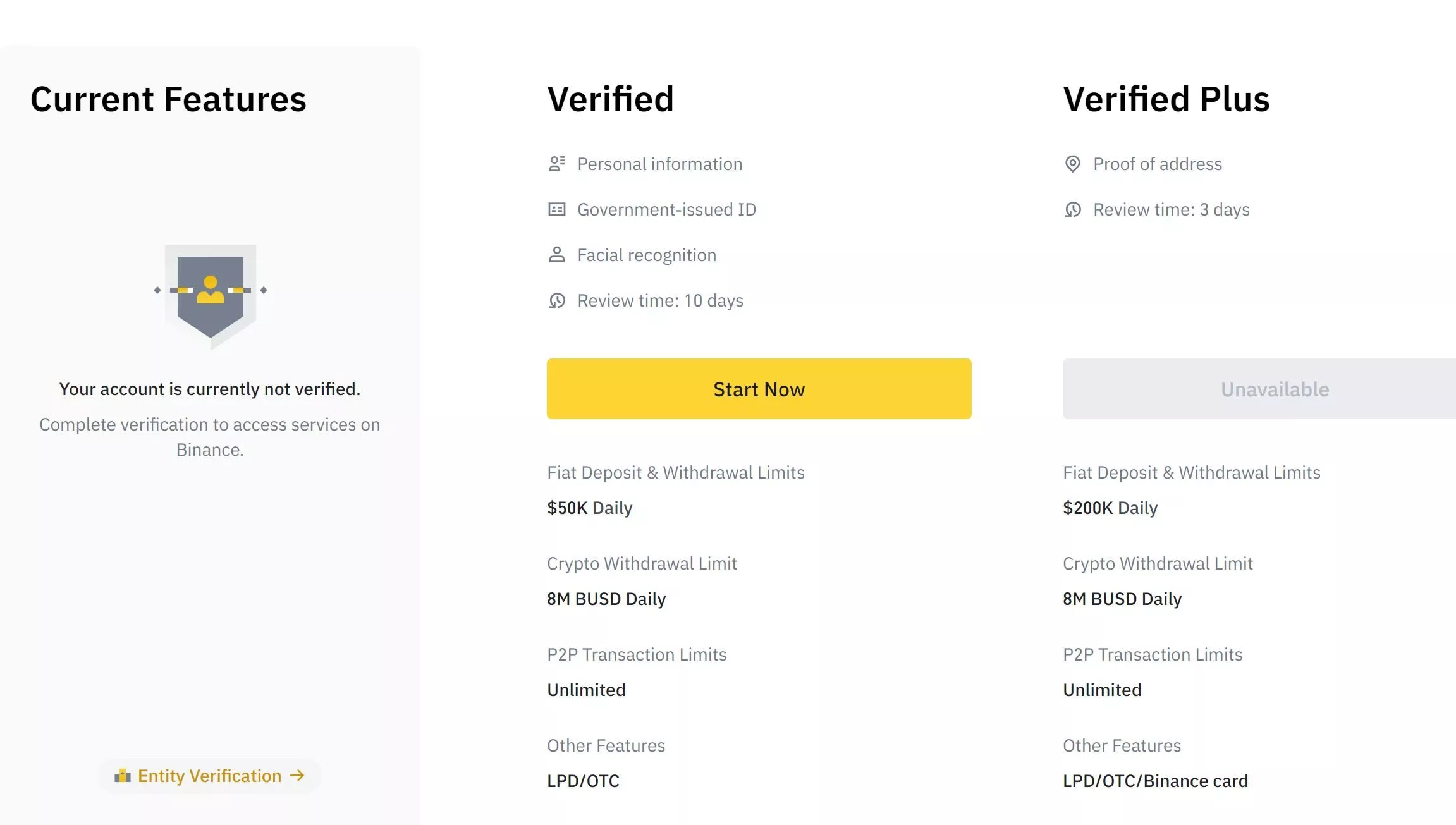 How to Buy Cryptocurrency?
Buying Crypto on Binance is easy and fast. Let's do it
1. Log in to your Binance user account.
2. Hit the "Buy Now" button on the homepage banner.
3. Select your choice of payment method.
4. Follow payment instructions
5. Your crypto will be added to your Binance balance as soon as your payment is complete.
How We Chose the Best Crypto Exchanges
Security
Crypto is inherently secure, but that doesn't mean you can't lose it. Companies that invest in good safety features are our priority when looking for a crypto exchange. 2FA, verification, encryption, and client funds' insurance are some of the important security features we consider.
Trading Fees
We might not know why you want to buy crypto but at least we can say that you're not getting in to make losses. So pick a platform with reasonable trading fees. Of course, the fees will vary from one exchange to another, plus you will have to compare other factors too, but outrageous fees will choke your returns. Generally, we consider fees of more than 1% very high
Withdrawal Fees
Withdrawal charges are also a key factor in finding a proper crypto trading platform. If you made a profit of 5% from a crypto trade, and your exchange charges you 3% to withdraw, you lose more than half of your profit. Binance charges zero withdrawal fees.
Other Fees
We also check for other fees such charge custody charges, commissions, and inactivity fees. Always try to find an exchange with the lowest fees.
Available Coins
Different crypto exchanges host a varying number of coins. For example, Binance has 500+ digital currencies while Coinbase has an estimated 107. That's not the matter though. Find out if a platform has all the coins you're interested in before signing up.
Accessibility
A crypto exchange is like a bank. You want to access it quickly whenever you need to. Finding a platform that's available across all devices is important. Both Binance and Coinbase have proper Android and iOS apps, and that's why they take first place on our crypto exchange list.
Trading Volumes
Always go for cypto exchanges with large daily volumes. First they are a testament that you've come across a trusted platform with many users, second, volumes mean stability. So you won't fall a victim of unnecessary price slippage in a crypto exchange that transacts massive daily volumes.
What's the Best Crypto exchange for Day Trading?
There's no digital coin exchange that's perfect for everyone or even for all your needs. Each of them offers a unique feature. You might go for Binance because it has almost all the coins you can think of, but someone else will pick Coinbase for its knowledge base for learning, and also because they can even earn while learning. Another investor will sign up with Casa because it simplifies work for them. Always evaluate your personal goals and interests while deciding on where to buy virtual assets.
The best crypto trading platform for day trading depends on individual needs and goals. Each exchange has unique features, that attract its users. For example, if you are looking for margin trading, you need to select an exchange that offers such services. Binance is our top selection for day trading, but you may consider other options too. Here's a crypto exchange list to consider.
User Experience Conclusion
If you're looking to get started with cryptocurrency trading or investing, choosing the best exchange for your specific needs is essential. Whether you want a large number of digital assets to trade, the lowest possible fees, or the most beginner-friendly crypto trading platform, there is always something good for you. Now that you know about cryptocurrency exchanges and apps, it's up to you to decide which one will fit your needs. Binance is our overall best crypto exchange. For beginners, Coinbase serves the purpose. DEXs and Hybrids work well for more experienced investors.
How Much Money Do You Need to Buy Crypto?
Buying a single Bitcoin could cost tens of thousands of dollars. Crypto exchanges however make things easier for you by offering fractional trading. So, you can buy a fraction of a Bitcoin for as low as $20. Every platform sets its minimum purchase quantity.
How Do I Open a Crypto Exchange Account?
Opening a crypto account isn't hard. You simply need to find the right exchange according to your goals, submit your personal details, verify KYC and you're good to go.
What Crypto Exchange Has the Lowest Fees?
Binance crypto platform tops the list of the cheapest crypto exchanges. The fees average 0.1% per trade. Competitor exchanges such Coinbase charge up to 0.5% per trade.
What Is the Safest Crypto Exchange?
Most crypto exchanges are safe enough. The safest ones depend on your jurisdiction and tech skills. For the average investor, Binance and Coinbase are the safest cryptocurrency exchanges.
What is the biggest crypto exchange?
The biggest crypto exchanges vary depending on how you look at them. In terms of volumes, Binance is the largest cryptocurrency exchange processing $13 billion daily volumes. It's followed by CoinFlex and BingX, which handle $5.04 and $4.61 billion every 24 hours.
Which Bitcoin exchange is safest?
Are you looking for the safest Bitcoin exchange? Most crypto exchanges are generally safe. Coinbase is one of the safest crypto exchanges considering that it's US-regulated and offers insurance on client funds. Binance US meets the same standards too.
Which exchange is best for Bitcoin?
ifferent investors consider varied exchanges the best for Bitcoin according to their personal preferences. While most pros will pick Binance or Gemini, newbies will find Coinbase best.
What Should You Look at When Choosing a Cryptocurrency Exchange?
We consider security, fees, accessibility, customer care, and trading volume while selecting a virtual coin exchange. These factors may help you too.
What is the best crypto exchange?
Binance is the best overall cryptocurrency exchange, and Coinbase is the best crypto app for beginners. Bittrex is best for customer support, and Kraken is best for advanced traders. So this is determined by what you're looking for.
How do crypto exchanges make money?
Digital coin exchanges make their money from trading commissions from transactions made by their users. That's why all of them charge a trading fee. Other exchanges have extra fees such as inactivity and custody fees, but trading commissions are the main source.
Which Crypto Exchange Has the Most Coins?
Binance has the highest number of coins, including both major digital currencies and altcoins. There are 500+ coins on the Binance platform. Nonetheless, this only matters if you're interested in all of them. Any exchange with more than 50 main coins and altcoins serves fits the bill for many investors.
Understanding Crypto Wallets Forbes
The Crypto Story Bloomberg
Types of Crypto Wallets Blockchain Council