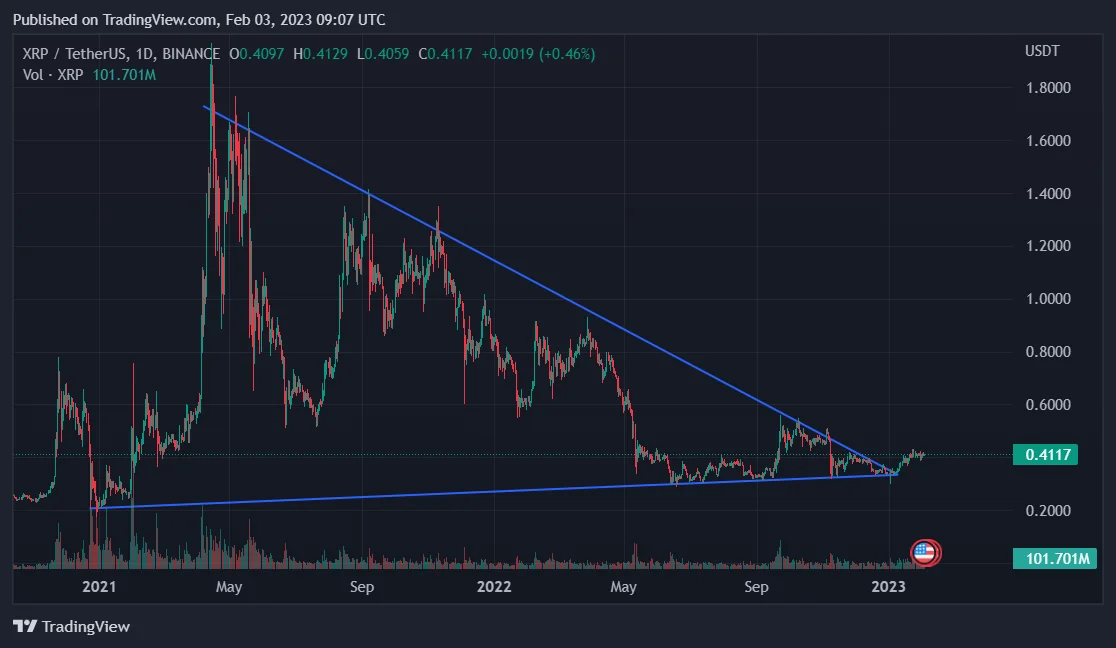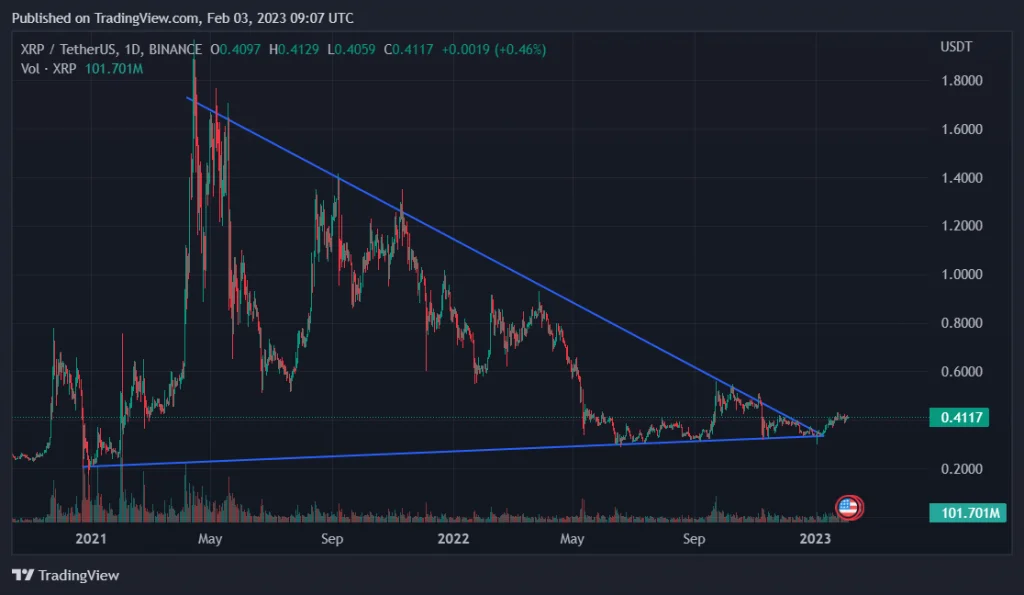 Since the start of 2023, XRP has shown considerable momentum as it broke out from a symmetrical triangle after it decreased below its resistance level in April 2021. By June 2022, the price of Ripple had reached a low of $0.287. 
XRP has multiple attempts to break the previous resistance levels. Even though it managed to break, it failed to create a new resistance level. Although the token couldn't sustain a massive rally, its bullish diverge is still within the RSI levels, which could mean that a parabolic rally will push XRP to the next resistance level of $0.58.
Technical analysis shows that XRP price has fluctuated within a symmetrical triangle since June 2022; it could be an indicator of a bullish sign if proven right. What's known is that XRP reclaimed a possible key level of $0.385, creating a new support level. What could happen following a breakout is an increase to $0.505, which would be bullish for XRP.
XRP Could Regain Momentum
If a positive outcome is announced for Ripple in its lawsuit against the SEC, the price of XRP could explode. We're already seeing some cryptocurrency exchanges relisting the token in anticipation of the decision.
A crypto layer has illustrated how information and evidence from experts point more to the fact that XRP is not a security, even though the SEC is trying to prove it is. So according to the economic characteristics of the XRP token, the asset should not be seen as a security.
The demand for XRP tokens is more striking despite the SEC's ongoing litigation. Ripple Labs sold $226 million worth of XRP tokens in the last quarter of 2022, and XRP registered a gain of 21%. Even more, Ripple is expanding its operations in Montenegro to pilot the development of nationwide CBDC.
There's still uncertainty about the direction XRP is taking; however, the XRP community is eyeing favorable results. It's worth noting that the SEC recently won a case against LBRY; however, the explanations of the lawsuit are slightly different.