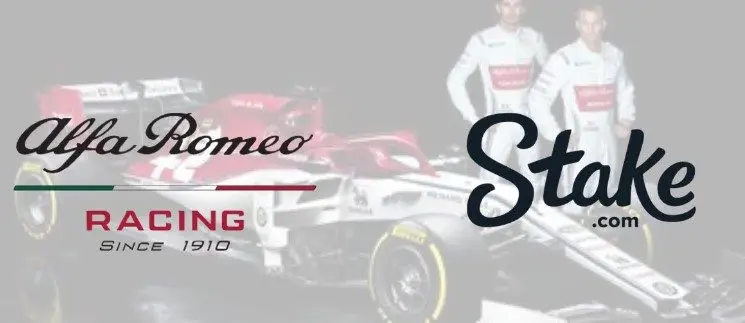 Stake.com, the Australian cryptocurrency betting platform, has secured a partnership deal with the Alfa Romeo Formula One team for a duration of three years.
The price and length of the agreement have yet to be officially announced; however, a source at the Australian Sydney Morning Herald stated the amount paid is worth $100 million. 
Stake.com has been expanding aggressively in the world of sports since last year when it became the official sponsor of England's Everton FC. According to Everton, the sponsorship is the highest-paying shirt deal in the club's "144-year history."
Although Alfa Romeo has chosen Stake.com, the sponsorship comes off the back of their previous sponsor PKN Orlen switching to sponsor another team within the F1, Alpha Tauri.
In the 2023-2024 season, the outfit worn by the Swiss-based company will be named Alfa Romeo F1 Team Stake. The main car manufacturer is expected to depart the Sauber team and will be replaced in 2026 by Audi.
Stake.com has taken an unconventional sponsorship route as, in the past, they struck a partnership with famous hip-hop artist Drake. What's more, Stake has become one of the leading cryptocurrency betting platforms entering into deals with more sporting events such as the UFC.
Crypto Backlash in F1
Crypto entered the F1 market swinging. More exchanges, blockchain platforms, or security firms have struck partnerships with F1 sports teams; however, some ended badly. Most commonly known is the FTX brand was sponsoring the Mercedes-AMG Petronas F1 Team and who had to remove FTX as a sponsor due to their market meltdown.
Crypto.com is still one of the main official sponsors of the F1 for the next few seasons; Fantom sponsors Alpha Tauri, while OKX sponsors McLaren. However, other F1 teams, like Ferrari, have ended their $30 million partnership with Velas.
What's still a controversy is that Stake.com is described as a lifestyle and gambling brand that doesn't necessarily fit with F1's luxury and high-end competitive nature.