What is PYUSD?
PYUSD is PayPal's stablecoin, an ERC-20 token issued on the Ethereum blockchain. It is a cryptocurrency whose value is set to remain constant through time, pegged 1:1 to the US Dollar and backed by dollar deposits, US treasuries, and cash equivalents, much like Binance's BUSD and Tether's USDT.
Its release on the 7th August 2023 has made a big splash, especially after news of the project being paused in the early year as cryptocurrencies as a whole had come under heavy scrutiny by regulators around the world.
Currently, the new feature is slowly being rolled out to the 431 million active accounts it is reported having in Q2 of 2023.
Starting with eligible U.S. PayPal customers, user will be able to:
Purchase PayPal USD directly on the PayPal platform
Transfer PYUSD between PayPal and compatible external wallets
Send payments using PYUSD in a p2p fashion
Make purchases with PYUSD by selecting it at checkout
Convert any of PayPal's supported cryptocurrencies to and from PYUSD.
The stablecoin was crafted by the tech giant to keep up with the evolution of digital currencies as it aims to reduce obstacles for payments within virtual environments, enable quick transfers, and support the ongoing integration of major global brands into the digital assets space.
PayPal USD seamlessly aligns with this ecosystem from the start, and it will soon be compatible with Venmo, another popular mobile payment app acquired by PayPal in 2013.
Most notably, PayPal plans to start issuing monthly Reserve Reports, outlining the instruments composing the reserves.
A third-party evaluation will also be held and published in accordance with attestation standards established by the American Institute of Certified Public Accountants (AICPA).
Furthermore, PayPal customers can also buy, hold, sell and transfer select cryptocurrencies, and are provided with educational content to help them understand the risks and possibilities surrounding the technology.
Does PayPal Issue PYUSD?
PayPal partnered with Paxos Trust Company, a regulated financial institution that received its first limited purpose trust charter for digital assets from the NYDFS in 2015, for the issuance of its stablecoin. With a forward-thinking approach, Paxos was the first US-based blockchain infrastructure platform to secure a major payments institution license by the Monetary Authority of Singapore, and had already worked with Binance on the issuance of BUSD.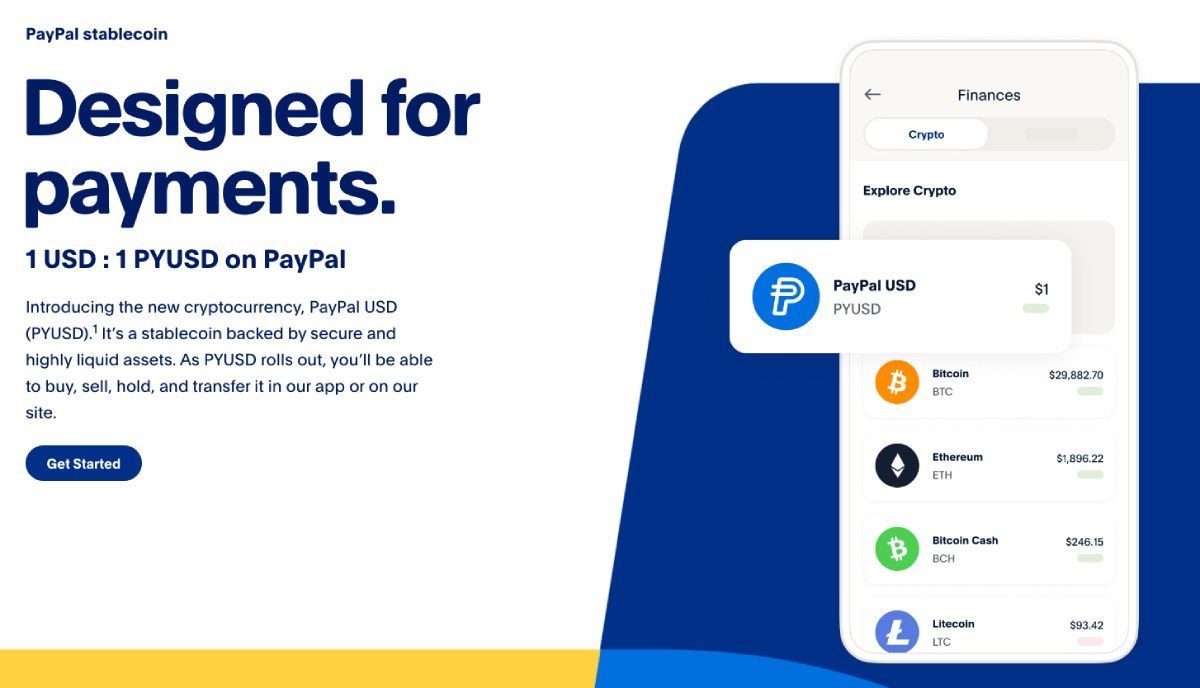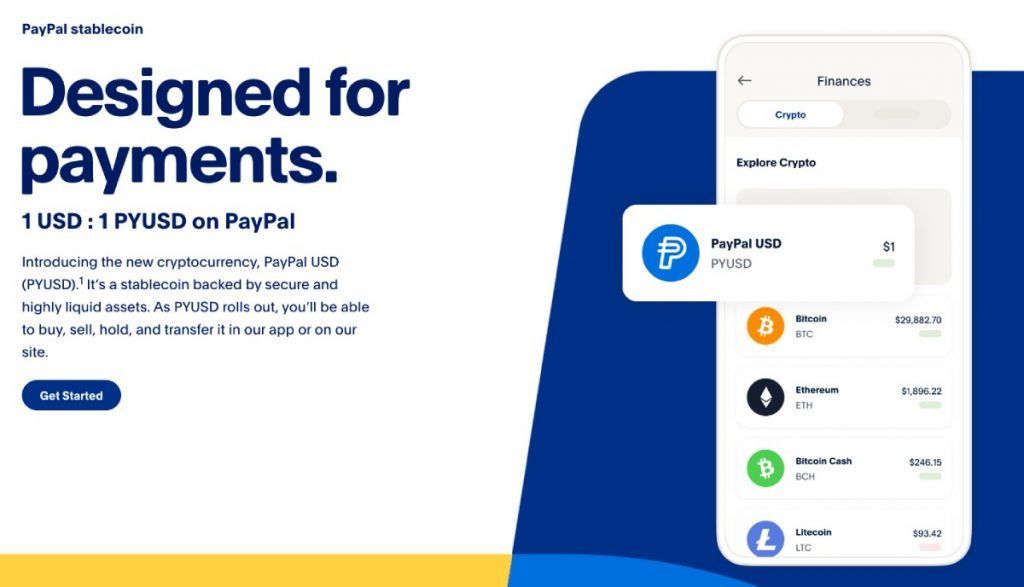 The Pros & Cons of PYUSD
As with anything, advantages and disadvantages are to be equally expected. Some clear upsides to a tech giant specializing in virtual payments issuing its very own cryptocurrency as a stablecoin can be summed up as follows:
Pros
Showcases the interest in crypto adoption
Enables mass adoption of cryptocurrencies
Sets a precedent for crypto to be issued by regulated entities
Offers transparency and trust
Reduces waiting times and fees
Cons
The code is an old Solidity version
Assets can be frozen
Tokens can be burnt
Pros:
Showcases the interest of companies to adopt and develop this technology. As we swiftly navigate the ever-evolving sphere of digital finance, it is great to see that big corporations are now embracing cryptocurrencies.
Enables mass adoption of cryptocurrencies. It is in fact a very good first stepping stone for those who are not Web3-native and want to first dip their toes in crypto through a well-established company before taking on bigger risks and responsibilities of self-custody.
Sets a precedent for cryptocurrencies to be issued by regulated entities, in full compliance with the law.
Offers transparency and trust as PayPal plans to undergo third-party checks and issue monthly reserve reports.
Reduces waiting times and fees associated with wire transfers.
There are, however, some undeniable disadvantages this particular stablecoin has which have been flagged by multiple users across Twitter X.
Cons:
The code is an old Solidity version. Being open source, anyone can check what the code looks like and it appears to be an old version of Solidity.
Assets can be frozen. As with any centralized entity, assets (in this case stablecoins) can be frozen.
Tokens can be burnt. Again, being in the hands of a centralized authority these particular stablecoins can be burnt, meaning they can just disappear from the system.
How the Crypto Market is Responding
With the news of a stablecoin being issued by a regulated entity and managed by one of the biggest tech companies we know, it is interesting to see how the market didn't really take a big hit.
It oscillated but no big jumps or crashes have been recorded yet. For now, it appears PYUSD has not made a big dent in the charts.
The Future of the PayPal StableCoin
The future of PYUSD is fully dependent on public sentiment. It is in fact the users that PayPal, as any other company embracing cryptocurrencies, must convince; for as long as users utilize this novel payment method, there is a chance of it taking foot and expanding outside of the US where it is starting to be rolled out from.
Either way, this is still a great win for the crypto space as a whole. With this move, it has been shown that big companies are now truly starting to advance in the blockchain direction.
PYUSD is but a prelude of what is to come. It is in fact known that other stablecoins are still being worked on like Brazil's new DREX or Russia and Iran's joint stablecoin backed by gold.