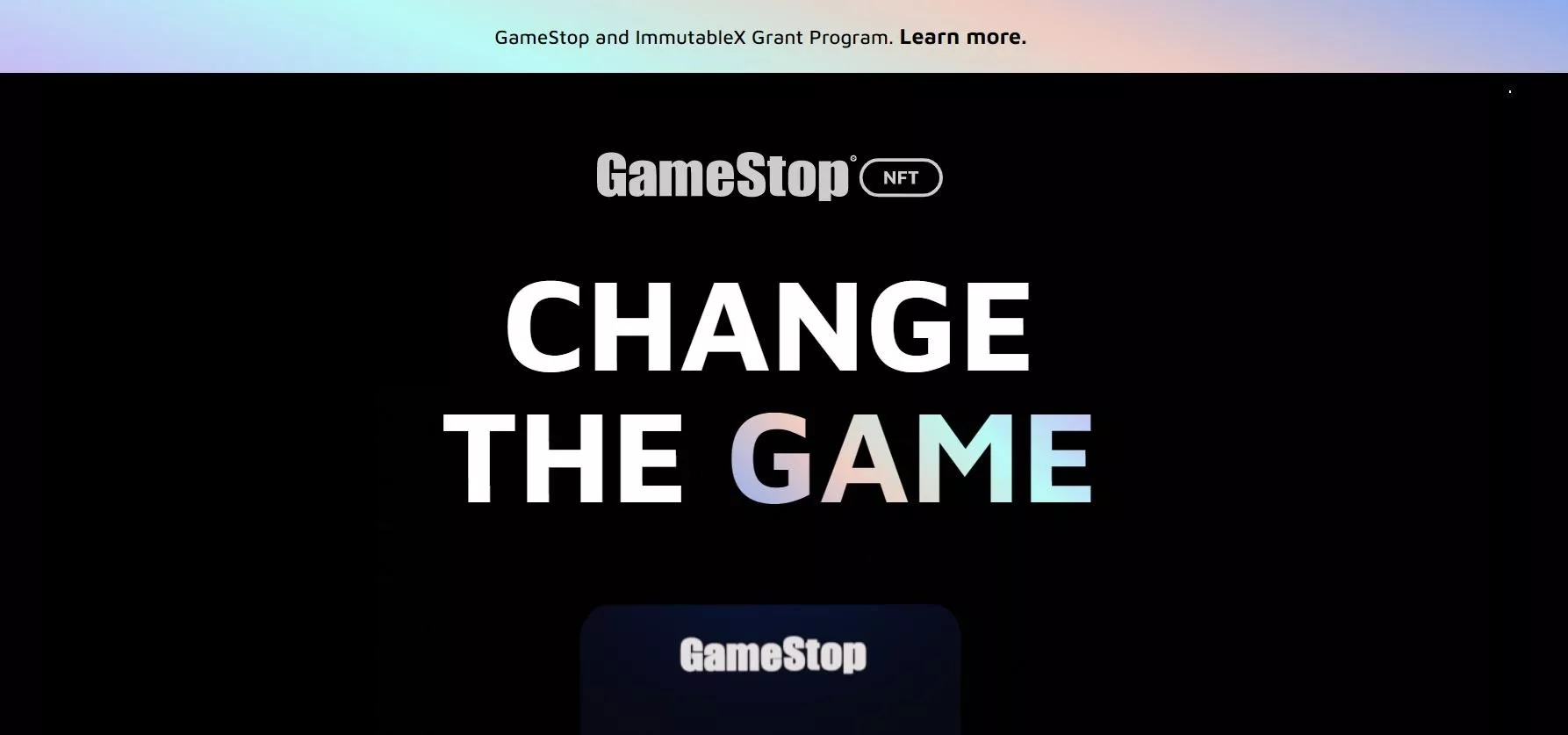 GameStop is no stranger to the internet community. The meme-stock sweat-heart amid a new wake wowed the public when Chairman Ryan Cohen announced GameStop's latest plan to focus on digital products rather than traditional brick and mortar. This comes at a time when investors were anxiously waiting to hear about what strategy the company was putting in place after revamping its board with a vision to revive growth.
At glance
In 2021, the retailer, in an earnings conference call, announced losses of $381 for that fiscal year.
GameStop blamed its poor performance on multiple factors, including the Covid pandemic.
Retailer is partnering with Australia's Immutable to launch NFTs marketplace in 2022
The world's largest video game retailer surely has nine lives. Having gone through a roller coaster year 2021, the company has bowed down to the impact of internet culture and as they say, if you can't beat them, join them! After closing over 130 stores in 2021, GameStop is launching an NFTs trading platform for VR games, including weapons and player avatars. The firm has already hired up to 20 people with experience in blockchain gaming and e-commerce to set up this new division.
Although they have been around since 2014, NFTs started making headlines in 2021. They have so far attracted popular brands such as Pepsi and Adidas. Bloomberg reported that NFTs sales peaked at an estimated $40 billion in 2021. "The largest NFTs trading platform, OpenSea, experienced a massive sales explosion last year with monthly volumes rising to $3.4 billion in August, from a previous high of $96 million in February." Dune Analytics. This traction has led to the spouting of a slew of other NFTs marketplaces hoping to attract users.
GameStop already boosts of stable following in millions of loyal fans who can't imagine gaming without them. The current customers will be its first target once it launches the much anticipated NFTs platform.
Australian blockchain startup, Immutable X is joining this project with its layer 2 scaling technology which will secure and power GameStops NFTs market. Immutable vowed to facilitate zero gas fees mining and trading to keep costs competitively low. The duo has set up a $100 million aid fund to support NTFs content creators and gaming developers. Developers can already start applying for grants as long as they are working on Web3 gaming technologies. It is not yet clear what other criteria will be used to award these funds, but mid-market studios focusing on NFTs will likely be the main beneficiaries.
We have seen several backlashes targeting the new NFTs platform recently. Stalker 2 and Team 17 are some schemes that have paid the hefty costs of hostile market reception. Apart from having a huge following, GameStop is also expected to tap into Immutable X users by giving them express eligibility to list their products in its marketplace. TikTok, Playco, Gods Unchained, Illuvium, ESL Gaming, GreenPark Sports, and Ember Sword are some of the products that will be giving GameStop a headstart. Featuring both new and already popular products might give the company a soft landing compared to its predecessors
At the end of the day…
NFTs are defying every odd to go mainstream. Some companies like Ubisoft have tasted success in the NFTs marketplace while others have been met by a strong wall. GameStop's performance will depend on their strategy. Buying in from games that failed to sail through could help them dodge failure.