Key Points
Bitcoin appears to be primed for the next big move, but traders remain pessimistic.

Although market experts have differing opinions, they all recommend cautious trading.

There is a good chance of a positive market in 2022, but it may not be an explosion.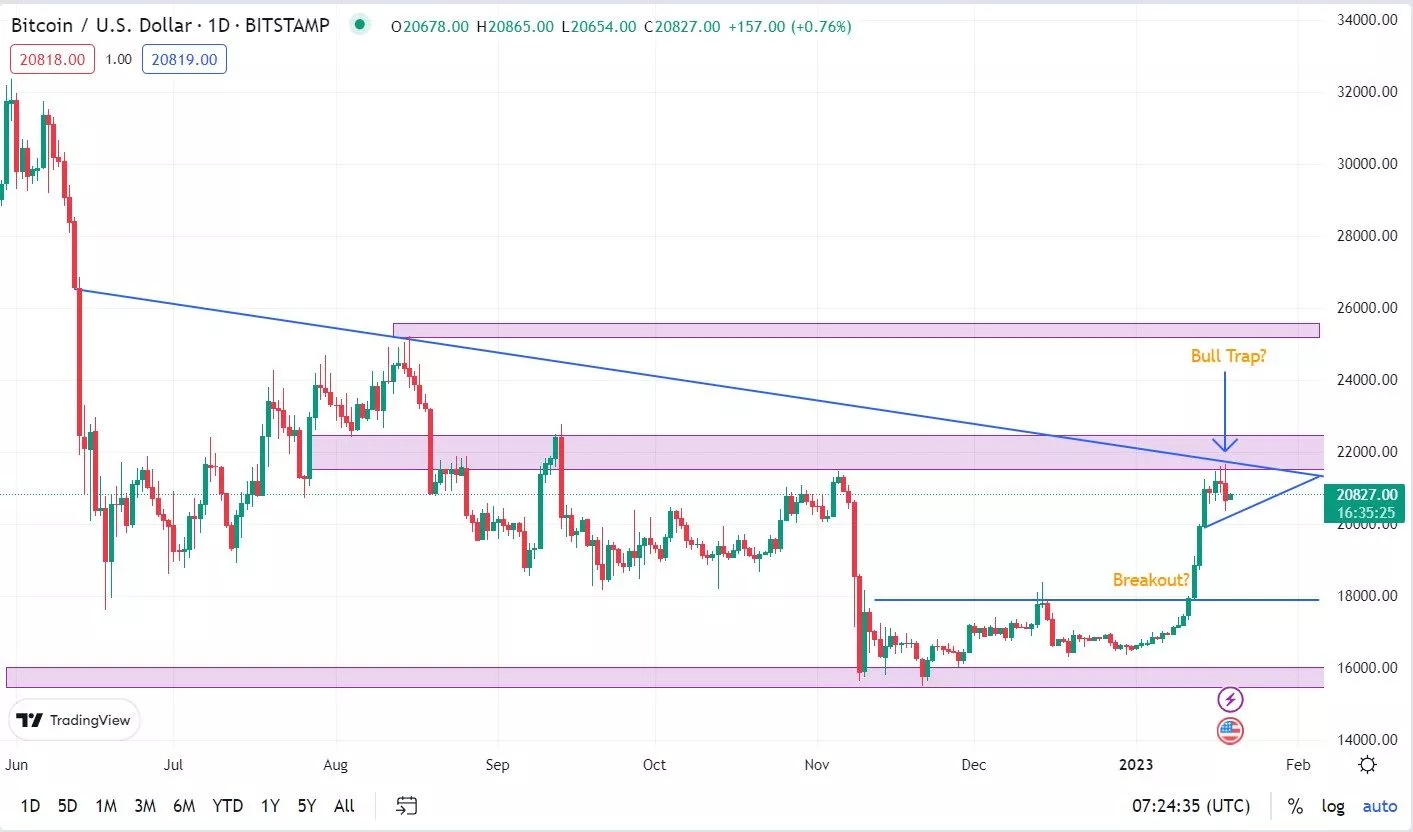 2023, on the other hand, has gotten off to a good start, raking in a 25% return in the second week. The solid bullish breakout on January 8, 2023, pushed relentlessly to the psychological zone of $21,000 to $22,000 before crashing to $20,000 in a flash. However, investors appear to be trading cautiously, with many wondering whether the long-awaited journey to $100,000 has begun or if it will end up as a bull trap.
According to Manish Jaradi, a crypto and investment strategist, last week's bullish move recovered 100% of November and December bearish volume, indicating exhausted bears. On the other hand, the road to recovery may be difficult. To attract more buyers, it will be necessary to take on resistance zone 21,700 and break strongly above it. Any minor retracement at that level could spark massive selling, making it even more difficult for a bullish BTC to withstand.
Tim Draper, who made one of the most bullish predictions about the Bitcoin price in 2022, still believes it will reach $250,000 by the end of 2023. His 2022 prediction was clearly off the mark. For this target to be met, the market would have to rally by more than 1,000%. This is not uncommon in the crypto market, but for BTC, it may be a difficult task in the midst of global recessions and ever-rising interest rates.
Manish Jaradi's sentiments are similar to those of venture capitalist Bill Tai. The crypto veteran believes the coin has a long way to go before emerging from the crypto winter. "I think there's a little bit more downside, but I don't think there's going to be a lot," he said at the recently concluded crypto conference in St. Moritz, Switzerland. He added that the price will most likely fall to around $12,000 before making a significant bullish move.
Meltem Demirors has opinions that range from neutral to positive. According to CoinShares' chief strategy officer, BTC's price could either fall and range between $15,000 and $20,000, or it could skyrocket and trade above $25,000, with an upper limit of $30,000.
What Causes a Bull Trap?
Nobody wants to be caught in a bull trap. They are usually caused by early buyers, also known as greedy investors by Wall Street traders. When the market shows signs of exhaustion and a possible reversal after a steady price decline, some traders will want to jump in quickly and buy the next bullish trend at a bargain price. This causes the price to rise sharply, but the asset quickly reverses to continue on a downward trend, causing them to lose money.
dappGambl Opinion
Markets have always created new, unprecedented highs after a prolonged downtrend, according to industry history. While this appears to be the case with Bitcoin, investors are still traumatized by last year's roller-coaster market. Unlike previous years, when a minor price hike prompted a stampede of buyers, things may be different this time. Speculators are likely to invest cautiously as the demand increases and sell heavily at the first sign of an incipient downtrend. 
If this is a true breakout, most low-risk traders will miss out on an opportunity to cash in massively. Aggressive high-volume traders will pour in massive amounts in order to take advantage of the low prices. The nearest stop will be the resistance zone of $31,000, which, if broken, will cause the price to surge to $45,000 before taking a significant break. As history has it, the entire crypto market will follow suit.
A bull trap, on the other hand, will have a negative impact on the already troubled digital coin market. If Bitcoin fails to maintain its price above $20,000, it will create a new bottom, most likely around $12,000. By this time, there will be no reason for it not to fall even further to $9,000.
Final Shot
BTC will, in our opinion, have a better year than in 2022. A strong bull market will occur, but there will be no wave. We may not see price increases to $100,000 or Tim Draper's $250,000. A price range of $30,000 to $45,000 is most likely. If the year closes with such positive results, then a target of $100,000 in 2024 will be realistic.